Pineapple Hill – Words Cara Williams. Photos Clay Dolan
"According to a traditional southern hostess, pineapples are a sign of graciousness and gratitude towards guests. When you want to hint at your guests to leave, one should cut the pineapple as a sign to 'hit the road'. As it happens, I was doodling a pineapple on the back of a cocktail napkin when Chris and I decided to make a permanent move north, hence we've named our home Pineapple Hill."
~Katie Horan
Inspired by Hawaiian architecture, Katie and Chris Horan had a definite design idea in mind when they made the decision to leave the rat race of the GTA behind. Together with their two children Jerett and Tori and dogs, Chewy and Kona, they made the move north and built their dream home in Simcoe County.
As VP General Manager of Group Rossignol Canada, Chris travels extensively, and accessibility to Pearson International is paramount. "When we lived in Toronto we were always jonesing to get out of the city," remarks Chris. "I'm at the airport a lot and I would fly home on Friday evening, then we'd wake up early on Saturday morning and rush up to the cottage to ski. Our 'city' house was approximately 20km from the airport, but on any given day it could take me an hour to get home. I thought to myself, 'Why am I doing this?' From here, it's an hour and twenty minutes. This property feels like we're in the middle of nowhere yet we're 10 minutes to town and 10 minutes to the hill."
The Horans enlisted the help of Jerry Patten of L. Patten & Sons Ltd. The spacious yet private wooded lot allowed for a bungalow style design, and due to the high water table, the house is built entirely above ground, with no basement or crawlspace.
"We were inspired by the houses we saw in Hawaii," explains Katie, who runs a sales rep agency from home. "Both of us are drawn to nature and we loved the look of the homes where there was no 'break' between structure and nature."
The Horans designed the home with the help of Jerry Patten and found additional décor inspiration from a number of easy-to-replicate style websites such as Houzz and Pinterest and of course Escarpment®. Katie's flair for design and perspective shines with her use of inviting textures including muted grey twin sofas and boldly striped armchairs from Dovetail Interiors in Nottawa.
Hearty hemlock flooring runs throughout the main floor, which means Katie doesn't have to scold the kids or the dogs (or Chris) for treading dirt and scuffing the finish. The telescopic woodland coffee table from FAD is oversized when company gathers, or tucked away when there are only a few drinks to hold. "I wanted minimalistic furniture to allow nature (outside the floor to ceiling windows) to dictate the art. I wanted the end result of all the various materials used to be cohesive, creating a relaxing vibe while still being polished".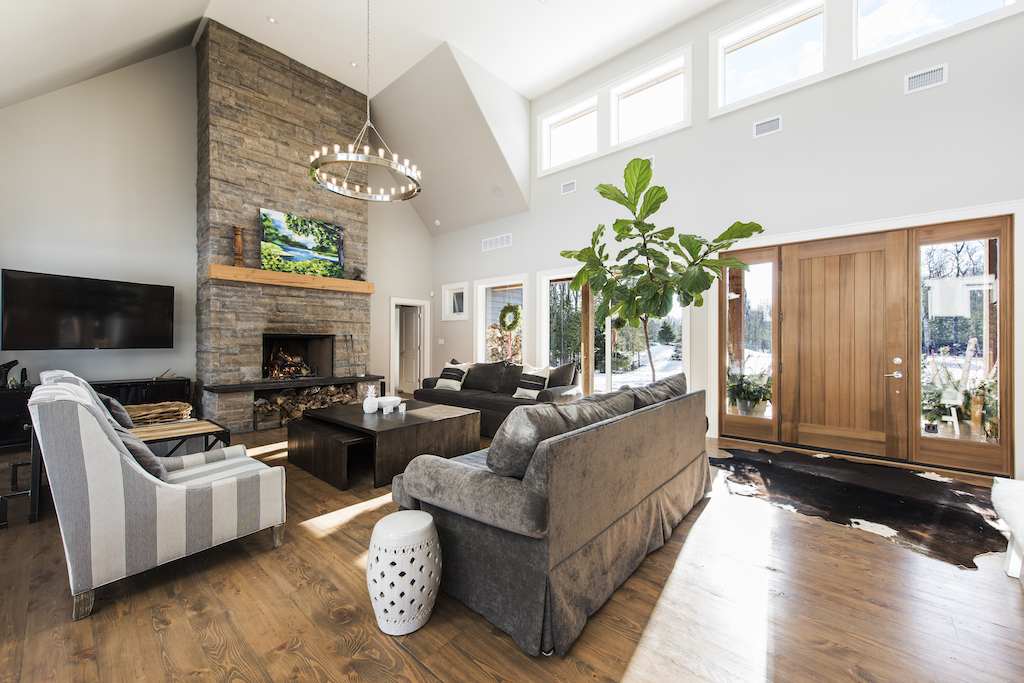 The great room, painted in Benjamin Moore "Collingwood", is spectacularly anchored with a custom floor-to-ceiling stone fireplace commissioned by Mark Macleod of MBM Stoneworks Masonry. Above the hearth hangs an original painting by local artist Andrew Peycha of Tremont Studios.
"We incorporated some non-traditional details like the raised hearth on the fireplace that was purposely set to sitting height."
Katie Horan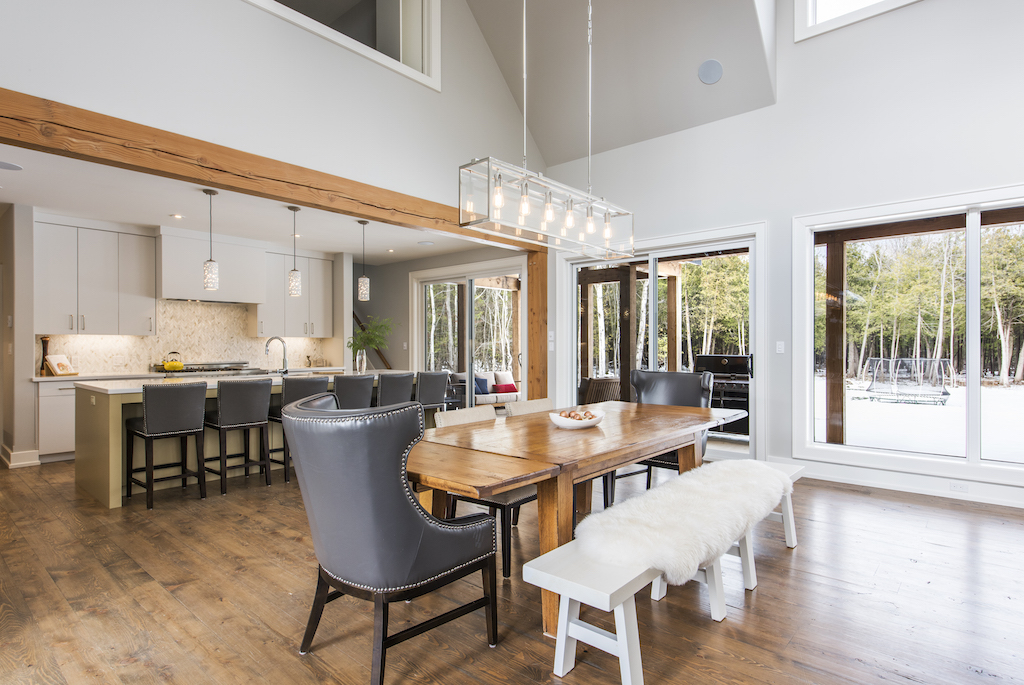 Pronounced fir beams inside and out define this mountain modern home and oversized windows and sliding glass doors from Cedarport allow unobstructed views of the snowy fields beyond. The kids especially love spotting coyote and deer tracks on a wintery morning.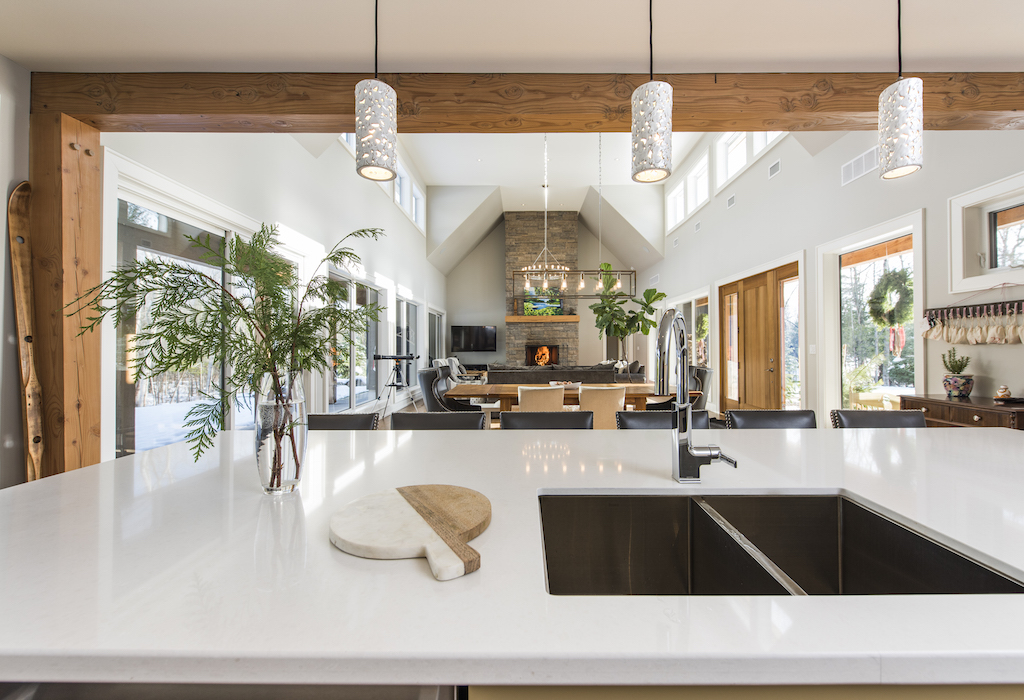 I am lucky to have great friends who are interior designers and avid décor lovers who allowed me to walk through their houses and answered my questions and queries. It's funny how people who have built homes often walk you through their spaces and point out all the things they love/hate. It helped so much, as we were building from scratch."
Katie Horan
The eat-in kitchen is a hive of activity and was designed to accommodate numerous "cooks". Featuring an oversized white Caesarstone® island with complimentary pendant lighting, the bar boasts ample seating for those who prefer to keep their hands clean. The Horan's state of the art stainless steel Bertazzoni range gets plenty of use as Katie and Chris love hosting dinner parties. The dual four-door Liebherr fridge and freezer also comes in handy in this respect. Though the Horan's oasis has the polish of a big-city residence, the couple crafted it to reflect the barefoot, carefree spirit of beach life using neutral tones and natural materials. "The palette I used was based around sand," remarks Katie. "I would have loved the kitchen to be all white and linen but that doesn't work for kids and red wine. This format gives us the space we need as a young family, allowing for sophisticated lines with a casual feel. In design right now they call it 'Modern Organic' but I prefer 'Party dress with Converse'."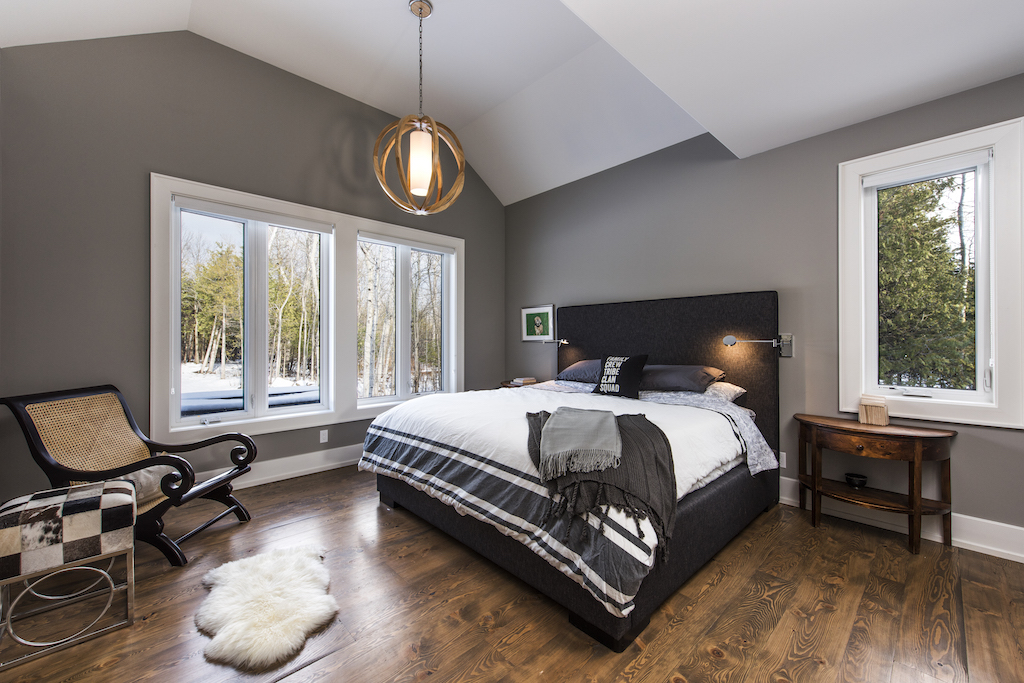 The master bedroom is coated in Benjamin Moore's Silver Fox. The sultry hue of the walls and in-floor radiant heating within the hemlock flooring lends to the calming effect of the relaxed space. Another of Katie's great finds is the couple's bed frame; one more treasure she found at Dovetail Interiors in Nottawa.
The adjoining master bathroom features a steam shower, soaking tub and striking views while maintaining privacy and modesty. Chevron tiles echo the ocean floor—once again tying into the Hawaiian inspiration of Pineapple Hill.
"One of my favourite aspects of the house is the view from the shower in the master ensuite," smiles Katie. "You can watch the trees blow in the wind—it's so very cool."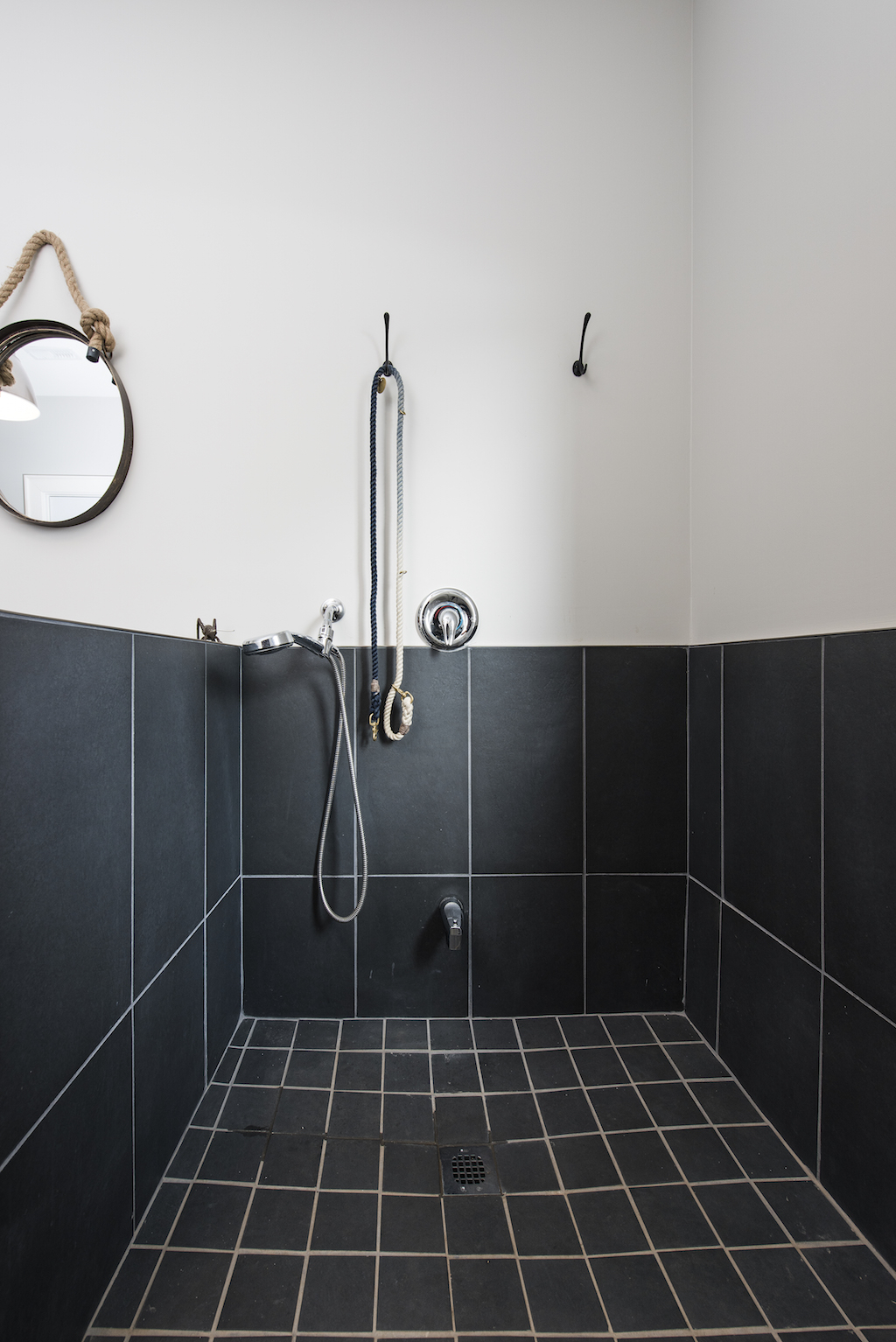 The mudroom is truly designed around the active and sporty Horan clan. Chewy and Kona cleans as many dogs as it does muddy boots. Because the entire main floor is equipped with in-floor radiant heat, water logged items dry faster when they are left on the floor. " Both dogs and our wet gear can stay in the mudroom and dry faster if they're not hung up…the kids love that part."
Katie Horan
The four bedrooms are relegated to opposite ends of the home. Tori and Jerett's rooms have an adjoining Jack-and-Jill bathroom on the second floor above the garage along with the guestroom. The crafty kids also share an arts space, which is overflowing with books, toys, Lego and crafting supplies. "Giving the kids their own space works well now," says Katie. "And when they come back with their families later on."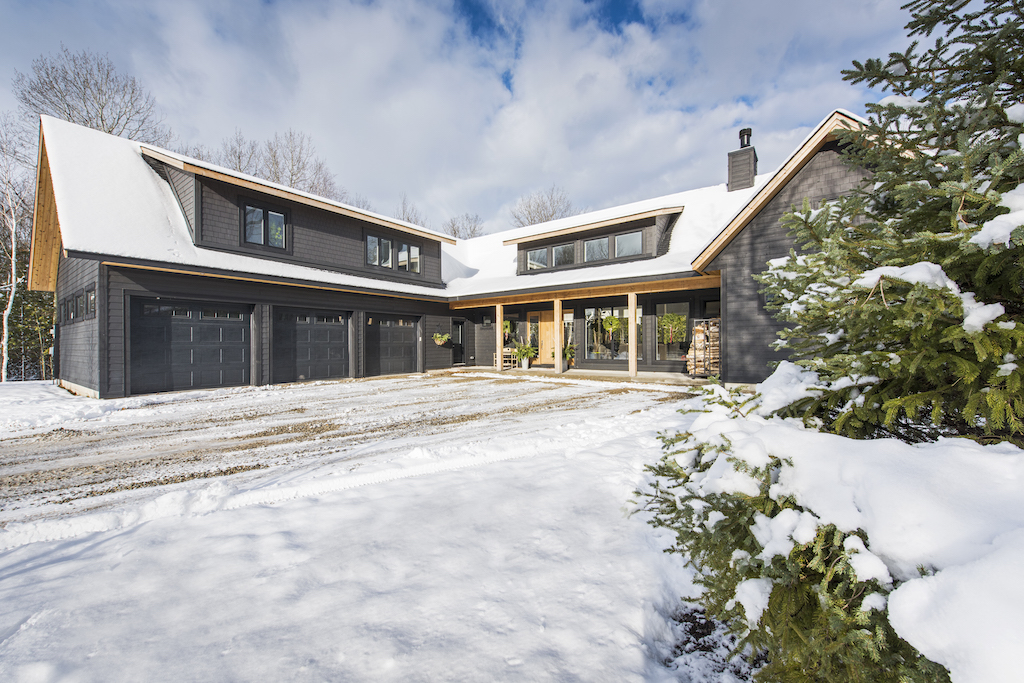 "We couldn't have done this without Jerry and Kristine who took care of many details we needed to finish the house. The experienced team from L. Patten & Sons helped us create the exact space we wanted. From Ron Martin, who drew the plans to Ben Furch who drove in the last nail, the team helped us work through the small details that allow us to love and enjoy the end result."
Katie & Chris Horan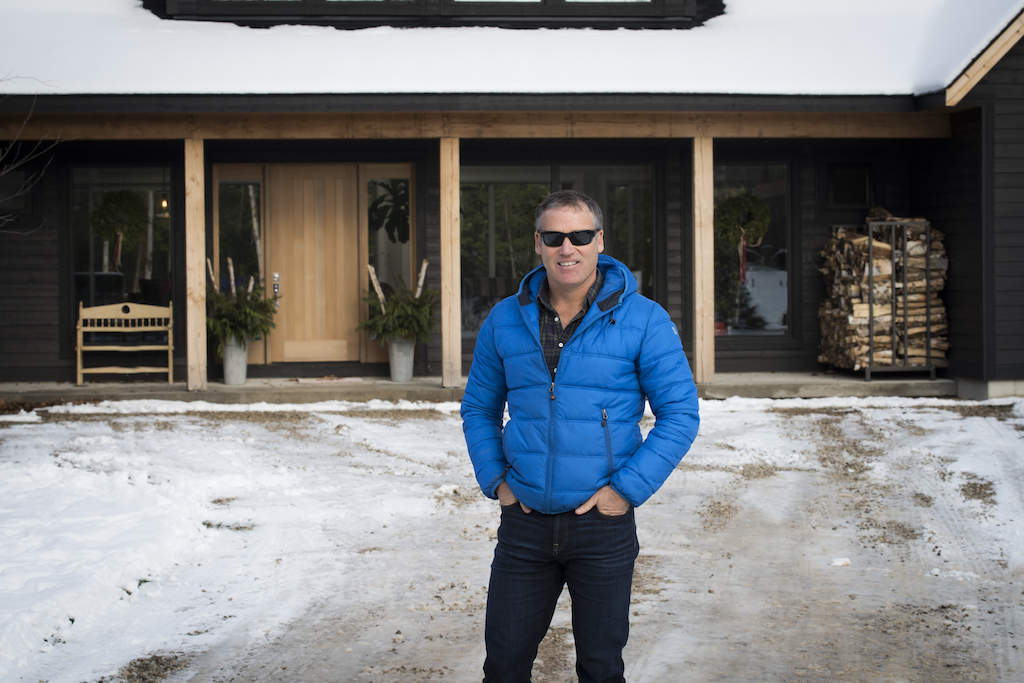 Builder, L. Patten & Sons Limited is a family owned and operated company. Lyman Patten established the business in 1958 with his sons. Later, his son Grant took over the business and successfully built homes for over 25 years. Now, his son Jerry is the president and driving force behind the company and his daughter, Kristine Quirk, is the office manager. The size and style of the homes may have changed over the years, but one thing that has not changed is the commitment to quality! "We stake our reputation on superior quality and unsurpassed customer service, building just as many homes each year as we can devote our full attention to."
Jerry Patten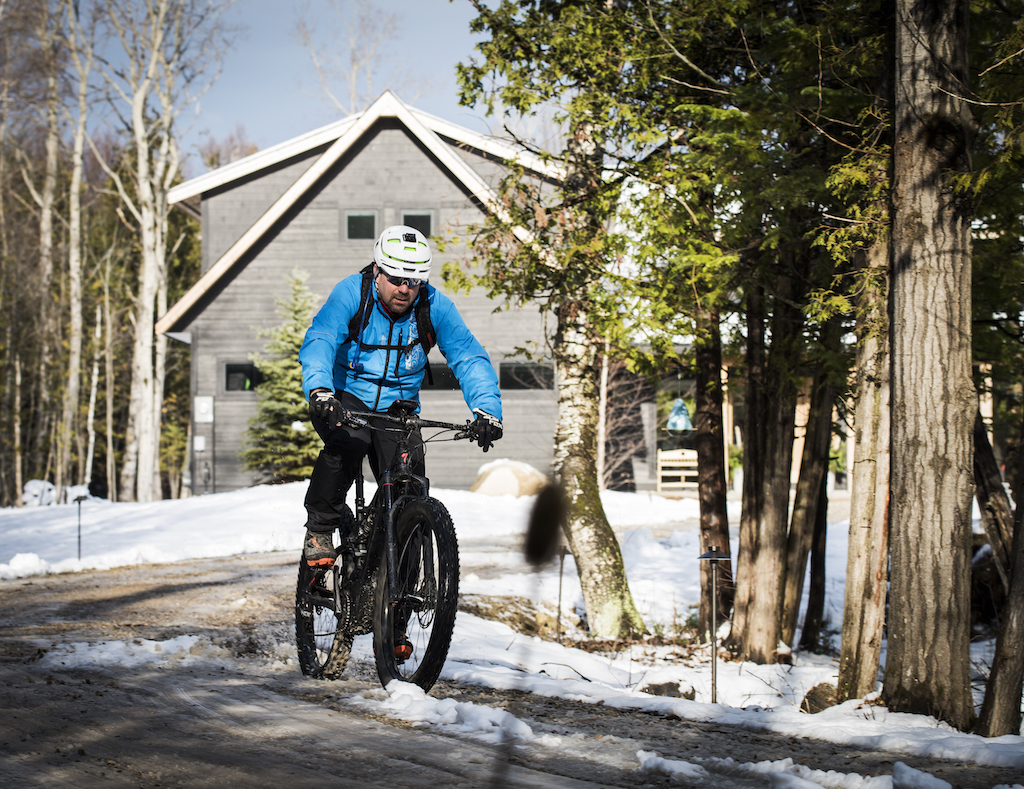 In the hectic, I-need-it-yesterday, world of today, it is up to the individual to make the decision to seek out calming spaces and serene environments. Pineapple Hill is such a place. Leaving behind the city life for a simpler, streamlined existence may not be for everyone, but for Chris and Katie Horan there is gratitude and love for their surroundings and contentment in knowing that they have chosen a perfect place to nest, not just for themselves but also for their children and beloved pets. |E|
Source Guide…
Builder – L. Patten & Sons Ltd.
Windows – Cedarport Windows & Door Centre Inc.
Kitchen Cabinetry – Clearview Woodworking
Window Coverings – Dovetail Interiors
Iron work – Desiron by Skot Lawrence
Appliances – Macdonalds Furniture, Euroline & Bosch Appliances
Entertainment & Alarm System – Huronia Alarms
Bathroom Cabinetry – Roman Bath Centre
Pantry/Mudroom cabinetry – Ikea
Bathroom fixtures – Riobel
Flooring – L. Patten & Sons Ltd.
Light Fixtures – Union Lighting & Furnishings & Sescolite Lighting
Furniture & Accessories – Dovetail Interiors, Ikea, FAD
Exterior Lighting – Eco Irrigation & Lighting Landscapes
Teak Patio Furniture and BBQ – Squire Johns