Production – Haily Dolan | Photography – Clay Dolan
Set location – Ironworks Arts Centre, Clarksburg. Special thanks to Michael Pocock
Vintage photographs sourced through the Blue Mountains Public Library and Blue Mountain Resorts' archives.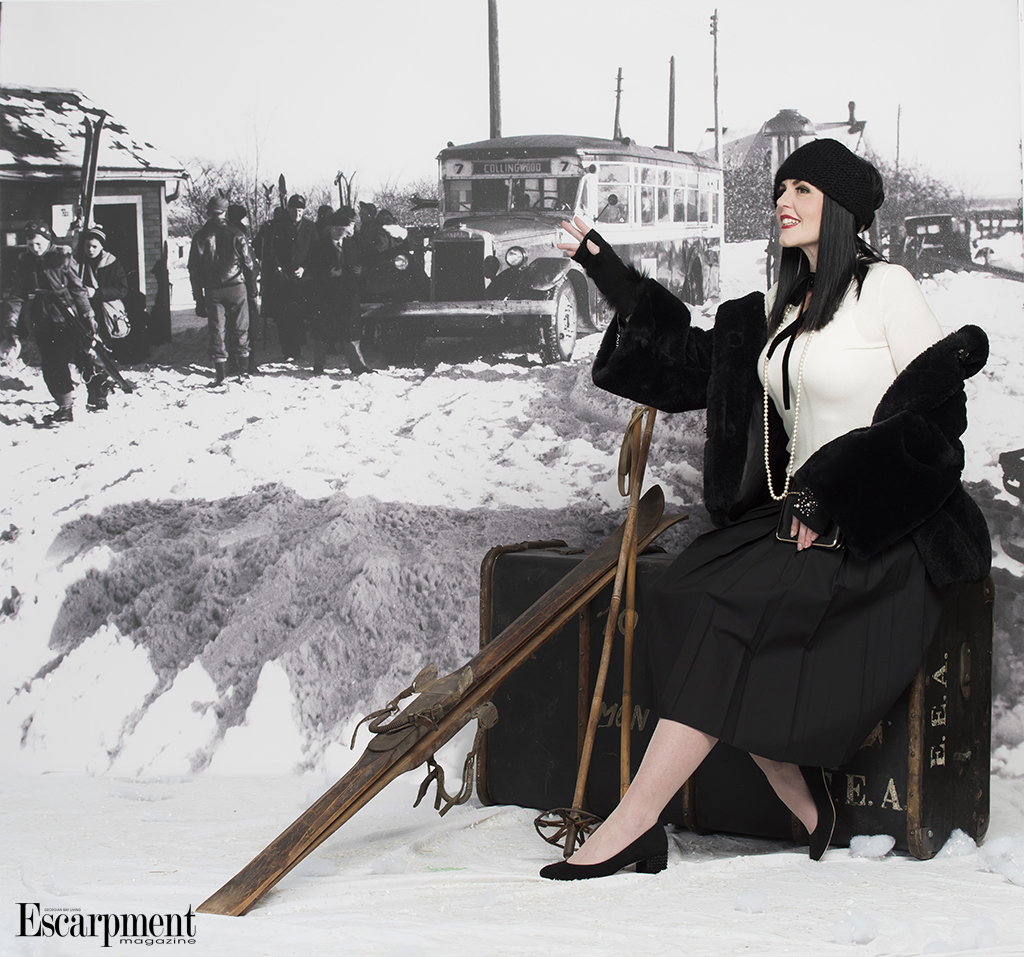 1. Carrie Keeling…Carrie is a landscaper who has owned her own company for the last seven years, called The Garden Fairy. Her business was recently awarded the 'small home office' business of the year by the Owen Sound Chamber of Commerce. a yoga instructor for the past 17 years, carrie teaches yoga in the off season and In her spare time she has been known to grace the stage as an actor at the Owen Sound Roxy theatre. A lover of all Arts she is a printmaker, painter, a writer and singer.  Her recent move to the country has allowed her to spend even more time outdoors, hiking and snowshoeing the trails near her home.
All Clothing, Accessories, Jewellery & Shoes | Tigs, Thornbury  
Hair & Make-up | Marion's Hair Studio, Thornbury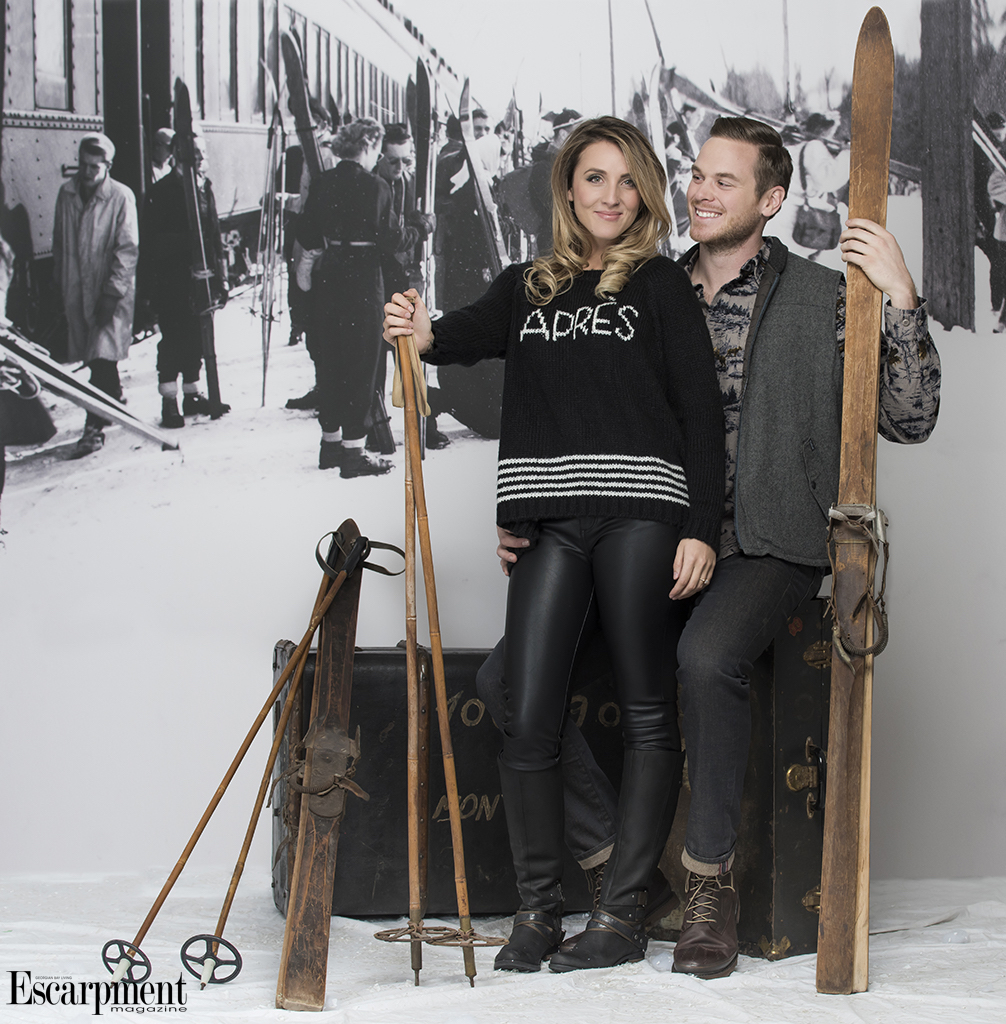 Lisa Grant & Mike Holmes Jr….
Lisa Grant is studying naturopathic medicine and aspires to be a medical herbalist. She has been studying alternative medicine since 2006 and can't wait to graduate this summer 2017 and open her own holistic medicine business. Lisa filmed her first television series this last year and can also be seen on the HGTV hit series Holmes and Holmes. Lisa's passion lies in nature, plant medicine, energetic healing, and travel. The beautiful town of Meaford is a second home to Lisa as her family moved there 10 years ago. Lisa has been skiing since she could walk and started snowboarding 5 years ago – now she is taking on the responsibility of Mike how to board… Good luck Lisa!
Mike Holmes Jr. is a carpenter and the host of the HGTV television series 'Holmes and Holmes', as well as 'Home to Win'. He has been working in the skilled trades industry for 13 years and has a passion for fine wood working. When he isn't on the job site, Mike can be found up north at the cottage as he enjoys being outdoors especially in the summer. During the winter months, he loves cuddling up with his fiancée and watching a good movie. This winter he has committed himself to learning how to snowboard! Maybe you'll catch him on the slopes!
Lisa and Mike are practically inseparable and find solitude in the Blue Mountain region. They recently got engaged and are now planning their dream wedding.
All Clothing & Footwear | Evolution Him & Her, Thornbury
Hair & Make-up | Marion's Hair Studio, Thornbury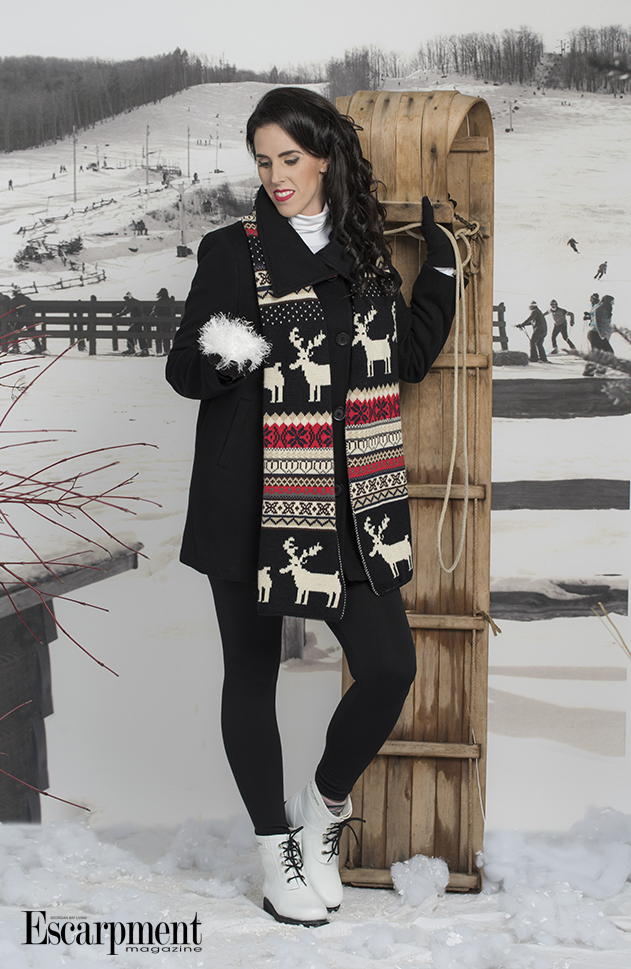 Brittany Brodie…
a Country Music Singer-Songwriter, Brittany has been chasing the same Dream since she was 3 years old. She was nominated in the "Best Country" category at the Toronto Independant Music Awards. FYI Music News compared Brittany to Shania Twain "We have not heard pipes like >hers since Shania hooked up with Mutt Lange." Brittany was one of six who won the "Music Ontario Songwriter Challenge" this summer and she will be back in the Studio this January recording new music and a single to follow in 2017. Stay Tuned for dates.
All Clothing & Footwear | The County Line, Markdale
Hair & Make-up |Glow Hair Studio, Collingwood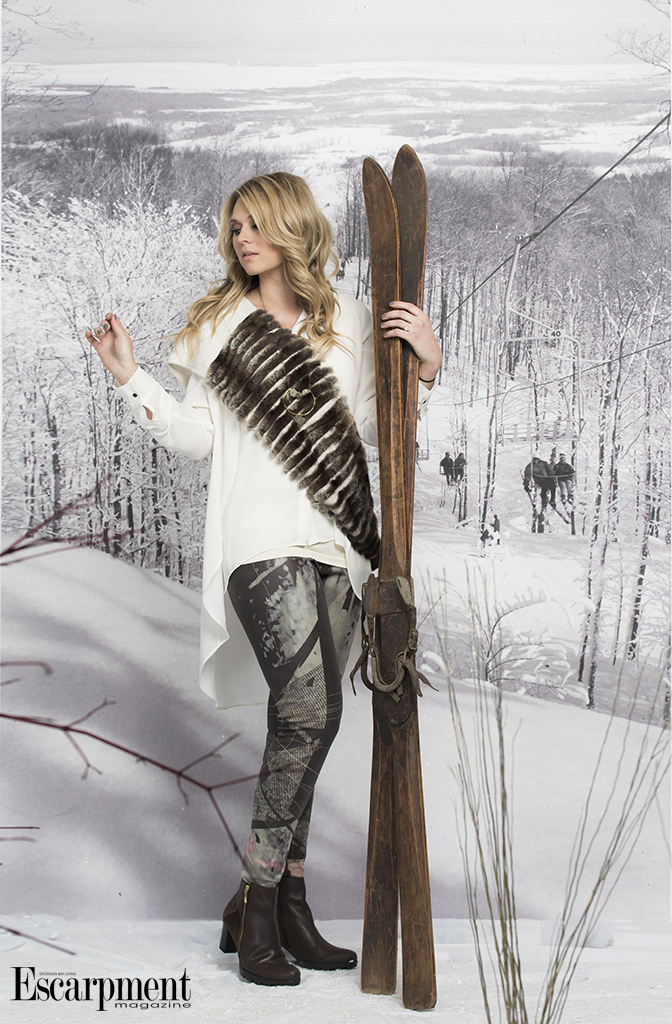 Joscelyne Wilkinson…
Joscelyne grew up on the shores of Lake Huron where she developed a love for the outdoors and all that the region has to offer. After graduating from Fanshawe College, Joscelyne began her hair styling career in Toronto's trendy Yorkville district working under some of Canada's most acclaimed Stylists.  Recently, Joscelyne made the move back to the Georgian Bay area and is now a Hair Stylist at Hair, Body & Soul in Owen Sound, where she strives to deliver an amazing customer experience.
All Clothing, Accessories & Boots | Furbelows, Thornbury
Hair & Make-up – Hair Body & Soul, Owen Sound