Market Watch Winter 2017
What a ride! Dynamic, exciting, and frustrating are some of the words I
have heard my team use to describe the real estate market in 2016.  Certainly, 2016 was a really interesting year in Southern Georgian Bay real estate.
The market, for the first time ever, topped $1,000,000,000 (yes…billion) in total sales. Considering we were seeing volumes around half of that a few years ago, you can easily see why people would use the word dynamic to describe what was going on. This is especially poignant if you are a regular reader of this piece and you have noted that we were saying that the only hard limit to growth last year was a lack of inventory.  That lack of inventory fueled the Seller's market and perhaps skews the data somewhat as to exactly what the appetites are for real estate in our market.  Were more inventory available, what might the numbers have looked like?
Interestingly, the effect has been felt in areas in our market that have never really seen inventory issues.  Sure, back in the Intrawest days, we saw this kind of thing in Collingwood and Blue Mountains. Wasaga Beach has been experiencing short inventory for the last few years. But markets like Meaford, just 11 kilometres down the bay from Thornbury seemed to have been stuck in neutral. No more!  Ask a local REALTOR® what inventory is like in and around Meaford right now and they will say: "Inventory?  What inventory?"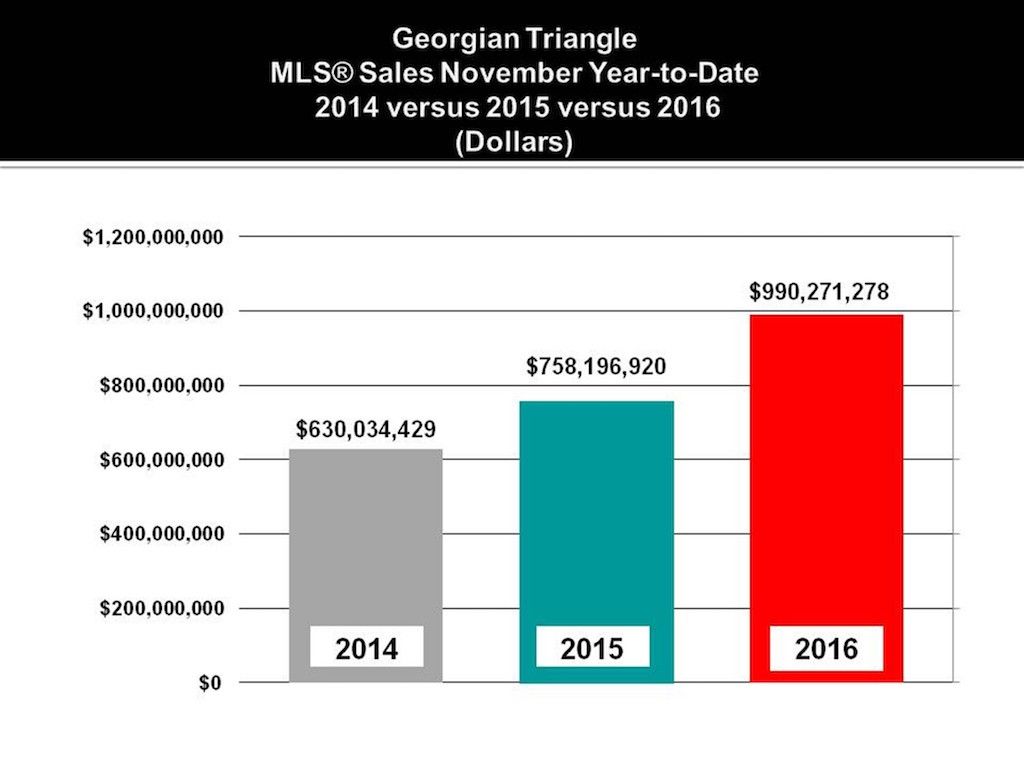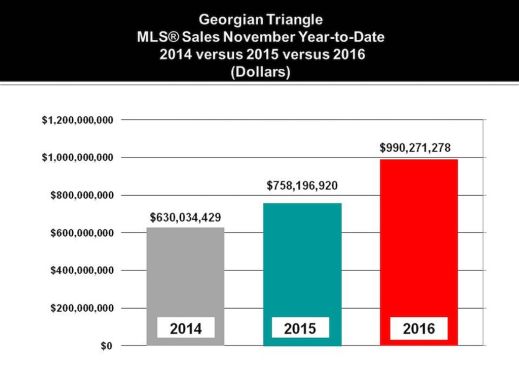 My reaction: "Finally".  I have been saying for years that it makes no sense that you can have 2 lovely small towns 11 kilometres from each other, both with beautiful and traditional downtowns, trails, stunning harbours, public spaces, and exposure to amenities where one has an average market value fully twice that of another. It should be noted however that like Maclean's Magazine's continuous predictions of the downturn in the Canadian real estate market if I say the same thing for long enough…eventually, I will be right.
Multiple offers were the new normal in our market.  Well-priced and well marketed real estate receiving 2, 3, 4 up to 7 or more offers in one sitting.  This may be totally mundane in other primary markets in Southern Ontario, but it is the new norm for us.
Advertising, both print and electronic are screaming that it has never been a better time to list your home.  Very true.  It has been a great time to be a seller.  However, the problem is that the same market conditions that assure you of top dollar for the home you are selling, are going to make the purchase of your new home proportionally more expensive.
So, if it was a great time to be a Seller in 2016, it means, by definition that it was a tougher time to be a Buyer.  And by extension, a Buyer's REALTOR®.  That is probably the most constant complaint in my office.  "I have a Buyer who has lost out 4 times in multiple offers and they are starting to get really frustrated."  I get it.  Nothing is more frustrating than when you fall in love with a property and then have your dreams dashed by someone who was willing to pay just a little bit more, or who didn't need a financing condition or did not have to sell a house first.
You imagine yourself barbequing in the yard of your new home, watching the kids get ready for school in the mudroom, reading bedtime stories in the kid's room, preparing meals for your friends in the gourmet kitchen.  Only to find out it is not your yard, your mudroom, your bedroom, your kitchen.  Worse…it is someone else's!
Failed buyers have every right to feel frustrated. Their REALTORS® feel it. We know our job is to get you into that home. We take it seriously.  But, to be honest, sometimes last year failed Buyers got in their own way.  Second guessing a strategy, ignoring advice, not doing all the work they needed to quantify their financing. That is frustrating for all parties. Sometimes though…it is just bad luck. And there is one thing that I know for sure:  There is no one perfect house. New inventory comes to market all the time.  Even in markets where inventory is tight. There will be another chance at the "perfect" house.  The experience you gain in failed attempts will make you more prepared for the next one. Trust me.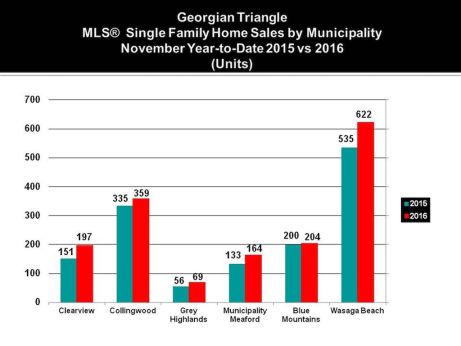 All segments of the market saw the impact of improved demand in 2016.  In-town detached, condo, waterfront, luxury, recreational, vacant land.
Late in the year, we marvelled in our weekly office meetings at the listing prices of new inventory in categories as disparate as original Cranberry condos to vacant land in Grey Highlands. Listing prices that would have been considered unlikely to garner interest from the public 2 years ago, were causing bidding wars at the end of 2016.
New development is catching up, however. All you need to do is drive down the highway and see the building happening on previously dormant sites. Product to be built that was languishing 2 years ago, was moving well at the end of 2016. Developments such as Trailwoods, Shipyards, Lora Bay, and so many others are doing volumes of business that they hadn't experienced in years. Big development parcels such as the former Terrasan development including the old motel and Easter Seals Camp sold late in the year to people obviously feeling that the time is right again to explore master communities in this great area.
And, of course, luxury. Inventory is at an all-time low. Anecdotally, we see that the biggest competition in luxury resale is new-build.  If people can't find what they want to buy on the market currently, they are creating it by buying a parcel and hiring one of the many talented local builders to make their dreams come true. Some of my builder friends are busier than they have ever been, projecting business out into 2018 and beyond.
Interestingly, the proliferation of new developments and new builds may be helping to understate the actual growth in the market. The numbers you see opposite, and the numbers we rely on when interpreting the market are derived, typically, from MLS® data.  New developments and new builds do not usually show up on MLS® and as such are not counted in our growth figures. Therefore, the growth in the real estate market in 2016 was likely quite a bit more significant than we are stating.
What are we forecasting for 2017?  Hard to say. I, however, am bullish on continued growth.  Historic low inventory, questions about mortgage qualification and the potential of rising interest rates aside, people want to be here. We continue to see migration in diverse age categories to our area. You know it is awesome up here and so do others. I think demographics are, for now, on the side of continued growth.  As Dr. David Foot stated in his book Boom, Bust, Echo, real estate is affected far more by demographics than it is by economics and our market is a strong benefactor of that market dynamic. We shall see.
The Market: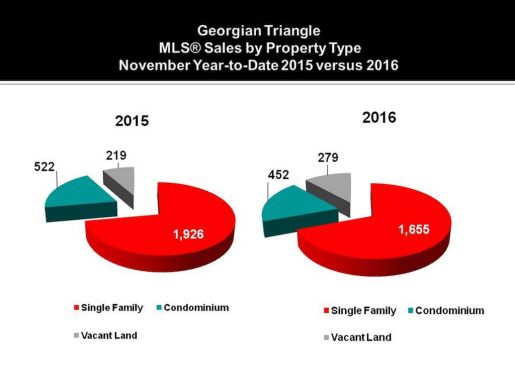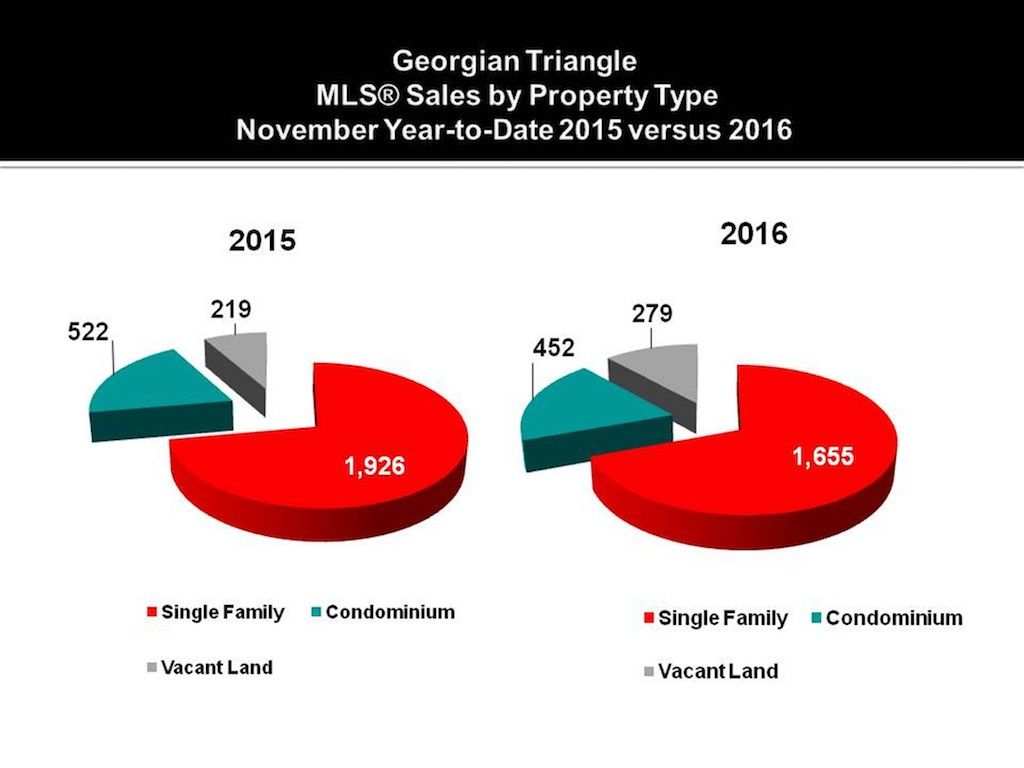 Due to the time of publishing this report, we are relying on end of November 2016 data, but the trends were unmistakable. Sales of area real estate traditionally start to taper off as we near the holiday season. However, the end of last year was exceptional and sales showed no signs of abating as the year closed. Sales in November of $84.3 million represented a 54% increase over November 2015 when sales for the month totalled $54.9 million. As mentioned above, MLS® dollar sales exceeded $1 billion for 2016 with sales to the end November standing at $990 million for the year as reported by the Southern Georgian Bay Association of REALTORS (SGBAR). Year-to-date MLS® unit sales for the first eleven months of 2016 totalled 2,626 properties, an increase of 16% over the prior year.
MLS® sales of single family homes year-to-date at the end of November totalled 1,926, an increase of 16% over 2015.  Similarly, area condominium sales were also very robust for the same time period with 522 MLS® sales representing a 15% increase over 2015.  During 2016 we also saw strong sales activity in vacant land which may have been in part due to the lack of available housing inventory. Year-to-date through the end of November there were 279 vacant lot sales compared to 219 in the first eleven months of 2015, an increase of 27%.
In most real estate markets across Canada, MLS® sales were far outpacing the inventory of MLS® listed properties for sale. New MLS® listings in our local market area through November totalled 3,805 properties, which is 9% fewer new MLS® listings that came to market in the same period in the previous year.  A 16% increase in MLS® sales combined with a 9% decrease in new MLS® listings clearly placed the negotiation advantage to sellers.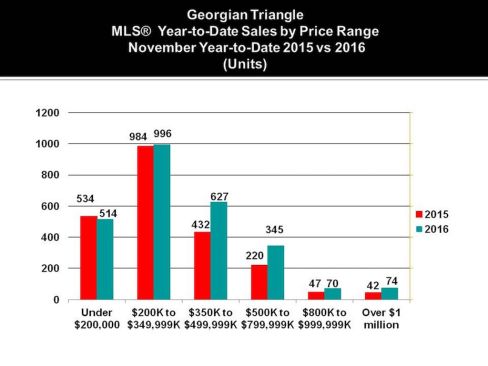 Virtually every municipality in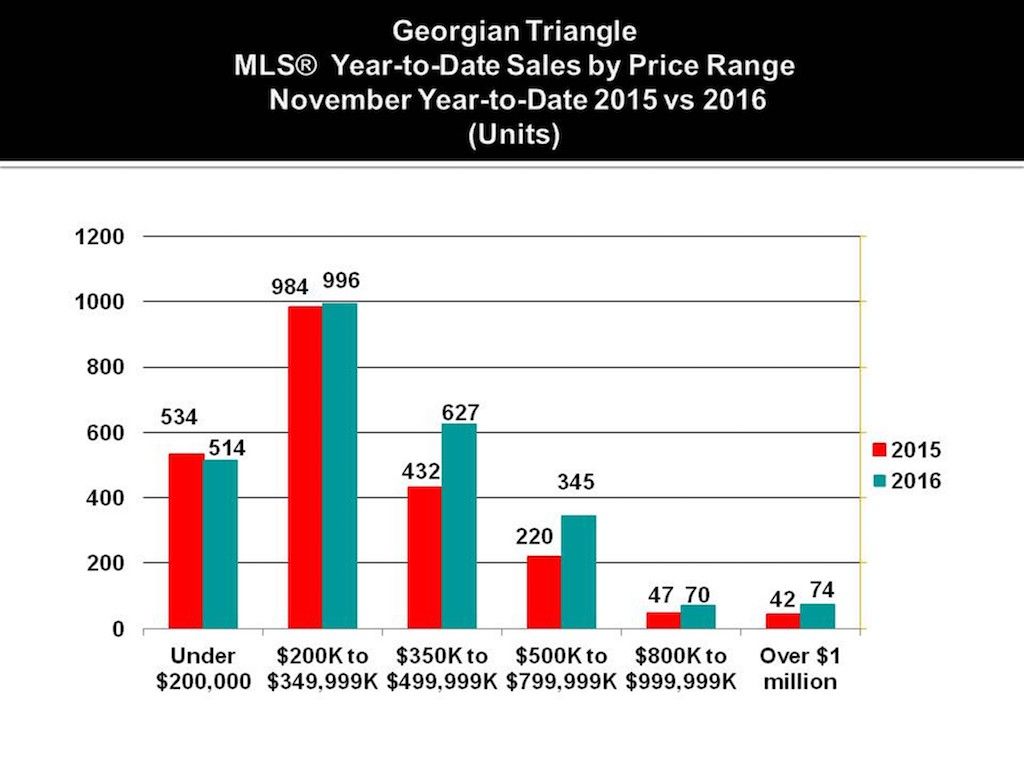 our market area saw year-over-year increases in single family home, cottage or chalet sales. Somewhat
surprisingly, Clearview Township continued to lead all area municipalities in terms of the largest increase in single family home sales year-over-year with 197 sales through the end of August representing a 31% increase over 2015. Single family home sales in Wasaga Beach were up 16% last year with 622 MLS® sales reported as at the end of November. Sales of single family homes in Collingwood were up 7% through the end of November while sales in both the Municipality of Meaford and Grey Highlands were up 23%.  Lastly, MLS® single family home sales in the Blue Mountains were up a modest 2% with 204 sales reported. |E