Text: Cara Williams Photos: Clay Dolan
As Editor-in-Chief of Escarpment®, I have written about countless amazing home transformations and listened to homeowner's tales of the good, the bad, and the expensive when it comes to renovations. One piece of advice I have heard over and over again is, "You have to live in the space first to really know what you'd like to change." When we purchased this 1980's era home three years ago we had grand ideas about what we would change/add/get rid of. Like many new homeowners who just spent their life savings on a down payment, we waylaid our dreams of taking down walls until we were in a better financial position. As it turns out, that little bit of advice couldn't be truer—we would have done things completely different three years ago before knowing how our family of four (and Molly the Golden) uses each space, where we like to spend time, and which rooms absolutely need a door.
The original kitchen, with its chipped oak cabinetry, murky tile flooring, small drafty window and Formica countertops, was the centre of life in our home and ultimately the catalyst for the renovation – I remember looking at my husband Dak early last fall and saying, "I can't spend another winter in this dark, gloomy space." From the putty- coloured coil hot plate to the "drive thru" window that accessed our dining room (which was around the corner and down the hall), our kitchen was dysfunctional and outdated, not to mention uneconomical (the electric appliances and overhead pot lighting weren't helping our bottom line).
As the primary home features writer for Escarpment, I have a rolodex full of experienced contractors and trades and realized we have a unique opportunity to work with businesses who have supported and advertised with Escarpment for many years – many of which, have become my friends along the way. We first enlisted the help of Pat and Mitch Durnin of Durnin's Custom Cabinetry in Owen Sound, who worked with us to design a new kitchen that is at once functional and modern, as well as breathtakingly beautiful.
Scroll down for more before/after photos of this project
Pat and Mitch have an impressive portfolio and over 30 years of trial-and-error experience. They walked us through every part of the process, beginning with the layout and design. At their suggestion we relocated the new fridge, stove and range, creating a convenient "working triangle". Our new state of the art black stainless high efficiency Samsung appliances from Leon's in Collingwood have completely changed our lives, and converting to gas range has made a huge difference on our electricity bill.
In the past unloading the dishwasher would account for a substantial percentage of my daily steps, with water glasses, plates, bowls and cooking tools being stored in eight different locations around the room. We replaced our small floating island with an over- sized built-in painted with Benjamin Moore Van Deusen Blue. This custom feature seats five, has a power outlet and adds valuable prep (and homework) space. Best of all, the island storage is adjacent to the dishwasher and holds all our stemware, plates, glasses and small appliances like the toaster and blender. I now reach my step goals running around the house looking for my reading glasses.
We wanted a clean, uncluttered look with no upper cabinets, so we enclosed the "drive-thru" and built a wall of tall cupboards (painted in Benjamin Moore Silver Satin) that run alongside the fridge. Everything from dry food, platters, dog food and even the vacuum cleaner is concealed within these well-built cabinets. We replaced the old drafty kitchen window and upgraded to a sliding glass door, both from Cedarport Window and Door Centre. Our kitchen is now flooded with natural light.
Undoubtedly the focal point of the space is the counter to ceiling hexagonal marble backsplash from The Flooring Place in Collingwood. This unique tile is blatantly bold and adds shine, depth and sophistication. I had to sell Dak on this show-stopping feature, which ate up a hefty portion of our limited budget. I admit that I second-guessed my decision prior to the installation — but now that everything is in place, I was right to trust my gut, and best of all, Dak loves the result.
To offset the cost, we chose budget friendly Silestone in Arabesque White for our countertops, which have a similar shine and finish as the pricier options like Caesarstone, at half the cost. The gorgeous ash floating shelves on either side of the window were built by carpenter Ron Rubinkiewicz of From the Woods. These hearty shelves are at once beautiful and functional — we love how easily we can change up the look by swapping out items and adding pops of colour with fresh produce and seasonal flowers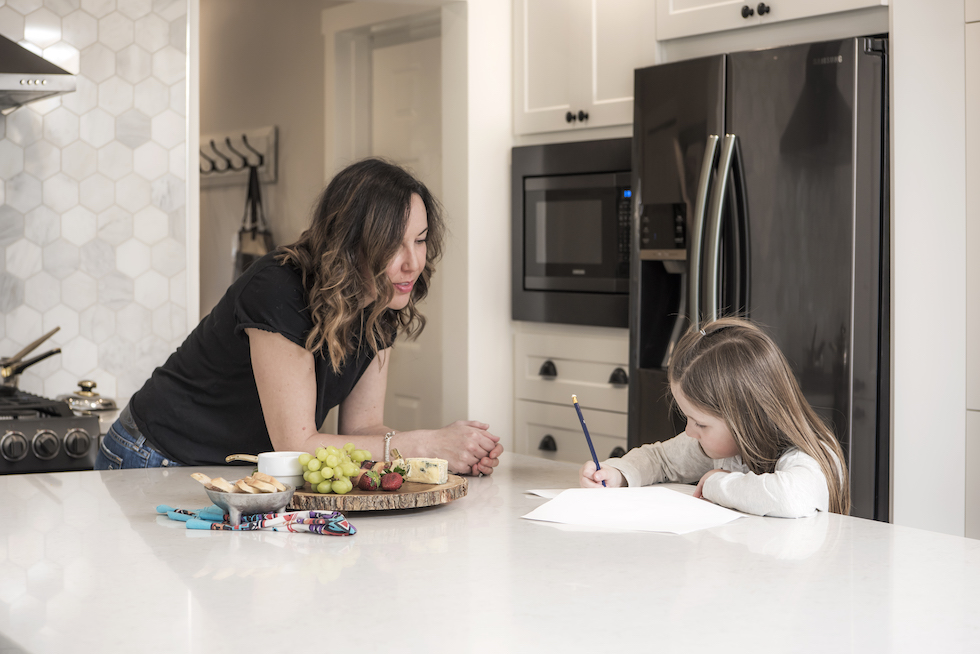 Originally the family/media room (which we used daily), was accessed through the kitchen. Dak and I enjoy listening to music while we cook and would often call to the kids to please turn the television down. The small enclosed dining room (which we rarely entered), was at the front of the house — a dozen or so inconvenient steps away from the kitchen. It simply made sense to switch the family and dining rooms. In moving the TV room to the to the front of the house, we now have an enclosed and quiet media room. To deal with our dark, front hallway, we replaced the front door of the house with a three-panel glass door, which floods the now bright hallway with light no matter what the weather. We widened the opening to the once TV room and removed the storage closet under the stairs, which opened the space and created an incredible great room with dining right off the kitchen.
Engineered oak flooring from the Flooring Place (by Northern Retreat in Avalon) runs throughout our main floor. This hearty product is tough enough to withstand muddy boots, kitchen spills, and heavy traffic, yet it's warm on the soles of our feet and unlike other wood flooring, is completely dog proof.
Something we desperately wanted to avoid is the inevitable clutter of non-kitchen related items that have a way of accumulating on the counter. Since Ron (of From the Woods) did such an great job on our floating shelves, we asked if he could create something in the way of an organizing hutch in the side entrance hall. This house has is an abundance of closet space – with a side-entry closet and adjoining gear room we had little use for the closet in this hall. Once we removed it we couldn't believe how much brighter, airier and less cramped it felt.
Ron surpassed our expectations, creating a custom three-drawer bureau with cubbies for both kids and an attached bench for lacing up shoes. Now permission slips, book orders, and mail are contained in one beautifully organized space.
After the demolition and reconstruction came the fun part – putting everything back together, painting, furnishing and decorating. Okay, I don't actually find painting fun at all, which is why we enlisted the help of Jason McKernan of On The Wall Painting in Meaford. We wanted to go with timeless, muted wall colours and introduce colour and texture with rugs, pillows, window treatments and furnishings. We settled on Benjamin Moore Simply White for the kitchen, great room and trim (in a slightly glossier finish) and Benjamin Moore Balboa Mist (a warm grey tone that is exactly the same colour as dirty fingerprints), for the hallways and media room.
We were able to utilize our existing furniture such as our dining room table, authentic antler lamp and oriental hutch, which for the past three years had gathered dust in the unused former dining room. All three pieces were purchased or gifted to us over a decade ago when we lived in Utah and hold sentimental value and fond memories of our early married life.
Artist Jennifer Woodburn (who sells her work at the Loft Gallery in Thornbury) created an incredible commissioned painting for us entitled "Georgian Peaks Sunshine", which hangs alongside our dinner table, and thankfully, is enjoyed from the moment you step into the kitchen. The trio of timber 'mountain-scapes' that hang above the table were created by our good friend Kodie Orr, who will be selling her striking reclaimed wood art at the Collingwood Farmers' Market this summer. We sourced additional furnishings at Leon's in Collingwood, such as the charcoal sofa in the great room. We found the perfect chrome floor lamp at Dovetail Interiors, Nottawa and some delightfully, quirky treasures at Greentree Gardens in Collingwood. I contacted Karen James of Aston's Blinds and together we picked out bamboo shades for our two large windows. Our new dining area is now used daily, as is the (television free) sitting space for relaxing, reading, gathering and unwinding with a glass of wine from our wet bar.
At the risk of boasting, Dak and I disagreed on the need for a fireplace. Here's the Coles notes: I won. We sourced a Napoleon gas fireplace through The Fyreplace in Owen Sound (BL36 fireplace insert with beach kit). Owner Paul Wilson put us in touch with Andy Galea of The Woodworm, who constructed the encasement and built the rock tile façade (stones by ErthCOVERINGS) in the colour Silver Fox.
For years I have coveted the wind-blown iron tree sculptures created by Michael Pocock who owns Iron Works in Clarksburg. One morning, while working out at Two The Core in Thornbury, I spotted one of Michael's pieces displayed on the wall—we had just completed our fireplace and I just knew it would fit perfectly—we LOVE it. We are beyond thrilled with this cozy addition to our great room—our fireplace is the first thing you see when you enter the kitchen, so it's a double win.
Throughout this process, nothing made me feel more like an adult (other than our mortgage payment of course) than buying a few new pieces of local art. I purchased a stunning abstract painting from local artist Bonnie Dorgelo for Dak's 50th birthday, entitled "Wild Spirit". This spectacular piece hangs in our hallway and appears to change entirely based on time of day, light, and the angle in which you look at it. Bonnie's partner Nic Gallo explained there are positive af- firmations hidden within the layers of paint — the kids have spent hours trying to find letters and shapes concealed within.
I lived on the west coast for over a decade, where I fell in love with indigenous art. Over the years Dak and I collected several pieces and since moving back east have added a series by local indigenous peoples from Manitoulin Island.
Renovating without the help of a contractor overseeing every aspect of the project would certainly have been a nightmare if we hadn't had the fortune of knowing and working with so many fantastic local trades and builders. For us, this was a chance to turn the tables and give something back to those who have supported Escarpment over the years. One thing I know for sure: we truly have talented, creative, hardworking people in our community, and each person we worked with put their unique stamp on the finished project – our family will enjoy this space immensely for years to come.|E|
Source Guide…
Entryway built-in organizer & bench: From the Woods 519.599.7472
Painting: On The Wall Painting 519.377.0682
Electrical: Clearlite 705.446.1407
Plumbing: Jeff Walker Plumbing & Heating 519.376.8716
Drywall: Greg Hillman Contracting 705.606.0200