Mood, Movement & Spirit
By Deena Dolan, Photos by Clay Dolan
Among other glowing adjectives, the term painterly is often used when describing artist, Dana Cowie's work. It implies that the artist employs a loose, somewhat uncontrolled manner when manipulating paint, while at the same time making the fullest use of its sensuous properties including mood, movement and spirit. At first glance, Dana's artwork appears solely abstract but as one steps away, individual components quietly emerge and become more recognizable in an impressionistic fashion. As the viewer takes in the entire image of a Cowie landscape, buildings, trees, water and skies become evident. It's mesmerizing. One wants to linger and keep exploring the topography, getting lost within the colour filled panorama. What else is in there? What have I missed?
Rather than depicting subject matter from a single viewpoint, Dana's work shows multiple perspectives and vantage points, where the scene has been taken apart and reassembled in an abstracted, geometric form. Somewhat akin to looking through a kaleidoscope, this 'cubist' style was first introduced in the early 20th century by artists Pablo Picasso and Georges Braque.
Through joyful experimentation and exploration, Dana's purposeful, impasto applications of pigment result in a complete understanding of her subject. Every necessary ingredient is there, but traditional rules of perspective are gone and objects appear simultaneously on different planes. Her application of bold hues, visible brush and knife strokes, thick layers and 3D textural details combine masterfully within her finished work.
"I work instantaneously across my canvas, creating layers of colour that overlap as the image emerges through a grid technique that I've developed over years of my practice. The image emerges as both abstract and representational."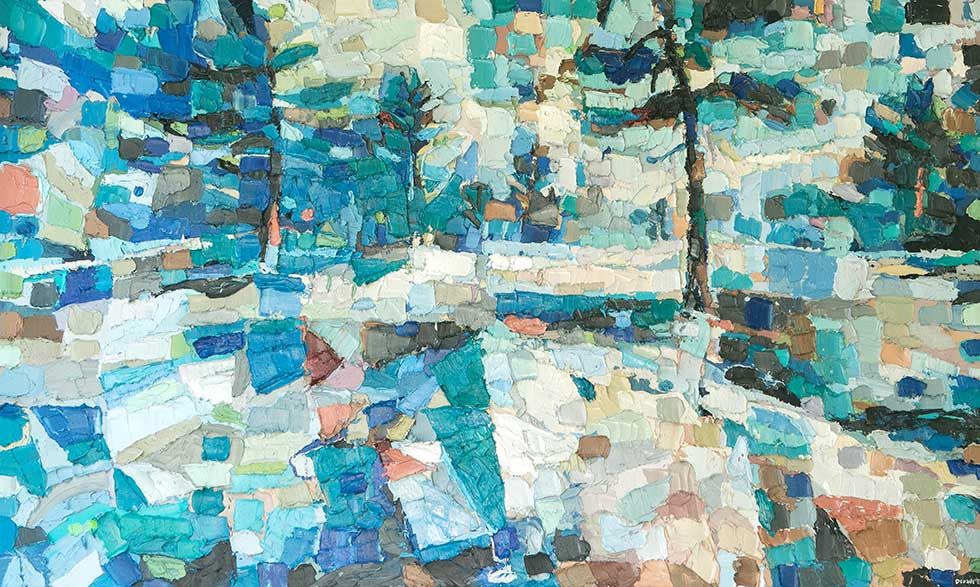 Like most artists, it's been a process. And, not an easy one. She was raised in Hamilton by her mother and following her death, Dana enrolled in the four-year, visual art program at Central Technical School in Toronto in the 90s. She was strapped financially and the option of 'free education' was really her only option. "Mr. Oikawa, my art teacher at Westdale High School, told me that Central Tech had the best art education in Ontario at the time —it really was a blend of learning all the classical disciplines. I got into Ontario College of Art but in the mid 90s its reputation wasn't great and I didn't have the funds for tuition." Dana was not to be stopped. "I'm going to be a full-time artist one day", was her absolute belief. "I just knew it, but didn't know when."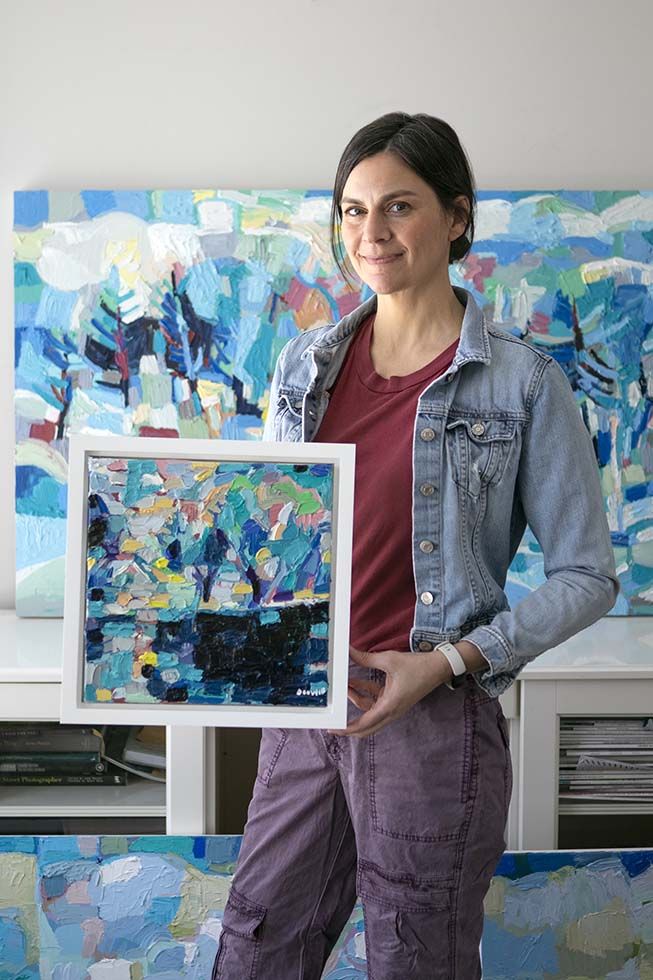 Following graduation, Dana spent several years working in public art galleries including the Art Gallery of Hamilton, where among other duties, she also taught art classes. Always looking for varied opportunities, she spent a year in Japan teaching English and once back in Canada, followed her interest in fashion and became a display stylist at Sporting Life and Holt Renfrew. Time devoted to her preferred craft of painting was limited during those hectic days. However, while on her honeymoon in Paris in 2009, she received an email from Toronto's Canvas Gallery. They had found her work online and wanted to represent her. "Harry and I lived in Toronto in those days and I was painting figurative work." Thus, began a life altering new era for Dana. "They have supported me through all of my years, and with many years not painting because I was home with babies and toddlers and then took me back on when I got back to work! I've learned a ton from them and I consider them to be my friends."
With the birth of their two daughters, life in the city was becoming a financial and professional challenge. "I was a full-time mom and only had two hours a week to paint." The opportunity to relocate to Owen Sound a few years ago resulted in the next important phase of growth for Dana as an artist. Indeed, a new world unfolded around her. Surrounded by farms, nature, open spaces and water, Dana was amazed and hugely inspired, not just by the beauty, but also by the calm. "My focus shifted because of the location."
Refreshingly open about her Christian beliefs, Dana credits the presence of God in her life as key. Spirituality is a huge influence and plays a role in everything she does. "I worship the entire time I'm painting. I sing, I dance, I feel alive." In speaking with Dana, her joy is evident and infectious. 
As an artist myself, seeing Dana's small studio space in her home was delightful. Like my own it was a little messy. Pudding-like piles of paint (akin to a display of Italian gelato) lay in wait beside her paternal grandmother's easel and palette knives, ready to be worked. Interestingly, her maternal grandmother came to Canada as a war bride following the Second World War. "Everything British is best," was her mother's mantra and has been wholeheartedly adopted by Dana.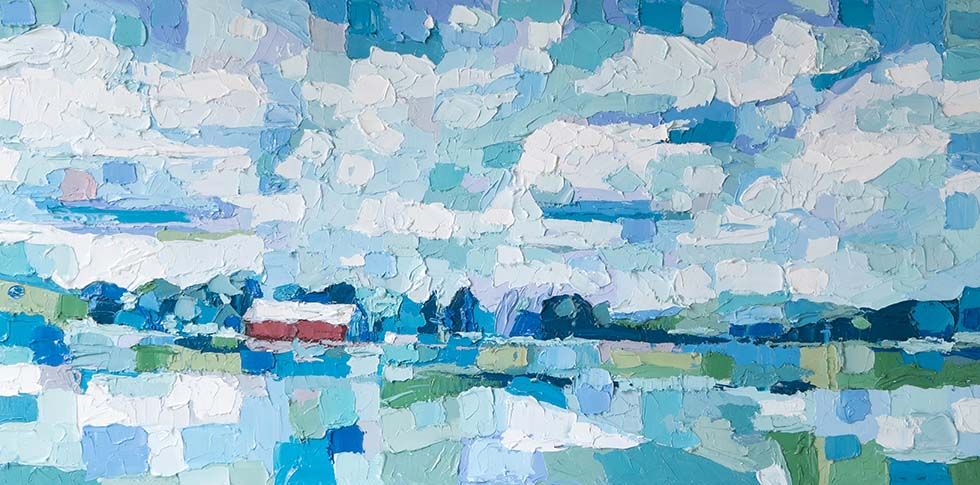 Art history holds major influence in Dana's work— expressionism, cubism, and surrealism of artists Paul Klee and Pierre Bonnard, Cezanne, Van Gough. "I love the women of the Bauhaus—the weavers." The effect of textiles plays an important role in Dana's work. "Growing up, my mother sewed and knit all my clothes and I always want my work to appear as a blend of landscape meshed with the abstraction of fabrics, textiles and weaves. It's all in my brain." In describing her work, Dana explains, "My work is a culmination of years of painting in search of a patchwork quilt effect using thick, expressionist marks. Barns and farmland speak to me as I live in a rural setting and have good friendships with local farmers."
Armed with resolute support from her husband and daughters, her unwavering faith and strong belief in the power of positive thoughts, Dana works non-stop. She takes risks. Case in point, just before we sat down for this interview, an exhausted Dana had just completed, packaged, and shipped 20 large pieces to Artspace Warehouse in Los Angeles, which has a solid international clientele— the costs involved in the shipping presented a financial hit to be sure but how could she pass up this opportunity?
Dana Cowie's work has been exhibited in numerous solo and group shows across Canada, in the U.S. and England. She is represented by art galleries in Canada, the US and England and is collected worldwide. You must see her work in person to fully understand the astounding complexities of what she creates. 'Painterly' is just the beginning. 
FIND DANA COWIE FINE ART
CANVAS GALLERY, Toronto, ON, ART GALLERY OF HAMILTON, Hamilton, ON, WESTLAND GALLERY, London, ON, GALERIE BLOOM, Montreal, Québec, ARTSPACE WAREHOUSE, Los Angeles, CA, KELLIE MILLER ARTS, Brighton, United Kingdom, DOCKSIDE GALLERY, Berwick-upon-Tweed, England.