Words by Deena Dolan Findlay
Energy, joy, passion. Darlene Watson's paintings exude a vibrancy so infectious you can't help but smile. Created with a variety of tools including her bare hands, her creations are influenced by her life in Southampton near the shores of Lake Huron. "I see it the way I want to have it." On her road to becoming an internationally known artist, Darlene has donned many hats; registered nurse; interior designer; consultant; photographer. "You learn from whatever you do."
Shockingly, it was just ten years ago, while consulting with a client about an interior design project that she was asked if she would consider producing a large painting for the client's space. "That's how it happened," explains Darlene. "I have always been a bit shy actually so I think there is part of me that just wanted to jump outside my comfort zone. Possibly that is why I didn't hesitate to create the art. So, there I am with a huge canvas and thinking, what have I gotten myself into."
Today, painting isn't just her passion, it's what she does. "It's my full-time job but I love to do it." Oh, there were plenty of challenges along the way but armed with an abundance of determination and a quick sense of the ridiculous, Darlene set about making it happen. "Getting into galleries and shows, shlepping my work around in a small car!" It was hectic and at times overwhelmingly frustrating. Her son Sean wisely suggested she should move to online marketing. She listened, she learned and she hasn't looked back. Thanks to that decision, her work now hangs in homes and offices in Kuwait, Australia, Ireland, Alaska, Oregon, Texas, Vermont, B.C. and New York. All generated online on sites like, Saatchi Art, Singulart, Gallea, 1stdibs, Zatista, Wescover and Instagram.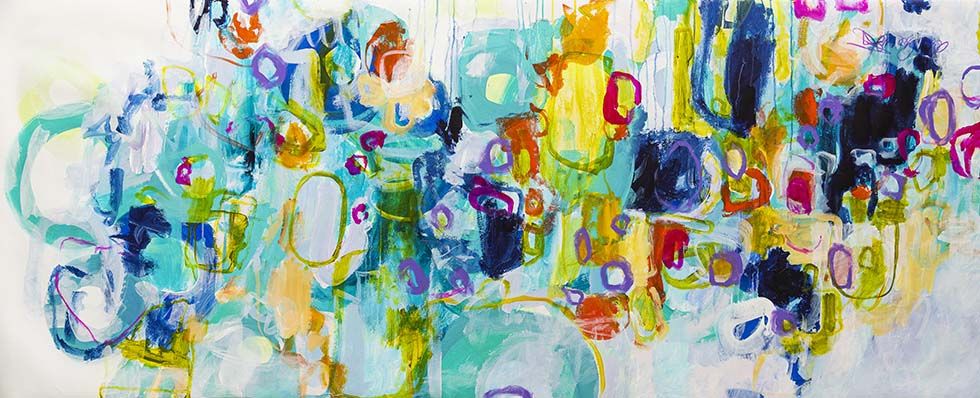 "I'm an artist," smiles Darlene. "It was hard for me to say that, but now, I'm an international artist." Working with acrylics, Darlene explains, "I'm too impatient to wait for oil to dry." Darlene's work is playful and somewhat experimental in personality. Above all, it is never predictable. Her minimal pieces using bold, wide monochromatic brush strokes invoke the style of Franz Kline. Her impressionistic florals with a freshness of colour and light are akin to the ingenious style of Monet and of course, Gustav Klimt with his ground-breaking injection of imbedded allusions and metallics, has been a favourite influence.
Painting at her home studio in Southampton, the undulating sky and seasonal colours along the shores of Lake Huron all play a role in the palette that Darlene conjures for the majority of her works. "I paint what I imagine and the colour palette of nature that I live in. I walk daily, and often take photos of lines left from leaves burning into the sidewalk, tree shapes and the colours of the changing seasons. They all affect my creative process in creating original pieces of art. At this moment I am working on a cubism style series named 'Beach Town' with each being numbered. I have completed one and two so far." Commissions are one of Darlene's favourite projects to take on and she has done several. Through email and phone conversations, a relationship gets developed. Learning about the collector allows Darlene's insight to emerge and becomes an integral part of the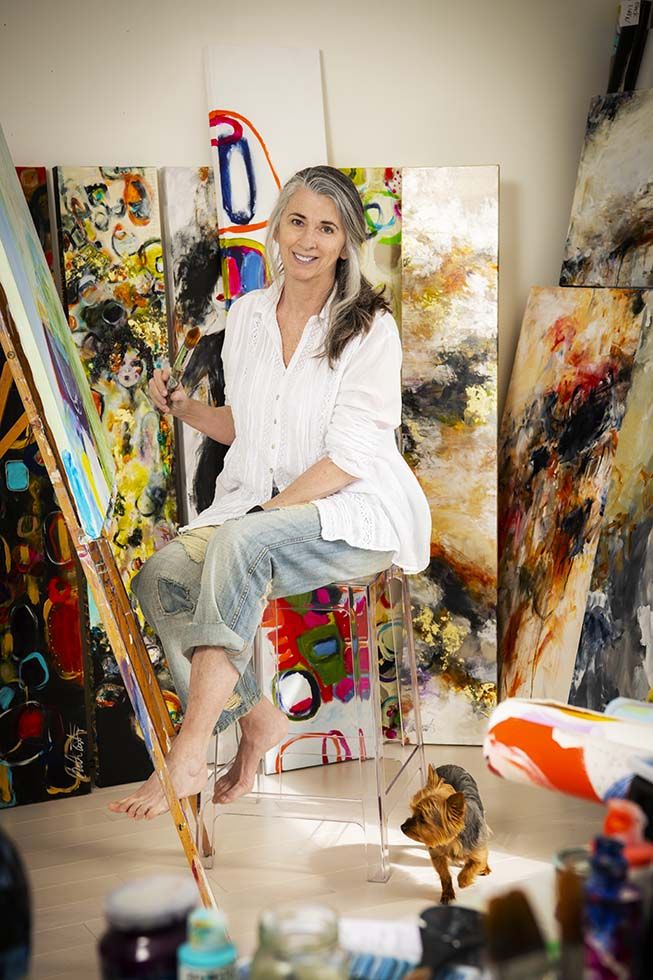 imaginative process for creating the composition, more than just the size for their space or the colours they might prefer. "Kind of like interior design for the walls," says Darlene. "It's the best of both worlds. I just love adding lines and surprises and to personalize my commission pieces with tidbits that really speak to collectors personally. Klimt, Bansky and Willem de Kooning play a role in my graffiti type of abstracts."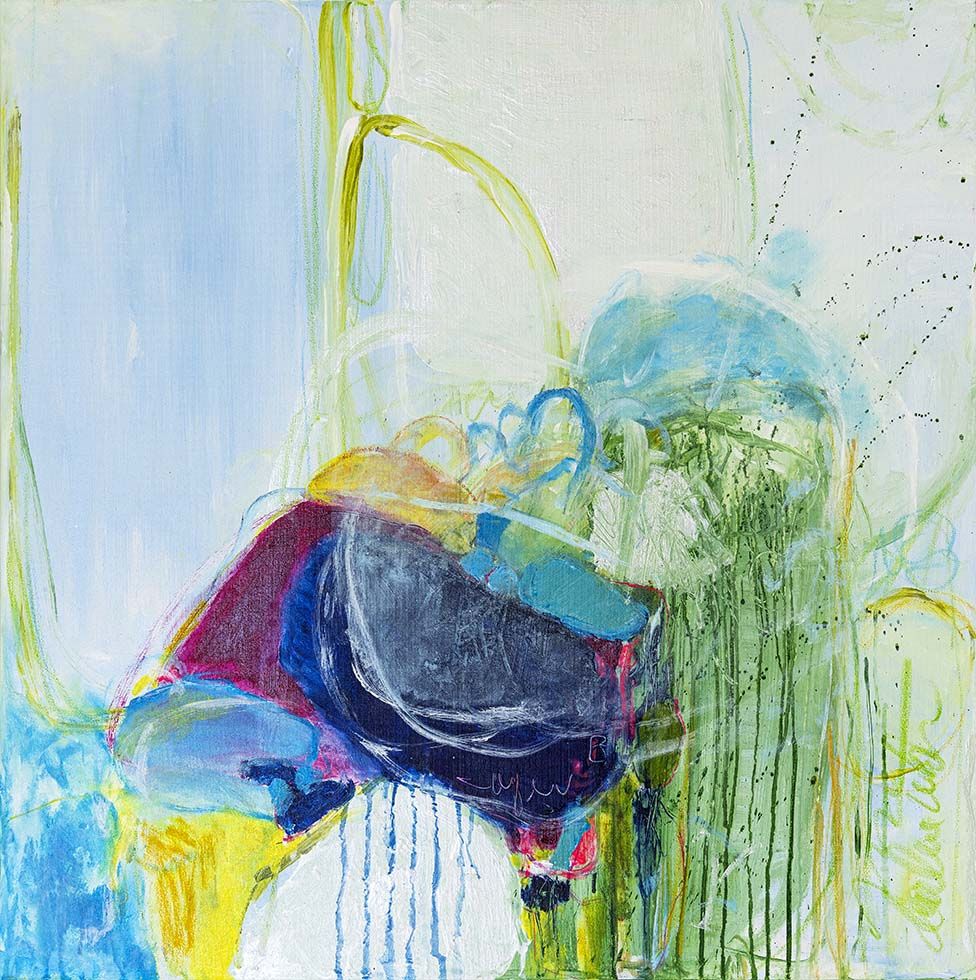 For the most part Darlene works with canvas by the roll. "It's easier to create large pieces and safer to ship." But she also produces framed pieces, or smaller paper works using acrylics, oil pastel, ink, and genuine gold leaf along with other mixed media. She works with several interior designers to find that perfect piece for a collector's home.
Darlene has also produced her own line of wearable art including wonderfully hand-painted, crisp linen shirts and spectacular linen scarves. Each evokes a freshness of aspect that demonstrates the power of independent thought and this talented woman's constructive imagination.