Words | Sharon Allan

Artwork is something that speaks to to the individual and can be the basis of a room's design—setting the palette, a theme or a mood. "The principles of true art is not to portray but to evoke" — Jerzy Kosinski.
Personally I like a huge range of styles but my favourite pieces are winter landscapes. Think of the sun just rising and the colours of washed, pretty pastels and ice cream flavours like orange sherbet and vanilla cream grounded with inky black and blue back-lit trees. I have an original oil on board by local artist Robert Kemp, another is from Bill Franks 'October Snowfall' collection and the last is a garage sale find that cost $25. I like them all equally and one of these days they will be hung as a collection in a room that is designed around them.
Speaking of hanging artwork here are some guidelines and tricks when it comes to walls and art – most are common sense and what works for 'the eye'.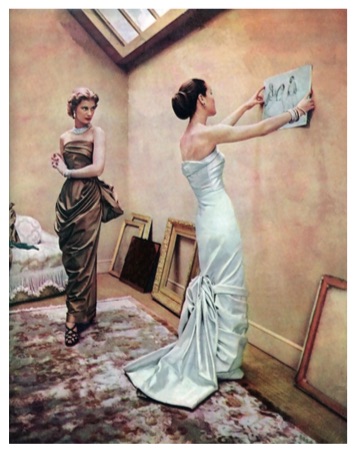 Galleries generally place art so the focal point is eye level when standing—which works for larger pieces but ones that are less than say two feet square look like they are floating on the wall. Smaller pieces benefit from compositions—placing them with other similar works or arranged over a piece of furniture and anchored with a lamp to one side or maybe candle sticks.
Not sure how to achieve the right composition? Try taking photos of your pieces- from the same distance to keep the scale—cut each out and place them on graph paper—play around until your eyes feel comfortable.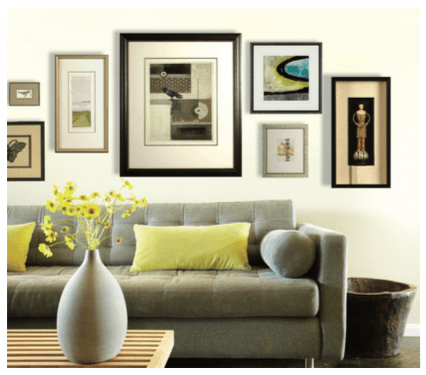 Our eyes like to connect the dots and random pieces of art work need to connect to some other element in the room even if it is just repeating a predominant colour in toss cushions or a throw. Per- haps the artwork design, style or colours might show up in a rug?
Do you find yourself straightening other peoples artwork? I do— and when my dear, sweet uncle hangs his artwork twelve inches from the ceiling I just want to grab a hammer and re-hang it.
Generally, as with TVs, artwork should not be wider than the furni- ture they are hanging above and don't hang them too high or else hide your hammer from busy bodies like me.
Our eyes like to connect the dots…
Oversized mirrors that sit on the floor should be tethered! Do so by putting a nail, screw or hook into the wall and using 8 or 10 inches of wire, enough to allow your hand to get behind to attach to the back of the mirror to stop it from tipping forward too far.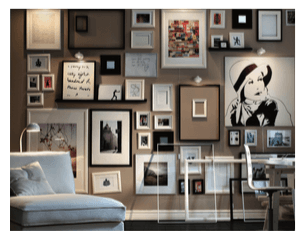 Collections of family photos or travel shots look better when framed in the same material but in two or three different sizes. I also love the look of a wall shelf with various pictures of the same genre—ie. black and white family photos; postcards/pictures from holidays or a series of water colours—then you can move them around and change them up.
Favourite art pieces, family pictures and travel memories all belong on display— evoking memories and making a home.