PHOTOGRAPHY • CLAY DOLAN.  SET LOCATION: BLUE MOUNTAIN PRIVATE BEACH
ALL HAIRSTYLING… MARION'S HAIR STUDIO, THORNBURY. ALL MAKEUP… HAUS OF LASH, COLLINGWOOD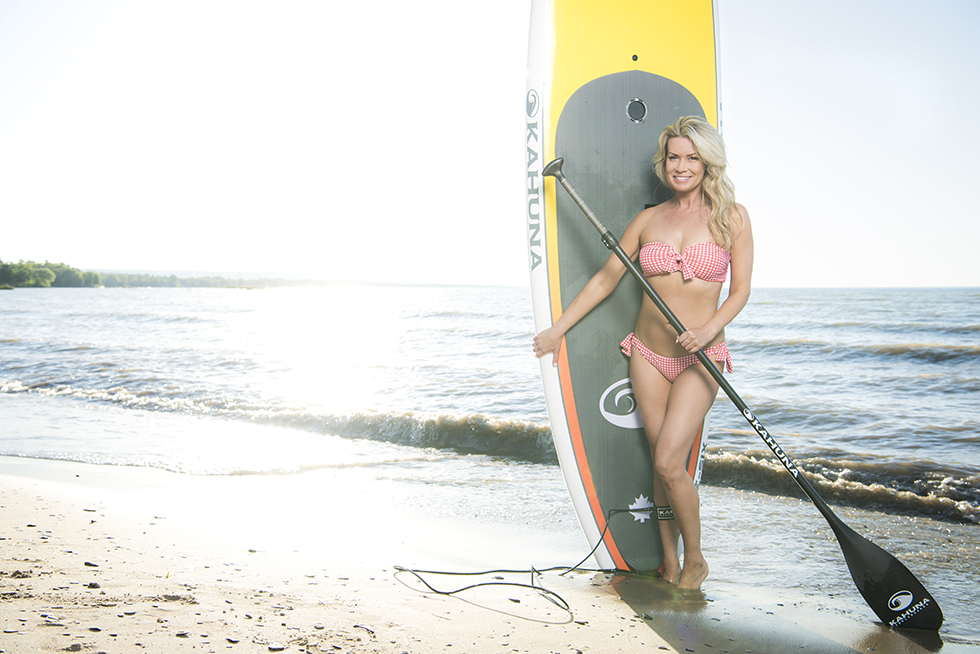 APRIL MORGAN…
ACTRESS, KAHUNA PADDLEBOARDS AMBASSADOR AND SUP INSTRUCTOR—YOU CAN FIND APRIL PADDLING ALONG THE SHORELINE ALL SUMMER LONG—"I HAVE BEEN COMING TO THE COLLINGWOOD AREA FOR SEVERAL YEARS AND LOVE THE ABUNDANCE OF FOUR SEASON ACTIVITIES THE AREA HAS TO OFFER."
APRIL IS STUDYING TO BECOME A REIKI MASTER AND HAS A PASSION FORTRAVEL, BOATING AND ANIMALS.
SWIM SUIT… CHERCHEZ LA FEMME, THORNBURY
PADDLEBOARD… TWO THE CORE, THORNBURY
JESSIE STRYPE…
JESSIE MOVED TO COLLINGWOOD IN 2014 AND HAS ENJOYED EVERY MINUTE SINCE. "FROM EXPLORING HIKING TRAILS TO SUMMER FARMERS' MARKETS, THERE AREN'T ENOUGH HOURS IN THE DAY TO APPRECIATE ALL THE AREA HAS TO OFFER!"
AS OWNER OF BLINK EYEWEAR, JESSIE LOVES SEEING HER FRAMES ON THE BESPECTACLED PEOPLE OF COLLINGWOOD AND SURROUNDING AREAS. IF JESSIE ISN'T AT HER SHOP, YOU CAN FIND HER INVOLVED IN A COMMUNITY EVENT, DISCOVERING CULINARY DELIGHTS AT HER 'FAVE' RESTAURANTS, OR RELAXING WITH HER HUSBAND JEREMY AND THEIR TWO RESCUE PUPS FROM GTHS, GEORGE AND GARY.
DRESS, JEWELLERY & SANDALS … CORA COUTURE, DOWNTOWN COLLINGWOOD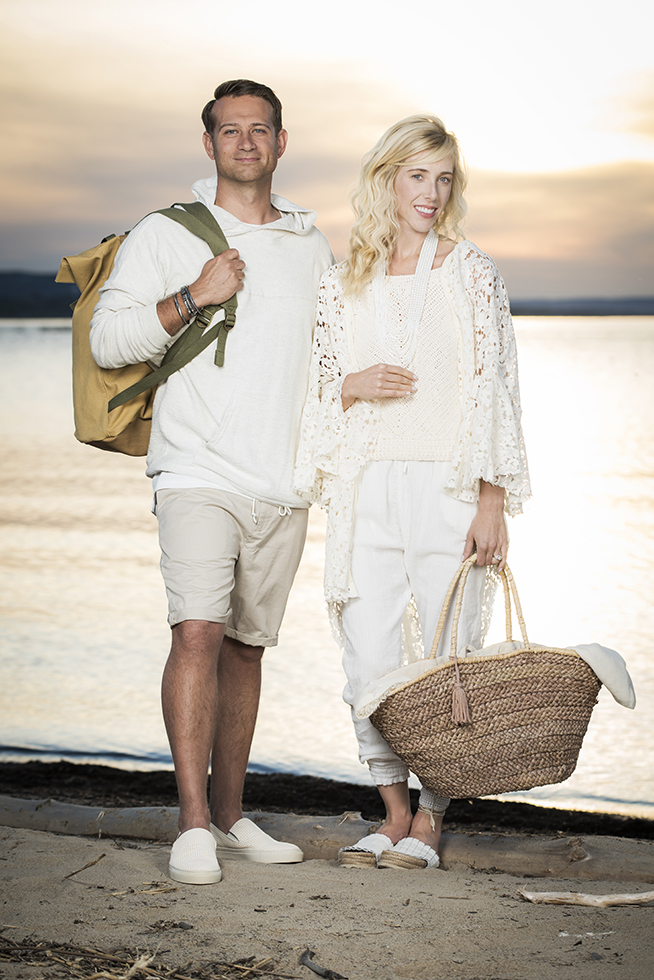 JASON & JAIME RUTTAN…
THE COUPLE MET PADDLE BOARDING AND SOON THEREAFTER IT WAS AN EASY DECISION FOR JAIME TO TAKE THE LEAP FROM TORONTO TO THE FRESH WATER BEACHES AND SURROUNDING ESCARPMENT WHERE JASON GREW UP.
JASON IS A REAL ESTATE BROKER/OWNER AT RE/MAX WASAGA BEACH INC. JAIME ASSISTS WITH BROKERAGE MANAGEMENT AND WORKS CLOSELY WITH JASON AS DIRECTOR OF CLIENT CARE. TOGETHER THEY ENJOY MANY OF THE OUTDOOR RECREATIONAL ACTIVITIES THE AREA HAS TO OFFER WHICH INCLUDES SAILING OUT OF THE COLLINGWOOD YACHT CLUB.
CLOTHING, BAGS & FOOTWEAR … LËUK, DOWNTOWN COLLINGWOOD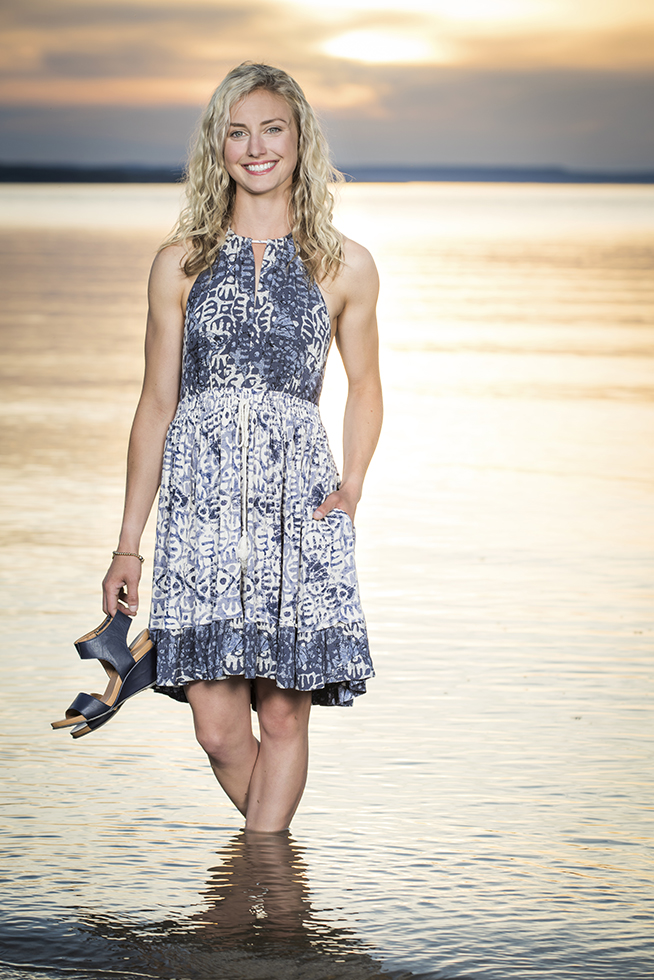 RACHEL BILLO…
WORKING FULL TIME AT BLUE MOUNTAIN RESORT AS A RECREATION SERVICES COORDINATOR, RACHEL ORGANIZES ON AND OFF RESORT ACTIVITIES FOR GROUPS. SHE ALSO SERVES PART-TIME AT NORTHWINDS BREWPUB IN BLUE MOUNTAIN VILLAGE AND IS PLEASED TO HAVE BEEN PART OF THE OPENING TEAM AT BOTH NORTHWINDS' LOCATIONS. "MY WORK ALIGNS WITH MY PASSIONS, AND I'M BUILDING A LIFE FROM WHICH I DON'T NEED TO TAKE A VACATION. I LIKE TO KEEP MOVING! AND IF I HAVE TO SIT, YOU CAN FIND ME EXPLORING THE WORLD OF CRAFT BEER."
DRESS & SANDALS… FURBELOWS, THORNBURY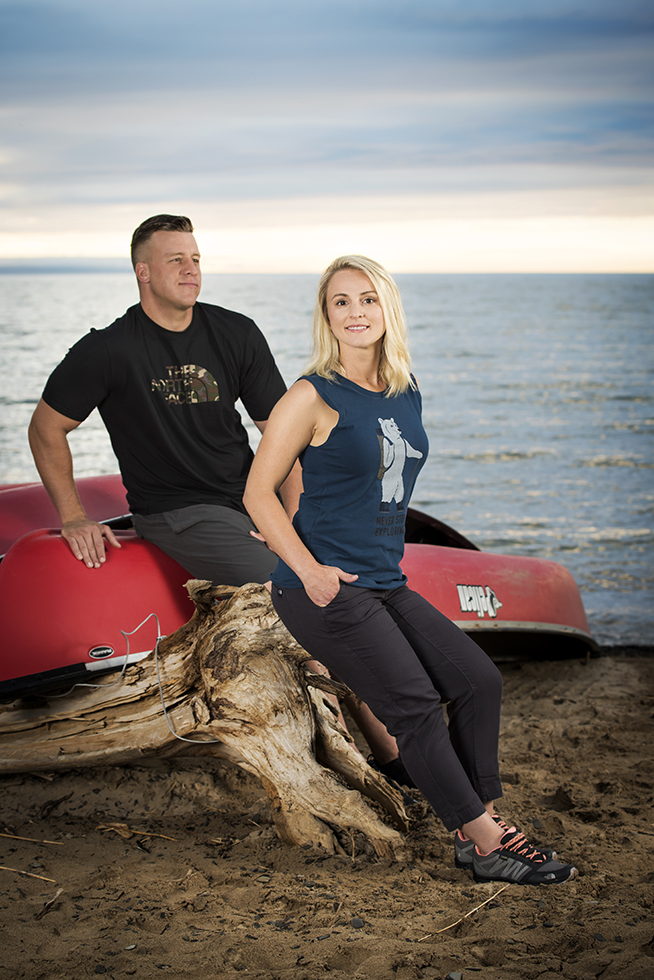 ADAM MURRAY & VANESSA PODLOVICS …
VANESSA AND ADAM MOVED TO COLLINGWOOD IN NOVEMBER TO ENJOY A QUIETER LIFE WITH THEIR TWO DOGS. "WE ARE GETTING MARRIED IN JULY AND EXPECTING OUR FIRST CHILD IN DECEMBER!"
VANESSA IS A CONSTRUCTION PROJECT MANAGER AND ADAM IS A STONE MASON AND PERSONAL TRAINER. THEY BOTH ENJOY SNOWBOARDING AND ADAM JUST PICKED UP KITE SURFING.
ALL CLOTHING & FOOTWEAR… THE NORTH FACE, BLUE MOUNTAIN VILLAGE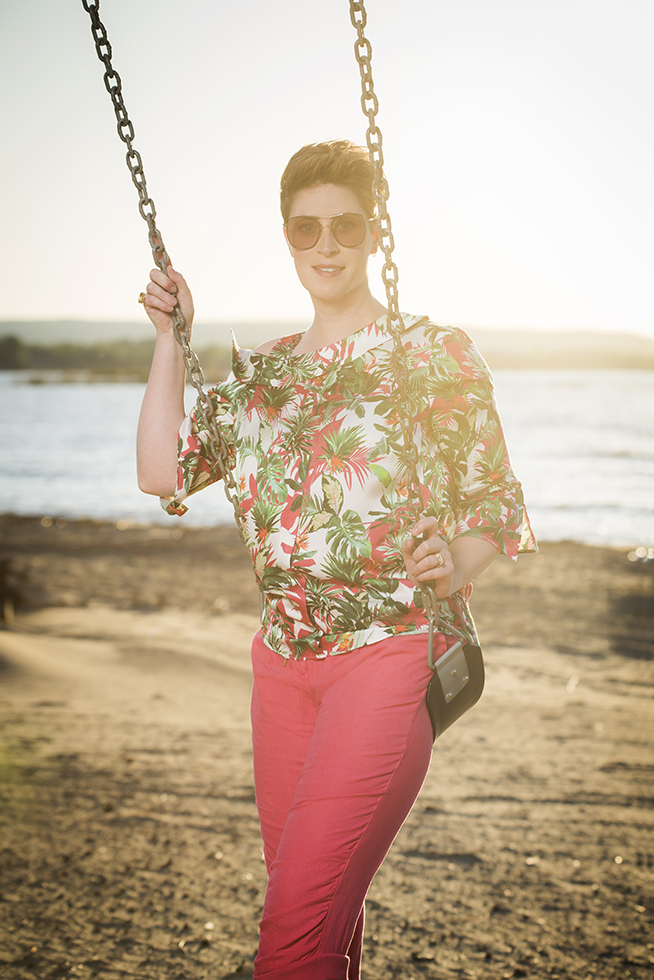 JESSIE STRYPE…
CLOTHING … ELAINE DICKINSON'S, DOWNTOWN COLLINGWOOD
GLASSES … BLINK EYEWEAR, DOWNTOWN COLLINGWOOD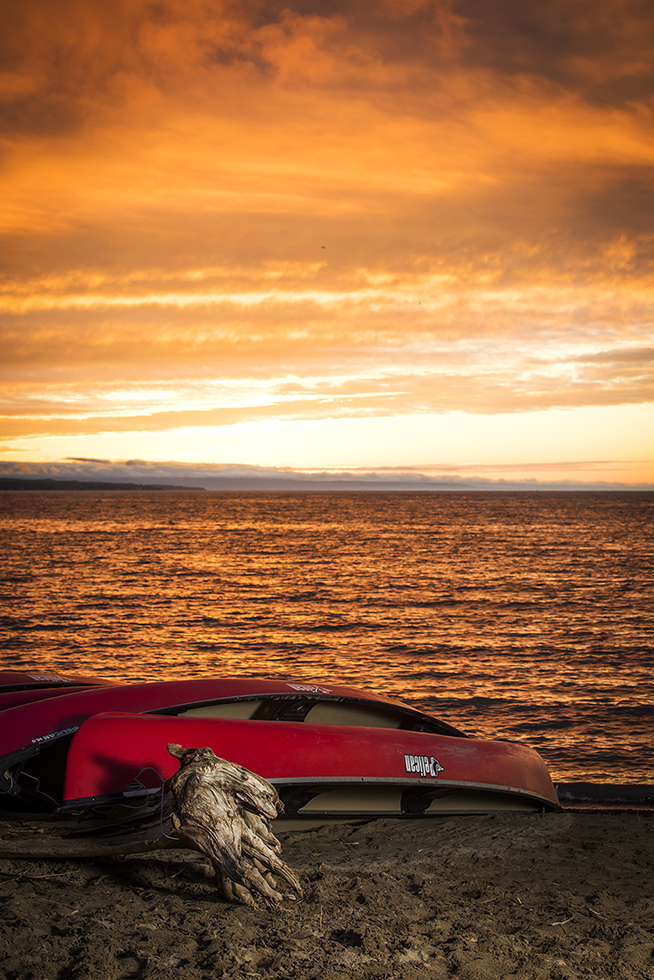 BLUE MOUNTAIN RESORT'S PRIVATE BEACH IS THE PERFECT PLACE TO TAKE THE FAMILY FOR A FUN FILLED SUMMER DAY. FOR MORE INFORMATION PLEASE VISIT THEIR WEBSITE  bluemountain.ca