Photography – Clay Dolan
Shot on location at Blue Mountain Resort.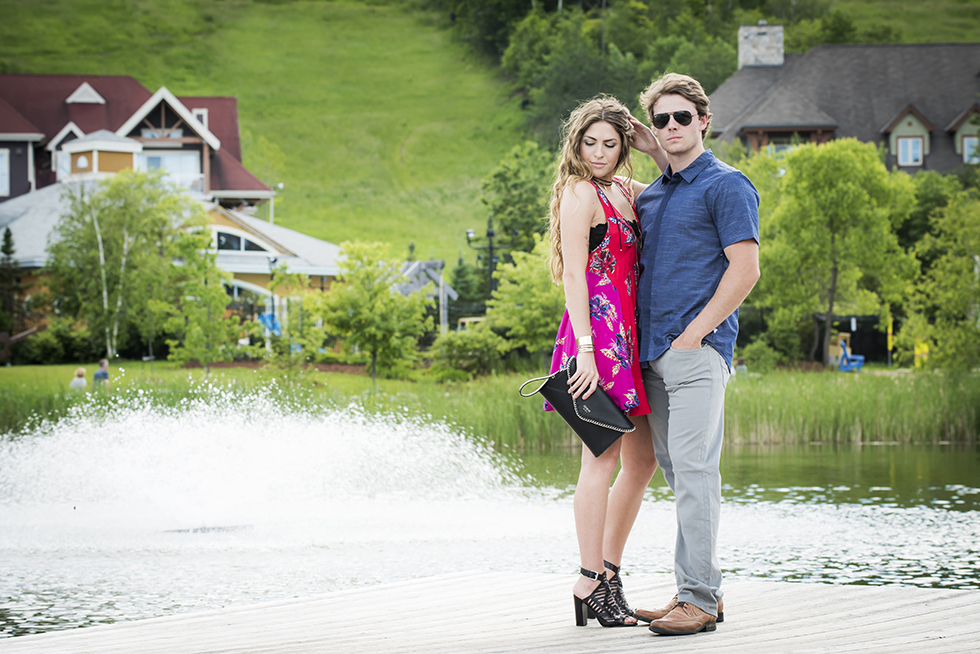 KENZIE HIGGINSON & CONNOR ANNETT
KENZIE, FROM THORNBURY IS WORKING AT LORA BAY GOLF CLUB FOR THE SUMMER AND WILL BE COMPLETING THE FINAL SEMESTER OF HER INTERIOR DESIGN DIPLOMA IN THE FALL. "I'M HOPING TO TAKE SOME TIME TO TRAVEL AND THEN PURSUE A CAREER IN DESIGN LOCALLY."
CONNOR, FROM COLLINGWOOD, IS CURRENTLY WORKING IN CONSTRUCTION (ADAM DONAHUE CONTRACTING) WHILE PURSUING A PROFESSIONAL HOCKEY CAREER AFTER FINISHING HIS LAST YEAR OF JUNIOR HOCKEY.
ALL CLOTHING, ACCESSORIES & KENZIE'S SHOES | POISE ON MAIN  DOWNTOWN COLLINGWOOD HAIR | MAKE-UP … MARION'S HAIR STUDIO  Thornbury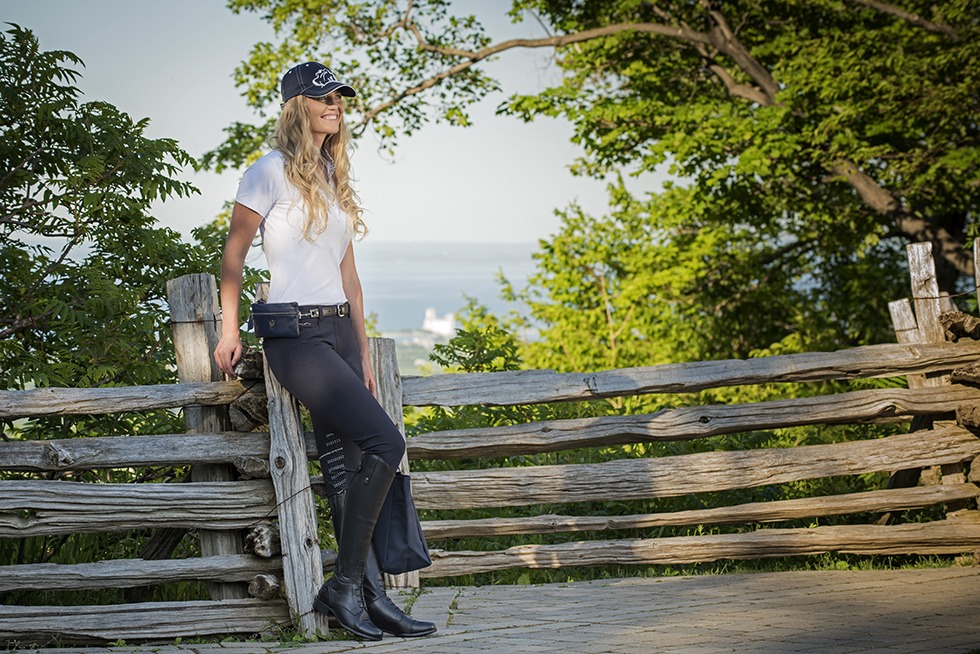 BROOKE NICHOLSON…
BORN AND RAISED IN MARKDALE, BROOKE WORKS FOR A REAL ESTATE APPRAISAL FIRM. "I REALLY ENJOY HORSEBACK RIDING AND SNOWBOARDING."
CLOTHING, ACCESSORIES & RIDING BOOTS | GREENHAWK COLLINGWOOD NOTTAWA 
HAIR | MAKE-UP … GLOW HAIR STUDIO COLLINGWOOD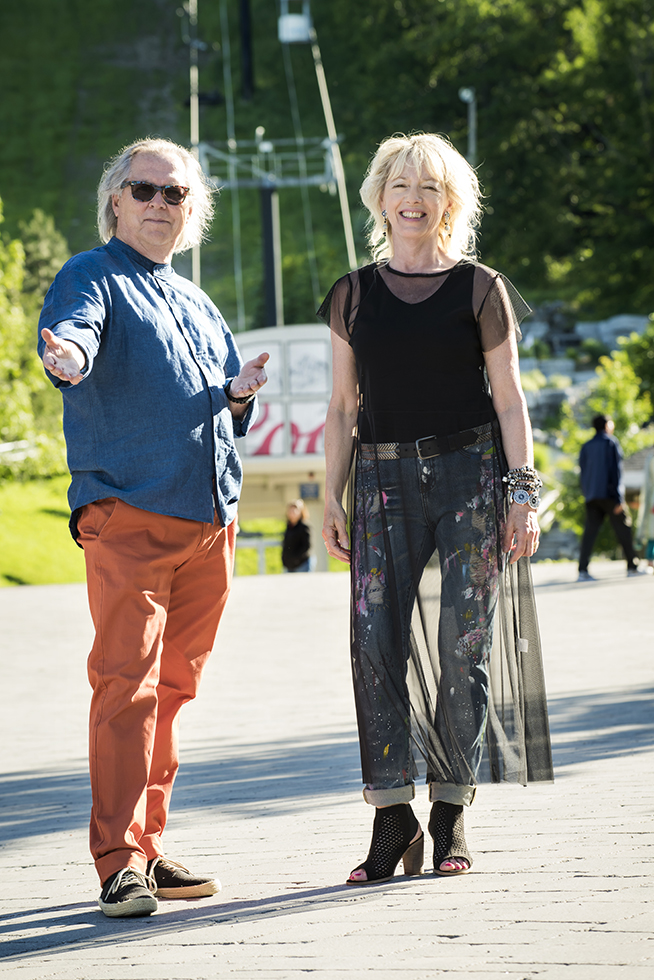 MICHELLE CROWLEY & KERRY CRAWFORD
MICHELLE IS AN INTERIOR DESIGNER AND FORMER OWNER OF PACK RAT TORONTO (HOME FURNISHINGS AND DÉCOR) NOW RETIRED.
KERRY IS A MUSICIAN, PRODUCER AND FORMER PARTNER IN LONESOME PINE RECORDING STUDIOS TORONTO. NOW RETIRED.
"FIFTEEN OR SIXTEEN YEARS AGO, AFTER LIVING A STRESSFUL LIFE OF CAREER BUILDING AND RAISING OUR SON IN DOWNTOWN TORONTO WITH ALL THAT ENTAILS, WE BEGAN ASKING OURSELVES THE QUESTION: DO WE WANT MORE OF THIS LIFE OR DO WE IN FACT WANT LESS?
LESS WON OUT AND WE BUILT A HOUSE IN COLLINGWOOD, SOLD OUR BUSINESS INTERESTS AND RETIRED A BIT EARLY. COLLINGWOOD AT THE TIME WAS STILL VERY MUCH A WINTER TOWN BUT WE ALWAYS HAD A FEELING IT WOULD ULTIMATELY BECOME ONTARIO'S BEST AND PERHAPS ONLY YEAR ROUND RECREATIONAL COMMUNITY. IN OUR TIME HERE WE HAVE SEEN NOT JUST AN EXPANSION OF SPORTS RELATED OPPORTUNITIES BUT A FLOWERING OF CREATIVITY IN ART, THEATRE, FOOD, DECOR. FASHION AND PUBLISHING (NOTE THE MAGAZINE YOU ARE CURRENTLY READING). DID WE MAKE THE RIGHT CALL… OH YEAH!" ~ KERRY
ALL CLOTHING, JEWELLERY & SHOES | DOVETAIL INTERIORS  NOTTAWA
HAIR | MAKE-UP… MARION'S HAIR STUDIO  THORNBURY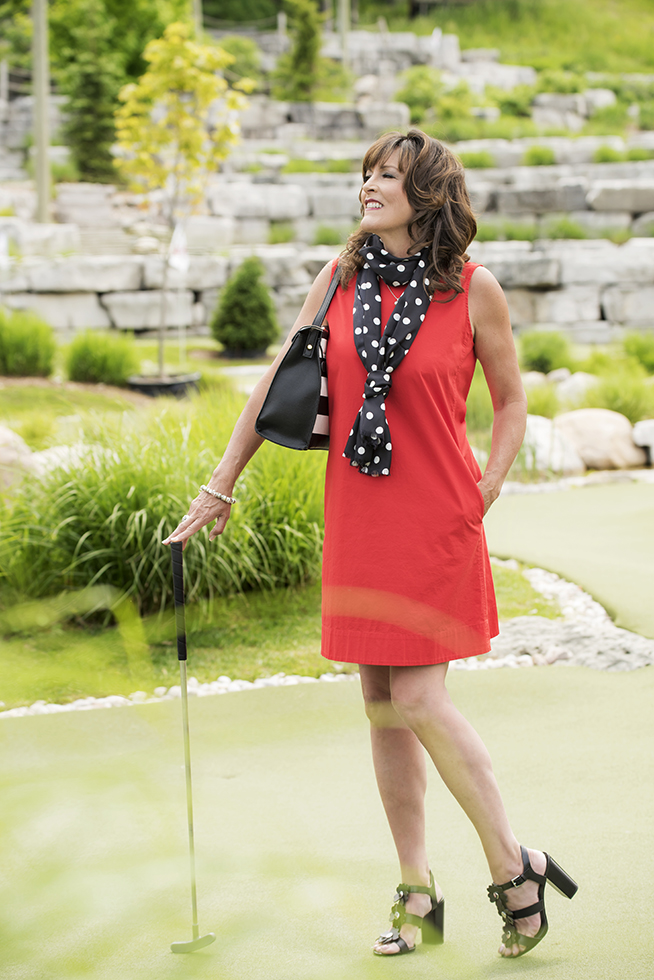 ANGILINE DUBIEN…
ANGILINE IS A REAL ESTATE REPRESENTATIVE WITH ROYAL LEPAGE LOCATIONS NORTH BROKERAGE, PROMOTING THE BEAUTIFUL BLUE  OUNTAINS AND COLLINGWOOD AREA. SHE'S LIVING AND LOVING THE LIFESTYLE THAT SHE SELLS, EVERY DAY. WHETHER SHE'S GOLFING, HIKING, BIKING, KAYAKING, SKIING, DINING, DANCING OR TAKING IN A LIVE MUSICAL PERFORMANCE. "IT'S THE PERFECT LIFE."
DRESS, SCARF, HANDBAG & SHOES | TIGS  THORNBURY
HAIR | MAKE-UP… GLOW HAIR STUDIO  COLLINGWOOD