Photography – Clay Dolan
Locations: Roxy Theatre, Owen Sound.  Meaford Hall Arts & Cultural Centre, Meaford.  The Historic Gayety Theatre, Collingwood.  Marsh Street Centre, Clarksburg.  Simcoe Street Theatre, Collingwood.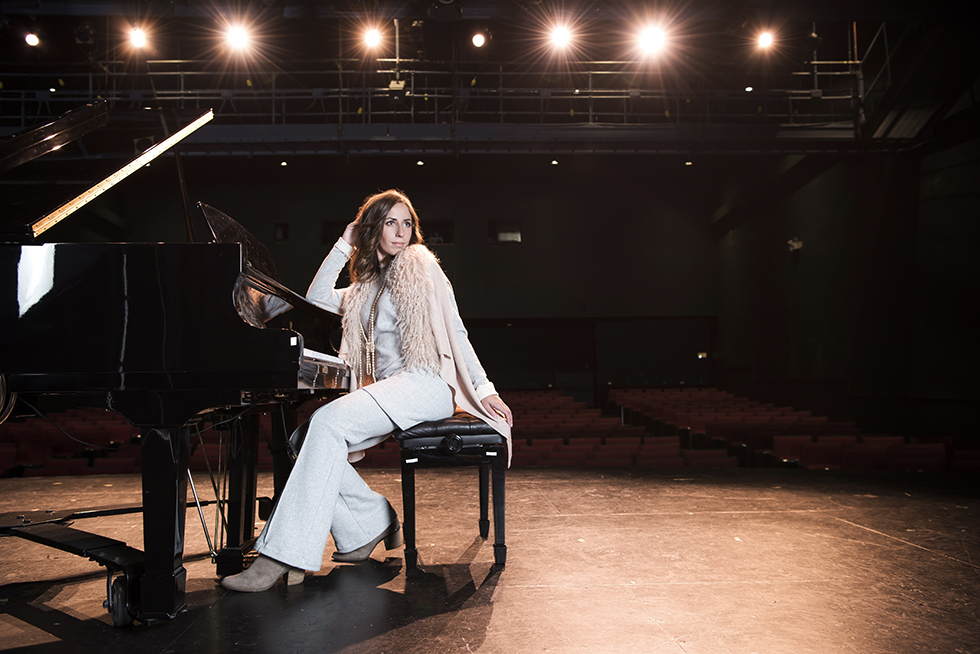 ANISA MCCOY…
LIVES IN DUNDALK AND WORKS FOR RBC INSURANCE. WITH A PASSION FOR HIKING, THIS YEAR ANISA TOOK ON THE CHALLENGE OF HIKING THE BRUCE TRAIL END TO END.
CLOTHING & JEWELLERY … SISTERS ON HURON, SOUTHAMPTON
HAIR | MAKE-UP … HAIR BODY & SOUL – Owen Sound
PHOTOGRAPHED AT MARSH STREET CENTRE, CLARKSBURG
NICOLE LOUNSBURY…
OWNER OF 'EXTENSIONS BY NICOLE', A HAIR EXTENSION BUSINESS, NICOLE MOVED TO COLLINGWOOD IN JANUARY 2017 LOOKING FOR ADVENTURE, SOMETHING MORE QUIET, AND MORE ZEN. BUSY EVER SINCE, SHE QUICKLY SUCCEEDED WITH NEW CLIENTS THROUGHOUT THE GEORGIAN TRIANGLE, ALL THE WAY TO TORONTO AND LOVES EVERYTHING ABOUT LIVING HERE.
CLOTHING, JEWELLERY & BOOTS … CORA COUTURE, DOWNTOWN COLLINGWOOD
HAIR | MAKE-UP … MARION'S HAIR STUDIO,  THORNBURY 
PHOTOGRAPHED AT MEAFORD HALL ARTS & CULTURAL CENTRE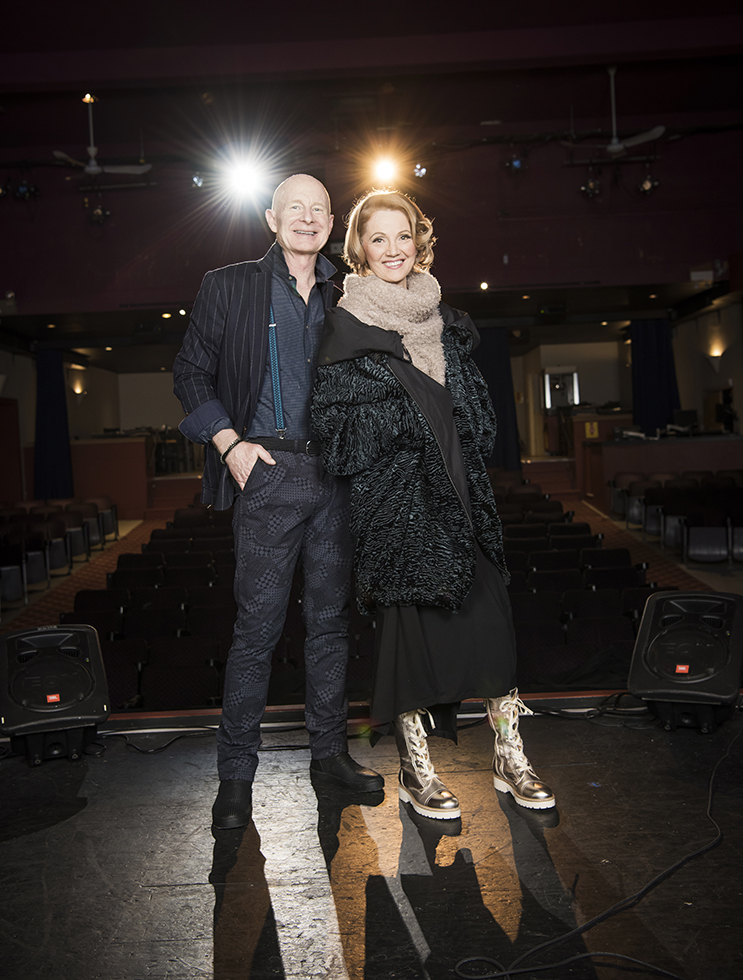 RICK & VESNA LECLAIR …
IT WAS TIME FOR A CHANGE AND THE ATTRACTION OF SMALL TOWN LIVING BY THE BAY RECENTLY DREW VESNA AND RICK TO THORNBURY FROM THEIR ACREAGE IN LORETTO. VESNA, A RETIRED EDUCATOR HAS BEEN ENJOYING A NEW PASSION, WORKING IN THE FLORAL INDUSTRY.
RICK RETIRED FROM A 30 YEAR MANAGEMENT CAREER IN MUNICIPAL PARKS, RECREATION AND CULTURE, FOLLOWED BY A REWARDING EXPERIENCE AS A BOARD MEMBER WITH HABITAT FOR HUMANITY HURONIA. THE COUPLE IS EXCITED ABOUT GETTING INVOLVED IN THEIR NEW COMMUNITY, MEETING NEW FRIENDS AND ENJOYING THE AMAZING 4 SEASON LIFESTYLE THIS AREA OFFERS. "LIFE IS GOOD!"
ALL CLOTHING, ACCESSORIES & FOOTWEAR … LEÜK,  DOWNTOWN COLLINGWOOD
HAIR | MAKEUP … GLOW HAIR STUDIO & GALLERY, COLLINGWOOD
PHOTOGRAPHED AT THE HISTORIC GAYETY THEATRE , COLLINGWOOD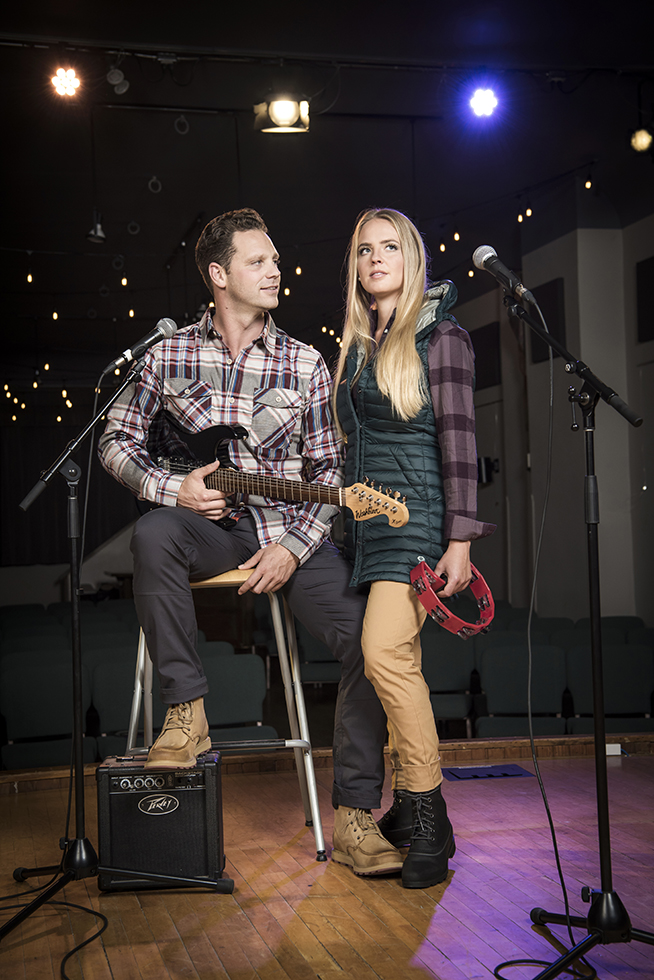 ANDREW SCOTT & MORGAN SHORTT …
ORIGINALLY FROM OAKVILLE, ANDREW RELOCATED TO THORNBURY TO PURSUE A MORE FULFILLING OUTDOOR LIFESTYLE. HE SPENDS HIS WORKDAYS AS AN ASSOCIATE INVESTMENT ADVISOR WITH TD WEALTH IN COLLINGWOOD. IN HIS FREETIME, HE LOVES TO SPEND TIME WITH HIS TWO DAUGHTERS, TAKING IN ALL THE ESCARPMENT HAS TO OFFER: SKIING, MOUNTAIN BIKING, BOATING, HUNTING AND FISHING.
MORGAN WAS BORN AND RAISED IN MEAFORD AND OPERATES A FAMILY FARM WITH AN EQUINE BREEDING PROGRAM. SHE ALSO RUNS A TRAINING PROGRAM FOR YOUNG AND TROUBLED HORSES WHICH HAS HER TRAVELLING ACROSS NORTH AMERICA FOR LESSONS, CLINICS AND COMPETITIONS.
CLOTHING BY… MOUNTAIN HARDWEAR  – AVAILABLE AT RED DEVIL SPORTS, BLUE MOUNTAIN VILLAGE
HAIR | MAKEUP … MARION'S HAIR STUDIO, THORNBURY 
PHOTOGRAPHED AT MARSH STREET CENTRE, CLARKSBURG