Sip & Savour
Recipes by Hannah Harradine & Joel Gray, photography by Clay Dolan
What began as a farm-to-table food project has turned into a year-round foodie's dream for Joel Gray and Hannah Harradine. The couple established Sumac + Salt in 2019, partnering with local farms in hosting intimate, pop-up dining experiences. Their mobile, business model proved a successful venture and allowed the couple to share stories of local growers and producers through collaborative tasting menus and curious dining. 
Last summer Hannah and Joel opened a 16-seat restaurant on their farm in Grey Highlands. Down Home offers a 10-course tasting menu that follows the rhythm of the seasons, showcases the incredible bounty of foraged edibles and features small-batch local winemakers. Hannah and Joel share a few of their favourite summer recipes, complete with complementary, homegrown wine pairings. 
Summer Turnip Salad with Honey Whipped Feta and Brown Butter Shallot Vinaigrette
"There are so many amazing, local, organic farms that grow delicious turnips and radishes," says Hannah. "We get asked all the time about how to prepare these beauties. We love roasting the turnips and pairing them with a delicious chunky and flavourful dressing. Follow along with this recipe to enjoy these turnips all season long!" 
1 bunch of turnips, cut in quarters (we choose the Hakurei variety) 
A large handful of salad greens or spicy mix 
In a medium sauté pan, add a splash of neutral oil and heat over medium setting. Once pan is hot, add your turnips and roast for 5-7 mins until almost fork tender, season with salt. Remove from heat and set aside. 
Whipped Feta
1 cup feta (we use Woolwich)
1/4 cup honey
3 tbsp fresh squeezed lemon juice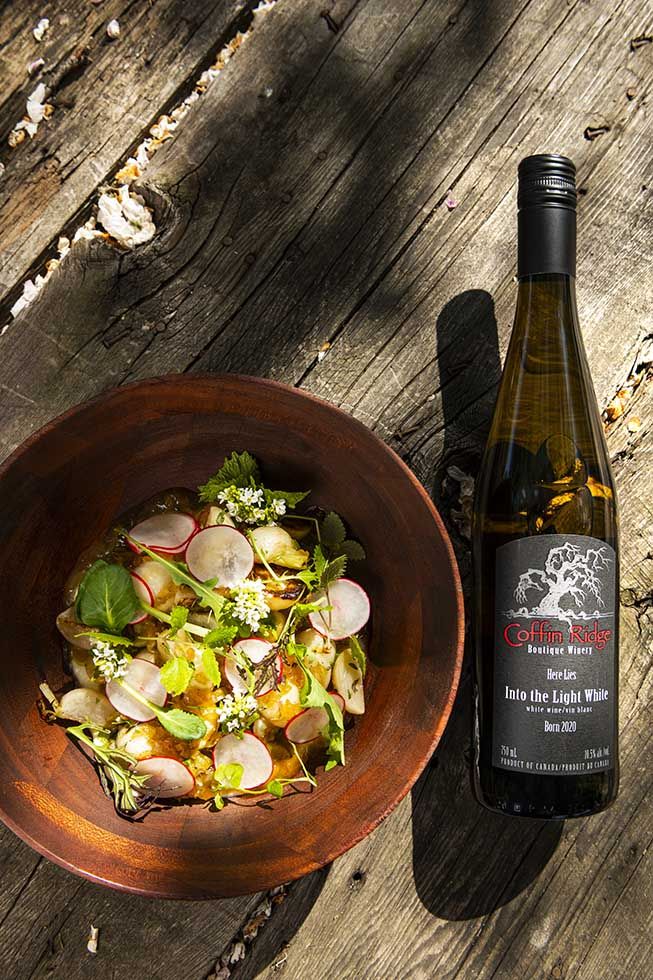 In a food processor or blender blitz up feta, honey and lemon juice. There should be all the salt needed in the feta however, season to your taste if required.
Brown Butter and Shallot Vinaigrette 
1/2 cup butter 
2 shallots, minced 
2 tbsp honey 
2 tbsp apple cider vinegar 
salt and pepper to taste 
In a small saucepan melt butter over med/ low heat. Swirling the pan every so often, it will begin to foam and then subside to become clear. You'll see that the milk solids are separated from the liquid. Once it smells nice and nutty and the milk solids have browned, add your remaining ingredients and lower the heat. Cook slowly until the shallots have softened. Season to taste and remove from heat but keep it in the pot to reheat. This has to be a warm dressing as the butter will solidify. 
TO PLATE: In a serving bowl, add the whipped feta and spread throughout the bottom, place the cooked turnips on top. Spoon over the dressing. Lightly toss the salad greens into the remaining dressing and pile on top. Garnish with shaved radish. 
WINE PAIRING: 2020 Into the Light White – Coffin Ridge. 
Coffin Ridge's signature white showcases their white varietals including Geisenheim, Frontenac Gris, Prairie Star, La Crescent and Riesling. The wine is off-dry and displays wonderful aromas of nectarine on the nose, with unripe pineapple and grapefruit on the palate. We love this wine paired with the richness and creaminess of this dish as it completely cuts through to refresh the palette. 
Braised Pork Belly with Warm Potato Salad
"This recipe is a killer for any backyard summer shindig. It takes a full 24 hours to prepare, but your guests will thank you. We love pairing this pork belly with a sweet and tangy, mustard-dressed potato salad. The leftover pork makes an amazing taco filling as well!" 
Pork Belly Braise
One large, 2 lb piece of local organic pork belly 
1 onion, cut into quarters 
2-3 celery stalks 
2-3 carrots 
1 cup red wine 
1 cup apple cider vinegar 
1 cup brown sugar 
2 bay leaves 
1 head garlic 
a few sprigs thyme 
1 tbsp whole peppercorns 
4 tbsp salt 
2 bay leaves 
Preheat oven to 300°F. In a deep, braising pan, add the pork belly and all ingredients. Add just enough water to cover the pork belly. Cover with a layer of parchment paper and tinfoil. Braise on low for 5 hours or until the fat has completely rendered (Joel says this is when the belly is poked and it jiggles or dances). Remove from the oven and allow to cool on stovetop in braising liquids. Once it is cooled to the touch, carefully remove it from the braising liquid onto a sheet pan and cool in fridge overnight.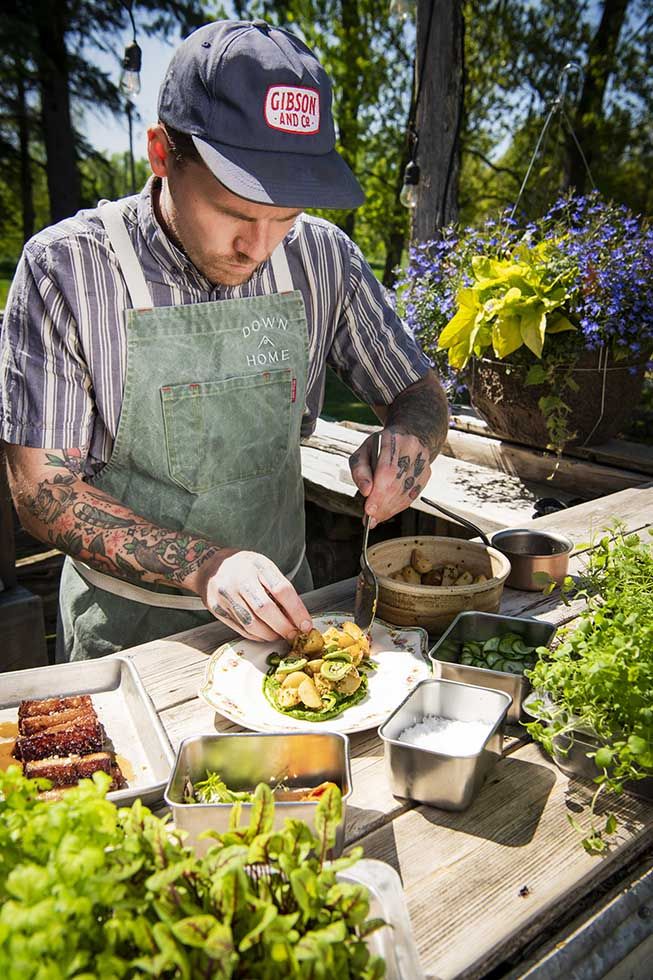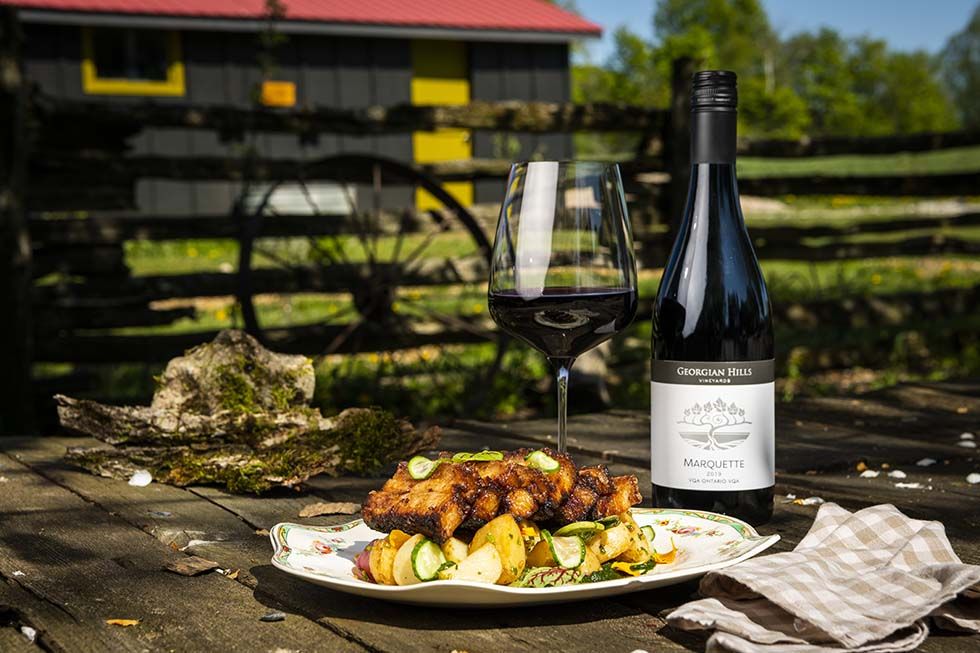 Parsley Purée
2 bunches of parsley roughly chopped, stems and all
1/2 cup grapeseed oil
3 tbsp honey
2 tbsp apple cider vinegar
1 teaspoon salt
In a blender blitz up grapeseed oil, honey, apple cider vinegar and salt. This will make the base vinaigrette. To the blender add the parsley, blend on high until nice and smooth. (Not too long as you don't want the blender to heat up and cook out the colour).
Potato Salad 
We cook these potatoes in a super flavourful, braising liquid, instead of just plain old water. You can add a lot of flavour while cooking these, low and slow. 
3 cups new potatoes sliced in half 
3 tbsp of salt 
1 tbsp each; dill seeds, mustard seeds and peppercorns. May be substituted for 3 tbsp of premixed pickling spice blend 
2 bay leaves 
2 cloves garlic 
1/4 cup apple cider vinegar 
1/4 cup honey 
4-5 cups water (can vary based on pot size) 
In a large pot add all ingredients except for the potatoes (only fill half way to leave room for potatoes). Stir ingredients to combine and then add the potatoes. Slowly cook the potato mixture, over low-med heat, not a rolling boil. Cook until fork tender, strain and set aside while you prepare the vinaigrette. 
Mustard Vinaigrette
1/4 cup grainy mustard (we love Kolzik's) 
1/4 Dijon mustard 
1/4 cup honey 
1/2 cup neutral oil 
2 tbsp sherry vinegar 
1 tsp salt 
Whisk all ingredients and season to taste. 
TO PLATE: Slice the pork belly braise into 1-inch pieces. Place a small amount of oil in a non-stick pan and fry the pieces over med-high heat until hot and crispy. This can also be done in an air fryer or deep fryer (about 7-10 mins). 
On the bottom of a serving tray spread the parsley purée. Toss the potato salad (warmed or cold) in the mustard vinaigrette and place a layer over the purée. Add your favourite chopped pickles, cucumbers, asparagus, or onions. Place the pork on top of the potato salad. Garnish with micro greens or edible flowers. 
WINE PAIRING: 2019 Marquette – Georgian Hills Vineyards 
A cool climate hybrid varietal that has bright acidity and firm tannins. On the nose, you can detect notes of blackberries, plums, black pepper, and dark cherry. The palate is comparable to the nose with the addition of cranberries and stewed black fruit that pairs remarkably well with the fattiness of the pork belly.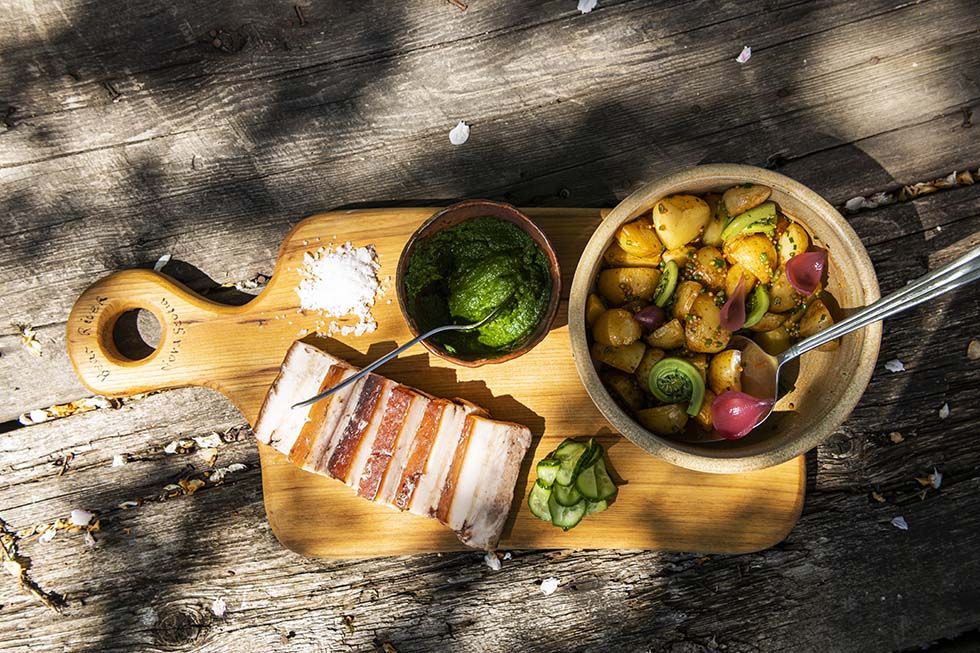 Summer Strawberry Galette with Chamomile Whip Cream
"This dessert just screams summer—it is so versatile and easy to prepare. We love the crunch and texture the cornmeal gives the dough however, a store-bought puff pastry also works wonders. Mix and match any of your favourite seasonal fruits." 
Fruit Filling
2 cups strawberries, sliced
4 tbsp sugar
1 tbsp cornstarch
1 tsp vanilla
In a bowl mix all the ingredients then refrigerate until ready to use.
Tart Dough
1 1/2 cups all-purpose flour
1/4 cup finely ground cornmeal
1 tbsp sugar
1/4 tsp salt
1/4 cup ice-cold water
8 tbsp (1 stick) cold unsalted butter
1 egg, whisked
2 tbsp raw sugar (optional)
This dough comes together quickly in a food processor. Using the blade attachment, add the flour, cornmeal, sugar and salt to the processor bowl. Cut the butter into 1-inch cubes and distribute onto the flour. Pulse for a few rounds until the mixture resembles coarse crumbs and a few pieces of butter are pea sized. Drizzle half of the water and pulse for a few seconds at a time. The dough should start coming together when squeezed by hand but still crumbly. If it is too dry add another tbsp of water until it holds its shape. 
Flour your surface and form the dough into a loose ball, shape the ball into a flattened disk, cover with plastic wrap and refrigerate for at least 1 hour or overnight. 
CHEF'S TIP: If you're short of time, a pre-made puff pastry from the grocery store works wonders in this recipe! 
Chamomile Cream
1 cup 35% whipping cream 
1/4 cup dried chamomile flowers 
1/4 cup white sugar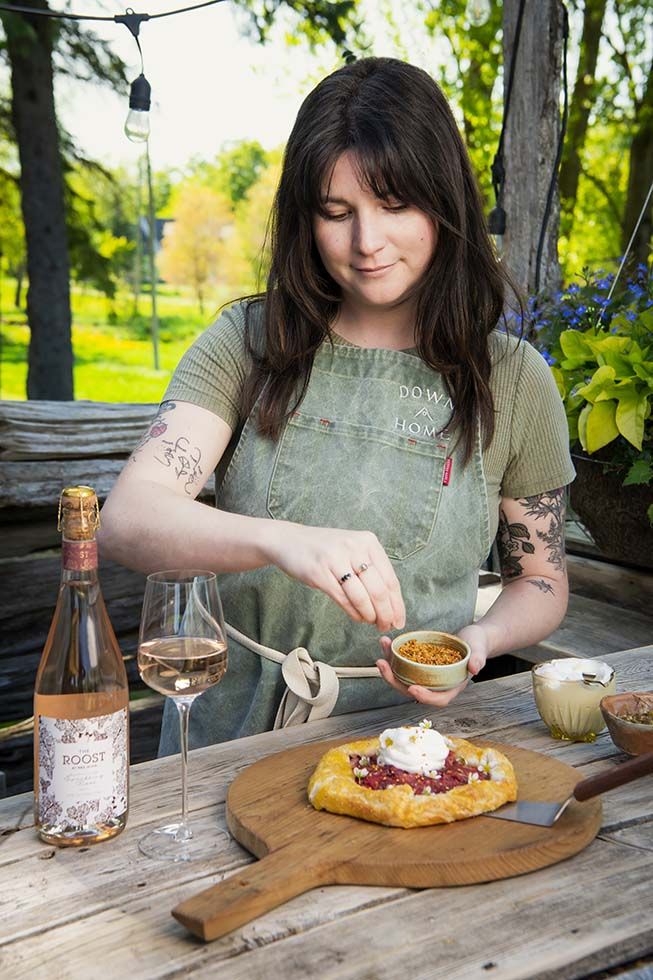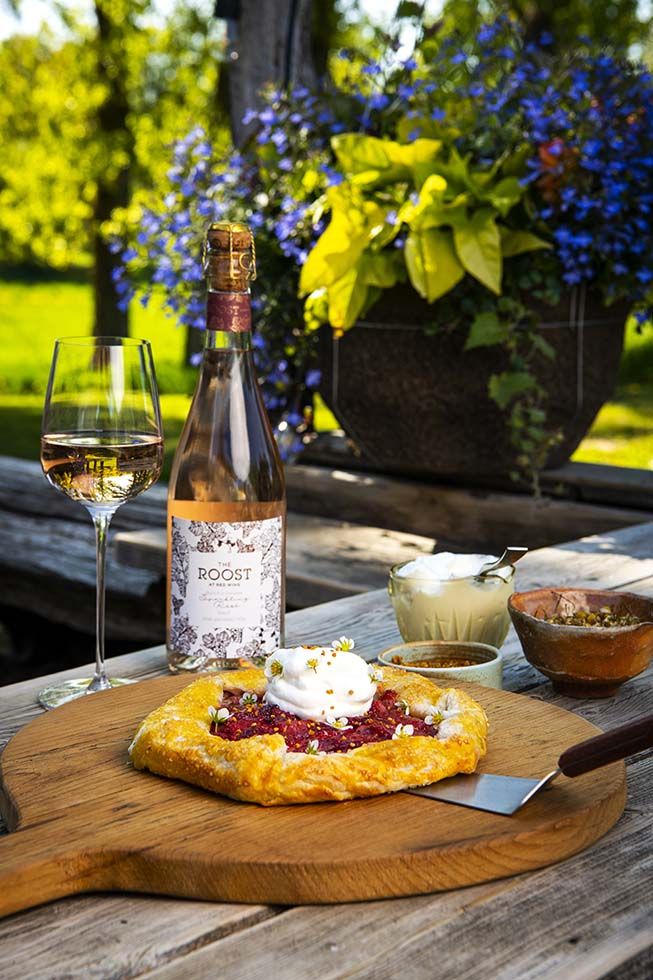 In a small saucepan use 1/2 cup of the whipping cream. Over low heat add the chamomile flowers to the cream and gently heat until warm to the touch and fragrant. Strain out the flowers and transfer to a bowl to cool. Once completely cooled add the remaining cream and sugar and whip until soft peaks form. Refrigerate until ready to use.
Preheat oven to 400°F
Place the unwrapped, chilled dough between two pieces of parchment paper. Roll the dough into a 12-inch round and about 1/8-inch-thick disk. Place the parchment and dough onto baking sheet, remove top layer of parchment.
Place the strawberry filling into a mound in the centre of the dough, leaving about a 2-inch border of dough around the edge. Fold the edges of the dough over onto the fruit, leaving the centre open. Beat the egg and brush the crust with the egg wash. Follow up with a sprinkle of raw sugar.
Bake the galette until the crust is browned and the fruit is cooked, 30-35 mins. Allow to cool on a wire rack.
TO PLATE: Once cool, enjoy with a dollop of chamomile whip cream.
WINE PAIRING: 2021 Sparkling Rosé Bunch'a Trouble – The Roost
Bunch'a Trouble is a fruity and approachable sparkling Pinot Noir Rosé, boasting a crisp and bright profile that offers a refreshing burst of berry and citrus flavours. Its lively and bubbly nature makes it the perfect companion for any occasion. It is a lovely pairing with the sweet berries and buttery crust of this dessert, mimicking the strawberry notes on all levels.
To learn more about Down Home, visit sumacandsalt.com.