7th Inning Stretch
Words by Cara Williams, photography courtesy of the Toronto Blue Jays
Upon discovering he had a knack for hyping up those around him, Tyler Boyle embarked on a remarkable journey from small-town wallflower to big league Hype Guy.
In the realm of fulfilling dreams, the story of Tyler "Hype Guy" Boyle stands out as truly inspiring. Hailing from humble beginnings, Tyler landed a coveted position with the Toronto Blue Jays—from pumping up the crowd and igniting the stadium with energy, Tyler has become an indispensable force behind the electrifying atmosphere. 
Tyler grew up in the tight-knit community of Meaford, where he humorously admits to not possessing any natural athletic abilities. "As a small-town guy, I never truly danced outside of the odd buck and doe party," he says. But when starting his career as a grade school French immersion teacher, Tyler's journey took a turn when he attended a teacher's conference—it was here that he reluctantly enrolled in a dance workshop. Reflecting on that experience, he recalls, "I laughed and danced so hard. The instructor had us doing all these crazy moves and I loved it—I realized that I needed to learn how to do this." 
Years later while employed at Blue Mountain, Tyler proposed an idea—his concept was to host spontaneous dance parties during special events in the village. "They looked at me like I was crazy, but I knew I could do it and that people would enjoy being a part of it," says Tyler. From that fateful day forward, he became a sensation. Armed with an abundance of enthusiasm and an undying spirit, he honed his skills as a professional Hype Guy— whether leading the crowd in synchronized chants, or engaging in impromptu dance-parties—Tyler's energy is nothing short of infectious. Before long Tyler set his sights on the big leagues. 
Three years ago, Tyler was approached by the Toronto Blue Jays' Junior (Jr.) Jays program. Unfortunately, the pandemic would put a damper on those plans, as the sports and entertainment industry came to a halt. "It's so strange looking back on that time," recalls Tyler. "We literally were not allowed to dance." Once Major League Baseball resumed playing, the Jr. Jays reached out again, reigniting the collaboration. Tyler made the trip to the Rogers Centre for a game and a tryout of sorts. Impressed by his contagious energy and ability to rally a crowd, Tyler was offered a job as an official Blue Jays Hype Guy (he even has his own team jersey!).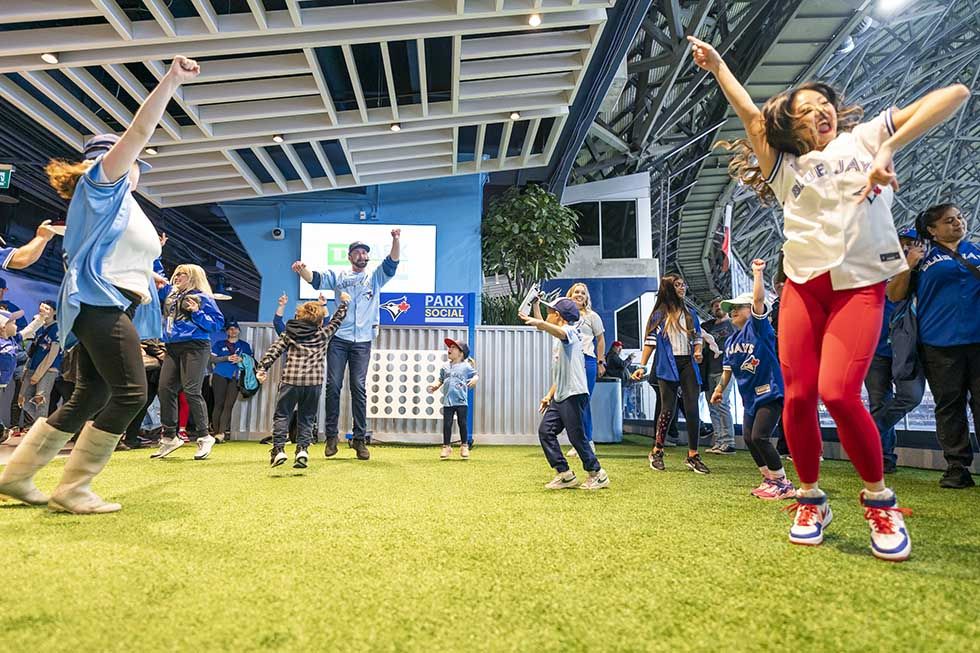 Catering to kids of all ages, the Jr. Jays program offers an array of activities that keep young fans engaged from the moment the gates open until the last pitch. The fun-filled Outdoor Program commences before fans even enter the stadium, while later on inside the venue, Jr. Jays Zones are found on the 100, 200, and 500 levels, as well as the recently unveiled Park Social in the Outfield District. "One of the activations is now me," says Tyler. "I work with the mascots and the J FORCE cheerleaders—my job is to hype, activate and energize a public space. It's my job to change the mood, stir the pot—and once everyone is hyped, I sneak away and hopefully have left a really positive and high vibing energy behind." 
While Tyler's impact on game days is undeniable, his influence extends far beyond the confines of the Rogers Centre. He has become an inspiration to those around him, reminding us that with passion and perseverance, we can step outside of ourselves—no matter how small the town or grand the stage. "The reason that there's magic in what I do is because I encourage people to be different," says Tyler. "Add your own style—you can't possibly do this wrong and nobody cares what you look like. And if they do, you might as well give them a show. It's not only about creating a safe space but it's also about encouraging people that it's okay to do it. I give people permission to be silly. It's these philosophies that help people to buy in—it helped me buy in and create this amazing experience and to dance—as a male, in Grey County. And move my body without fear and without needing anything other than joy, expression and entertainment. I've had people come up to me in tears after a show because they had no idea that they could let themselves do that in public and actually have fun."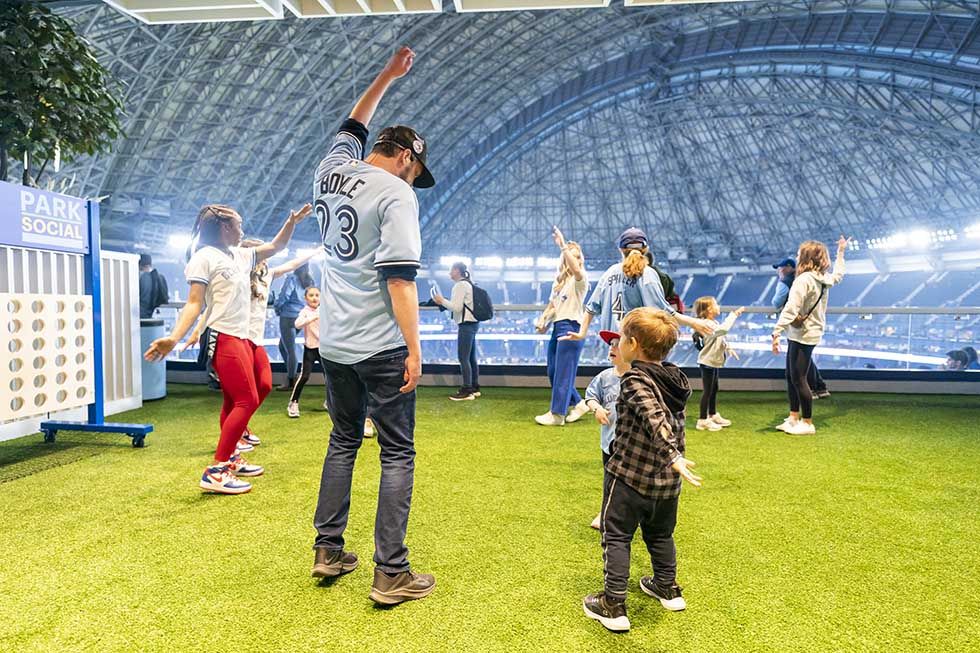 Tyler's transformation from a small-town wallflower to becoming an indispensable member of the Toronto Blue Jays organization stands as a testament to the remarkable potential of personal reinvention. His boundless energy and contagious spirit has elevated the fan experience, creating a lasting legacy as a Hype Guy extraordinaire. So, next time you find yourself at a game, keep an eye out for Tyler—the man who turned hype into an art form and made his small-town dreams soar among the stars of the baseball world. 
For more information on Tyler, check out Tylercboyle.com