RECIPE & PHOTOS . CORYNN FOWLER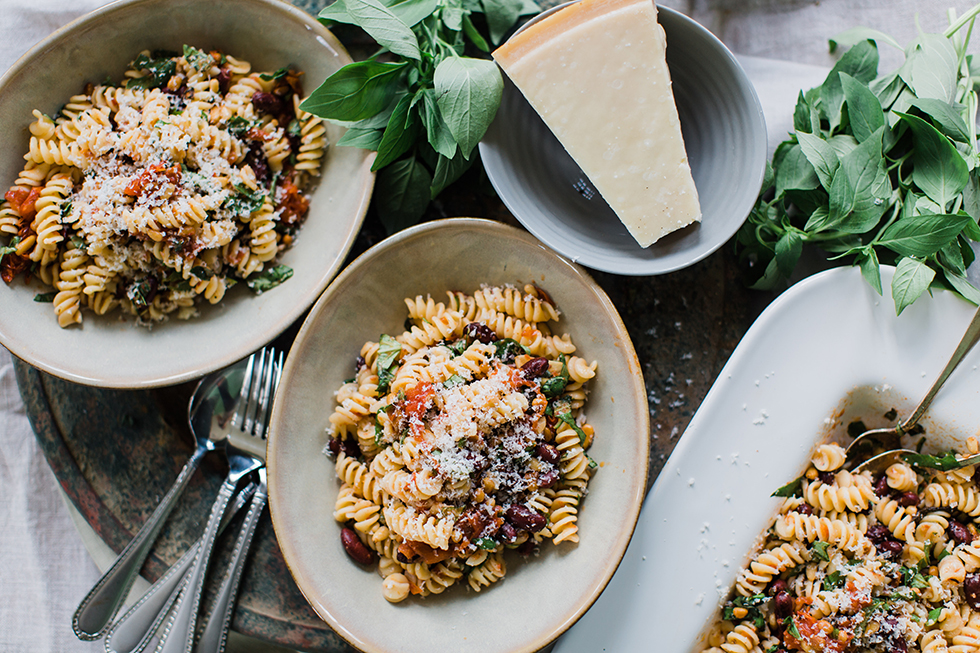 This twist on a classic recipe is perfect when your kitchen garden is overflowing with tomatoes and fresh herbs. The confit tomatoes are amazingly sweet, and the roasting oil, herb and garlic mixture in the bottom of the pan makes for the most delicious and light pasta sauce.
Serve slightly warm as a main for 4-5 people.
What you need…
– 10 Roma Tomatoes
– 1 Cup Fresh Unpacked Basil
– 1 Cup Pine Nuts
– 1 Head Garlic (12-15 Cloves) – 4 Sprigs Fresh Thyme
– 8 Sprigs Fresh Oregano
– 450 g. Package of Fusilli Pasta – 1 Can Kidney Beans
– 1 Cup Olive Oil
– Salt and Pepper to Taste
– Parmesan to Taste
what you do…
1. Start by turning the oven on to 350°F to roast your tomatoes. Slice the tomatoes in half lengthwise and settle them into a baking dish where they will be tightly packed but not layered.
2. Peel the garlic and stuff the whole cloves between the tomatoes. Stuff the thyme and half of the oregano between the tomatoes, and cover with a cup of olive oil. Season lightly with salt and pepper, and roast for 1 hour and 20 minutes, flipping the tomatoes over half way.
3. When the tomatoes are close to being finished, bring a salted pot of water to a boil and cook the fusilli until al dente. Drain and set aside in a large mixing bowl.
4. Finely chop the basil and remaining oregano leaves and toss with the pasta along with the rinsed red beans.
5. Roast the pine nuts until lightly brown in a pan, then toss with the pasta.
6. When the tomatoes are finished, remove the thyme and oregano stems, then toss the tomatoes and all the cooking oil and spices in the bottom of the pan with the pasta.
7. Season with additional salt and pepper to taste, and serve with a garnish of freshly grated parmesan.