RECIPE & PHOTOS . CORYNN FOWLER
A lemon posset is a simple, make-ahead, lemon pudding recipe. Perfect for the holidays when you need a quick dessert that doesn't require hours in the kitchen!  Serve it with a simple rosemary shortbread cookie to dip in for some added holiday charm.
Makes 4 large desserts or 6-8 small samplers.
what you need…
Posset Ingredients:
– 2 Lemons juiced (about 100 ml)
– 1 Lemon zested
– 2/3 Cup granulated sugar
– 2 Cups whipping cream
Shortbread Ingredients:
– 1 ¼ Cup all purpose flour
– 2 Sticks of cold unsalted butter
– ½ Cup granulated sugar
– 1 Tbsp dried rosemary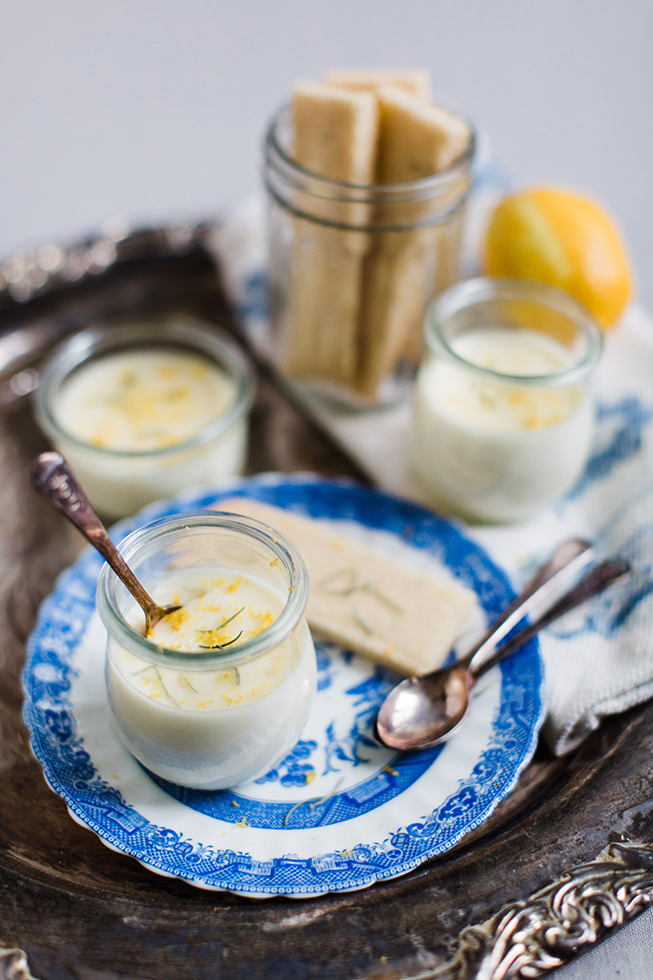 what you do…
To make the posset, combine the lemon juice, zest, and sugar in a small saucepan.Bring to a boil and reduce to simmer, stirring until the sugar is completely dissolved.
Bring the whipping cream to a boil, being careful not to scald it. Whisk in the lemon syrup until completely combined.
Pour the hot cream mix through a strainer into four ramekins.Allow the ramekins to cool in the fridge for at least two hours until it sets.

As the mix cools, the lemon will react with the cream to form a thick yogurt like texture.

To make the shortbread cookies, cut two sticks of butter into a bowl.
Combine with the sugar and flour, pinching it together between your fingers to mix until it becomes dough that you can knead.
Sprinkle one tablespoon of dried rosemary leaves, lightly crushed between your palms, onto the dough. Knead until the rosemary is combined and the dough is soft, buttery, and well mixed.Wrap in plastic and cool for 30 minutes in the fridge.
Heat the oven to 325°F. Roll the shortbread dough out to ¼ inch thick on a baking tray, and score the surface where you would like to cut it. Bake for 25 minutes.
Before the shortbread cools, cut it into long, thin, fingers.
Serve the chilled posset with some added lemon zest and a shortbread cookie for dipping.
Corynn Fowler writes a food blog called Nourished by Corynn. Please visit her at nourishedbycorynn.com