RECIPE & PHOTOS . CORYNN FOWLER
A hearty, warm galette is the perfect way to use up those last fall zucchinis.  Layer it with a generous serving of goat cheese, sweet caramelized onions, and salty sundried tomatoes to create a beautiful, filling meal with the last garden produce of the season.
This recipe makes two large galettes.
what you need…
Filling Ingredients:
– 4 Medium onions
– 10 Sundried tomatoes
– 4 Medium zucchinis
– 1 Cup soft goat cheese
– 2 Tsp balsamic vinegar
– Parmesan
– Salt and Pepper
– Fresh thyme
– 2 Tbsp olive oil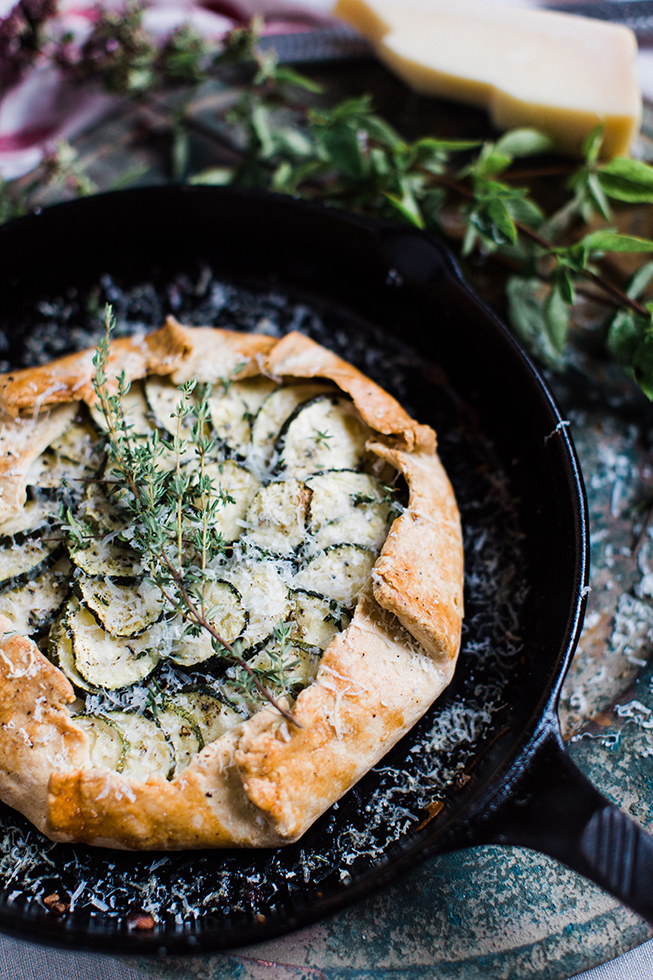 Crust Ingredients:
– 2 Cups all purpose flour
– ½ Cup unsalted butter
– 1 Tsp salt
– 2 eggs
– ¼ Cup cold water
what you do…
Start by making the dough. Pinch together the flour, butter, and salt until well mixed. Whisk one egg into the cold water and combine with the flour mix. Knead until it becomes a thick dough.
Cut the dough in half, wrap both dough balls in plastic, and chill in the fridge for at least 30 minutes.
To make the filling, slice the onions into long thin strips and sauté on low heat with the olive oil and balsamic vinegar for about 20 minutes, or until soft and caramelized.
Slice the zucchini into thin rounds, and finely chop the sundried tomatoes.
Roll each dough ball out on a greased cookie tray, forming a circle about 12 inches in diameter.
Spread half the goat cheese onto each crust, leaving about 1 ½ inches on all sides. Sprinkle the sundried tomatoes and a thick layer of caramelized onions on top of the goat cheese.
Layer the zucchini rounds on top of everything, and press the edges of the crust out further with your fingers to ensure the pastry is thin when it folds. Fold the edges of the dough up over the filling, folding the overlapping dough over and pressing it together to make it stick. Sprinkle with salt and fresh cracked pepper.
Paint the edges of the galette generously with egg white, and drizzle with olive oil.
Bake at 375°F for 50 minutes. Grate fresh Parmesan cheese liberally over the top and bake for another 10 minutes. Serve warm with fresh thyme on top.