Words by Cara Williams
Vibrantly coloured flowers and a refreshing, long-lasting fragrance define lavender as one of the most easily recognizable plants around the world. Originating in the Mediterranean region, the name lavender originates from the latin verb 'lavare' which means 'to wash' and this fragrant herb with its hypnotizing elegance of lavender flowers has been used for its medicinal properties, fragrances, therapeutics, and cooking for well over 2,500 years.
With a blank slate and big dreams, Emily Veldman purchased a 37-acre property in rural Meaford. It was 2018, and it wasn't florae that initially interested her, but bees. Captivated by their magnetism to lavender, Emily discovered that she too was charmed by the aromatic purple blossoms. Armed with basic theoretical familiarity and a spirited stubbornness to succeed, she decided to plant and harvest lavender in an area that is indisputably better suited to growing corn than for a crop that has a disdain for red clay and humidity.
Three years later, after numerous trial and error experimentations, The Purple Hollow is a thriving boutique farm specializing in lavender products, specialty cut flowers and rows upon rows of purple blooms. "Growing lavender in Southern Ontario is a labour of love and dedication," says Emily. "It's not an easy crop to grow in our climate and we often have to take great measures to ensure it survives and thrives. Our approach is to grow small-scale, observe the plants, and make necessary corrections when certain issues arise."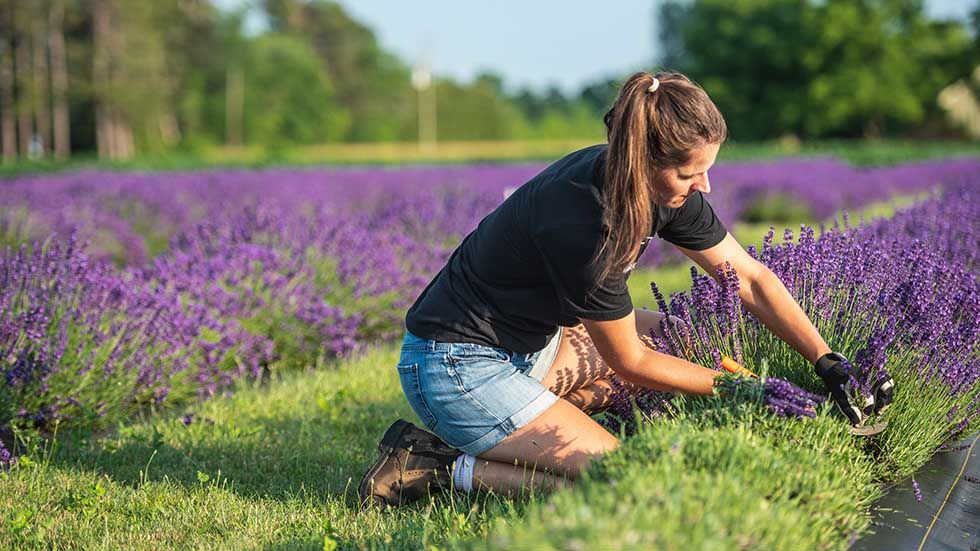 The Ontario Lavender Association (OLA) was established in 2010 to represent the needs and interests of Ontario lavender growers. While the OLA's mission is to grow a prosperous and vibrant lavender industry in the province, members like Emily have the opportunity to collaborate and learn from existing growers. "Over the past decade there has been great interest in lavender production in Ontario as agritourism becomes increasingly popular," says Dr. Sean Westerveld, Ginseng and Herbs Specialist, OMAFRA, Simcoe Resource Centre. "Lavender requires well-drained soil. If the soil remains saturated for an extended period, lavender will not survive. Therefore, lavender either needs sandy and sandy loam soils or a slope that allows the water to drain rapidly away from the plant."
While growing French lavender in Southern Ontario can be extra challenging, many growers have found success with the heartier English varieties, which are known to produce a sweet scent, dramatic flowers, and bloom earlier. This makes English lavender suitable for culinary and aromatic products while French varietals have more of a medicinal scent due to high camphor content and are mainly grown for use in personal care products.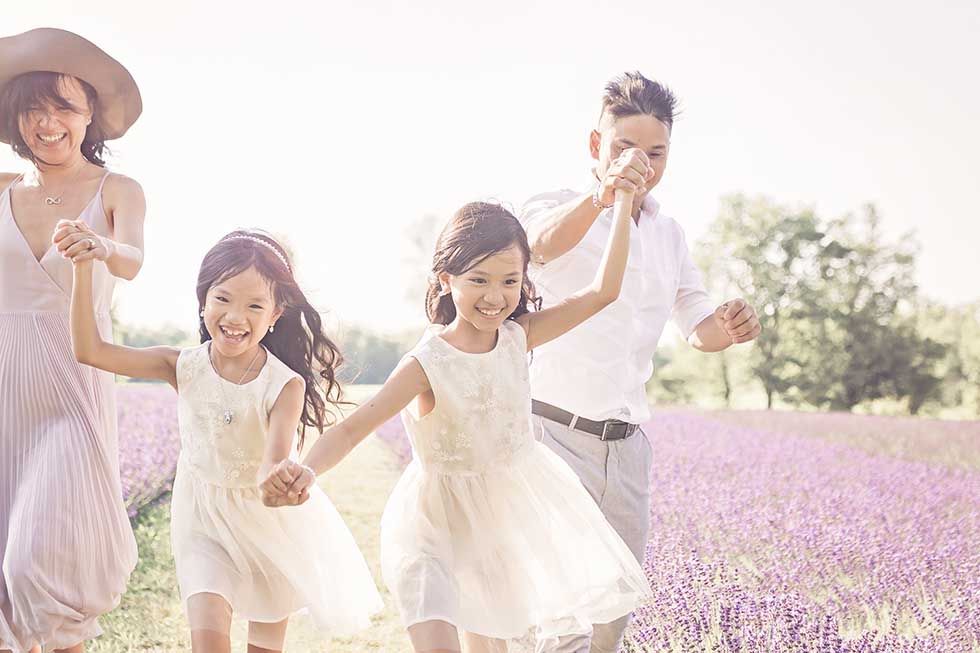 For years Lee Anne Downey had planned a permanent move out of the city and into the countryside. She and her husband Tom envisioned brightly coloured bee hives and free-range chickens wandering a vast property. "I wasn't clear on what I would grow if we ended up with a lot of land," remembers Lee Anne. "I stumbled upon a book called 'Lavender Fields of America' and I was inspired." In 2016 the couple purchased a stone farmhouse built in 1872, close to Terra Cotta, Belfountain and Georgetown. Lee Anne knew just what to do with the sprawling fields that surrounded the home. The couple established Stonewell Farm, and soon Lee Anne was so well-versed in all things lavender, that she would hold the position of President of the OLA. "Lavender does not like to be wet," explains Lee Anne. "It grows best in rocky, well drained, alkaline soil. Stonewell Farm has calcareous soil as it sits on top of the Niagara Escarpment, which is mostly limestone, so it is the perfect soil for lavender." Stonewell Farm isn't just home to flowers—here you'll also find thousands of honeybees, chickens, and a cozy country guesthouse that can be booked for overnight stays. Imagine waking up to the soothing scent of fresh lavender hanging in the air—heaven!
Sisters Emma Greasley and Jessica Ridding were both working high paced jobs in downtown Toronto when they realized that the favourite part of their routines was returning to their family home in Creemore on weekends. "It was an idyllic escape and we never wanted to leave," explains Emma. "Our ultimate goal was finding a way to produce something on the land. We loved the idea of lavender because of how many different things you can create and make with it. Once we decided on growing lavender we jumped right in and haven't looked back. It's a ton of work but has brought us a lot of joy, being able to work outside at home with our family and friends."
Today, visitors to Emma and Jessica's Purple Hill Lavender Farm are greeted by a 50-acre field of dazzling lavender rows. Throughout the summer months visitors can stroll the fields, take photos among the lavender and walk a 2.5km loop around the property (advance tickets are required). "Many guests like to pack a small picnic and find a spot in the shade, to sit back, relax, and take in the gorgeous views and scent of lavender." Purple Hill also offers An Evening in the Fields: Picnic Series, a curated dining experience during peak bloom season—each guest receives a complimentary 'Lavender Sour' cocktail, crafted by the mixologists at Creemore Springs Brewery.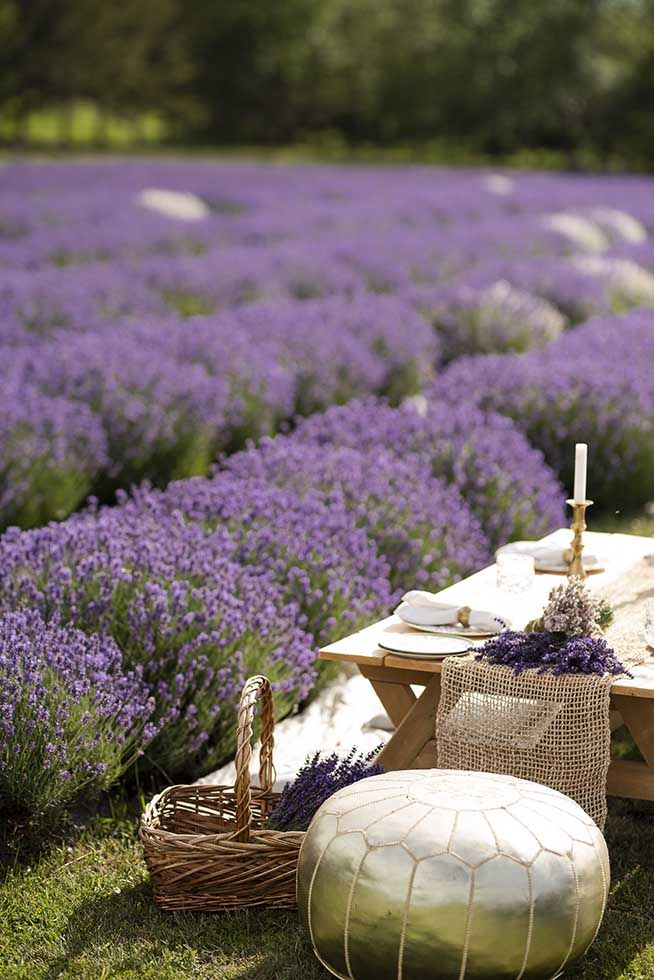 Your next stop on the Purple Road is Essentially Lavender. This idyllic farm in Bruce County is celebrating its five-year anniversary this summer. "The visual beauty and lovely aroma attracted us to lavender farming," says owner Cathy Kirk. "In addition to that we were attracted by how versatile the plant is and how it is suited to the growing conditions on our farm." Essentially Lavender offers tours of their magnificent gardens, and hosts special events and Picnic-in-the-Lavender Field dinners. The massive property also features a labyrinth, apiary and xeriscape garden. Their lavender boutique offers natural, small batch products for personal and home care—their handcrafted balms, teas, oils and beauty products ​are fragrant, nourishing and promote a healthy lifestyle. "Whenever I step out into the lavender fields I instantly feel better and am more relaxed. This has been a huge bonus for ourselves and our guests through the last couple of stressful Covid years."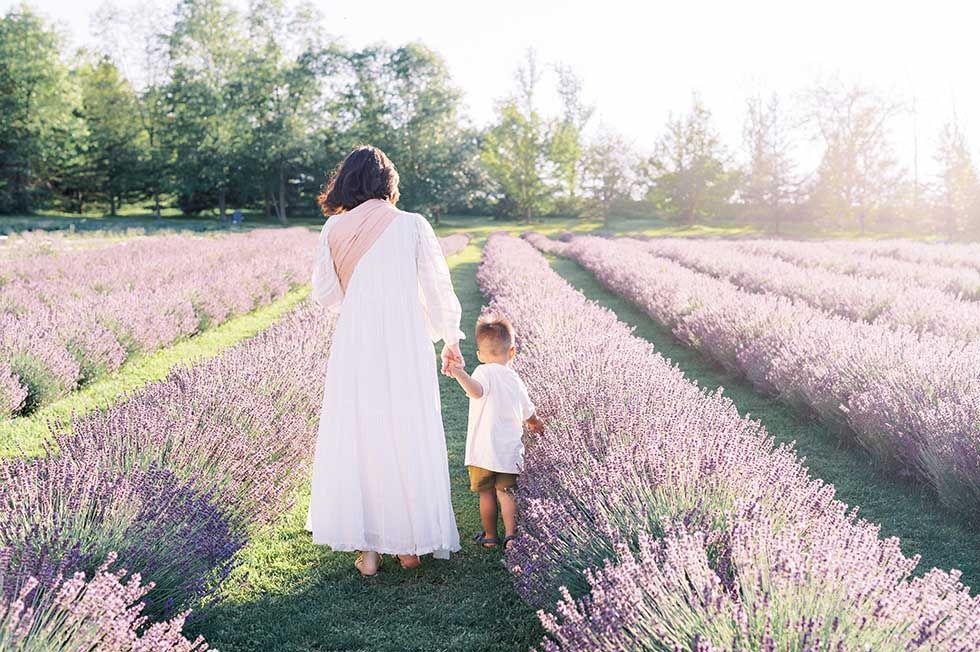 South Bay Fields was established in 2017 by the DiFruscia family. Having grown up on an agri-tourism farm, Ashley DiFruscia was curious about growing lavender. She joined the OLA, enrolled in lavender workshops and after extensive research, it became clear that lavender would be the perfect fit for her family's small acreage farm in Nottawa. "When we started the farm, we wanted to plant something that we would be proud to share with others," says Ashley. "Lavender is something that looks great on its own, but also allows us to be creative with how we present it to make it unique. In addition to the overall aesthetic appeal, there are so many uses for lavender that the possibilities of what we could make with it and how we could grow our business were very attractive. Our farm is open to visitors throughout the month of July. We welcome guests to come stroll the fields, take pictures and relax amongst rows of fragrant lavender."