No Shirt, No Shoes, No Problem
Words by Cara Williams, Photos by Clay Dolan
Whether you're looking for a quiet sandy escape or a hip and happening beach party, we've got just the place for you. Grab a cold one and kick back—here is your local's guide to 10 pristine beaches in Simcoe, Grey and Bruce.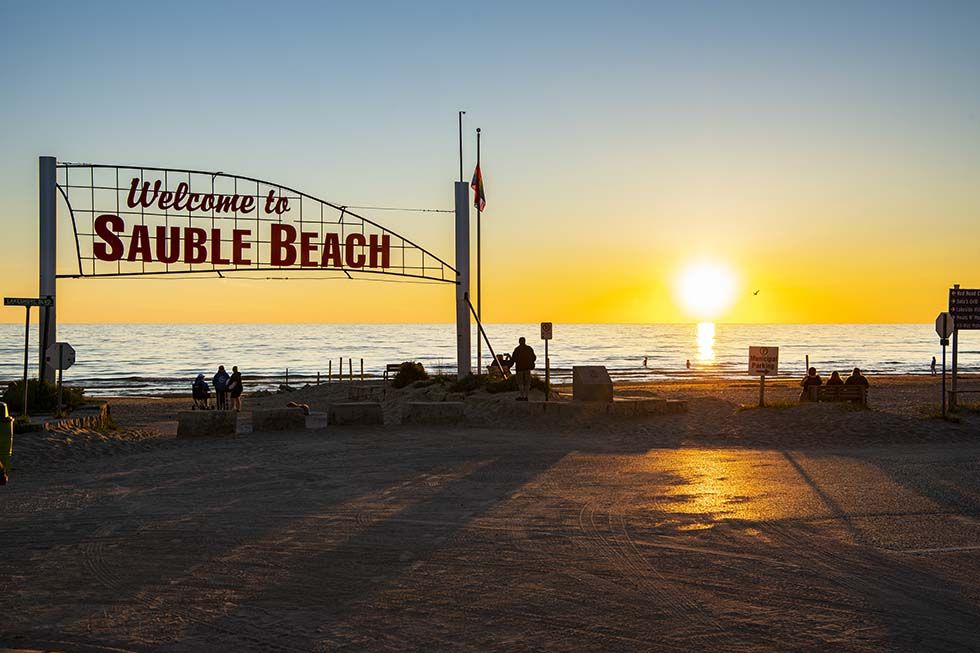 Sauble Beach, Sauble Beach
It may be just short of the longest freshwater beach in the world (Wasaga Beach) but it has been voted most popular! With a casual, laid back vibe, Sauble has been a favourite summertime haunt for generations. Surfing is prevalent here and onlookers can regularly watch locals catching a wave or ten after work. With so much to do (arcades, rides, mini-golf, garden tours, vintage shopping), visitors to Sauble will be busy from sun up to sun down.
Parking: Paid and permit parking is available along Lakeshore Blvd, adjacent to the beach.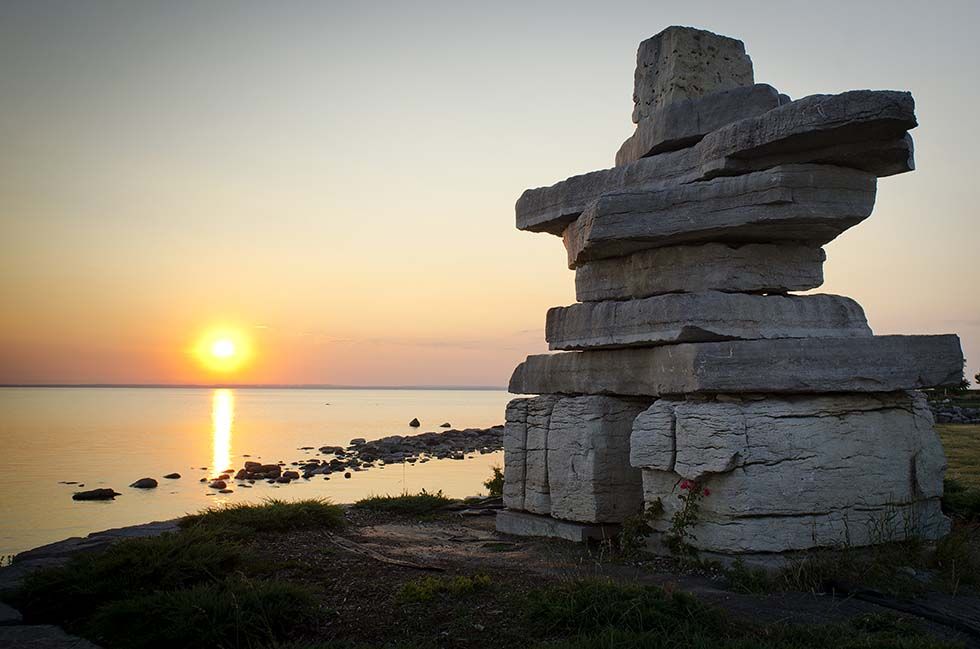 Sunset Point, Collingwood
An incredible spot to watch the sunset (hence the name), Sunset Point Park is an iconic waterfront destination. Families will love the vast greenspace, nearby Enviro-park, volleyball courts and access to Collingwood's waterfront trails. There is also a canteen area and washroom facilities. Event reservations are available for the park area or pavilion.
Parking: Paid and permit parking is available on St. Lawrence Street, adjacent to the beach.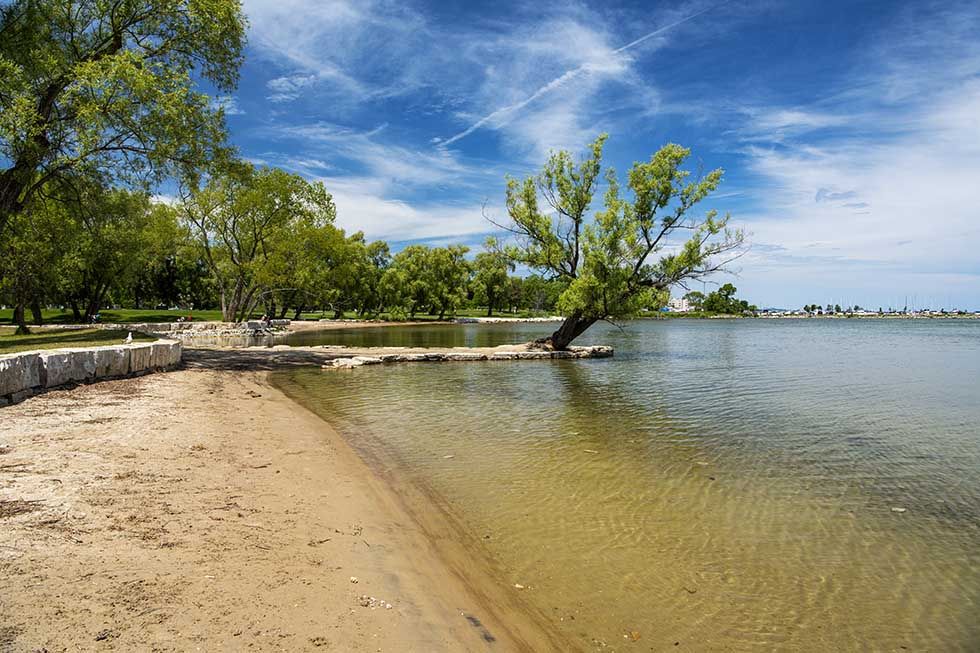 Kelso Beach, Owen Sound
Located on the shores of Georgian Bay at the mouth of the Pottawatomi River, Kelso Beach Park is great for swimming with its long, shallow sandy beach. You'll also find a playground, picnic shelters, soccer field, baseball diamond, and children's splash pad. Kelso Beach is home to the Summerfolk Music & Crafts Festival, Canada Day Celebrations and Owen Sound Ribfest.
Parking: Free parking is available on site.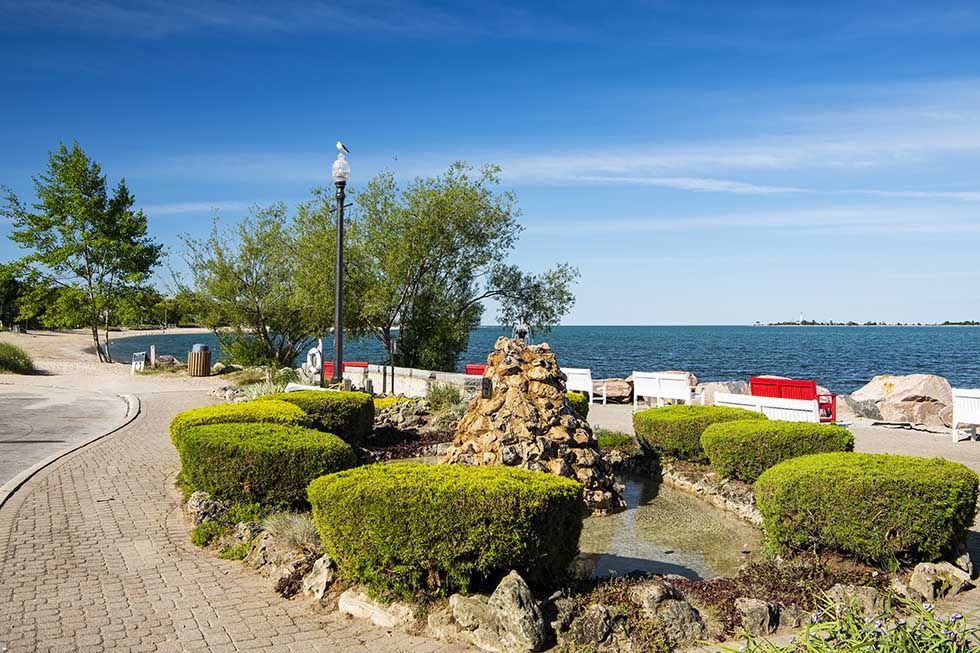 Chantry Beach, Southampton
There's plenty of space to spread out and enjoy the powdery sand and swim in the crystal-clear waters at Chantry Beach. Although the beach itself is sandy, water shoes are recommended for the rocky sections. Southampton is home to rare dune grass which is integral to bird migration routes so visitors are asked to stick to the boardwalk. But don't worry, the paved trail is outfitted with benches. From here you can enjoy the view across to Chantry Island and its elegant Imperial Lighthouse.
Parking: Free parking is offered at all Saugeen Shores parking lots.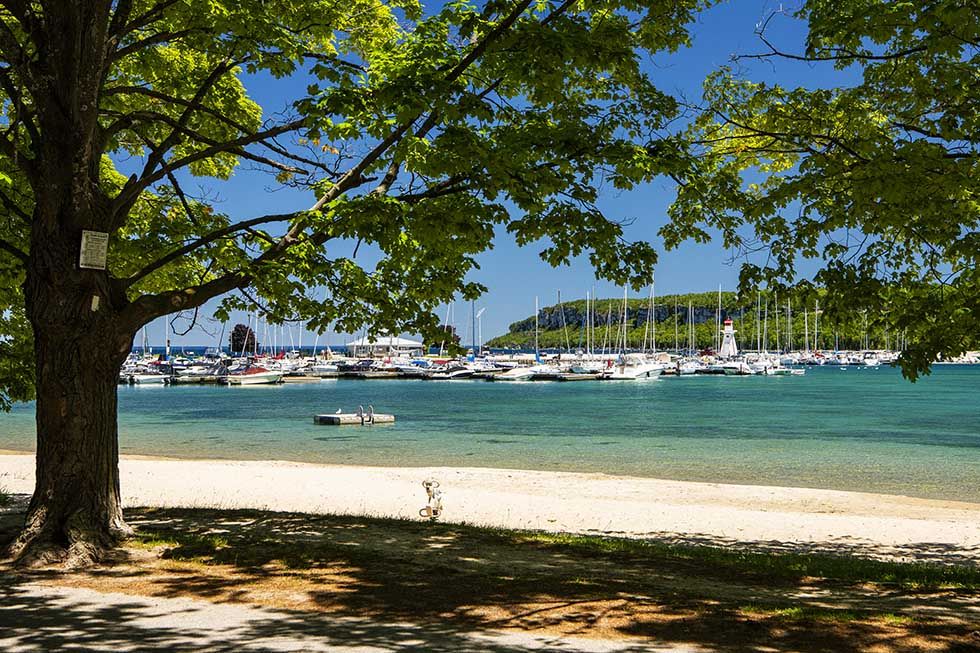 Lion's Head Beach, Lion's Head
Located on the shores of Isthmus bay and surrounded by beautiful limestone cliffs, Lion's Head Beach is a wonderful place to get lost in a good book or build a sand castle. Be sure to pack a picnic and make use of the charcoal barbeques and picnic tables—the kids will love the adjoining playground while you're busy grilling burgers. Lion's Head Beach is home to a weekly Farmer's Market and free open-air concerts.
Parking: Free parking adjacent to beach.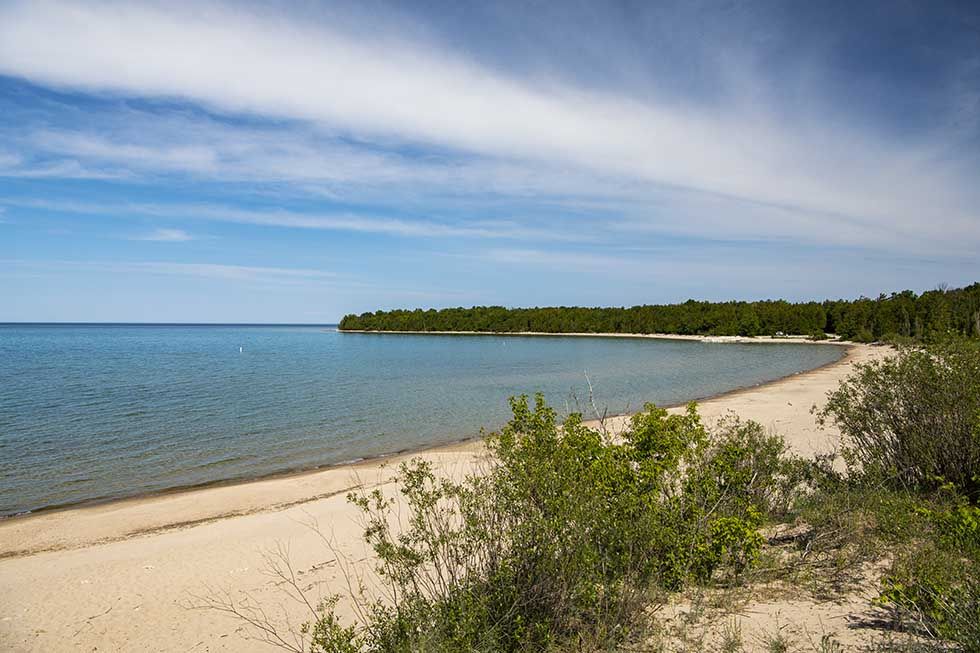 Inverhuron, Kincardine
The white sand beach at Inverhuron beckons beachgoers of all ages. Located in Inverhuron Provincial Park, you'll be lulled by the sound of gulls soaring above and the waves hitting the shoreline. Despite the shallow water and a gradual slope into deeper water, strong undertow warning signs are posted. Keep a close eye on children, large and small.
Parking: County Road 15 west of Tiverton or at Inverhuron Provincial Park—day-use fee is required.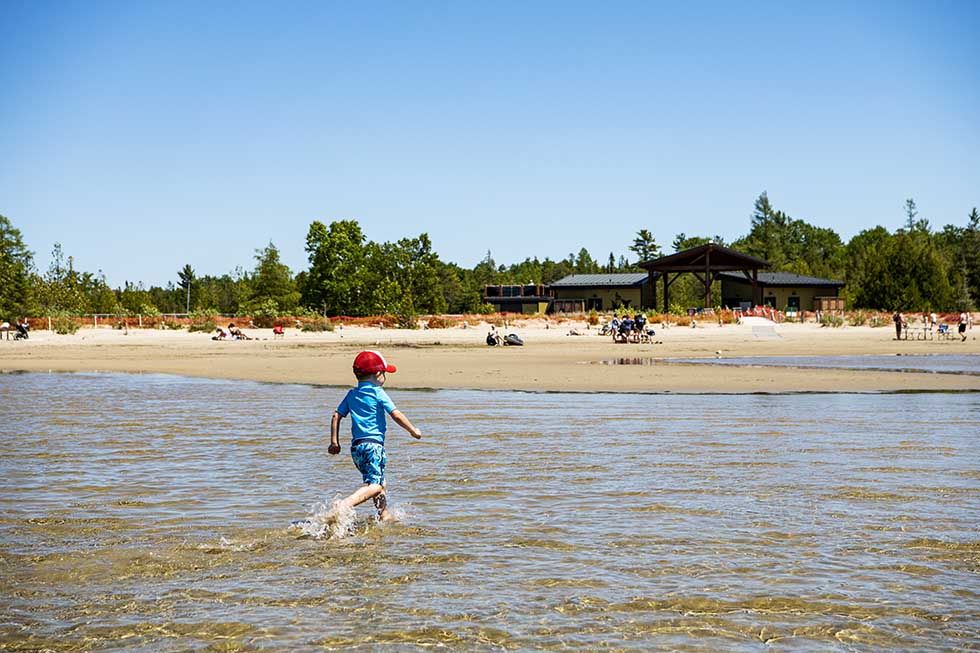 Singing Sands Beach, Tobermory
Found within the Bruce Peninsula National Park, Singing Sands is a small but very popular first-come-first-served beach. The water is shallow here, and there is a short boardwalk and trail that passes through rare fen and dune ecosystems, which are home to four species of carnivorous plants, orchids and rare plants found only in the Great Lakes region.
Parking: National Park day-use and parking fees apply.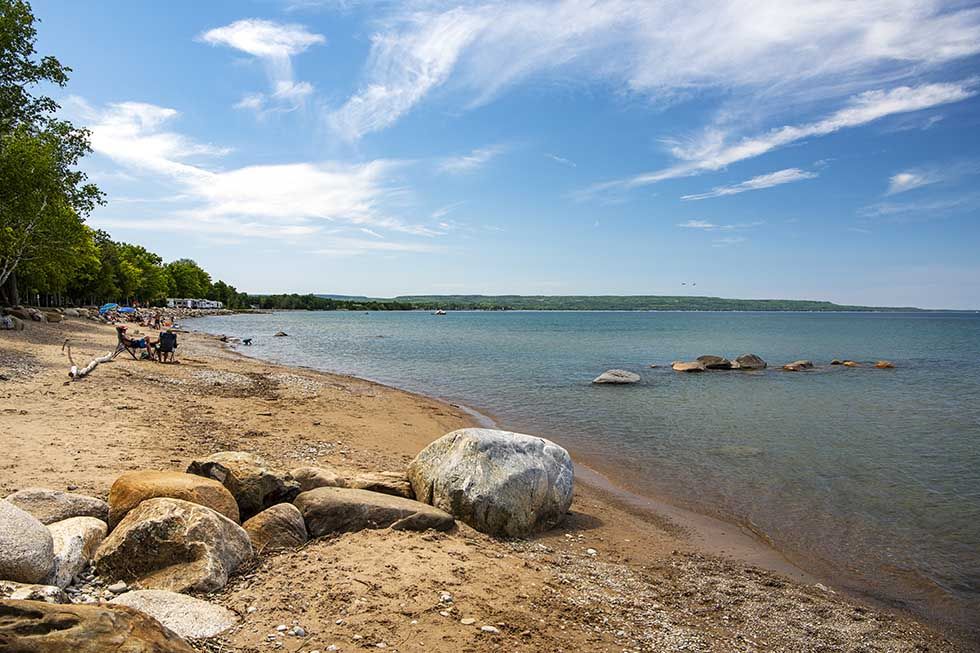 Memorial Park Beach, Meaford
If a sandy beach stretching for several miles is your idea of heaven, Memorial Park Beach is the place for you! A picturesque park and campground, Memorial Beach boasts 468 metres of beautiful shoreline, including a pet friendly dog beach. Services include washrooms with changing stalls, playground, concession/snack shack, two pavilion shelters, a mini-golf course, full-service campground and woodland walking trails.
Parking: Paid and permit parking is available on Grant Ave.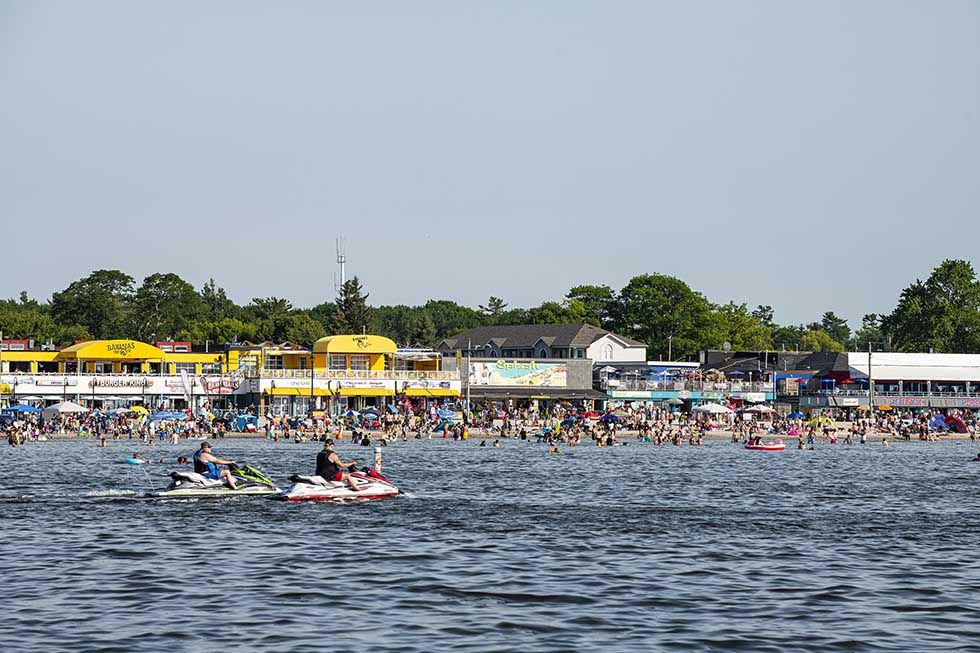 Allenwood Beach, Wasaga Beach
Allenwood Beach sits at the easternmost edge of the world's longest freshwater beach. Here, the steady crosswinds and warm shallow waters create the perfect conditions for kite-boarders. Allenwood tends to be less crowded than Wasaga's other beaches and has panoramic views of Georgian Bay and across to Christian Island. Wasaga Beach has over 14km of sandy shore to enjoy—walk west and you'll find boardwalks, restaurants, and shopping.
Parking: Paid parking on Eastdale Drive, across from the beach.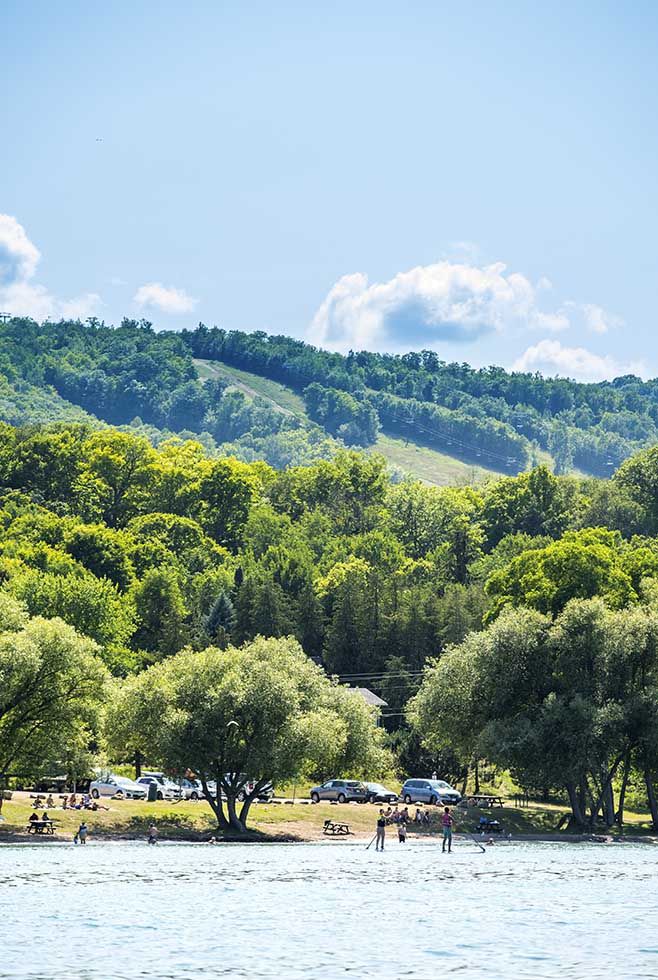 Northwinds Beach, Town of the Blue Mountains
The most popular beach in the area, Northwinds Beach is must-see for visitors to the Town of the Blue Mountains. Its large sandy waterfront and onsite non-motorized watercraft rentals make it a favourite among active beachgoers. Families with children will enjoy the playground and picnic tables are located throughout the park and convenient washroom facilities are onsite.
Parking: Paid and permit parking is available on site.