Words Dorris Heffron
At coffee time after the service in our local church, a tall, well-groomed man in a classic tweed jacket approached me. "Norm Paterson," he introduced himself. "I understand you're an author. I'm working on my memoirs. I wonder if you have time to look at them. Offer any advice?"
I explained that I was currently Chair of The Writers' Union of Canada (TWUC) and quite hard pressed for time but I encouraged him to carry on, complete a first draft and if he had any questions along the way, I gave him my card to contact me. I didn't hear from him again until over a year had passed and I had completed my term as Chair of TWUC. Having my first novel published way back in 1971 when I was only 27, over the years many people have approached me with expressions of wanting to be a writer. I do believe there's a book within everyone. Getting it out is the hard part. It's rarely done. Few people have what it takes.
But I do like to encourage and help older people to write their memoirs. The trick is not to leave it too late. Normally it should be done in your early 70s, before memory problems usually set in. I figured this Norm guy was in his 70s. I felt guilty that I hadn't sufficiently encouraged or helped him. So, when I saw him, over a year later, in the church basement, I approached him and asked him how he was doing with his memoirs. He laughed in his ready, delighted manner and said, "Oh they're finished and printed up. You can read them… if you'd like to."
I read them with quiet amazement. They told of a high achiever's life, a family man inducted into a Hall of Fame. Norman was a geophysicist which, I gleaned from his memoirs, was a kind of brainy miner who developed instruments to discover mines, instead of having to dig pits to discover mineral rocks.
While doing his undergraduate degree in engineering physics at the University of Toronto, at the end of the Second World War, Norman met Sally in physics class and they married after graduating. A woman doing physics in the 1940s, I mused, is a good match for a geophysicist. And it certainly was. I read on about a long good marriage, Sally raising their four children while Norman got his PhD then worked with geophysicists discovering mines across Canada and internationally. Eventually Sally could join him on his more comfortable international expeditions. India, Brazil, Thailand, Botswana, to name a few.
Then at age 50, Sally went back to U of T and reinvented herself as an Environmental Technology expert and Norm could tag along on some of her international conferences where she was the keynote speaker.
Meanwhile, Norman had formed one and then another company based in Toronto but operating internationally, using and inventing new instruments to map and explore the world's natural resources. Between 1960 and 1975, the new mine discovery rate expanded from one mine per year to more than a dozen.
For his inventions and explorations, Norman Paterson was made a Fellow of the Royal Society of Canada. He was also an adjunct professor in geophysics at Queen's University. He retired from full time work in 1992 but continued consulting work including trips to Venezuela and Mexico. In 1999 he was inducted into the Canadian Mining Hall of Fame.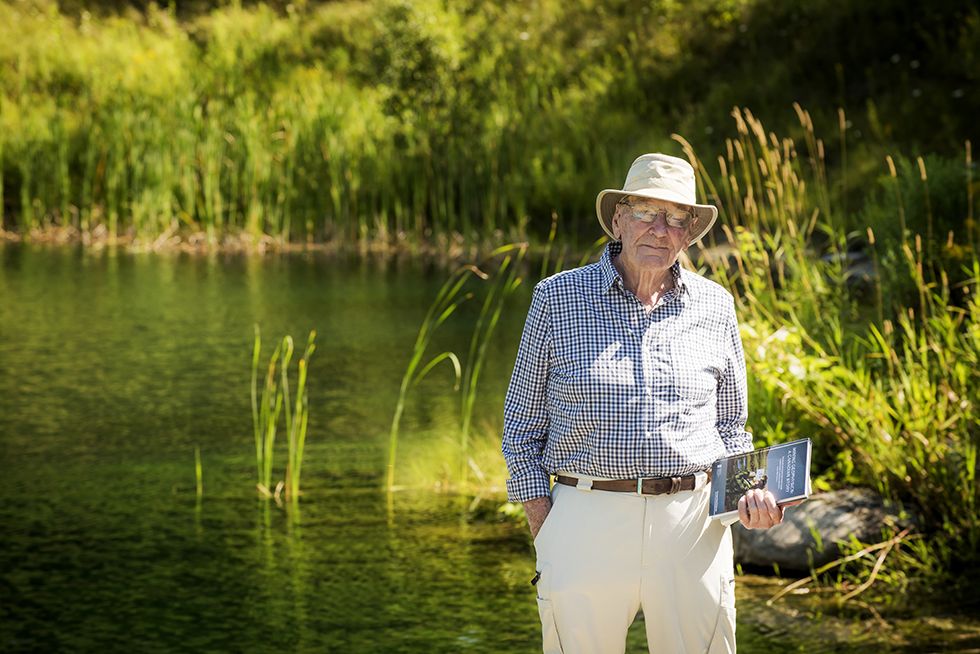 I calculated he would have been 73 then. The right age to do his memoirs. But he was too busy working, including volunteer work. One of his projects was working with a Grey County environmental group in regulating the extraction of water for bottling and exporting. He did an in-depth study of global warming, adding to his long experience in writing scientific papers. I read a couple of them and found the writing clear, concise and pretty much jargon free. It was not so surprising then that his memoirs flowed with a casual pleasant prose.
In retirement Norman and Sally had moved to a scenic farm property in Beaver Valley where their pastimes of tennis, swimming, hiking, skiing could be more easily pursued. Add to that Sally's love of creating beautiful gardens and landscapes and Norm's love of painting them. But, as Sally later explained to me, "Norm can't stop working. He's always writing things up. He needs a project." Maintaining the farm property was getting in the way of that. They sold it and moved into a house in nearby Thornbury. One of their sons runs a resort in Costa Rica, a perfect place to spend the snow shovelling months. So, in their 80s they built a winter retreat near their son in Costa Rica.
I did more math and calculated that Norm, born in 1926, had approached me about doing his memoirs when he was 87. Not 77! I sincerely congratulated him on actually doing his memoirs, not just talking about doing them, and doing them extraordinarily well. The material was well organized. It had perfect grammar and punctuation, good humour, intelligence and wisdom without a hint of moralizing throughout the narration of his life story. "This is a treasure to leave for your family," I said with finality. "I wish more people could do this." "Now I'd like to write a novel," he said.
Oh no! I groaned inwardly. How many people have said that! And they say it to authors who have spent their lifetime flailing around in the mugs' game of writing. Struggling to make time to write, to earn a living in order to write, trying to make each book its own perfect book, trying to feel again the privilege of being a writer when disappointment strikes.
"Really?!" I said, thinking of what Margaret Laurence, the matriarch of Canadian literature had replied when yet another person said to her, "When I retire I'm going to write novels." "When I retire," Margaret responded. "I'm going to be a brain surgeon." But I said none of those things to this retired 88-year-old geophysicist. He seemed to me to have the delighted anticipation of my 8-year-old grandson. I said, "Let's have a conversation about what kind of novel you want to write." "Nothing very great," said Norm. "A little mystery."
We had further conversation. Then Norm and Sally went to Costa Rica for the winter. Four months later Norm returned with a full first draft of his novel, Finding Mildred. I don't personally choose to read mysteries. I always fail to care who dunnit. But I appreciate believable characters, a strong story line, good dialogue, vivid setting, realism and a story that deals with something of importance. Finding Mildred has all of those qualities. And I love that it is set in our area. So few Canadian writers now set their stories in Canada.
Norm's novel is a light but intelligent 'read'. It touches lightly but importantly on the subject of drugging in retirement homes. You can see the orchards, walking paths, pleasant homes and life style of our community on southern Georgian Bay. Even I got caught up in the chase for the villain at the end. There was only minor editing to do. Well within a year, Norm had written and self-published this short novel. He did the charming painting for the front cover.
He had a well-attended launch at The Blue Mountains Public Library and continues to have the book sold at Jessica's Book Nook in Thornbury.
The following year he did it all again with another short mystery titled The Case of Mary-Rose. This one is set on a cruise ship and gives us some interesting info on the Panama Canal. Mary- Rose's case involves a light, tastefully written incidence of what I would call off stage date rape. Norman Paterson is too classy to use such expressions. I see Mary-Rose as a bit of a vixen and suggested she have a more modern, telling name. I was pushing for Pirette. Norman retained Mary-Rose. I learned Norman Paterson has always stood his ground.
By now I was bragging about my friend and colleague, Norm who published his second novel at age 91, just a year after his first. Norman the Phenomenon, I was calling him. I whose previous novel, City Wolves had turned into a ten-year project with all the research involved. And it was taking me nearly as long to make progress on my current novel. Norm had the sensitivity and wisdom not to remind me of that.
Then the ground began to be taken out from under him. Sally, his true mate of nearly 70 years began to feel very ill. For years she had been nudging him to do the most important book he could do, a history of mining geophysics in its hay days, the 1950s to 1970s. Norman had evaded it. I know the feeling!
Sally was found to have inoperable cancer. Norman tended her faithfully. After she died bravely and peacefully surrounded by Norman and family, Norman did something I've never seen a husband be able to do adequately. He wrote a Lives Lived about Sally for the Globe and Mail that did full justice to her fine character and outstanding achievements. He accepted the slight editorial help that was needed.
And then, before he could let himself sink into the dark hole of grief, he pulled himself up to write the most important book of his life, as requested by Sally. A book on the history of geophysicists in the 20th century.
He did it within the space of a year. It was eagerly accepted, edited and published by the most prestigious science publisher, CIM, The Canadian Institute of Mining, Metallurgy and Petroleum.
Mining Geophysics: A Canadian Story. The people and events that made Canada a global leader in mining exploration in the 20th Century, by Norman Reed Paterson was published in March 2019, when Norm had just turned 93. With insight, gentle humour and clarity, it tells of the great people, the learned guys who got their feet dirty, using their inventions to explore and map mines across Canada and internationally.
Entertaining and educational, it can be ordered at bookstores and on-line. It belongs in every library, including yours and mine. I will be giving it to my grandkids when they are considering career paths.
Norman Paterson doesn't endorse my calling him Norman the Phenomenon. "I'm just Norm who enjoys a good conversation," he tells me. His next project is in support of developing geothermal sources of clean energy. |E|