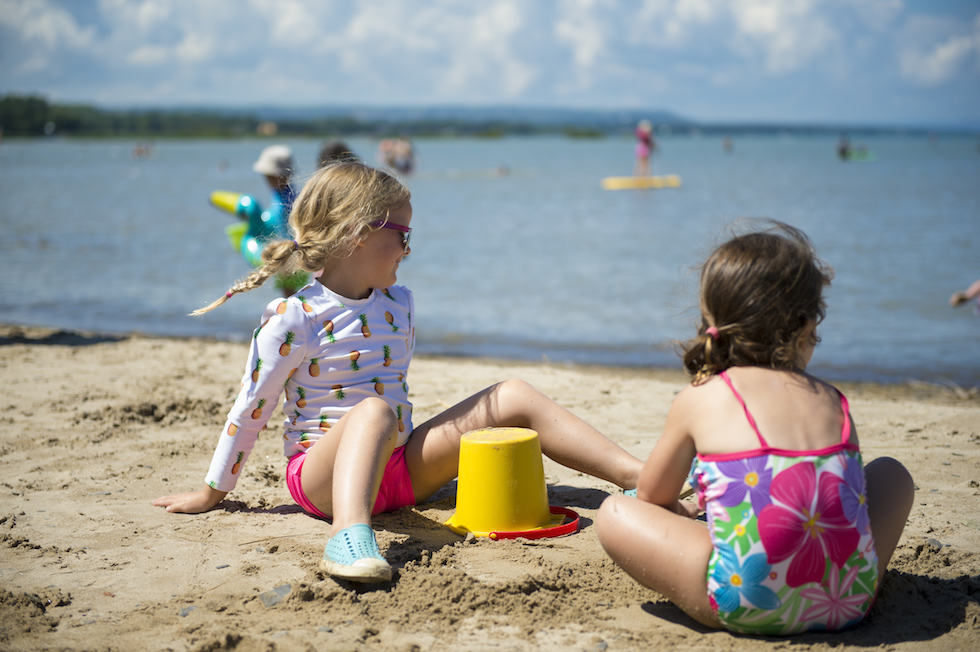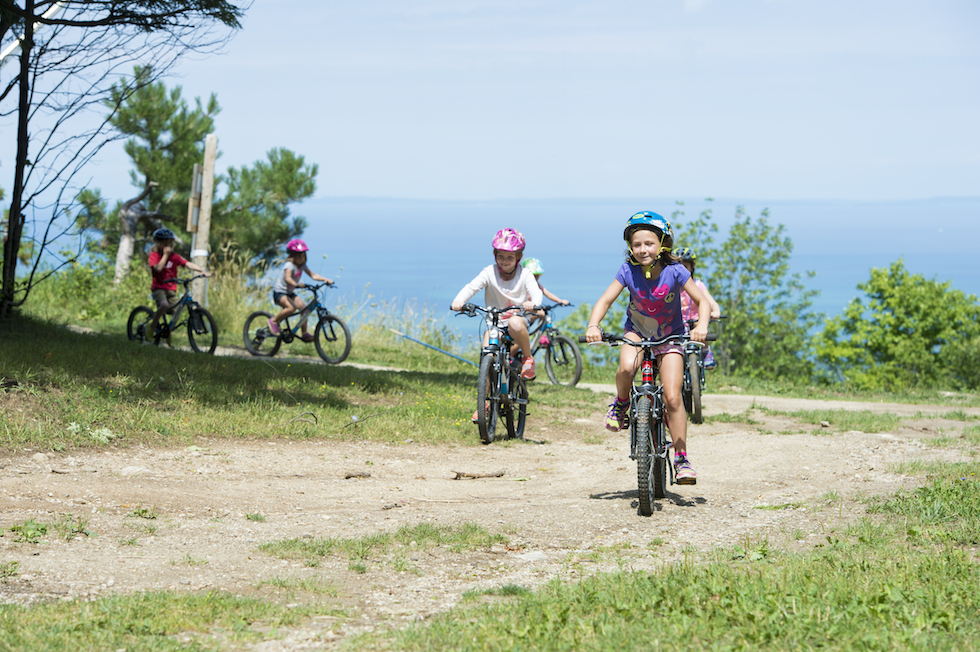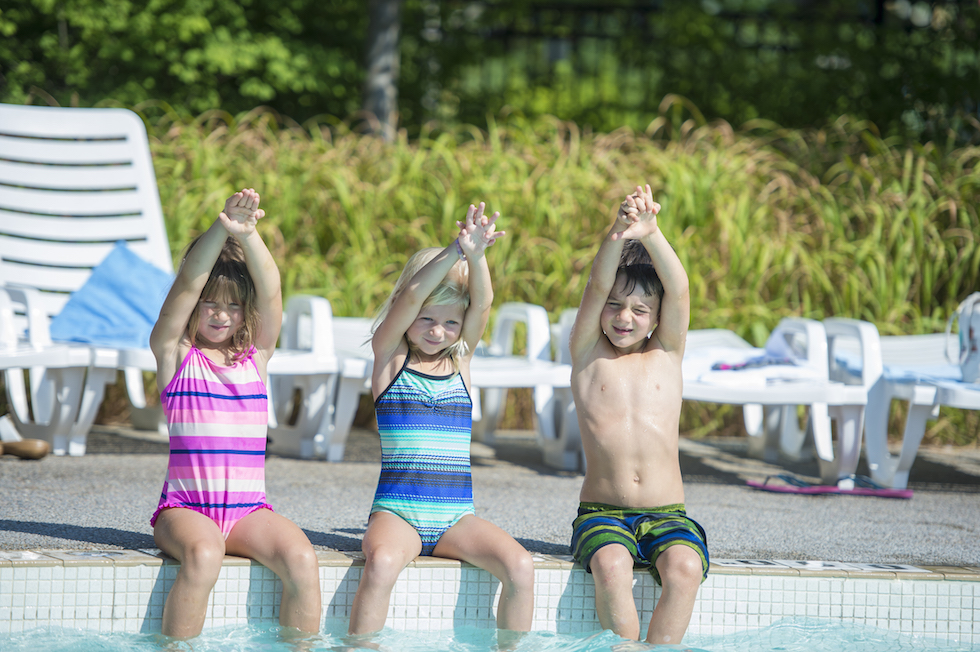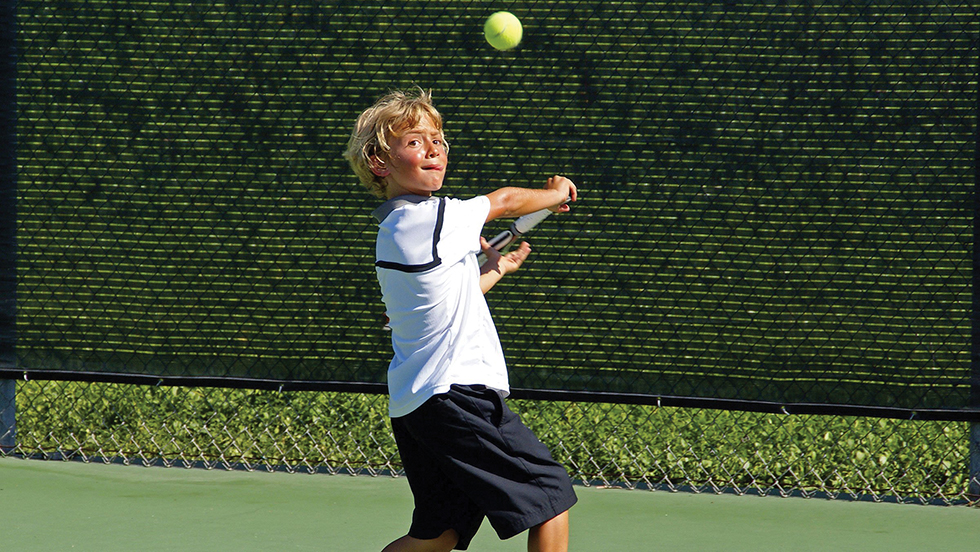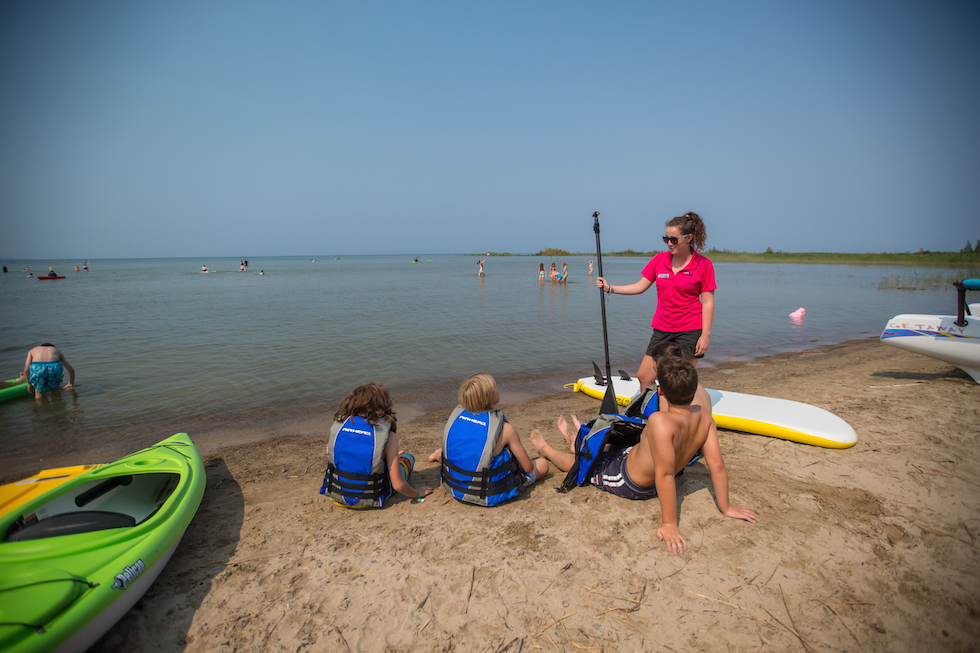 words | Cara Williams     photos | Marc Landry & Richard Roth Photography at Blue Mountain Resort
As a working mother of two, I'm always looking for fun-filled ways to occupy my kids' days during the summer months. Thankfully, Blue Mountain Resort has me covered, offering customizable day camps guaranteed to keep them on the run and engaged with exciting, new adventures while at the same time, introducing them to a variety of social settings—perfect for making new friends—like the 'bike posse' in the photo on the right.
Always a favourite amongst my little people is Plunge! Supercamp. Beginning the day at the South Base Lodge, young and old-ish campers get to experience all that the resort property has to offer, as well as the benefit of daily swimming lessons at the incredible Plunge! Aquatic Centre.
Designed to look like a boathouse, Plunge has an indoor/outdoor pool, an indoor water playground (perfect for younger kids), slides, and a real live rope swing (such a hit). And don't worry, a deep-water swim test first is mandatory for those wishing to use the rope swing.
Blue also has the benefit of offering waterfront beach activities and all campers love Blue Mountain's private beach (across from Georgian Peaks Ski Club). Plunge! Supercamp campers spend at least two afternoons at the beach, but as a parent, I love that I have the option to choose a full week at the Beachside Camp where activities include swimming, kayaking, badminton, bocce ball, croquet, horseshoes, volleyball and soccer, frisbee golf and of course, hours of unsolicited sandcastle making!
Junior Campers (ages 3-5) really enjoy riding on Blue's open-air gondola, which boasts incredible views of the Village, Monterra Golf Course, Collingwood and Georgian Bay beyond. Once at the top, Blue's skilled counsellors take campers on nature adventure hikes, winding all the way back down to the village. The 18 hole Cascade Putting Course at the base of the gondola has fairways, bunkers and water features that are both fun and challenging for aspiring, young golfers—heck, I have a blast playing it myself.
Even the littlest campers get to have a crack at honing their mountain climbing skills on the resort climbing wall, next door to the putting course. And the fun doesn't stop there! Intermediate campers (ages 6-13) tackle the Woodlot Low Ropes, and receive an introduction to mountain biking on Blue's incredible trail system and spend a day or two playing "real" golf at Monterra.
Active kids also love Monterra Tennis Summer Camp. Regarded as one of the best teaching centres in the area, Monterra's programs run rain or shine all summer long inside its state of the art facility, The Courts.
Monterra's OTA certified coaches use a progressive learning method that helps campers succeed while having a truly enjoyable time. Tennis Summer Camp participants learn the basic fundamentals for each stroke including forehand, backhand, serve, and volley. For budding racquet sports enthusiasts, Blue offers a Plunge/tennis hybrid camp for 6-13-year-olds, with swimming lessons in the morning and tennis lessons each afternoon. Talk about a full day! They're happily exhausted, ready to eat everything at dinner and bedtime is never an issue.
A new adventure awaits your camper every day in the beautiful outdoor setting of Blue Mountain Resort. Campers learn about the Escarpment environment and connect with Blue's unique location through sports, swimming, arts and crafts and exploring. All this, in a safe, fun, and stimulating environment with a staff dedicated to ensuring a great experience—full of fun—with a focus on building lasting friendships and developing social and life skills but there's a perfect mix of goofiness too—it's summer after all.
Take my word for it, you won't find better camp options anywhere. My kids are already looking at our fridge calendar—counting the days. |E|
For more information and a complete list of camps visit bluemountain.ca