Story by Cara Williams      Escarpment Autumn/Early Winter 2020      Photos by Clay Dolan      
Not long ago it wasn't uncommon for skiers and snowboarders to "boot-up" in the parking lot and line our pockets with dinner rolls and granola bars—anything to get us on the hill quickly and keep us outside until the lifts close. When the COVID-19 pandemic triggered a nationwide shutdown this spring, ski areas were among the first sector to halt operations just as many of us were beginning March Break. But with skiing and snowboarding being touted as a low-risk activity due to the fact that the majority of activity takes place outdoors, snow-lovers may be in for an awesome, old-school ski season with a few notable modifications; altered lift line layouts; regulated skier capacity; reduced lodge capacity; altered competition schedules; and mandatory face coverings indoors, on chairlifts and in areas where physical distancing cannot be accommodated.
In an effort to better predict, and in some cases limit the capacity of people on the hill, many resorts across North America have established an online lift ticket reservation system. The idea is to not only cap skier-visits but decrease interactions at ticket windows. Escarpment's private ski clubs run on a vastly different business model and thus have formed new policies and procedures under the direction from the municipal, provincial and federal guidelines. "I've been the GM since 2002 and this is really unprecedented," says Jeff Courtemanche, General Manager at Craigleith Ski Club. "As with the other private clubs, we have dealt with a lot of difficult situations over the years and we're very good at adapting. Obviously, no one has had to deal with anything like this—I could never have imagined such a dramatic change to our operations but we're a very resilient group and we will adapt, change and persevere while offering the best experience possible for our members."
Since late spring, clubs have had ongoing dialogue with local public health officials as well as support from the Ontario Snow Resort Association (OSRA) and the outlook is decidedly positive. "The Grey Bruce Health Unit inspector has been a great partner, and an excellent resource, who has visited our club on many occasions," says Jeff Conn, General Manager at Osler Bluff Ski Club. "Through site visits, calls and emails the health unit has become more familiar with our challenges due to COVID, offering insight as to operating procedures, in meeting the health mandates of the province. Paramount is keeping our community, staff, members and their guests safe from the COVID virus and not causing a potential outbreak."
It's often said that the world is small but the world of skiing is even smaller. North American resorts have had the benefit of learning from their professional counterparts in the Southern hemisphere. New Zealand's ski areas began operations a few weeks later than planned in June and early July but they only did so after the country moved to loosen restrictions which essentially meant near-normal operations without the requirement for limited gatherings or social distancing. "Like most ski operators we are watching and taking cues from ski resorts that are open in New Zealand and Australia," says Jeff Conn of Osler. "We will be watching closely as some of the large ski centers open in Europe, the U.S. and Canada that typically open early to mid-November. Our approach to the pandemic is to maintain flexibility and be fluid in our decisions, even as we near opening day. With the safety of members, guests and staff as our top priority, we do expect the ski season will look different this year. Based on current information, we anticipate our usual full spectrum of on-hill activities for a full 80 plus day season."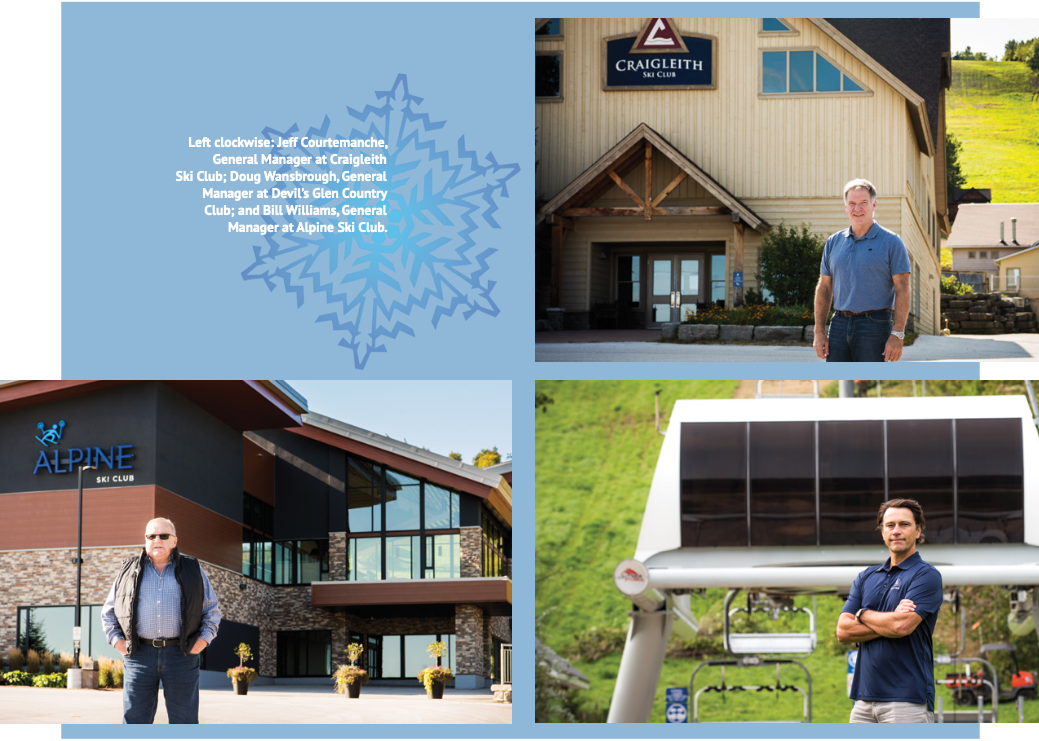 Escarpment club general managers have also participated in bi- weekly meetings to share information, problem-solve and collaborate. "Since the outbreak mid-March there have been continuous regular meetings (webinars, zoom meetings, conference calls) often weekly to discuss the challenges with COVID in our industry and re-opening plans for the upcoming ski season," says Jeff Conn of Osler. "This is a fun, family centred activity that we should be able to easily comply with all COVID regulations," adds Doug Wansbrough, General Manager at Devil's Glen Country Club. "In terms of all the different private clubs, we're not going to look exactly the same, but we are closely aligned because the regulations require us to do certain things. It's a sharing type environment with people who are in the same business. We made it to phase three—there is no phase four, so the best-case scenario is we stay in phase three and we're able to operate our businesses, including ski resorts and clubs through the season."
On-hill dining will undoubtedly be where we will feel change the most. Like all restaurants in Ontario, ski lodges must follow the protocols laid out by health officials, so there will be more grab-and-go options. Masks were made mandatory indoors in Grey County as of July 17th but outdoors, wearing a buff over your nose and mouth will likely suffice. Staff will be provided with appropriate, safe and effective PPE, and have the right to refuse to work if they are not feeling protected. Lodges will also experience capacity restrictions, physical distancing floor plans, postponed or cancelled social events and the closure of nurseries, playrooms and fitness rooms. "There are guidelines as far as cleaning and disinfecting the lodge," says Jeff Courtemanche of Craigleith. "Some areas will be cleaned twice a day, other areas will be cleaned hourly such as high-touch areas like door handles, doors, drink machines, microwaves. We're looking at a reduction of 40-50% of seating in our main lodge so we are staggering break times for our programs. Our child-minding station will most likely not be functioning this winter so we are looking at that area to increase seating capacity. We're also exploring the possibly of adding tents on the patio. The safety of our membership whether in the clubhouse, on the hill, limiting the risk of infection is paramount."
With the opening of a brand-new clubhouse this upcoming season Georgian Peaks Ski Club had planned on tearing down the old building but have decided to hold off at least until physical distancing restrictions are lifted. "We are fortunate with the timing of our new lodge in that we are essentially adding 40,000 square feet of indoor space and will be able to keep our old lodge to provide additional indoor distancing for our members and guests," says Chris Beckett, General Manager at Georgian Peaks Ski Club. "This is a meaningful increase given that we currently have just under 700 families as members. We also continue to have many discussions with our local health unit representative to devise effective and reasonable indoor protocols."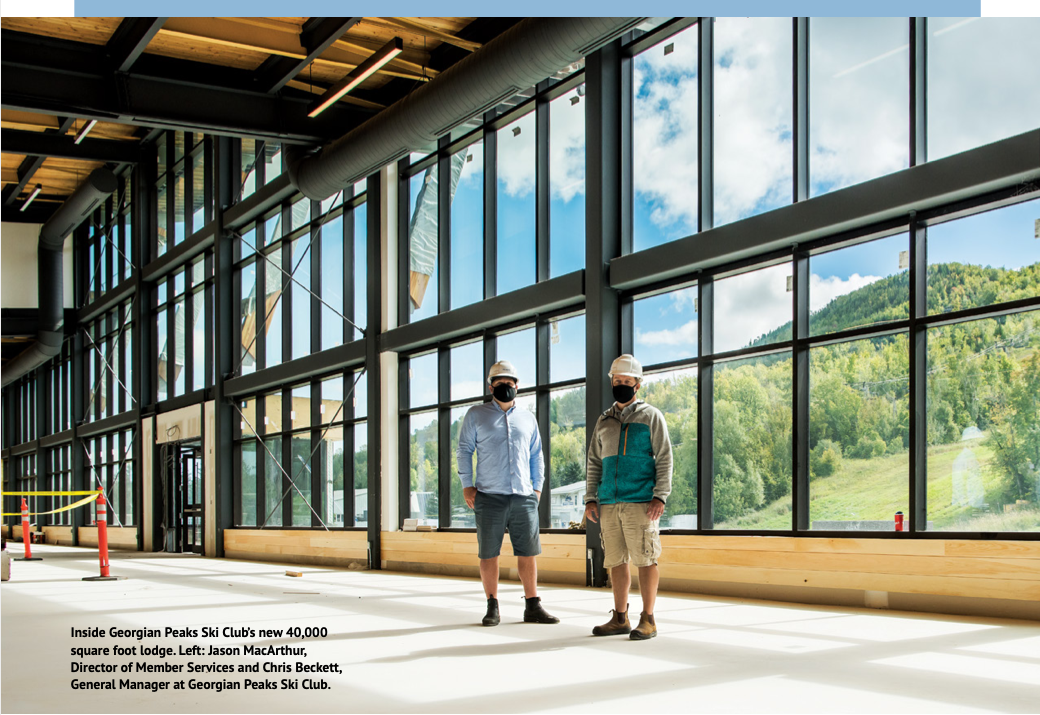 Just as we've seen in the restaurant industry, we can expect increased offerings for après skiing on patios and sundecks. It's possible some level of face coverings may still be required, but it's safe to say keeping skiers away from a cold beer after a day on the hill will not be happening in the era of COVID—it'll just be done outside in the fresh air. "The social side of a private ski clubs is very important," says Chris Salhany, General Manager at Mansfield Ski Club. "Some level of socialization has to be maintained but it's important to note we are in the business of risk. Nobody ever suggested skiing and snowboarding is a safe way to travel, so we deal with risk every day. This is just adding another element into our risk portfolio. We've always cared for people, we've always ventured to keep them as safe as possible and now we will add this into the mix."
It's also looking like singles line will be nixed this year. In an effort to keep interaction with those outside of your core group down to a minimum, singles will likely have ride solo, or share with another single and sit on opposite sides of the lift for proper distance. With 17 runs and seven fixed-grip lifts, Mansfield is predicting that uphill capacity will be affected to some degree. "We will be slowing down line speed," explains Chris Salhany. "When a chair leaves the station, the next chair will load slower because we won't be able to physically distance if we keep our infrastructure operating at optimum speed. We have the luxury of never really having lift lines so the difference this year will be felt in seconds, not minutes but it will help our lift operators load people much more safely and it will also keep them safe as well."
At the larger clubs wait times are expected to be a bit longer than usual—but it's important to note that while standing in a lift line our equipment helps us maintain a safe distance from the person ahead or behind. "Lift lines are going to be a challenge this season," says Bill Williams, General Manager at Alpine Ski Club. "But if you are in a programs 'cohort' you can ride the chair with fellow classmates provided you are all wearing face masks or covering." Face coverings and gloves will be required up to and including loading the chair. Once on the chair, face coverings can be removed if everyone on the chair is from the same family or social circle. Accommodations will be made to allow those with health concerns to have the option to ride alone or within their own family or social circle.
Clubs also recognize the need to cater to members who may want to steer clear of the masses on weekends. Non-member guest visits will be limited or prohibited on weekends, race schedules will be altered and movement between clubs will be minimized. Most under 12 programs will participate in house-league competition while high performance programs will race mid-week to minimize crowds. Snow programs are expected to proceed with some modifications potentially relating to class or team size and schedules, and to assist with the loss of lodge seating due to COVID-19 safety protocols, some clubs are discussing staggered starts and alternating lunch breaks. "What we have seen is that people have been able to work remotely from their cottages or chalets so we can expect to see more people in the community this winter," says Jeff Courtemanche of Craigleith. "Therefore, we're making contingencies to continue to stay open midweek."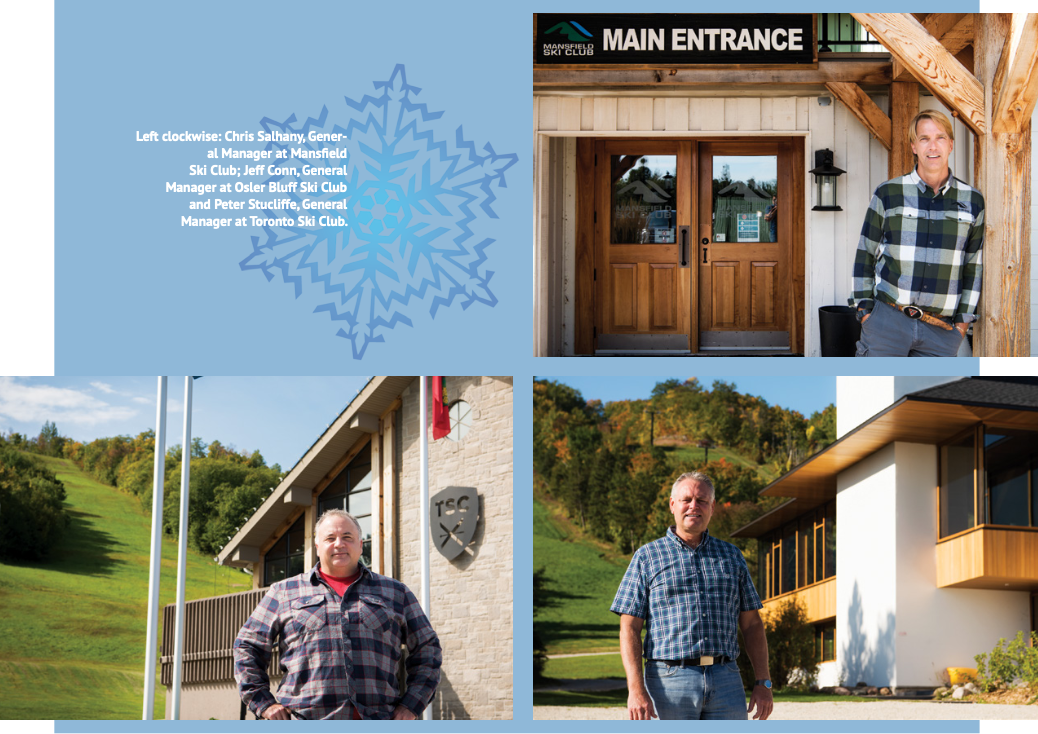 Some clubs like Georgian Peaks remain cautiously optimistic on continuing to allow guests on weekends, as they are a very important part of club life and an important source of new members. "Screening will be a mix of passive and active measures," says Chris Beckett of Georgian Peaks. "The passive aspect is the posting of signs from Grey county health that puts some onus on members to self-monitor. We are looking at options for the best way to actively screen. Our direction will ultimately come from the Grey Bruce Health Unit." At this point, the Peaks anticipates guests will be allowed in a limited and controlled number. Interestingly the inquiries for new members at Georgian Peaks is up sizably for this upcoming season. "It has been actually surprisingly positive so far," says Chris. "As a barometer, we have already secured 30 new annual members for this season. We think many people are seeing skiing as a COVID friendly activity given the open spaces. Private clubs can offer more of a controlled setting including many of the same families every week. We are looking to build on our skinning and hiking trail programs as we anticipate people look for other alternatives to be outside with their families."
With travel restrictions in place, many snowbirds are staying home this winter, causing a ripple effect felt at many clubs. "Seasonal rentals have dried up," explains Doug Wansbrough of Devil's Glen. "If we want to attract new members, they have to be able to try it out and they'd like to have a place up here. As we've all seen, real estate has gone crazy in the area." On the other hand, Mansfield, which is less than an hour drive from the GTA, has also experienced unprecedented membership interest. "We recently had seven inquiries in one day," says Chris Salhany of Mansfield. "It's a double edge sword—we are thrilled to welcome new members but we have to keep an eye on our capacity as a club. We can't promise great experiences to a whole flood of new members when we may not have the space to house them properly, so we've actually put a cap on the number of new member families we accept this year."
The general consensus is that the 2020/21 ski season will be one to remember, with a few notable modifications that may reflect the skiing of yesteryear, when it was mainly about the outdoor activity and time spent on the snow with family and friends. "Currently I am cautiously optimistic about the season," says Bill Williams of Alpine. "We will need everyone to continue to work together to prevent a second wave and any moves backward. The season will be challenging on so many levels but a positive outlook and careful planning should help us navigate these uncharted waters."
While we wait to see what Mother Nature has in store for us (and what COVID-19 has left to throw at us) I'm resting a little easier knowing that there is a high probability we'll be hitting the slopes this winter. Spending time outdoors is the literal core of the sport of skiing and snowboarding. "At TSC we are well underway with winter planning," says Peter Stucliffe, General Manager at Toronto Ski Club. "We are excited and optimistic about the coming season. Although this is a difficult time, there are areas that we should celebrate. The ski industry as a whole has never been closer, globally, nationally and regionally—we are all working together to provide the best experience possible for our members, and guests. This winter, with skiing being one of the few sports that a family can do together, I believe it will be a fantastic year."
We are fortunate to live in a place that offers us the chance to connect with nature, engage our physical selves and spend time with family and friends in a safe environment. "A lot can change in the next few months," says Jeff Conn of Osler. "What we know for sure is that we are in this together and we are looking forward to being back on snow and enjoying a great ski season regardless of what challenges we may face!"
Beaver Valley Ski Club, Collingwood Ski Club and Caledon Ski Club were unable to comment by date of publication.