By Cara Williams Photography by Clay Dolan
icture a time before high-speed chairlifts, before cruising trails, moguls and fresh corduroy. Now imagine the base of Blue Mountain is nothing more than a wide-open meadow as far as the eye can see. Could you ever conceive that this stretch of Escarpment would one day become a bustling four-seasons resort with 11 lifts, 43 trails and 365 skiable acres? Heading into their 81st winter season, it's a fitting time to reflect on the past and the present of Blue Mountain Resort. Honouring their deep-rooted history, Blue Mountain is proud to unveil its newest offering, Time Line History Trail, which tells its story beginning in 1924 with the establishment of the Toronto Ski Club and chronicles the resort's growth and expansion through to present day. 
In 1939 Czech born Josef "Jozo" Weider emigrated to Canada with his wife Helena and their one-year-old son George. While working as a ski instructor in Quebec, Jozo crossed paths with Peter Campbell, a businessman from Toronto who spoke of a long stretch of Escarpment that runs predominantly east–west along the southern shores of Georgian Bay. Since the 1930's members of the Toronto Ski Club and the Blue Mountain Ski Club had been cutting rugged ski trails on the Escarpment. By 1941 Jozo had secured a 999-year lease and established Blue Mountain Resorts Limited. He would go on to purchase an additional 150-acre farm and introduce a lively restaurant/Inn/swinging après ski hot spot known as "The Ski Barn". After Jozo's untimely death in 1971, his son-in-law Gord Canning continued his legacy and expanded operations, including installing snowmaking, adding ski lifts and building the Blue Mountain Inn. With Jozo's vision in mind, Blue Mountain continued to grow, develop and become a modern day four-seasons outdoor experience that attracts visitors from around the globe.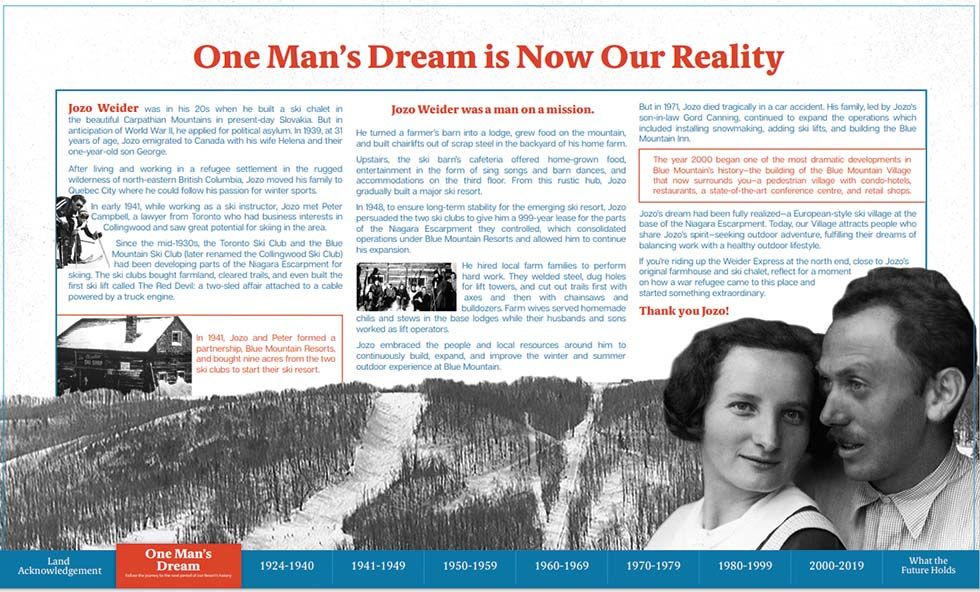 "Thanks to Jozo's vision and determination, we have an incredible story to tell," says Dan Skelton, Blue Mountain Resort President and COO. "One that goes back over 80 years and has been a part of people's families for generations." Like many of Blue's employees, Dan's family is inextricably linked to the resort—his grandfather Ken was the first ever area manager and was instrumental in building the earliest lifts, while his father Bill began working at Blue when he was only 15-years-old and went on to become the first VP of Operations. "We have a lot of long service staff that are still with us. This Time Line Trail is one of those elements that keeps us in touch with our roots—keeps that line right back to the founders of the Resort." 
Located within Blue's Explore Park network of trails, Time Line History Trail runs along the top of the Escarpment, takes approximately 15 minutes to complete and is one of the most accessible hiking trails on the resort. At 0.63 kilometres in length the trail leads to AGORA: Path of Light and features 10 interpretive solar lit story boards that depict significant historical events at Blue. 
"While walking the trail what comes to mind for me is Jozo's legacy," says Gord Canning, who was the architect of Blue Mountain's growth after Jozo's passing. "And the legacy of the family staying together for all these years and developing what it is today, including this walk on the foundation that Jozo built. It's amazing to see it laid out like this."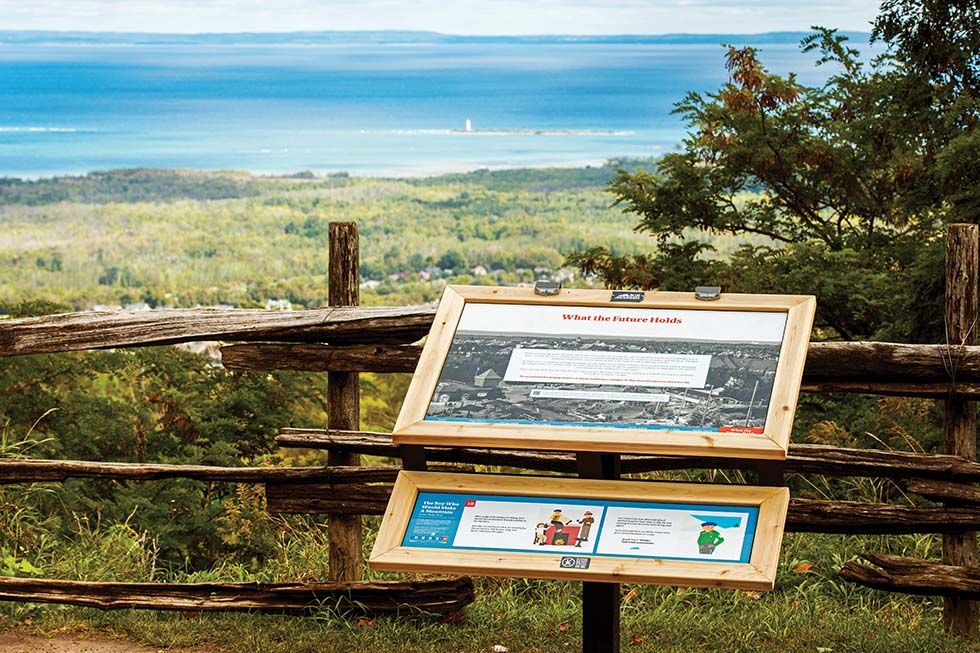 The interpretive story boards feature images from various time periods throughout the resort's history, as well as fun facts and QR codes that allow the reader to access additional online information. Future plans for the history boards include interactive narration for those who are vision impaired or prefer to hear the story rather than read it. "The goal with this project was not only to share our resort history, but to make it accessible to all and engaging to guests of all ages including children," says Jennifer Allan-Cummings, Manager, Hospitality Marketing for Blue Mountain Resort. "I had an idea for a children's story that could also be featured on the boards. Families with younger children, or those who may not have as much interest in the date specific information would have something enjoyable to read or have read to them." The story is entitled The Boy Who Would Make a Mountain—A Jozo Weider Story and provides a simplified narrative of Jozo's dream of building a ski resort. Beautifully illustrated by local artist Loo McNulty, one of the illustrations depicts Jozo's son George Weider as an infant in the arms of his mother Helena, just before the family emigrated to Canada from Czechoslovakia in 1939.
"There are so many people who were instrumental in building this who are not with us anymore," remarks George Weider, who still lives in the house his father built at the south end of the resort in 1968. "The team did a terrific job in researching for this project. We really do have a lot of mementos, photos and signs and it's terrific to see it all together and tell the story. When you think of the Red Devil, which was a sleigh that carried nine people to the top of the hill, and compare it to our high-speed chairlifts of today, the changes are staggering. Jozo always had the idea to take the resort four- seasons, and then it happened under Gord [Canning] with the Slide Ride and branching off into hotels and golf courses. It's amazing to see all the new uses for the mountain, from biking to snowboarding. It's been an adventure."
Suitable for hikers of all levels, the chronological journey begins atop the open-air gondola and winds through the forest along the incredibly scenic stretch of the Escarpment. From here, one can truly grasp the potential recognized by Jozo Weider and the founders of Blue over 80 years ago.
Visit bluemountain.ca for more information