Punching Above Our Weight
Words by Cara Williams
When I left Ontario for the Coast Mountains of British Columbia, I never imagined I'd one day return. Transitioning from Georgian Peaks Ski Club's hard pack to Whistler's dense powder was challenging, but I had a solid foundation from years of ski racing on the Escarpment. I spent my decade and a half out west as a steep skiing coach and met my husband Dak while competing on the Freeskiing World Tour. Together we travelled the globe, eventually settling in Utah where we welcomed our first child. Although we owned seasons passes to Snowbird, we found that we were skiing less and less—life was busy and the drive up the canyon was long and slow. We decided to head back east, back to family and to the place where it all began (for me)—the Blue Mountains.
Initially I worried that leaving the big mountains would be a tough transition, but I was confident that the easy-going lifestyle and proximity to ski clubs (each with robust kids' ski programs) would ease the culture shock. We settled in Thornbury, a mere stone's throw from the hill. A lot has changed since I was a kid, but one thing that hasn't is the culture of skiing. Here, the close proximity of nearly a dozen local ski clubs fosters friendly rivalries and young athletes have the unique opportunity to race at neighbouring clubs without the hassle of long drives and excessively early mornings. Twelve years later our family (of four, now) is still deeply imbedded in the ski industry and both of our children are growing up in junior ski racing programs.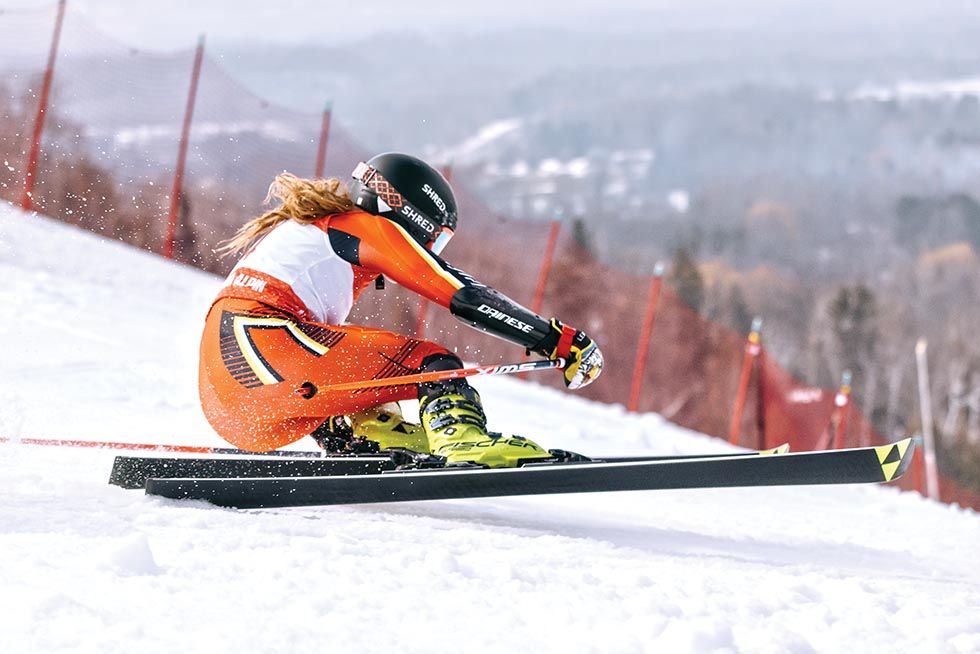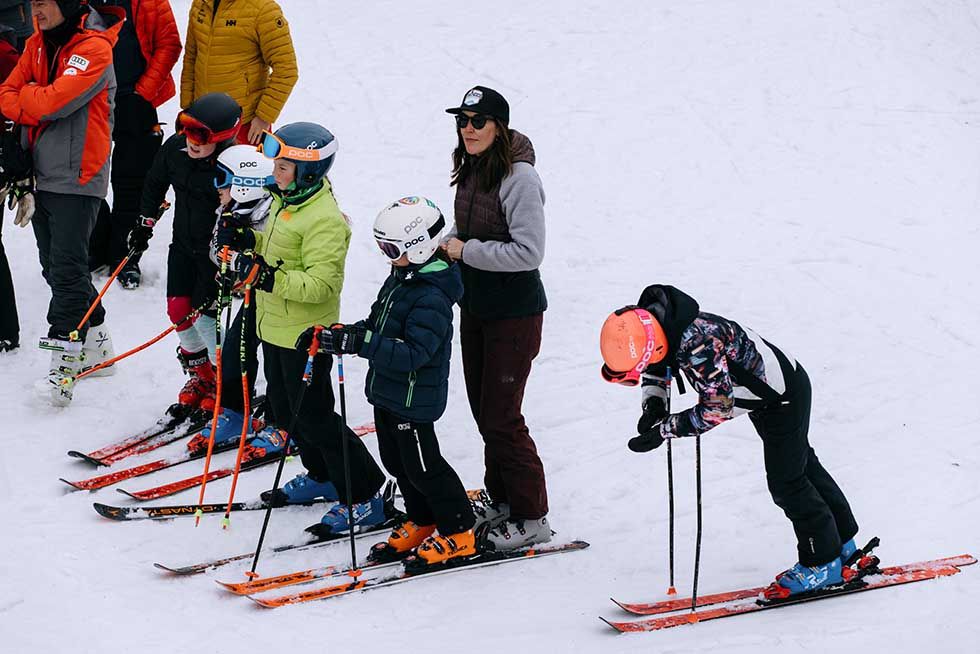 With a vertical drop of 820 ft, the highest of the Escarpment clubs is Georgian Peaks. Not very big when compared to bona fide mountains like Whistler or Snowbird. But what we lack in height, we make up for in length. Touted as "the best horizontal vertical
in the world", the Escarpment is also home to Alpine Ski Club, Craigleith Ski Club and Osler Bluff Ski Club. Look a little further and you'll find Devil's Glen Country Club, Beaver Valley Ski Club, Mansfield Ski Club, Caledon Ski Club, Glen Eden and The Heights of Horseshoe. The Collingwood Ski Club and Toronto Ski Club are both located at the base of Blue Mountain, and several race clubs operate within public resorts like Glacier Ski Club and Jozo Weider Alpine Race Team. In total, Alpine Ontario Alpin (AOA) represents 25 clubs in the Southern Ontario Division (SOD), with the majority of athletes based in the Town of the Blue Mountains. It's safe to say that skiing—and ski racing in particular—is thriving here. 
Looking back at our family calendar, there was a two-week period last March that held so many events, it's hard to believe we came out the other side in one piece. Osler, Alpine, Georgian Peaks and Craigleith all hosted U16 Ontario Cup (OCup) Provincial Championships, in which our son Jasper participated. The five-day race series featured back-to-back racing and was attended by junior racers from around the province. The host clubs did an exceptional job, but perhaps more incredible, is that Canadian Senior National Championships overlapped the U16 Provincials. Thousands of ski racing fans flocked to the finish and lined the courses to cheer on Canada's best at Georgian Peaks, Osler and a nighttime dual slalom, under the lights at Craigleith.
"The event set up on the Escarpment is everything you would want it to be," says Alpine Canada Alpin (ACA) High Performance Director Phil McNichol, who attended both race series. "At other resorts—especially ones in the mountains—you can't just walk-up and see the race—and you certainly can't park your car in the finish and watch. Everyone was pumped to see talented ski racers coalesce in one place, especially in a place where so many families partake in the sport of skiing and ski racing. It was very noticeable and elevated the event."
Typically held at mountain resorts in Alberta, BC or Quebec, last season marked the first time in nearly 30 years that Ontario hosted Senior Nationals. The event drew massive crowds and a deep- seeded field, including several athletes who represented Canada at the Beijing Winter Olympic Winter games; Roni Remme; Cassidy Gray; and Brodie Seger. Having worked on multiple race crews, I can tell you that hosting events of this calibre is no easy feat. Each club has a dedicated crew of volunteers that take great pride in their work—in what they are able to accomplish—the opportunity they provide to our athletes and the inspiration the provide for the younger generation is immeasurable.
"We debate often with our American friends, about whether the Escarpment is challenging enough for a very elite level ski race," says Phil, who has lived primarily in mountain towns like Sun Valley, Idaho, Aspen, Colorado and now calls Revelstoke, BC, home. "But I think sometimes you have to bring ski racing to where ski racing is loved. I don't think a ski race is always about the hill. The Escarpment has proved over the years that they can create the right snow surface, which is important for a fair and challenging and high-level ski race. We have to remember all the little pockets that support, serve and grow the sport of ski racing."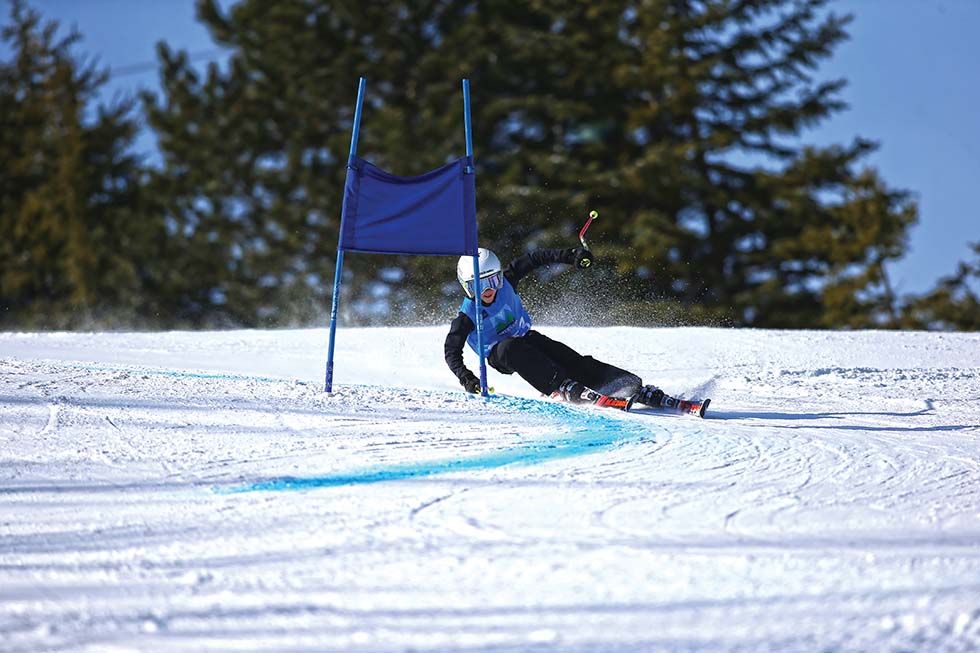 If there were such a thing as a factory for producing great ski racers, it would be Southern Ontario. Legendary ski racers Todd Brooker, Steve Podborski, Karen and Brian Stemmle, Liisa Savijarvi, Larisa Yurkiw, Nik Zorcic, Phil Brown, Erin Mielzynski, and most recently, Olympic bronze medalist Jack Crawford all grew up here. "Great skiers and great ski racers often come from small hills," says Phil. "Flatlanders tend to dominate staying in the ski world, because of the attachment to the community. Skiers like Jack Crawford, Lindsey Vonn and Ryan Cochran-Siegle all came from little hills. It's not a hinderance, it's a strength." 
Looking ahead to the 2023 season, Canada will host the FIS Ski Cross World Cup Finals. The last international competition calendared for the 22/23 season, the coveted overall World Cup Champions will be crowned here, at Craigleith Ski Club, March 17-19. Unreal.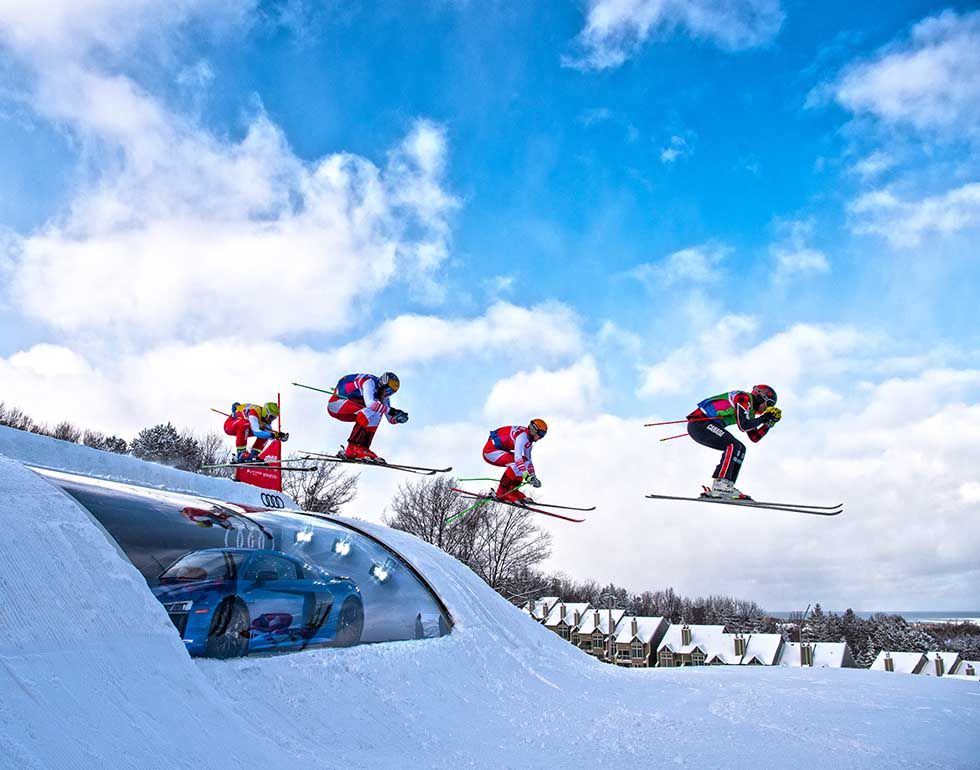 Kris Mahler grew up racing at Craigleith and is now a member of the Canadian Ski Cross Team. "I know I'm a bit biased with it being my home club but I'm really looking forward to seeing what this event becomes," says Kris. "The potential for ski racing in Ontario has always been immense. With mass numbers in such close proximity, this location is the most like the European races where you'll see thousands of people come out to watch. The terrain itself is perfectly suited for a ski cross course build and with most of the hill visible from the base area the spectators should have great seats anywhere."
It is pretty incredible how the skiing-centric culture on the Escarpment encourages families to fully immerse themselves into the sport. Our local clubs also maintain a young, energetic stable of coaches through continuous outreach to members, during and after their junior skiing careers. Add state-of-the-art snowmaking, top-notch grooming and unwavering event organizers and you have yourself a breeding ground for talent.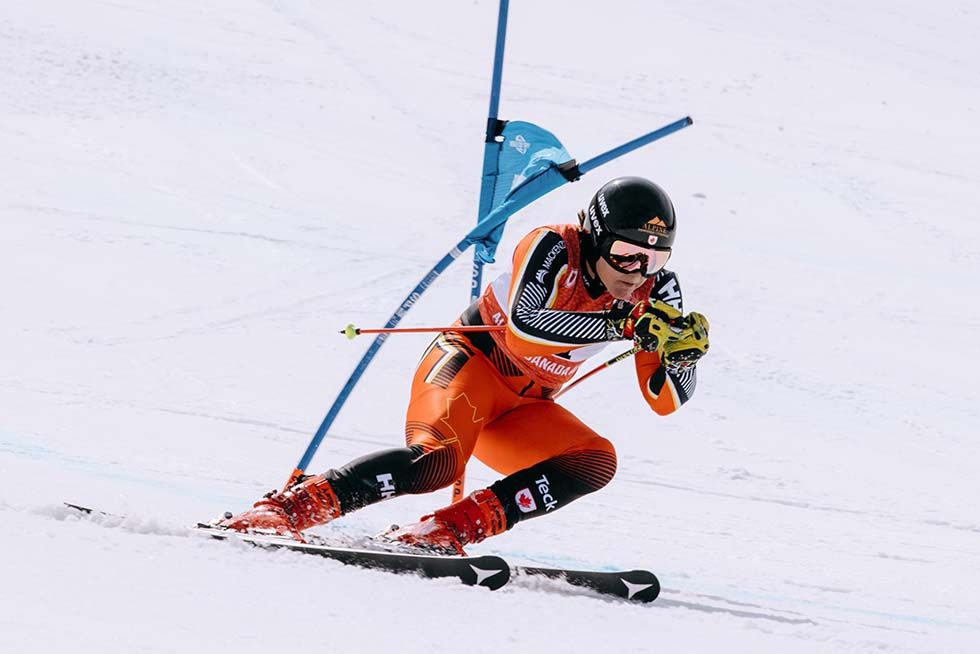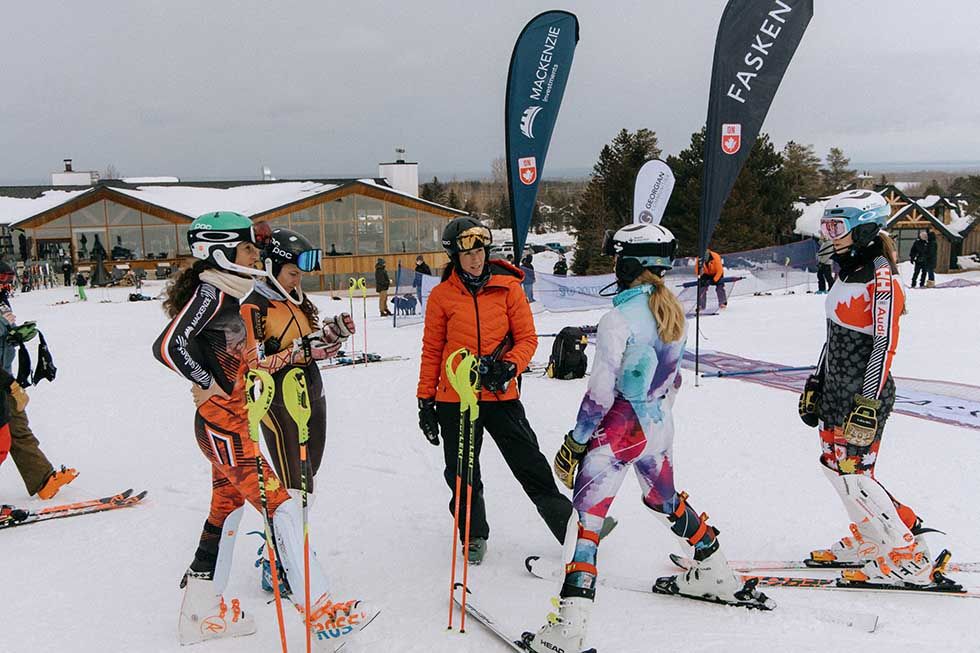 "Coming to the Blue Mountains is special because of the connection in the community," says Phil. "I grew up skiing at small resorts and the Escarpment speaks to what ski towns should be, which is a community that is about skiing. It breeds long-term engagement. It's a focal point of bringing people together. Because it's a little hill, everybody is involved in one way or another. If you live here, you probably ski—your kids are probably in a ski program—because that's what everyone does. You don't necessarily see that in the big mountains."