By Cara Williams, Photos by John Carrick
On any given Saturday night from October through April, the Harry Lumley Bayshore Community Centre is abuzz with ravenous hockey fans waiting for the puck to drop. A small city with big aspirations, it's easy to see why visiting teams might get flustered coming to Owen Sound—with steep, vertical seats and tightly packed stands, the acoustics in the 4,300-seat arena can be deafening for those who aren't accustomed to the exceedingly enthusiastic Attack fans.
With a population of around 22,000, the city of Owen Sound is the smallest franchise in the Ontario Hockey League (OHL) by a considerable margin. But there's a comfort in familiarity—with dozens of local families billeting out-of-towners, all of the Attack's high school age players attend the same school; Owen Sound District Secondary. This fact alone has fostered an intimacy one can only feel in a small community. "Coming to Owen Sound is the best thing that has happened to my career," said Owen Sound Attack Captain Mark Woolley. "Not only for my hockey, but being able to be a part of this really special community. Trades can be tough, but the first day I got here I was welcomed into the family. It's a pleasure to play here."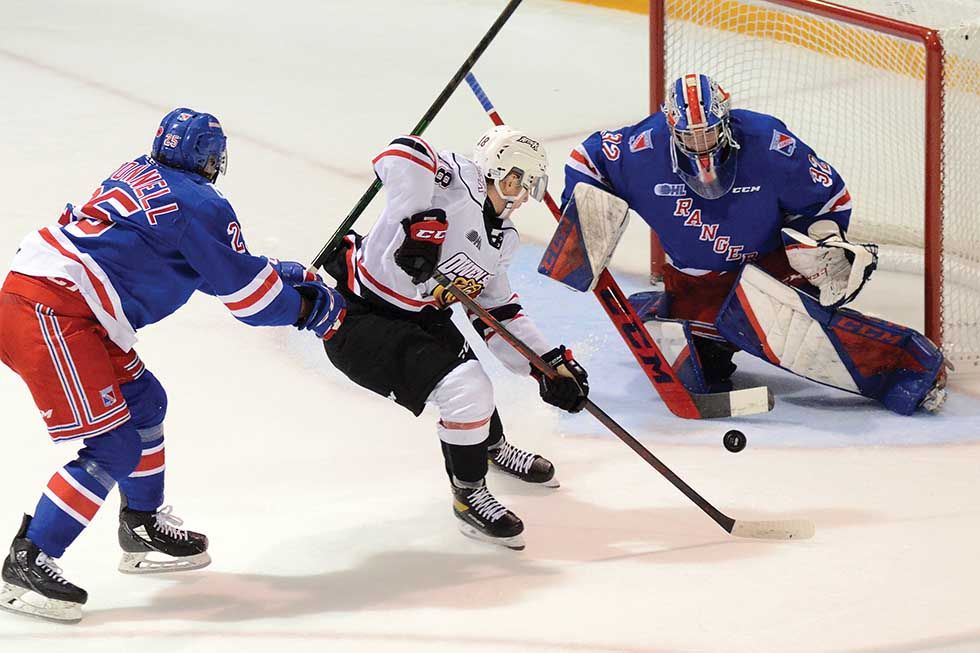 Owen Sound's OHL Club officially began in 1989 when the Guelph Platers moved to Owen Sound, transitioning to the Attack when the current ownership group purchased the team in 2000. Over their first 33 years of OHL hockey, the Attack have had the luxury of mingling die-hard community support with extraordinary talent. A junior hockey team first, the Attack are also a source of social clout and municipal pride. "It's an extension of family," said Mayor of Owen Sound, Ian Boddy. "Everyone in the community knows the players—it's not just that they're popular as hockey stars. They're involved in so many things here, fundraisers, speaking at grade schools. The team is a rooting interest in town there's no doubt—it's somewhere to go to engage your neighbours on a Saturday night in the winter. We've had season-tickets for eight years now, same seats, and all the people in our section have got to know each other over the years. It's our night out, a quality-of-life benefit.
When it came time to invest in the arena for upgrades and improvements, it really didn't meet opposition because it's not just for the players. It's for all of us who look forward to the games—kids through to the seniors. You can't overestimate just how much the team means to Owen Sound."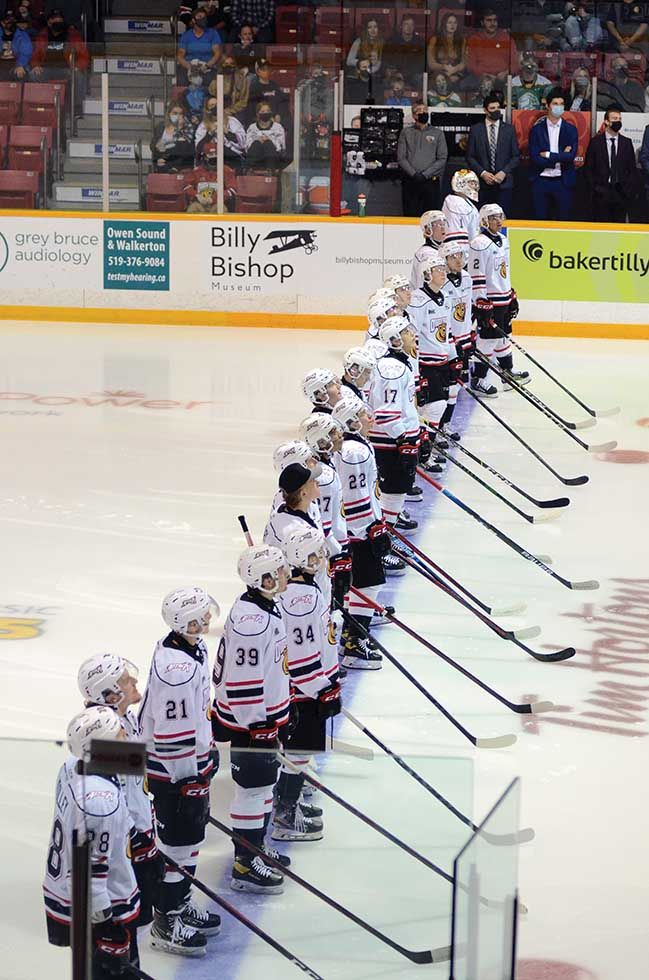 The Owen Sound Attack look forward to continuing to develop top-tier players, both on and off the ice. Don't miss your chance to witness history—for ticket and game information visit attackhockey.com
A total of six Attack players were selected in the NHL Draft last season—an impressive performance reminiscent of the 2017 Draft, when Owen Sound was themost represented team in the OHL, led by player Nick Suzuki who was drafted 13th overall to the Las Vegas Golden Knights (Nick is currently an alternate captain for the Montreal Canadiens). Additional first Round NHL Draft Picks, are Owen Sound alumnus Jamie Storr (7th overall in 1994) Wayne Primeau (17th overall in 1994) Bobby Ryan (2nd overall in 2005) Bobby Sanguinetti (21st overall in 2006) and Joey Hishon (17th overall in 2010).