In Conversation with Kris Mahler
By Cara Williams
Coming off a World Cup win last season, Canada's Kris Mahler shares his thoughts on going head-to-head against the best in the world at the FIS Ski Cross World Cup Finals at his home club, Craigleith Ski Club, March 16-18, 2023.
Growing up in junior ski racing at Craigleith Ski Club, Kris Mahler fortuitously met and was coached by local legend Bebe Zoricic. With a strong belief in skiing all types of terrain, Kris would grow as a person and skier under the guidance of Bebe—together they would train gates in the morning and hit the club's ski cross track in the afternoon. During his final year in high school Kris's family moved to Alberta, where he was invited to train with the Alberta Ski Cross team. He made the decision to pursue ski cross full-time, joining Canada Ski Cross in 2015. He placed third in Junior World Championships in France that same year.
Kris achieved his first World Cup podium with a silver at a 2019 race in Montafon, Austria. He followed with a win in Val Thorens, France, and last season he won gold at home in Nakiska, Alberta. While he's battled injuries in the seven seasons since his first World Cup start, Kris thrives on head-to-head competition and has earned a reputation as an aggressive opponent. Looking ahead to the 2023 season, Canada will host the FIS Ski Cross World Cup Finals. The last international competition calendared for the 22/23 season, the coveted overall World Cup Champions will be crowned here, on the Escarpment, at Craigleith Ski Club, March 16-18. We caught up with Kris just before the World Cup season began.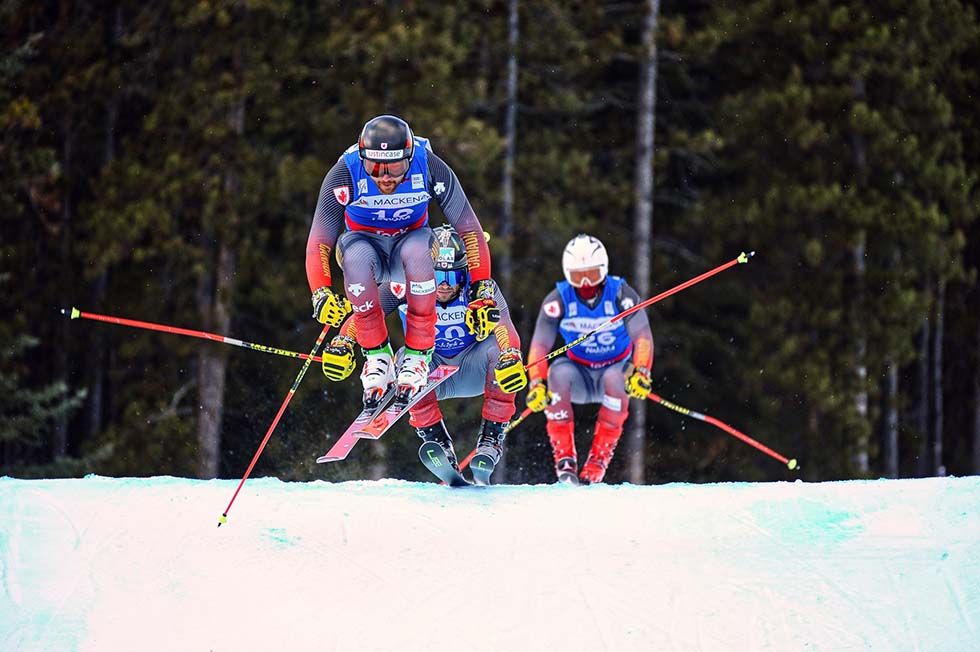 ESCARPMENT MAGAZINE: You began skiing at the age of two. While the sport of ski cross didn't gain traction until you were in your early teens, did you ever consider going down the more traditional route of alpine ski racing? What was it about the emerging sport of ski cross that attracted you?
KRIS MAHLER: We started skiing as a family just as a weekend sport that the whole family was able to enjoy. There was never an expectation that I would take any route within the sport. I've always said my dream of racing has grown as my technical skills have (over time). I did start in alpine and was very much on this route for most of my earlier years in the sport. I missed making the provincial team in my third year as a FIS athlete and that's really when the "dream" shifted. I've always had an affection for jumps and terrain. I love looking at the mountain and creating an almost poetic way to ski down. I think this translates well to ski cross as there is never just one fastest line down the course.
EM: You've credited legendary Craigleith ski coach Bebe Zoricic with identifying you as a potential ski cross athlete—what did he recognize in you?
KRIS MAHLER: That might be a better question for him! I'd like to think he saw a hard-working, dedicated young athlete with a desire to improve and who loves the sport.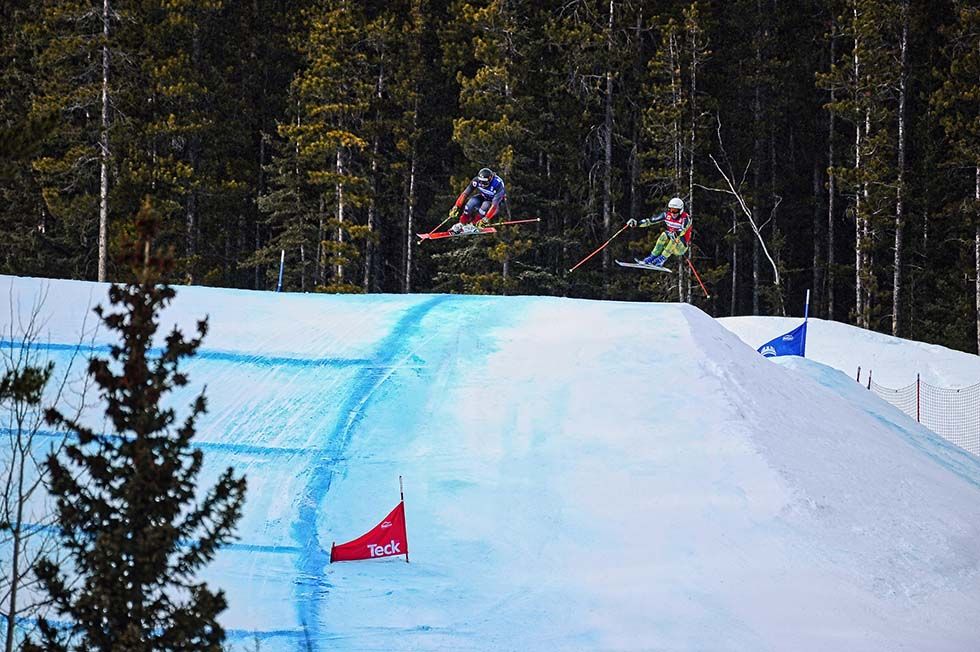 EM: Ski cross made its Olympic debut at the 2010 Olympic Winter Games in Vancouver. Since then, Canada has won seven Olympic medals in only four Games, 137 World Cup medals and six World Championship medals. We're a powerhouse ski cross nation, yet here in Ontario, ski cross programs are relatively hard to come by and opportunities to race are few. What can Escarpment clubs do to foster athletes who have an interest in ski cross?
KRIS MAHLER: It's no secret that the development of ski cross is lacking compared to our European counterparts. While there really is no-one-size-fits-all answer to this problem, I think the best thing athletes can do is stick with an alpine program that promotes exposure to ski cross. I came to ski cross relatively late in my career but I believe this was only possible because of the foundation of skills I was taught in alpine. Still to this day, you will find me training super-G and giant slalom events to hone in on those crucial foundational skills. I also think ski cross would make our alpine programs more competitive. It's completely surprising to me when we cross-train with decorated alpine athletes who can't manage their bodies in space over simple jumps or consecutive features. I extend my contact to any coach or athletewho is interested in learning more about this sport, please reach out! 
EM: Ski cross training fosters important aspects of skiing development—it exposes athletes to a variety of natural and manmade terrain, improves air awareness and ability to judge speed and trajectory. Should ski cross training be included in our junior ski racing programs?
KRIS MAHLER: 100% If you want success you need a variety of training modalities.
EM: As a teenager you played high level volleyball, earning a scholarship to Keyano College. How important is it for young athletes to play multiple sports?
KRIS MAHLER: This question ties perfectly into my answer above and really into my philosophy about sport development as a whole. Play and do as much as you can as young and for as long as you can. The studies are clear that if you want to become the most rounded athlete with the best chance of becoming that top percent, you need years of play and development. I really do believe my success comes from my ability to pull from learnings I've had in many aspects of my life. Expose yourself to challenges and you'll be surprised just how fast you learn and adapt.
EM: Let's get technical for a few minutes—each ski cross course is uniquely built and incorporates jumps, rollers, banked-turns and myriad of terrain features. Since the start gate is the only consistent feature in a ski cross course, how important is it to develop a strong start?
KRIS MAHLER: To be quite honest even the gate is considered a changing aspect of the course. From handles that we are able to move up and down to the feature directly out of the gate changing every course there really are no two runs alike even on the same course. But yes, starts are very important as this allows you to dictate a run and generally it's much easier to lead a pack than be the one chasing. Starts boil down to reaction time and explosive power. Everyone has a slightly different style but I've shown mine is one of the fastest in the world.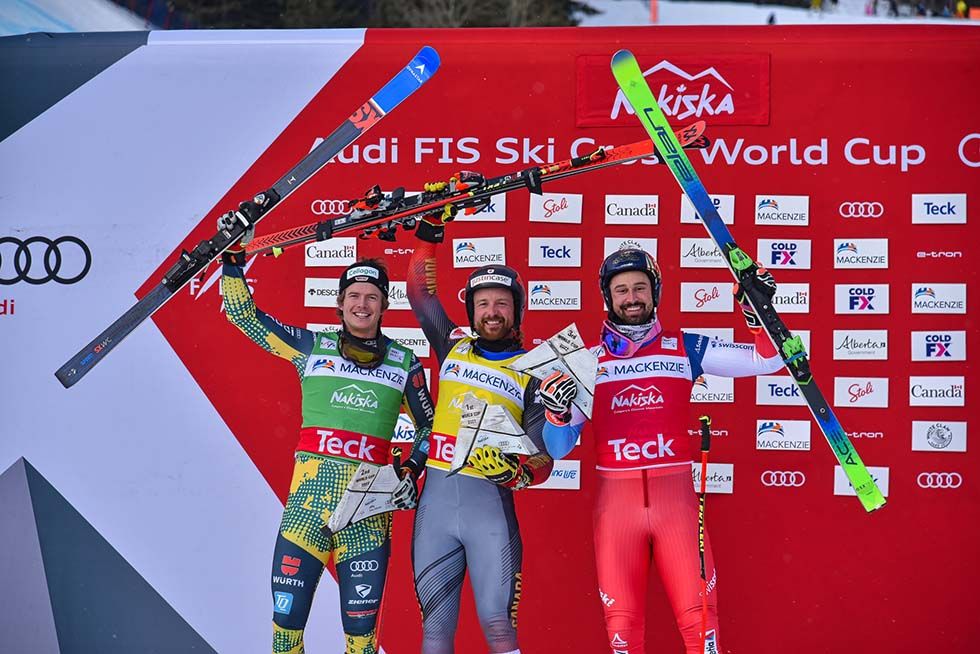 EM: Multiple line choices are necessary when head-to-head racing—how significant is strategy in ski cross and how important is it to have a "backup plan" in case things don't go as planned? 
KRIS MAHLER: Knowing the course is probably my second biggest energy draw apart from the actual physical racing. I lay awake at night visualizing the run-down to minute details that would drive the normal person insane. Sure, I have a specific line that I know is fast but generally so does everyone else. So being adaptable on the course is crucial but more importantly, being confident you can be the first one to the next turn is most important. Confidence is the name of the game.
EM: Passing another athlete requires competitors to be confident and tactical in terms of where, when, and how to overtake another skier on course. What factors contribute to knowing where and when passes can and should be made?
KRIS MAHLER: Well, I prefer to lead top to bottom but this doesn't always happen, so you need to be ready to capitalize. Often times contact between two other athletes will create opportunities for the other two. Sometimes draft is all you need to slingshot past. Each course and each run has a different number of factors and this is where you see the experienced racers excel over rookies.
EM: You won your first World Cup Ski Cross in in Val Thorens, France in December, 2019, and your second win came over two years later at Nakiska, AB in January 2022. Can you speak to your confidence ebbs and flows in the months in between wins?
KRIS MAHLER: Sports at this level are generally impacted more by the mental than the physical. Everyone is strong, everyone can jump, run, etc. The athletes who are able to show up mentally on race day and perform are the ones who win medals. Much was changing between those two wins from equipment to team dynamics which all had an effect on my performance. It has all been an amazing journey of learning. While I do indeed have two wins under my belt the "Kris" that took that step onto the top of the podium was a very different athlete and person each time.
EM: Just days after your World Cup win at Nakiska, the Canadian men's Olympic Ski Cross team was announced ahead of the Games in Beijing. As the only Canadian male ski cross athlete with a World Cup win at that point in the competitive season, many of us were stunned to see you listed as an alternate while five other men were named to the team. Was it difficult to accept that decision?
KRIS MAHLER: Definitely, a difficult decision to accept and maybe there is part of me that still doesn't accept it. It was a goal I was working towards for a long time. Team Canada is tasked with selecting its best team, and how that is done can get complicated. At the end of the day I know where I stand as an individual and I'll have my chance to make my statement in four years.
EM: Craigleith Ski Club is scheduled to host the FIS Ski Cross World Cup Finals, March 16-18. The final race of the 22/23 season, the overall World Cup Champions will be crowned, Crystal Globes will be awarded and Nations Cup titles will be presented—how excited are you to showcase the sport you love to ski racing fans on the Escarpment and around the country?
KRIS MAHLER: It's a show you're not going to want to miss. The best in the world are coming to my home club and were ready to throw down. It's going to be a tight race but there's no doubt Canada will be fighting for that top spot right down to the line.