By Cara Williams
Legendary skier Ken Read has been an advocate for Canadian ski racing since his retirement from international competition in 1983. A member of the famed "Crazy Canucks", Ken won a total of five World Cup downhill races. Ken married former national team skier Lynda Robbins from Osler Bluff Ski Club and together the couple have three sons who have each raced at the highest level. Having experienced ski racing as both a competitor and a parent, Ken has a unique new perspective on the sport he has been a part of for over five decades. Escarpment's Cara Williams had the opportunity to sit down with Ken earlier this season to discuss Ken's many accomplishments as well as the trials and tribulations facing ski racing athletes today.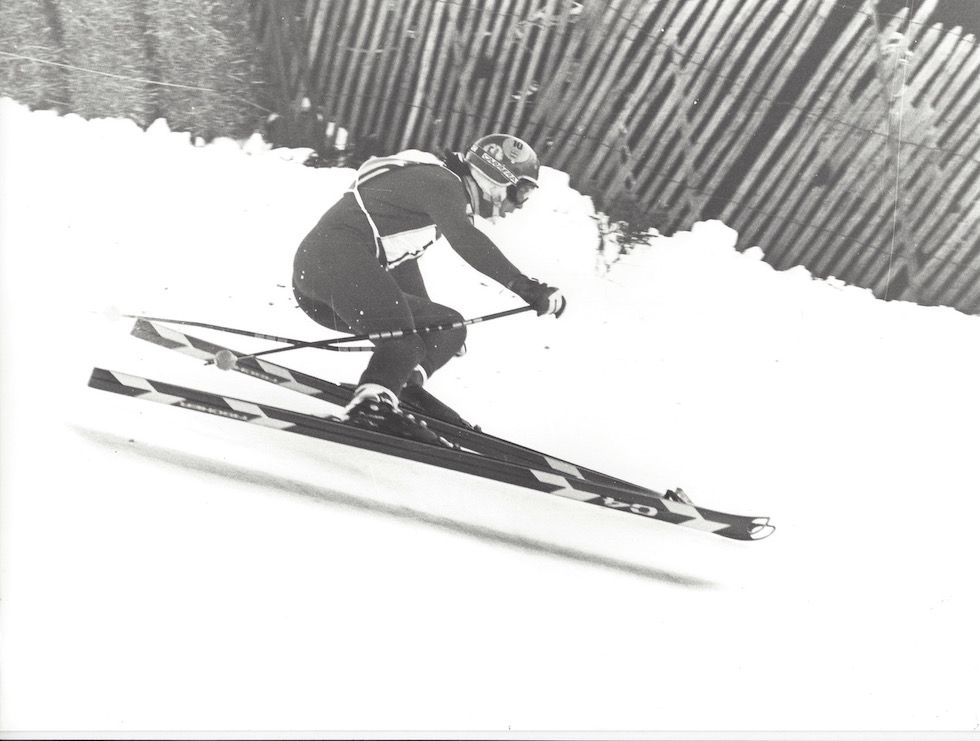 1978- KEN READ – THE HAHNENKAMM, KITZBÜHEL, AUSTRIA PHOTO: CANADIAN SKI ASSOCIATION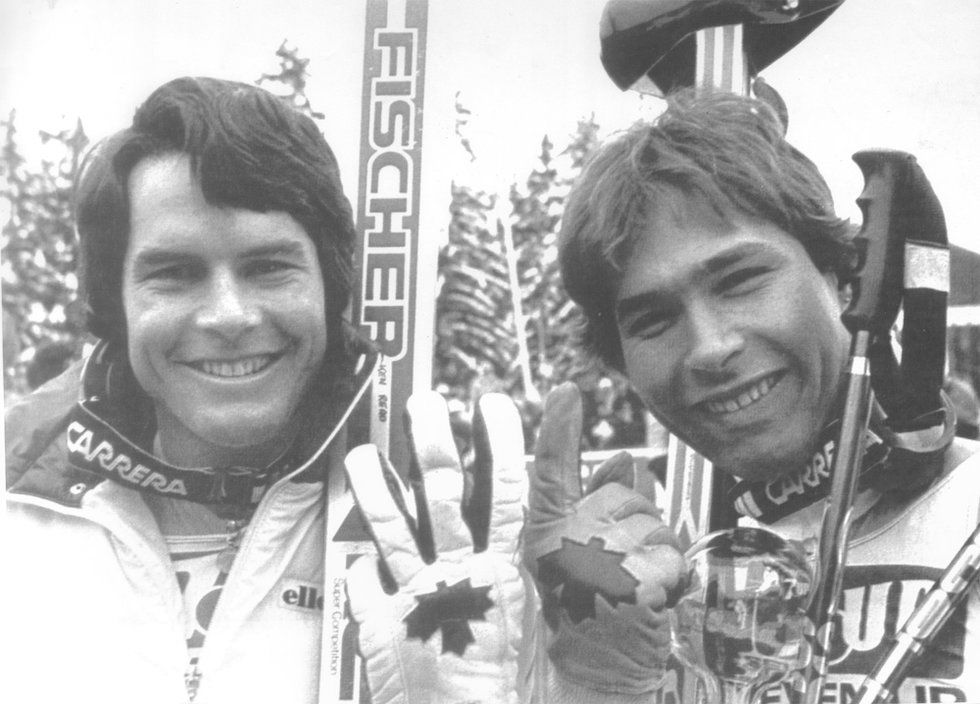 TEAM MATES – 1980S – KEN READ AND STEVE PODBORSKI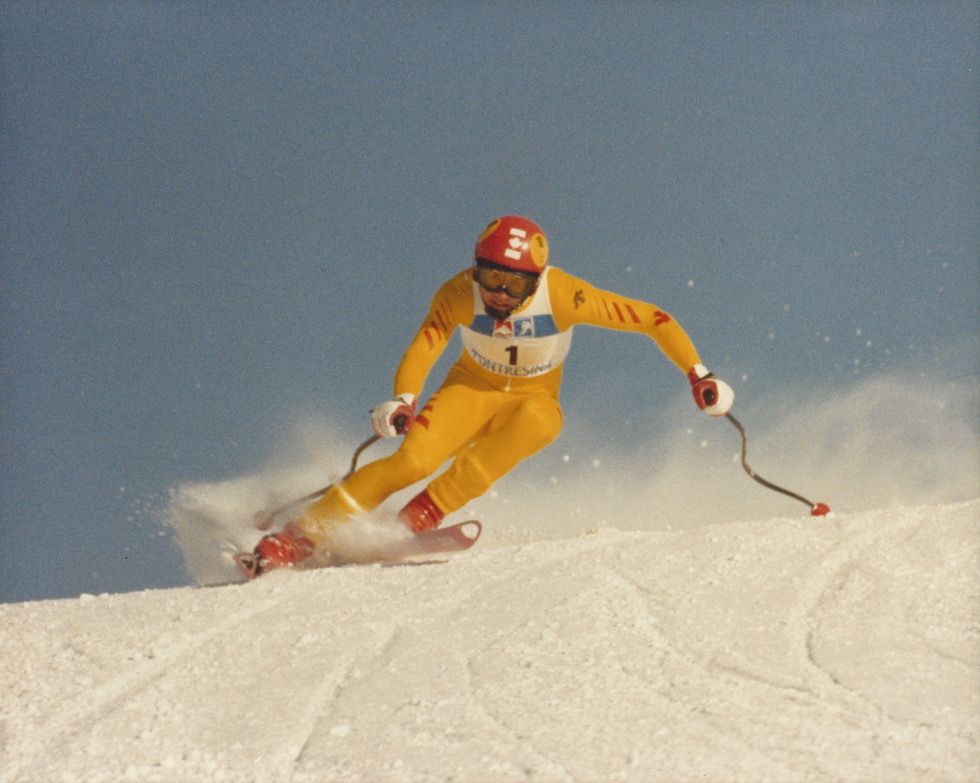 KEN READ – 6TH – 1982 – PIZ LAGALP, SWITZERLAND PHOTO . DESCENTE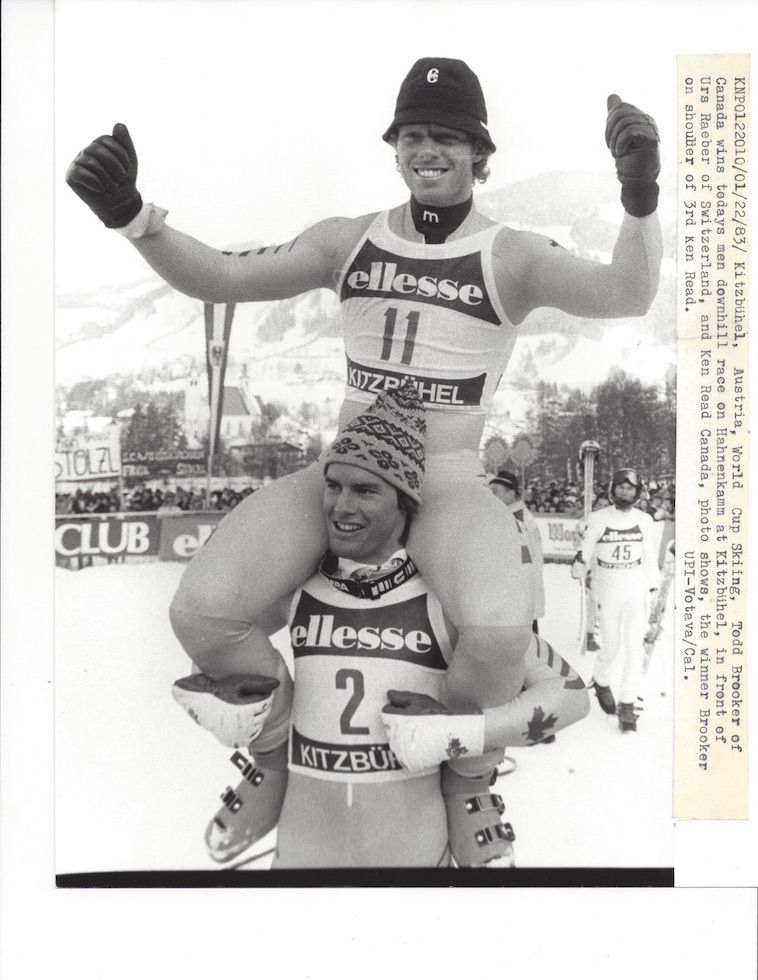 01/22/83 — THE HAHNENKAMM, KITZBÜHEL, AUSTRIA. TODD BROOKER 1ST, KEN READ 3RD.
Q. In 1975 when you won your first World Cup downhill at Vald'Isère, France (the first North American man to do so), four of your Canadian teammates also finished in the top 10—quite a feat in a European dominated sport. What was the culture of the Canadian team in those days compared to the Austrians who were (and continue to be) power houses on the World Cup circuit?
A. An important core principle of our team was "teamwork". We lived together, trained together and we knew we needed to work together if we hoped to be successful against much better financed and supported Teams. So, our culture was to collaborate and share. In training and in competition we shared information. Most visible was through sharing insight from the course on race day—the first Canadian down the track would get on the radio and convey their impressions and any info to the start. While this sounds counterintuitive for an individual sport to share information with a competitor who may get a better result, we knew the position could be reversed the next week—so we openly supported each other, knowing this could lift a Canadian to the podium. And if it was two on the podium, even better (this happened quite often!).
We had a pure passion for downhill. We all loved to go fast. We also knew we had to relentlessly pursue excellence—every day, challenging, reviewing, evaluating how we could try to be better.
Q. I read that you attended school every year except for one during your racing career—how were you able to make it to classes with your rigorous travel, training and competitive schedule?
A. We knew it was critical to be focused on ski racing, but a healthy sport environment always requires balance. An athlete needs to have outside pursuits—for me, it was education, as this was a priority in the Read family. I was able to attend classes each spring, slowly working away at my undergraduate degree. It was a welcome break away from the snow and the rigours of training, into a completely different environment that included economics, history, political science, German, French—all of which complimented our travels to Europe, South America, Asia and throughout North America. I looked forward to these courses each year as a time to pause, reflect, refresh and regenerate—and came away ready to dive into the new season with energy and passion.
The spring sessions at University of Calgary were an intense six-week sprint, where the complete focus was on academics.
Typically, I did miss the first on-snow training session, but remained focused on dryland training (going for a workout after a long day hitting the books can be so welcome!). It meant making up for lost time on-snow, but I resolved to make it up gradually through the summer and autumn with extra days, extra runs and often arriving a few days early at training sessions to get in additional time.
Q. Your son Kevyn attended Dartmouth, while your son Erik is a highly decorated technical skier at the University of Denver. More Canadian ski racers are attending US colleges as a way to get an education while continuing to compete at a high level. What is the draw to American universities?
A. The NCAA ski program is an exceptional opportunity for student/athletes to combine education and sport. Many of the NCAA schools with Ski Teams offer programs that can help an athlete mature in a critical phase—usually 18 or 19 to 21 or 22 years of age. These are challenging years for any ski racer, to work through the Nor-Am Tour and build both physical and mental maturity. Not everyone matures quickly, and NCAA skiing offers a bridge to keep ski racing at a high level, while working constructively towards an undergraduate degree.
It is an important point to note, that a university degree is highly valued in North American society and most families see this as an important goal. It is a dilemma for many, facing the juggle of the demands of high-performance ski racing vs. the importance of an education to prepare yourself for the rest of your life. So, to have a way to combine both, is invaluable.
The shift where the Canadian Alpine Ski Team views NCAA skiing as an opportunity, rather than a distraction or the loss of a talented athlete, is an important paradigm shift. All it took was patience and flexibility. Patience to give an athlete time, flexibility to mould the athletic program of the National Team to work with the demands of the university program and commitments the student-athlete must make to the school. The reward, is the extra resources an athlete can tap into for their ski racing, while gaining an education. And once compete, the opportunity to focus full-time on chasing excellence on the World Cup Tour. It's important to understand an alpine ski racer needs time to mature. Exceptional talents shoot through the pathway to the top, but there are only a few of these. Most work diligently, year-over-year, gaining experience, strength, maturity and confidence, chipping away towards the top. And the NCAA ski opportunity provides the time to build.
NCAA skiing has always been competitive, but recent years have seen arrival of athletes from Norway, Austria, Italy, Germany, France and of course Canada and the US. This greater depth bolsters the Nor-Am Tour, for all athletes, and also brings a deeper competitiveness to North America, which also benefits all. 
Many NCAA schools provide exceptional training, but it is important to know the school, understand what your goals are and how these might fit—and the geographic advantages available to access good training. There are strong schools in both the east and west. 
And final word—it is always an exceptional opportunity for any student/athlete to gain experience attending a university or college out of country. It expands your horizons and introduces you to new people, new cultures and new perspectives.
Q. Every ski racer will unavoidably experience good days and bad days. How do you council your boys on either of these occasions?
A. Ski racing is a tough sport. There are many different variables to manage as one progresses through the system from ski club to Provincial Team to the National Team. Sport teaches athletes important life skills; goal setting; focus; determination; work ethic; patience; preparation and planning; and an ethos of excellence—all of which will help build character. These life skills help guide through sport as well as career and anything an individual might wish to put their mind to accomplish.
It's these important skills that help an athlete navigate the good days and the tough challenges. To gain a good result and still draw experience and benefit. To deal with injury or disappointment and soldier on, refocusing to the next competition. These valuable lessons help any athlete become better, more resilient and to dig deeper.
Q. Escarpment ski clubs have produced many top ski racers, even though the hills are so small and our season is short. Why is this the case and what can we learn to further build a strong Canadian system.
A. I always say, it's not the size of the mountain that matters. It's the passion of the program. Most of Canada's best ski racers have graduated from smaller ski resorts, because these venues had great ski clubs and coaches who led them. The ski clubs across the Niagara Escarpment are unique—being located so close together to foster competitiveness and cohesiveness. There are not many places in Canada where ski racing is visible and seen as important. You see this in the Collingwood area and you definitely feel it at the clubs.
Thousands of young athletes, racing, dreaming of being a Steve Podborski or Laurie Graham one day on the World Cup.
 Successful ski clubs are built from two key components: families and coaches. Families commit and youngsters learn to love skiing with their friends in the program. These cohorts build the camaraderie and teamwork essential to want to ski race and aim for the top. This is guided by good coaches at every level and the Escarpment clubs have been fortunate to have a wealth of former ski racers who return to the club and give back, along with professional coaches who lead the programs.
It is this commitment, that establishes the drive to do the extra run, do the extra hill sprint—that is essential to succeed at the highest levels. This is a determination that has always been a feature of athletes from Ontario because it is harder to succeed. It truly is. But the reward is sweet.
This relentless drive, which I believe is the key reason Ontario has placed athletes onto the Canadian alpine ski team, but also produced Olympic champions and World Cup winners, needs to be shared by all athletes from all regions of our country if we expect to compete with the best. So, the Canadian Alpine Ski Team needs successful athletes from Ontario, to bring that drive to the Team culture. 
I feel very fortunate to have a window on the ski clubs of the Escarpment, through my wife, Lynda. This family connection introduced me to the traditions of racing, all the various clubs, to become better acquainted with teammates who graduated from these programs and to meet many more dedicated families, coaches and volunteers who bring the character and build the legacy of ski racing in Ontario.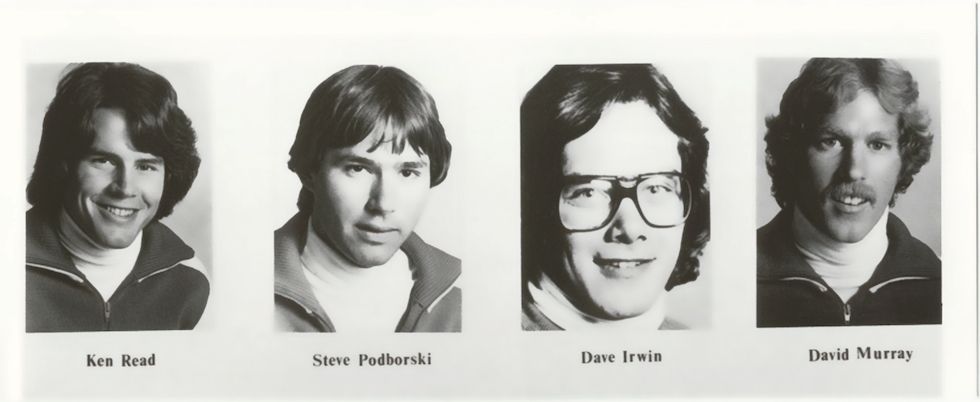 Q. Ski racing in Canada suffers from a lack of funding—there is a constant struggle to come up with enough money to run an effective CAST program. What can be done to alleviate this problem?
A. The greatest asset of skiing and ski racing, are the numbers of people who love our sport. 
We stage ski races in some of the most beautiful places on earth. Lake Louise, Tremblant, Panorama, Whistler and in truly unique locations such as the Escarpment ski clubs. These locations offer unique experiences— to ski, to ski with great current and former ski racers, to experience some of the best of what Canadian winter has to offer.
So, we need to build experiential opportunities to corporate Canada, for their customers to have truly unique experiences on the snow and to meet our amazing athletes.
It does take a lot of work to find those groups interested in unique opportunities, and it takes a real understanding of skiing and ski racing to know where the value lies waiting to be unlocked. Skiing is widely practiced, but not everyone knows how exciting and how challenging it is to be a top ski racer. Through experience on the snow, the corporate community can be introduced to the excitement of the sport. Funding to build a successful Team is built on two key principles: value and results.
A winning team naturally builds excitement. It sends a jolt of energy throughout the system, lifting the spirits and confidence of everyone— young athletes, volunteers, coaches, those who run races, those who run ski clubs. So, we need to focus on building a winning ski team with a clear focus of telling everyone we are in this business to build a winning Team.
Building a winning Team requires funding. So, we need to relentlessly work on providing value to those corporations and donors who invest in our sport. This comes back to the experiential opportunities. It can also be working hard to show the funds we receive are used wisely. We need to understand and provide good communication so Canadians meet our best athletes and understand the challenges these great athletes take on to be the best in the world. We need to demonstrate it is important to field successful teams—to inspire all Canadians, those who ski and those who simply want to see Canadians be successful on the world stage.
We have some of the best assets available to us, if we work relentlessly to provide value to everyone – corporate Canada and individuals– who might consider investing in our athletes. These are precious connections and we need to build them, work even harder to maintain them.
Q. Only a handful of races on the World Cup calendar are aired on television, how do we make ski racing attractive again?
A. If we believe Canadians can reach the podium, Canadians will avidly follow our best. Alpine ski racing is one of the most closely followed winter sports in Canada, thanks to a long history of success going back nearly 60 years. So, Canadians believe we should be successful.
Watching any ski race is exciting—the Hahnenkamm at Kitzbühel, the Winterstart races at Lake Louise, the Lauberhorn at Wengen, the downhill or slalom. Spectacular mountains, exciting racing… and if we can add Canadian contenders, people will follow our sport.
So, the bottom line is building a successful team. One that Canadians believe are contenders in all events—speed and technical, women and men.
We have a young, promising team which is building a base of experience. Fortunately, we also have some veterans such as Ben Thomsen, Marie-Michelle Gagnon, Dustin Cook and Erin Mielzynski are helping guide this younger group. So, in the short term, we need to be patient and celebrate when an athlete like Ronni Remme does capture a podium, as she did last winter.
A Team focused on aiming to win, an exciting young group to develop and drive momentum throughout our ski racing system, a new Board of Directors of Alpine Canada, including Erik Guay, who have stated an ambitious goal to make Canada a top three nation by 2026. These are the critical core platforms to excite a community, ignite passion in every young athlete, bring value to our partners who invest. With good planning, critical program evaluation to constantly seek to renew and improve and patience, we can create excitement, energy and passion where every Canadian wants to avidly follow our top athletes. |E|