By Cara Williams, Photography by Clay Dolan & Ski Television
It was Boxing Day 2020. My nine-year-old came bounding downstairs dressed in her new Christmas long johns and wearing her helmet and goggles— which she wore all through breakfast. Like every other year, we had planned on spending the holiday ripping groomers at Blue Mountain. Unfortunately, we were on day one of a 28-day provincewide shutdown of our ski hills. Suffice it to say, there were tears. By the time the chairlifts would turn again, we would go 52 consecutive days without downhill skiing. Including time off due to injury, this would be the longest my family would go without skiing in a winter season—cue more tears.
By early January we were starting to collectively lose the plot. Schools were closed, arenas were closed—so, too were bowling alleys, swimming pools, and most skating rinks. What. The heck. Were we going to do with ourselves? My husband Dak was in the crawlspace one extremely dull afternoon looking for toboggans when he pulled out a pair of dusty old cross-country skis that belonged to my university roommate. I found the corresponding boots in the basement and as luck would have it, they fit our 13-year-old. After a few phone calls to Play It Again Sports in Collingwood we were able to source a pair of junior Nordic skis, boots and poles for our daughter and even found a pair of gently used boots in my size. The kids spent the next week or two racing each other up and down our street while Dak and I drank wine in lawn chairs on the driveway. Not the classiest way to spend our pandemic "break" but the kids were getting exercise and we all laughed harder than we had in a while.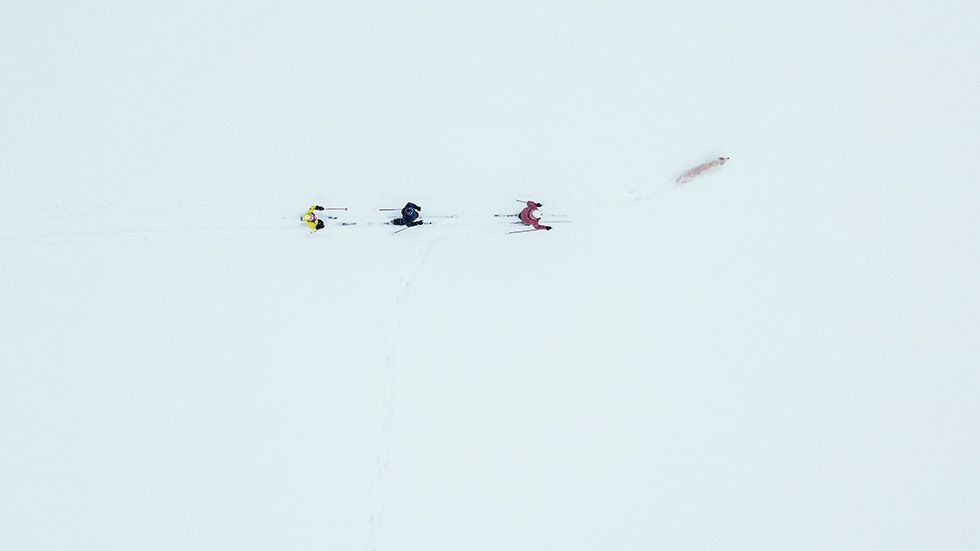 As much as we enjoyed our Trailer Park Boys-esque afternoons, Dak and I were steadily heading towards gaining the dreaded "Quarantine 15" so we decided to get ourselves some gear too. As it turns out, nearly every piece of Nordic ski equipment was either back-ordered or completely sold out. We called Kamikaze Bikes in Collingwood, Squire John's in Craigleith, Highlands Nordic in Duntroon. I think we even called a few mom-and-pop shops in Manitoba and Saskatchewan. Similar to what happened last spring when there was a run on bikes, everyone, it seemed, had the same idea—if we can't slide down, we might as well slide across.
Ultimately, we were able to scrounge together enough mismatched bits and pieces to make a complete set, and we begged, borrowed and stole the rest (truth be told, it was just an old pair of bamboo poles from my mother's garden shed—she probably didn't even know they were in there). And just like that, we were a Nordic skiing family.
In the months that followed we became singularly obsessed with cross-country skiing. We checked the weather forecast incessantly, tinkered with wax, bought spandex outfits and built up our cardiovascular fitness. And the best part: this is an inherently socially-distanced sport—even without significant snowfalls our cross-country brethren could take our skis almost anywhere with at least a moderate snowpack and barely see another soul. And as we discovered, cross-country skiing is downright delightful. Truly! Snow-covered trees act as a sound barrier so the only noises were the gliding of our skis across the snow, the chirping winter birds and of course our laboured breathing. It's no wonder Nordic athletes collapse after a race—this sport counts as leg day, arm day and cardio day. We also found it worked wonders on quieting our overstimulated brains after hours of virtual-school lectures and Zoom meetings. Of course, you don't have to put yourself into the red every time you step into your skis—sashaying leisurely along a forest trail can be just as enjoyable as going full throttle on a groomed track. Sometimes Dak and I would even pack a flask for a mid-ski nip of warmth (old habits die hard). We always packed lots of water too—proper hydration is key. Nordic skiing is thirsty work.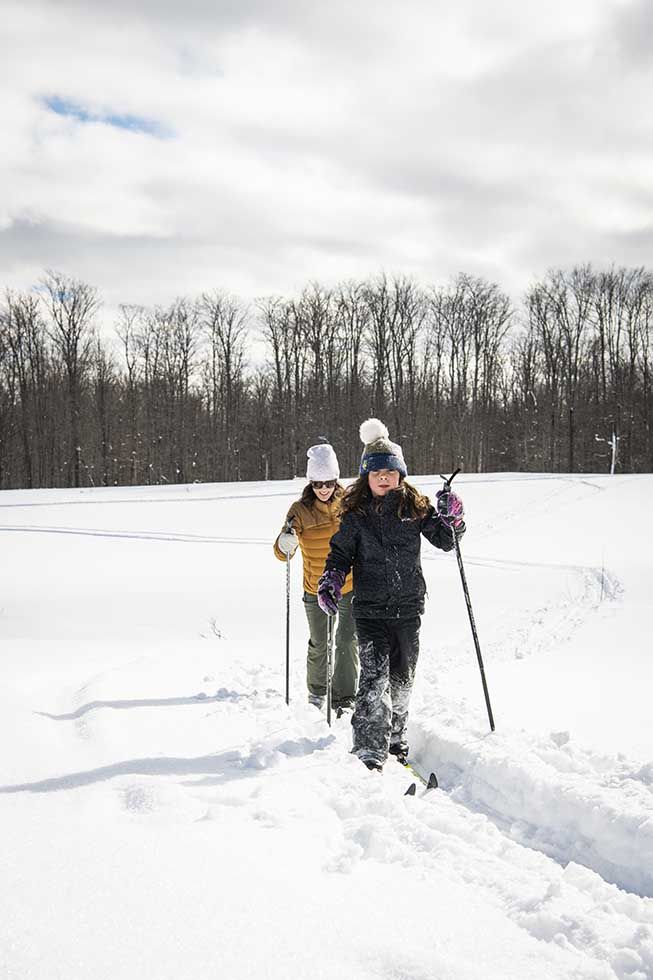 Cross-country skiing delivers a superior workout with less potential for injury than many sports. And because there is a brief learning curve, first timers like me can enjoy it right out of the gate. I will say that the more you ski, the easier you'll find it. Each time out you'll gain a combination of muscle memory, fitness, and self-assurance among other things. Now that our family has one winter under our belts—and since we've acquired all the necessary equipment—we can't wait for the first snowfall of the season.
Given the ongoing pandemic, it's probably fair to predict that the winter of 2021 will see continued growth in cross-country skiing. With its lower priced equipment and much lower priced access to trails (compared to alpine skiing or snowboarding) this is an accessible and affordable winter activity for many families and can even be done in urban areas. If you're new to the sport, there are a few things you should know—there are two types of skiing: classic and skate. Classic employs a traditional kicking and gliding motion, while skate skiing is more akin to ice-skating, but with poles to propel you forward. Endurance junkies might find themselves better suited to skating, but classic is slightly more user friendly for beginners with less balance required—it's also more tolerant of less than ideal conditions—skating requires a groomed trail, whereas classic skiers can more easily break their own.
As a downhill skiing family, we typically have to wait for a significant amount of snow to accumulate—both man-made and natural—in order to participate. But with cross-country skiing, we just need enough of the white stuff to cover the trails, fields and paths. And there's no shortage of ground to cover on skis around the Escarpment. The Town of the Blue Mountains expanded winter recreation opportunities and groomed the Georgian Trail from Christie Beach Sideroad to Grey Road 21 last winter. This incredible track is perfect for both classic and skate, as is the hard-packed loop at the Tomahawk Recreational Complex. And for the most part skiers are nothing like cyclists who holler, "on your left!". The folks we encountered were kind and happy and seemed genuinely psyched to be outside enjoying the crisp winter air.
Regardless of how adept you are, we all end up looking a little dorky while cross-country skiing—what can I say, it's inherent to any sport that attaches planks to your appendages. One of the major lessons learned in my short cross-country skiing career is the importance of proper attire. When I first began I crashed a lot. Standard snow pants and ski jackets are often overkill—proper Nordic gear is more akin to what you would wear on a winter bike ride. You'll warm up quickly while out on the trails so dress in layers that will keep you dry and comfortable, without overheating. Invest in a solid pair of gators to keep your feet and ankles warm and prevent snow from packing into the little space between your pants and your boots (the worst!). Picking out hard goods like skis, boots and poles is a complicated matrix of weight, height, ability and of course, budget. My suggestion: speak with the professionals at Kamikaze Bikes in Collingwood or the pro-shop at Highlands Nordic. They'll point you in the right direction.
There's the strong likelihood that a lot of alpine enthusiasts will continue to turn to cross-country, either exclusively or mixing sports. Hopefully our local shops won't experience the equipment shortages of last year, but if you're toying with taking up this pandemic-proof sport, get your orders in early. As we all know, there's increased interest in the outdoors for exercise, escape, serenity, and socializing at a discreet distance that's carrying over to the snowy months. With so many trails to choose from, it is no wonder that the Escarpment is a burgeoning hotbed for cross-country skiing. Most ski areas have, like most businesses, adapted to COVID, and the majority of skiers wear masks for the cold anyway. So, what's stopping you? Get out and hit the trails safely this fall and winter. Happy trails to you!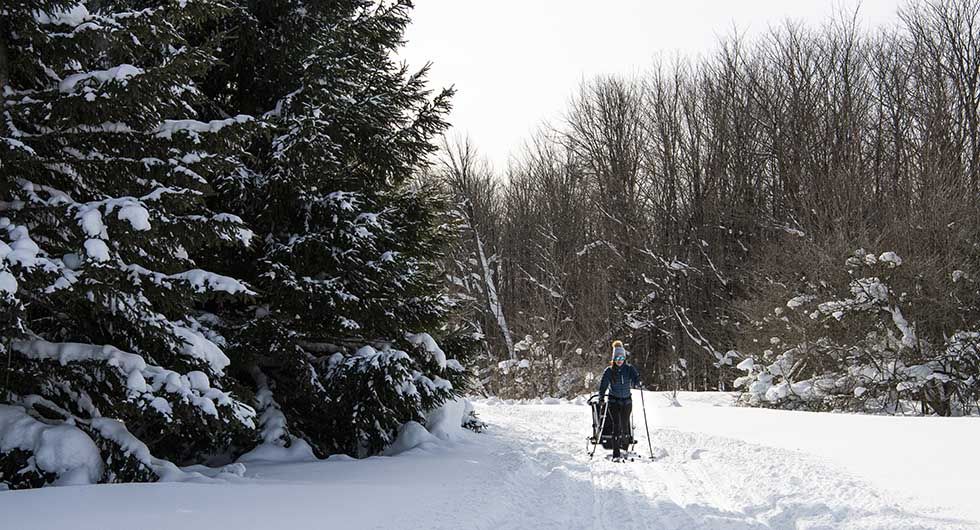 HERE ARE A FEW OF OUR FAVOURITE NORDIC SKIING FAMILY ADVENTURES
KOLAPORE UPLANDS – The 50-kilometre network of trails in Kolapore provides some of the best cross- country skiing in the region. Because the trail network is quite extensive I strongly recommended downloading or purchasing a trail map. kolaporetrails.org
TOMAHAWK RECREATIONAL COMPLEX – The Town of Blue Mountains will again be grooming a hard-packed loop trail at the Tomahawk Recreational Complex throughout the winter season. thebluemountains.ca
SCENIC CAVES – Located at the very top of the Escarpment, Scenic Caves offers breath-taking views and 27-kilometres of professionally maintained trails for both classic and skate skiing. sceniccaves.com
HIGHLANDS NORDIC – With 25-kilometres of groomed classic and skate ski trails, Highlands Nordic provides the perfect training ground for beginners and competitive skiers. highlandsnordic.ca
GEORGIAN TRAIL – The Town of Blue Mountains will be grooming the multi-use Georgian Trail from Christie Beach Sideroad to Grey Road 21 throughout the winter season. thebluemountains.ca
WASAGA BEACH PROVINCIAL PARK – The Wasaga Breach Provincial Park offers over 30-kilometres of trails, with 22 km groomed and track set for classic skiing and 12 km groomed for skate skiing. wasagabeachpark.com
GLENELG NORDIC SKI CLUB – Offering 25-kilometres of groomed track set trails for classic skiing, the Glenelg trails include moderately hilly terrain and travel through mature hardwood forest. glenelgnordicskiclub.org
OWEN SOUND CROSS COUNTRY CLUB – The OSCCC maintains the 10-kilometre trail network at Massie Hills located between Meaford and Owen Sound. Trails are groomed twice weekly for classic skiing only and provide a backcountry skiing experience. massiehills.com
SAWMILL NORDIC CENTRE – Located on Highway 6 between Shallow Lake and Hepworth, the Sawmill Nordic Centre offers 11-kilometres of groomed trail for both classic and skate ski. The "Jack Rabbit" trail is even lit for night skiing. bruceskiclub.ca
COLPOYS SKI TRAIL – Just north of Wiarton, this 11-kilometre trail network runs through sheltered woods and open fields and offers breathtaking views of the Niagara Escarpment and Colpoy's Bay. bruceskiclub.ca
STONEY ISLAND CONSERVATION AREA – The Kincardine Cross Country Ski Club grooms the 8-kilometre network for both classic and skate skiing. svca.on.ca
SAUBLE SKI CLUB – The Sauble Beach Cross Country Ski Club offers some of the best classic Nordic ski trails in Ontario. The club has 18-kilometres of trail that is groomed and track set for classic skiing. skisauble.freehostia.com
A few other great sites include ontariotrails.on.ca, ontarioparks.com, brucecountytrails.com and southgeorgianbay.ca Please keep in mind that any of these destinations, along with travel in general, may be limited or inaccessible in the current pandemic. 
A NOTE TO HIKERS AND SNOWSHOE ENTHUSIASTS: Walking on ski tracks may be easier than breaking trail, but stomping on an established track can render the track unsafe and often unusable for skiing. To avoid these hazards, walk next to the ski tracks on shared trails, use designated hiking/snowshoe trails, or make your own tracks off-trail after a fresh snowfall.