A Question of  Affordability
Inflation, supply, and interest rates could squeeze the housing market in 2022.
I remember thinking as we closed out 2020 that the pandemic affect was the real story of that year. 2021 was another crazy year in Southern Georgian Bay real estate. While I forecasted continued pressure on the market, I did not foresee the extent of that pressure. Our usual winter lull in 2021 just didn't come. The first quarter saw unprecedented demand and short supply and continued upward pricing momentum.
The price appreciation curve flattened towards the end of the second quarter and I started to think that maybe things would normalize. We even saw some very modest average price decreases through the summer. But then September came and the rise continued throughout the fall bringing the average sale price for our region substantially higher than the previous year again. As has been the theme over the past 24 months, not a modest increase, but a meteoric one.
By no means are we the only market in the province or the country that has seen this, but the effect feels pronounced here. It shows that the clear theme for 2022 will be one of affordability. Inflationary pressures seem to be in every sector; fuel; building materials; transportation; food. The effect on real estate has been profound. The forecast for food price increases in 2022 is reportedly going to be 5-7%. This pales in comparison to the real estate market increase of 28% in 2021, and I believe the trend will continue. Perhaps the increase will not be a precipitous as it was last year, but 2022 will see prices rise and affordability issues will remain.
The good news is that affordability in real estate is getting a lot of press— and not just nationally—local affordable housing task forces are also garnering attention. Municipalities are dedicating resources to make a difference. This is great news, as affordability in real estate is an issue best addressed locally. And its effects are felt most locally. We hear it all the time; "I would sell my home now and take advantage of the market, but where would I go?" What about a rental? Rentals are almost as hard to find these days as homes and condos for sale. And when you do find them, the rental rates reflect the current value of real estate. What you could have rented for $1,000 a month a few years ago now rents for $2,500 a month—and there is the crux of the real affordability crisis.
If you are buying from another market that has an average sale price higher than Southern Georgian Bay's (and that is the case in many markets in the GTA and Golden Horseshoe), your move is lateral. This is to say that you have sold a home that is worth the same as or more than the home you are buying here. Your barriers to entry into this market are low. However, if you are a first-time homebuyer looking to get into this market, you are facing an increasingly uphill battle as wages have not risen anywhere close to an amount that keeps pace with the appreciation in real estate. In some cases, savings, or the bank of mom and dad can help you out with the down payment, but even with interest rates where they are, the debt is getting increasingly hard to carry for some. And if interest rates rise, then things will get interesting. The good news is that the mortgage stress tests that have been in place for some time make sure that most consumers can whether a rate increase and the qualifications are based on rates substantially higher than people are actually paying.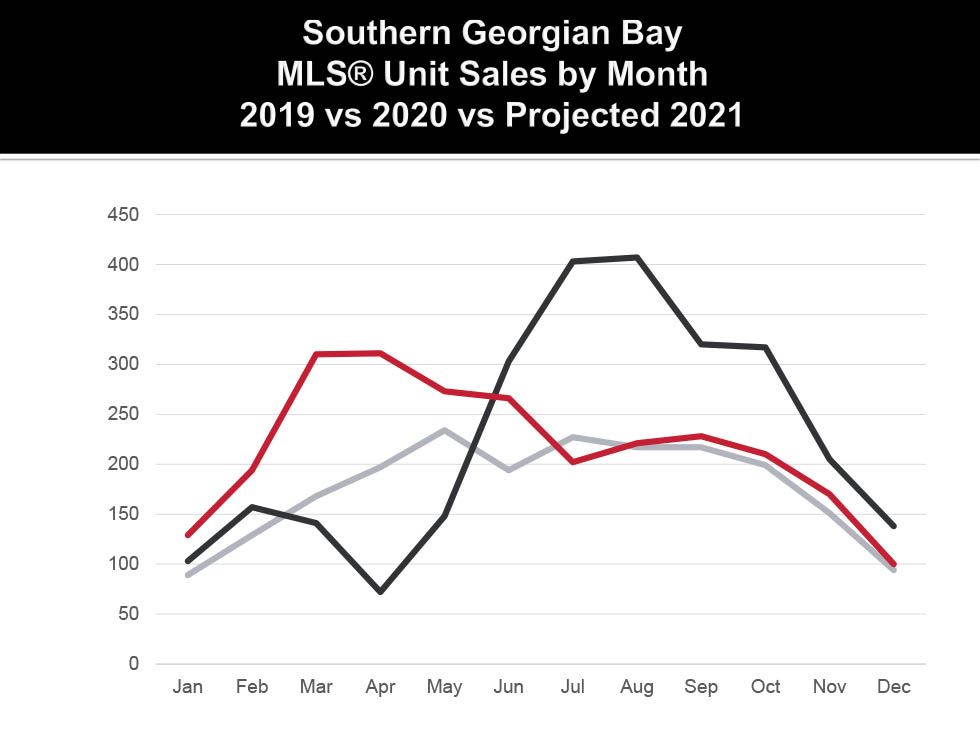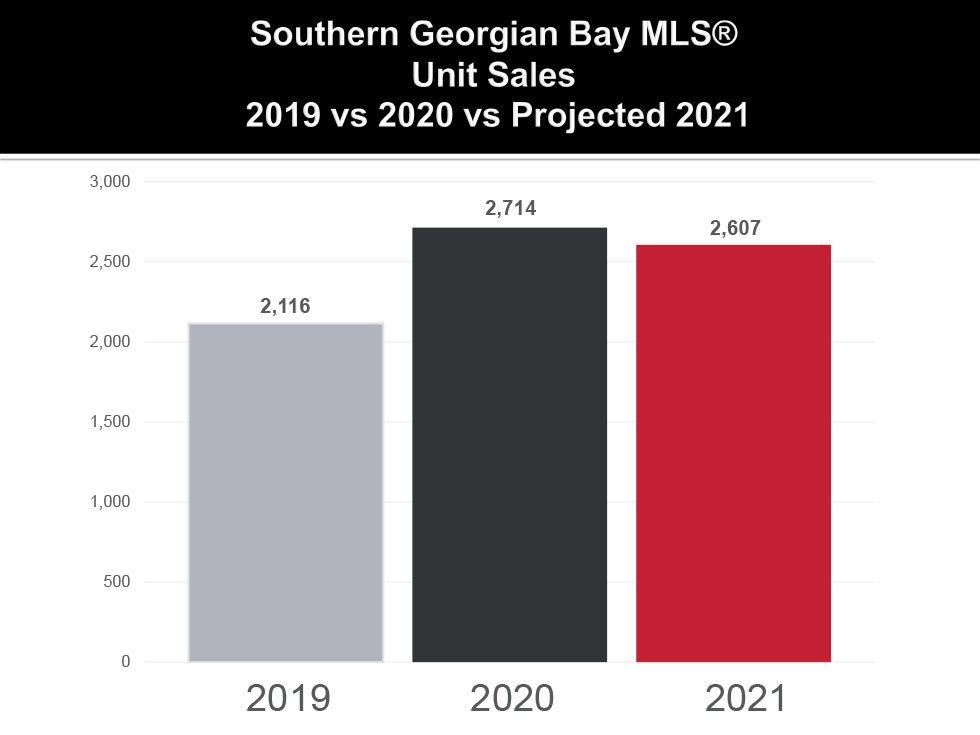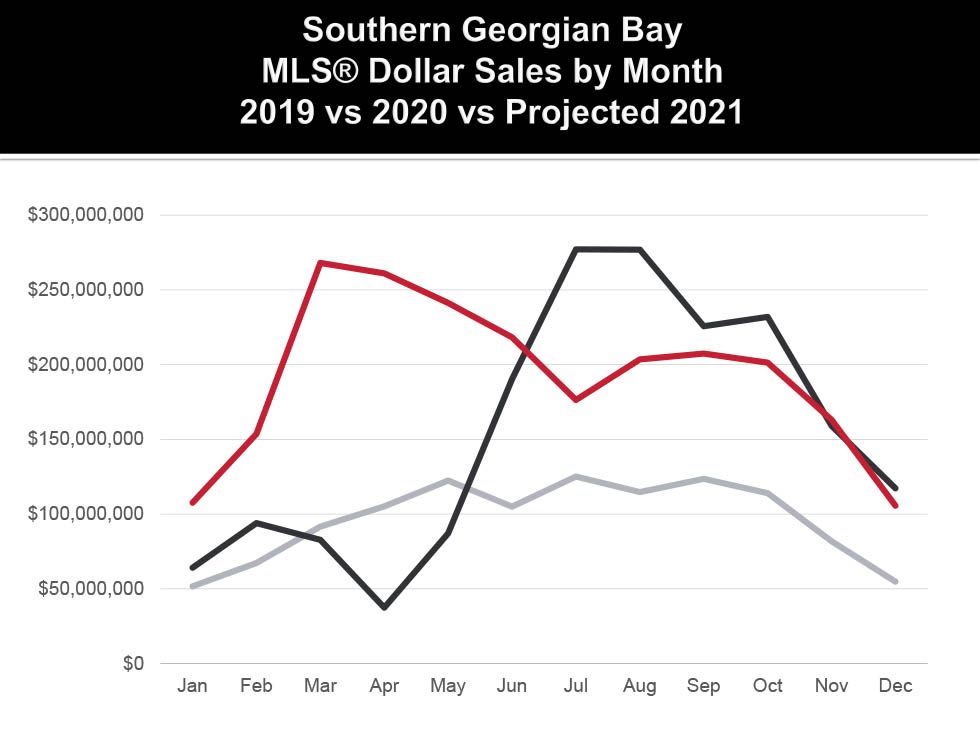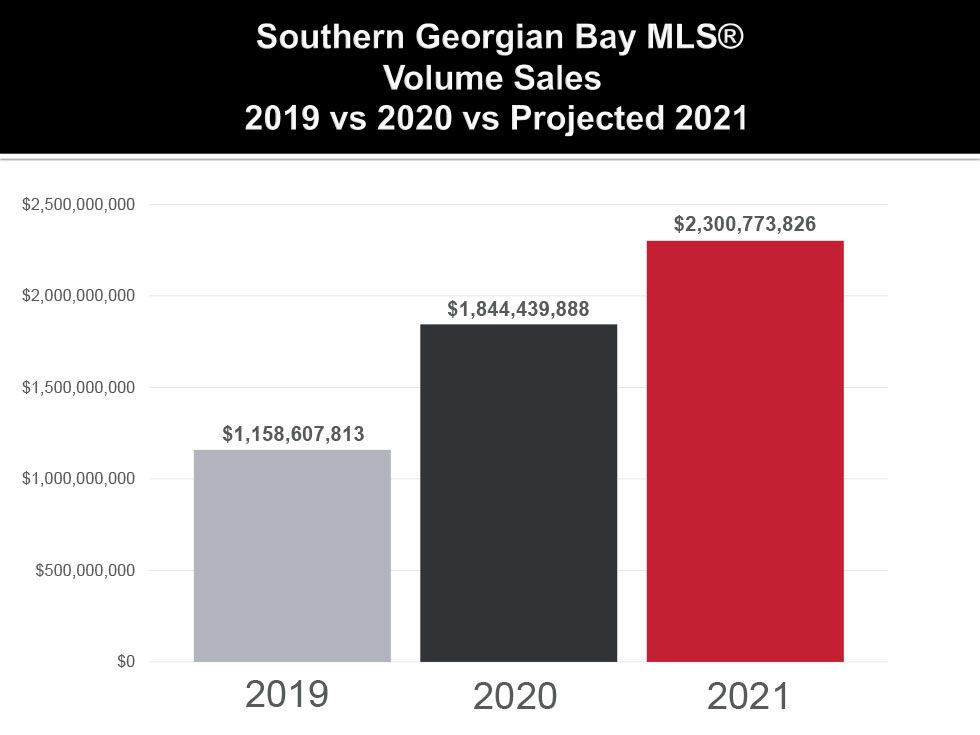 Not so for renters. The price to rent has jumped and wages have not matched them. This leads the most vulnerable in our society to be the most likely to be dedicating an increasing percentage of their income to just putting a roof over their heads. It is true that a cap on annual rent increases mitigate this for some, butcertainly not all. This sector has the most urgent need of help, and this is where many community organizations, employers and municipalities are concentrating their efforts. Help can't come fast enough.
HERE ARE THE NUMBERS: 2021 was another huge sales year that carried the momentum of 2020, but with three main differences. First, while 2020's biggest sales spikes came during the third and fourth quarters, 2021's came during the first two quarters. Second, 2021's sales were more consistent from month to month than 2020's. And third, while 2020 gave us record-shattering unit sales, it was 2021's big average sale price increases which powered the region's volume sales beyond the $2 billion mark for the first time ever.
2021 got off to a record start with Q1 volume of $528,676,694 – up 110% from Q1-2020's prior high. And its 632 units eclipsed Q1-2017's previous record by 20%. Q2 then followed suit with $715,208,179 in volume, up 82% from 2017's former Q2 benchmark. And its 845 units were second only to Q2-2016's 918. After those two record quarters, Southern Georgian Bay then registered its second-best Q3 volume ever. At $586,888,953, it was second only to Q3-2020's regional quarterly high of $780,231,714, with units of 650 down 42% from Q3-2020's all-time, moonshot record of 1130. 
And now, as of this writing Q4-2021 is projected to have $470,000,000 in volume sales. That would give 2021 volume of $2,300,773,826, up a big 25%, 99%, 138% from 2020, 2019 and 2018 respectively. On the units' side, Q4-2021 is projected to have 480 sales. That would give 2021 the third best yearly total of 2607 units, down 4% from last year's record 2714 and down 2% from 2016's 2667.
As an aside, it's also worth noting that during the twelve record months from July 2020 to June 2021 the Southern Georgian Bay saw a whopping $2,532,353,693 in sales on 3267 units. Who could have imagined such numbers in the depths of April 2020, which had just $37,400,200 in volume on 72 sales? All that said, perhaps of most interest to area homeowners are four other key metrics for the second half of 2021. First, the sales/listings ratio as of this writing is 79%, a strong sellers' market. Second, the sale/list price ratio is 100%. Third the average days-on-market is just 23 days. And fourth, the average sale price of $901,301 is up 28%, 63%, 76%, 90%,117% and 205% from 2020, 2019, 2018, 2017, 2016 and 2010 respectively.
And so, while we don't have a crystal ball that will tell us what's in store for 2022, there are signs that the regional boom market we've enjoyed still has a fair amount of life in it.