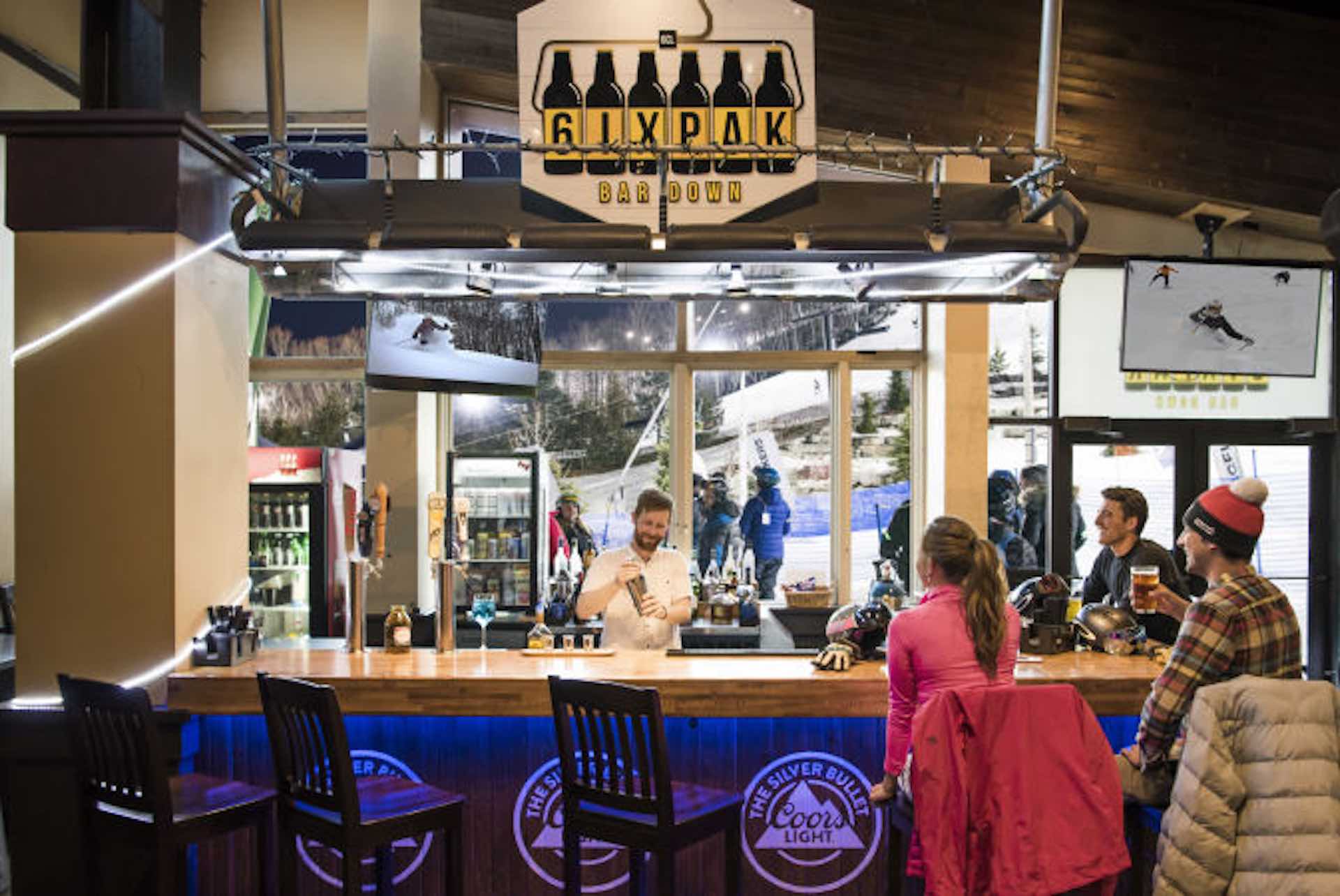 Looking for a slope-side drink with a side of people watching? Blue Mountain's new and improved 6IX PAK Bar at Grand Central Lodge features its own patio directly across the Silver Bullet lift plaza, at the base of Smart Alec and Village Way. Stop for a beer and stay for extended après fun long after the lifts close. With some of the best beer prices in the Village (pitchers start at $15), full drink menu, food and shareables as well as special features and event promos, 6IX PAK is the place to be and be seen.
This new slope-side hotspot features daily specials and four-season event promos. "Our busiest night is Thursdays, because of our 'Thirsty Thursday' promotion," explains 6IX PAK Manager Matthew Drinkwater. "$5 for any tallboy can as well as $5 highballs [bar rail and mixer]. Where else can you enjoy great drink prices and an even better view!"
When the weather gets chilly, pop by for a mulled wine or a hot drink. New this winter, the 6IX PAK patio will feature an outdoor service window and heaters so you can stay cozy while you sip on a frosty cold one. Hot food items include burgers, pizza, chicken fingers, shareables like onion rings, deep fried pickles, poutine, and fries.
"The Grand Central Lodge is so close to everything," says Matthew. "Rental equipment, Ridge Runner Mountain Coaster, lift passes, the Silver Bullet chair, hotels—it's all right here. 6IX PAK is a great place to chill out, sit down and have a coffee, or a beer and it's important to note that we're not just adults only. You can bring the whole family and there is loads of seating." |E|
For more information go to BlueMountain.ca