Creamy and warm Brie cheese paired with tart green apple slices is a perfect match in this new twist on a standby favourite sandwich.  The secret to making a sandwich perfectly brown and crispy is a little bit of old cheddar sprinkled on the outside and then fried. Pair it with a sweet butternut squash soup cut with green apples for a complete and cozy meal.
What you need… for the soup
1 Large onion
1 Butternut squash
1 Granny Smith apple
1 Inch piece of fresh ginger
3 Cups Vegetable or Chicken Stock
Salt and Pepper
Butter
Start by finely chopping the onion, peeling and cubing the butternut squash, grating the ginger, and cubing the apple.
Heat butter in a soup pot and sauté the onion until it's soft and fragrant, add the grated ginger and cook for another minute, then add the cubed squash and apple and cook for about 5 minutes, stirring occasionally to make sure nothing is sticking.
Add the stock along with a dash of salt and pepper. Bring to a boil then reduce to simmer for about half an hour, or until the squash is soft.
Using an immersion blender, puree the soup until smooth. Season with additional salt and pepper to taste.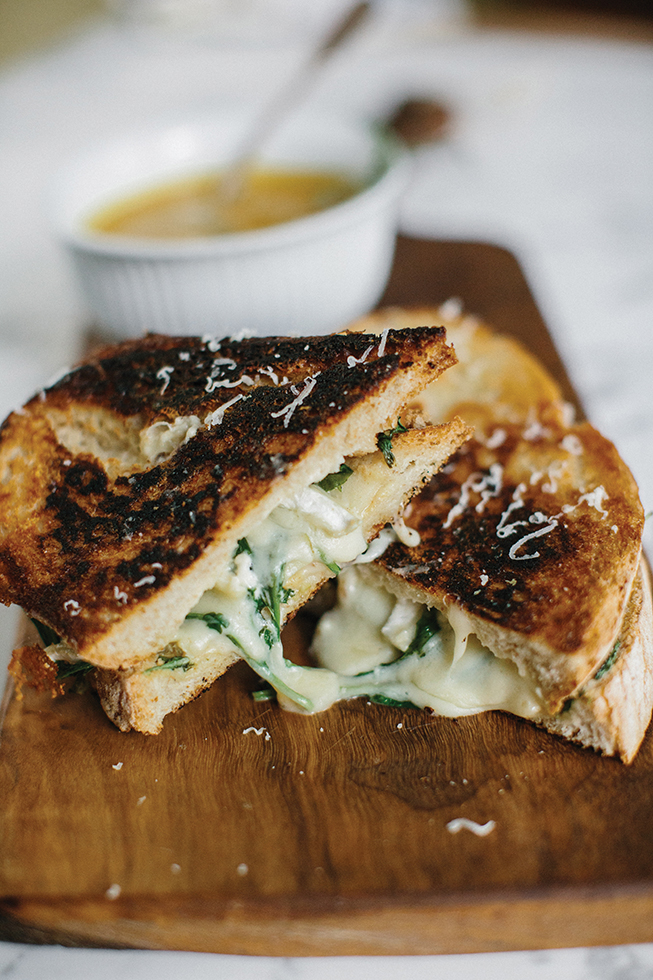 What you need… for the sandwich
Thinly slice the bread, apples, and Brie cheese. Finely grate a small amount of cheddar cheese.
Spread mustard on one slice of bread and mayonnaise on the other. Thinly layer the apples, Brie, and arugula inside the sandwich.
3. Spread butter on the outside of the sandwich and sprinkle it with finely grated old cheddar cheese. Fry the butter and cheese side down in a cast iron pan on low to medium heat until the bottom is brown and crispy. Spread butter and cheese on the other side and flip to fry until the whole outside of the sandwich is golden brown and crispy.
Corynn Fowler writes a food blog called Nourished by Corynn. Please visit her at nourishedbycorynn.com