This recipe and presentation could be the revolution of the part of the turkey no one wants.
The drum is full of small bones and sinew and the skin gets tough as it is so close to bone. What we have done is taken the nuisance out of the leg and turned it into a boneless treat with a special presentation. Our turkey is free range and air chilled which helps crisp up the skin. Also, we find the dark meat the most favourable. You can use a stuffing as we have, or simply do as is. when it's done on the BBQ, there is less mess than preparing a whole bird, and it's half the cost of breast.
What you need… 
Two Cleaned and Brined Black Angus Turkey Legs
One Pound of Wild Boar Bacon
One Green & One Red Pepper
Six Mushrooms
One Onion
Eight Ounces of Goat Cheese
Salt & Pepper
Butcher Twine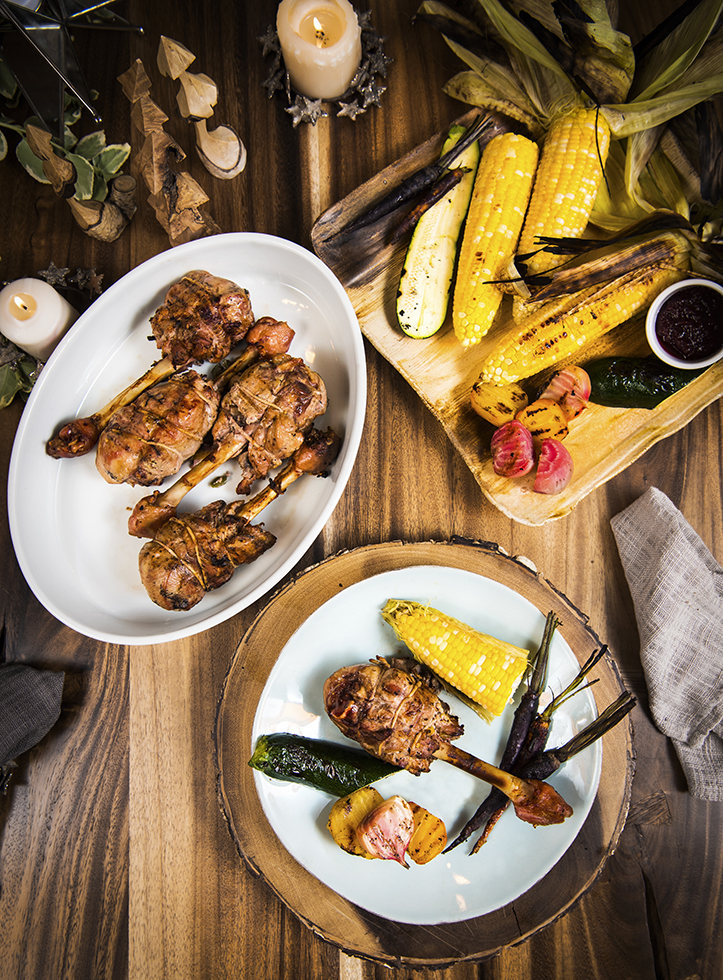 What to do…
STUFFING: Dice Bacon, Peppers, Mushrooms and Onions. Brown all ingredients in a pan. Set Aside, then add Goat Cheese and Salt & Pepper and mix. Place finished product in fridge to set and cool.
Begin to fill the pre-made pocket inside the turkey leg with stuffing mixture. Make sure to leave some space so you can seal in the stuffing.
Wrap the leg with butcher twine and make a knot at the end of the turkey leg to prevent stuffing from leaking out.
Once you have your finished product, you may either BBQ, Bake or Roast—whichever you prefer. Since your stuffing is already cooked, the cooking process will not take very long. We suggest searing the turkey leg on all sides in a frying pan and then transfer to an oven to finish.
After searing cook at 350° for approximately 25-30 minutes or until Golden Brown.
Remove from Oven and let rest for 5-10 minutes and serve.
Recipe | Black Angus blackangusmeat.com  Photography | Clay Dolan.
Cook's Note: We at Black Angus are happy to help and can prepare these for you for your next Holiday, Dinner or Event. Come in to Black Angus at any of our locations to pick up yours today! Happy Holiday dining from Everyone at Black Angus.|E|