What you need… 
2 tbsp unsalted butter
2 tbsp vegetable oil
2 carrots, diced
Half Spanish onion, diced
2 cups fresh or frozen corn
Half jalapeno pepper, seeded and diced
2 cloves garlic, thinly sliced
1 tbsp chopped fresh thyme, or 1 tsp dried thyme
1 bay leaf
½ cup dry white wine
2 Yukon Gold potatoes, peeled and diced
1 ½ cups diced dry-cured chorizo sausage
1 jar (680 mL) strained bottled tomatoes
1 jar (236 mL) clam juice
2 cups diced smoked whitefish
(about 2 sides, skins removed)
¼ cup coarsely chopped fresh parsley
Salt and pepper, to taste
Be sure to use dry-cured chorizo sausage (found in the deli of most grocery stores) instead of fresh sausage in this hearty, rich stew. Smoked whitefish is best, but you can substitute with other mild-flavoured, white-fleshed fish, such as smoked cod or pickerel, in a pinch.
What to do…
In a large Dutch oven or heavy-bottomed pot, melt butter and heat oil over medium-high heat until foamy.
Stir in carrots and onions, cook, stirring occasionally, until softened, about 5 minutes.
Stir in corn and cook, stirring occasionally, for 5 minutes.
Stir in jalapeno, garlic, thyme and bay leaf. Cook, stirring occasionally, for 2 mins.
Stir in wine and cook, stirring, for 1 minute.
Stir in potatoes and sausage. Add strained tomatoes, clam juice and 2 cups water and bring to a boil.
Stir in whitefish, reduce heat and simmer until potatoes are tender and stew is slightly thickened, about 40 minutes.
Remove bay leaf. Stir in parsley. Season with salt and pepper.   Makes 4 to 6 servings.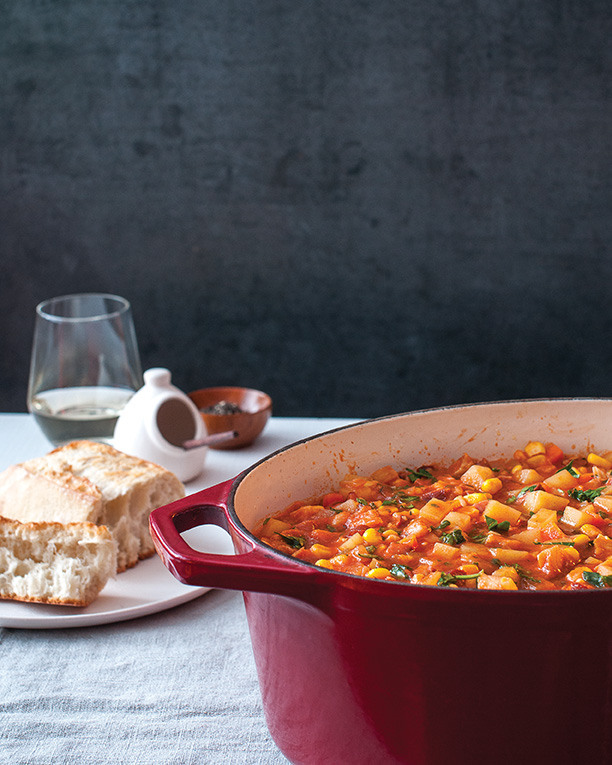 Come To Our Table – The South Georgian Bay Community Cookbook celebrates the unique food culture of the region with recipes, art, stories and profiles featuring the very best of local ingredients.
10% of the sale of each book goes into a fund that helps grow local initiatives and programming, specifically with youth and local food in mind. To date, $8000 has been collected and distributed within our communities.
Visit communitycookbook.ca for a list of retailers.
Recipe | Shaun Edmonstone, Bruce Wine Bar.     Photography | Heather Goldsworthy      Styling | Rheanna Kish  |E|