Recipes by Shaun Edmonstone, Executive Chef & Owner of Thornbury's award-winning Bruce Wine Bar & Kitchen. Photos by Clay Dolan
Summers spent at the market farm with his grandmother and raising bees with his grandfather led Shaun to understand the connection between artisans, farmers, and chefs. This belief is evident in his involvement with Ocean Wise, his seat on the Grey Bruce Chefs' forum advisory board, his participation with FeastOn, the Georgian Bay Community Cookbook, Terroir, Ontario Tourism and countless other collaborations within his community and beyond.
FUNGI & GRANOLA SALAD
Shaun loves the earthiness that this salad brings to the table, showcasing some incredible cultivated Ontario products.This dish makes a great accompaniment to many proteins including fish, but would also work nicely with grilled chicken, BBQ steak or slow-roasted pork. And the lemon dressing just screams 'spring is here!'—something we've all been waiting for after a long winter.
INGREDIENTS
2 cups mixed mushrooms, sliced (we love shiitake, honey trumpets & chanterelles)
2 oz olive oil
1/2 lemon, juiced
1 leek, cut into coins
1 head Boston Bibb lettuce
1 head radicchio lettuce
1/4 cup savoury granola
1 tbsp pickled chilies
young parsley leaves or micro greens
LEMON DRESSING:
1/4 cup lemon juice 1/8 cup red wine vinegar 1/4 cup olive oil
1 tsp Dijon
1 Tbsp. honey
DIRECTIONS
In a sauté pan, add your leeks and olive oil over medium high heat and sauté for 3-5 minutes. Add mushrooms and sauté for an additional 5-8 minutes or until mushrooms are cooked through. Deglaze the pan with your lemon juice and remove from heat. To make dressing add all ingredients to a small mason jar or similar and shake vigorously. Spoon a small amount of your dressing onto a plate, and then place your Bibb lettuce and radicchio on top. Add your mushroom and leek mixture, top with savoury granola. Garnish with pickled chilies and parsley or micro greens.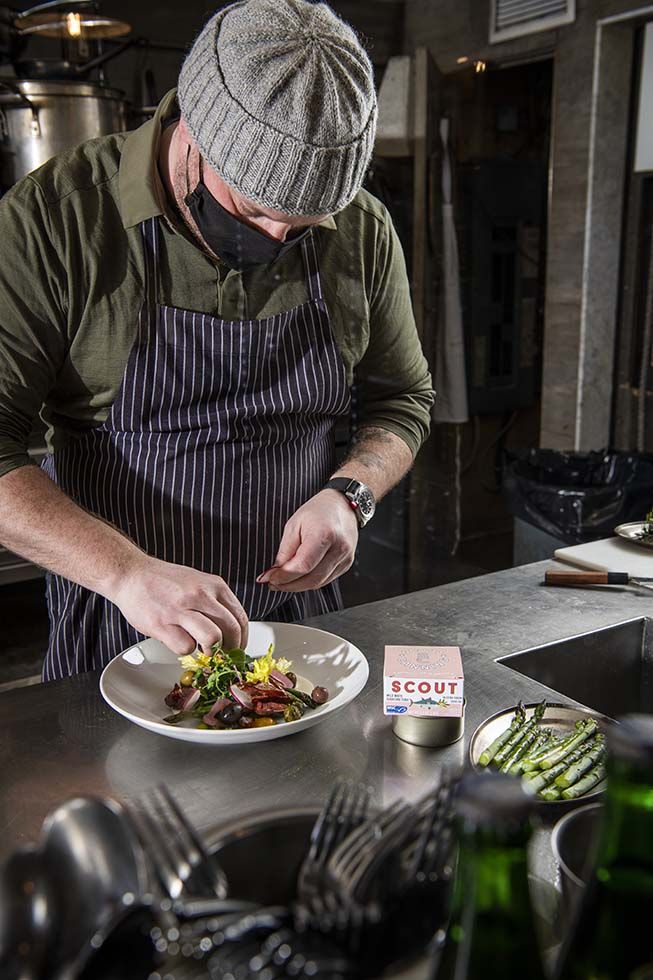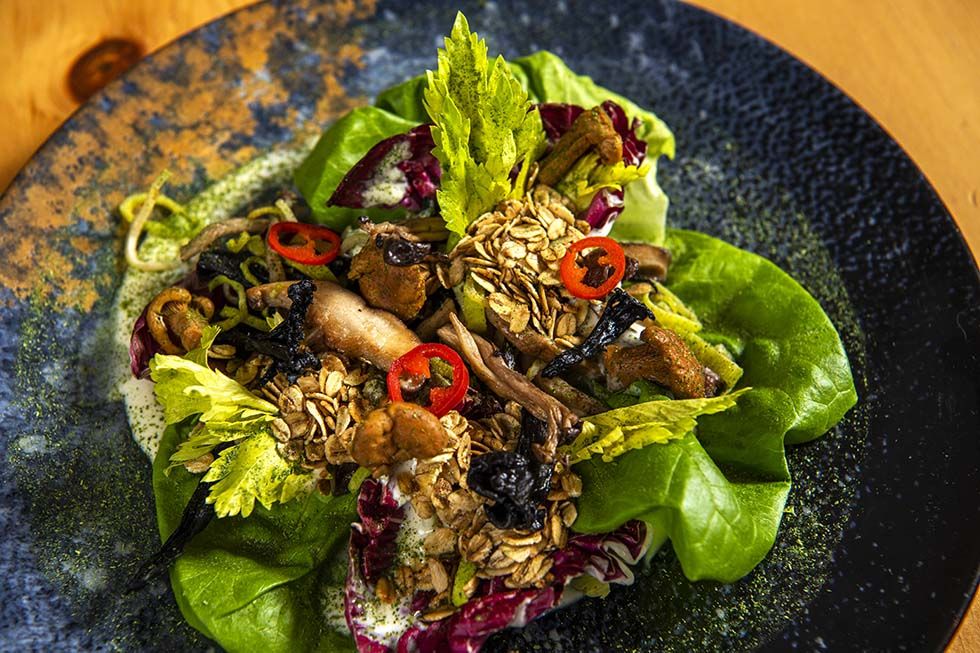 MAPLE POACHED SUSTAINABLE ARCTIC CHAR
"Sustainable seafood has been a part of Bruce Wine Bar since the first day we opened 10 years ago. There is an abundance of sustainable seafood options available to everyone and our commitment to the Oceanwise Seafood program ensures that we will be able to enjoy products like this for years to come. This dish brings together our love of high quality protein and great local, Ontario ingredients in a simply prepared but highly impressive dish."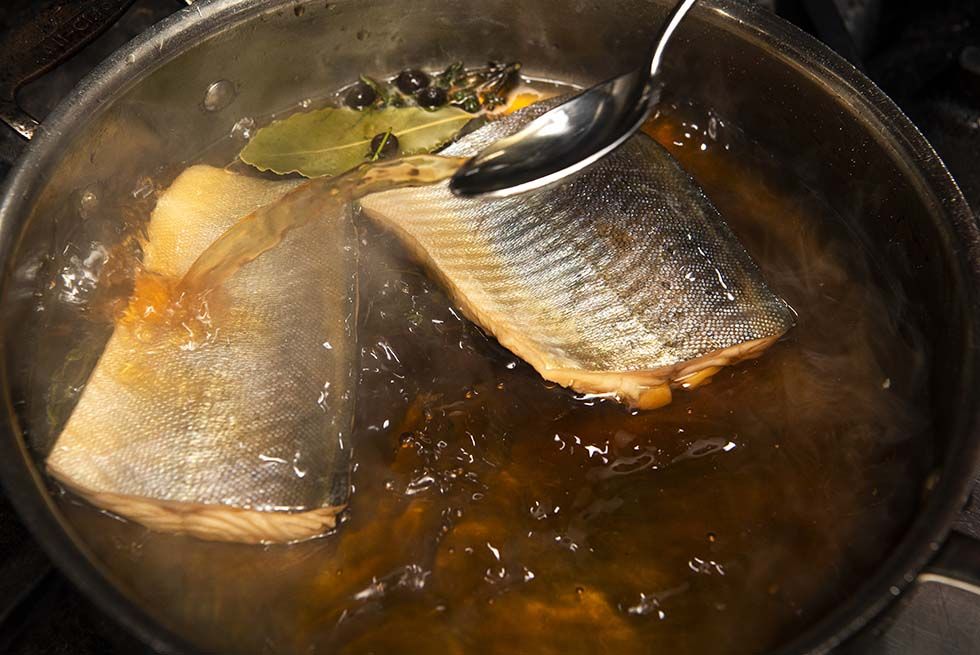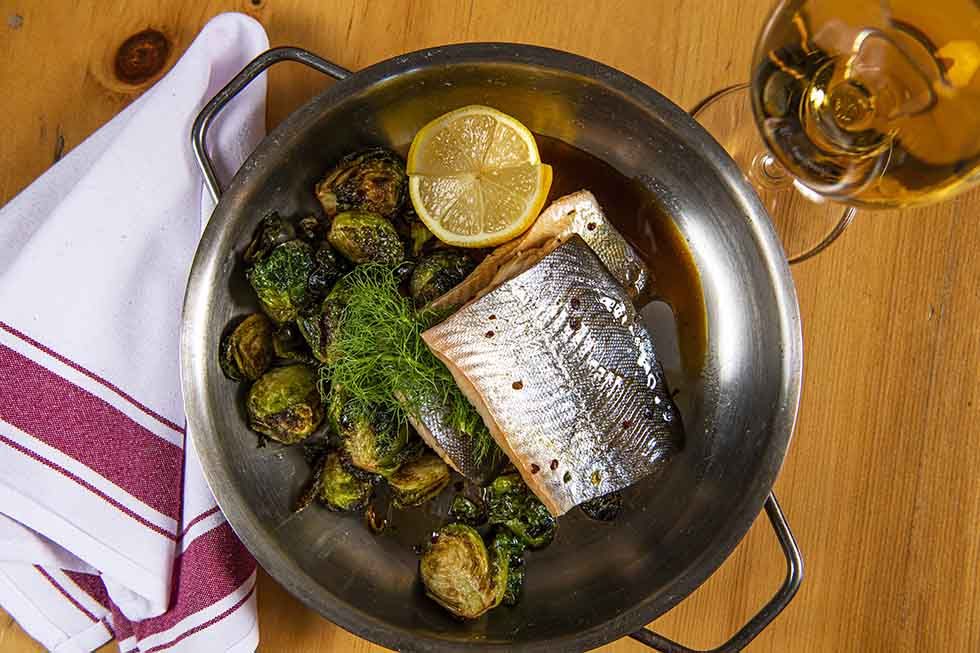 INGREDIENTS
1 filet of Arctic Char, 8-10 oz or 2 smaller filets (we love Springhills Fish Farm's sustainable Char)
1/2 cup maple syrup (preferably amber or dark)
1/2 water
1 sprig thyme
1 Tbsp Kosher salt
2 whole bay leaves
6 whole all spice berries
DIRECTIONS
Add all ingredients but the fish to a medium size pan over medium heat and bring to a light simmer. Gently place the fish, flesh side down in the pan (it should be just submerged in poaching liquid—you can also spoon the liquid over the fish if it is sticking out a bit). Poach over medium heat for 6-8 minutes, depending on the thickness of your fish. Turn off heat and gently remove the fish from poaching liquid. Serve with a squeeze of lemon and alongside the Fungi & Granola Salad or seasonal vegetables. *Note: If you prefer an oilier fish, sustainable Salmon or Trout are both great options.
SALAD NICOISE
"We love this salad because it's a satisfying brunch, lunch or even dinner option that can be prepared in advance. Spring in Ontario is rich with items that work beautifully, including asparagus, wild leeks, fiddleheads—these could all be wonderful components to include in your version."
INGREDIENTS
1 can sustainable tuna (we love Scout Canning's BC Albacore Tuna in olive oil)
1 bunch asparagus
8 mini red potatoes
4 eggs
1/4 cup olives
1/4 cup pickled onions
celery leaves, radishes, mixed herbs, olives (for garnish)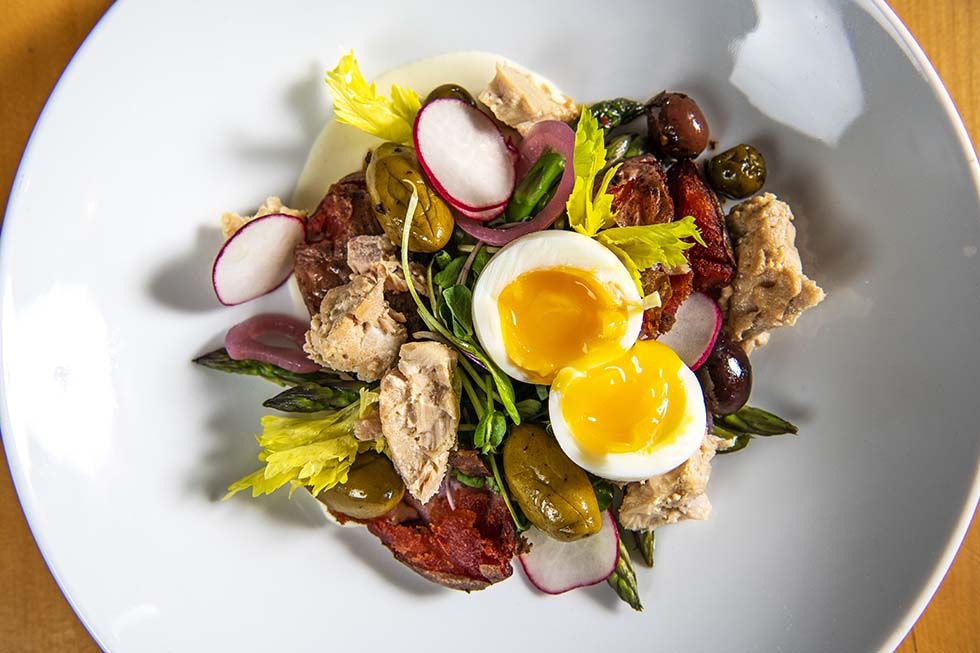 DIRECTIONS
Pre-heat your oven to 425°F. In a heavy bottom sauce pot, fill just over halfway with water and add the potatoes. Bring to a boil and cook for approximately 12 minutes. Add your eggs and cook for an additional 6 minutes. Remove from heat and drain. Pick out the eggs and peel for later. Crush your potatoes on a baking sheet and coat liberally with olive oil and salt and pepper. Bake for 12-15 minutes or until crispy. In a separate pot, fill to halfway with water and bring to a boil. Add 1 Tbsp kosher salt to the water. Place asparagus in boiling water for 1-2 minutes, then remove and plunge into ice water to stop the cooking process. Remove from ice water and pat dry with a paper towel. Toss asparagus in your favourite vinaigrette or dressing. Top late stack asparagus in the middle of the plate, surround with potatoes, top with tuna and garnish with celery leaves, herbs, micro greens, olives —whatever you please. Top with your 6-minute egg, season with flaky sea salt and enjoy!
Note: All prep can be done up to two days in advance. Makes 4 salads.