This healthy spin on a seasonal fruity cake uses yogurt to create more of a cheesecake texture.  Be sure to fill this cake with berries, and get creative using whatever is fresh and seasonal in your area!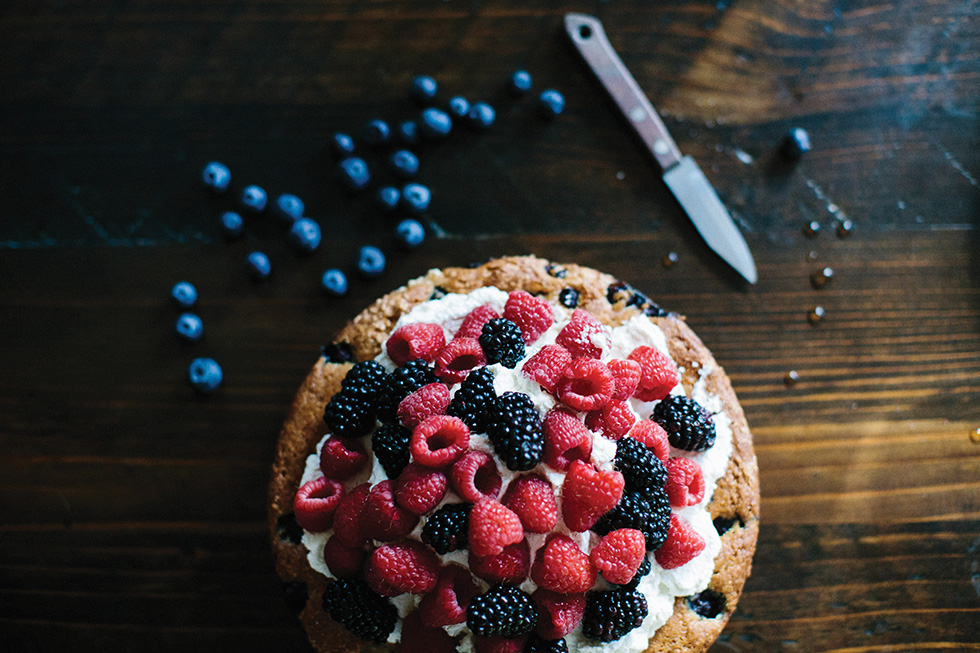 What you need…
– 2 Cups almond flour
– ½ Cup white rice flour
– 1 Tsp baking soda
– ½ Tsp salt
– 2 Lemons, zest only
– ½ Cup maple syrup
– 3 Eggs, separated
– 1 Cup Greek yogurt
– ½ Cup butter
– 1 Cup blueberries
– 1 Cup whipping Cream
– Mixed Berries
what to do…
Heat the oven to 350°. Combine the flour, baking soda, and salt.
Cream the butter, maple syrup, and lemon zest. Then, separate the eggs and add the yolks and greek yogurt, mix well. Stir in the dry flour mix.
Beat the egg whites on high for about 8-10 minutes, or until stiff peaks are forming. Gently fold the egg whites into the batter, making sure not to mix too much and cause the eggs to deflate entirely.
Scatter the surface with blueberries and bake for 1 hour. Allow the cake to cool.
Make your whipping cream, adding sugar and vanilla as desired. Once the cake has cooled cover the top in whipped cream and scatter generously with a variety of mixed berries. Here we used raspberries and blackberries, but get creative using whatever is fresh and seasonal!
Photo and Recipe by Corynn Fowler. Visit Corynn's website at nourishedbycorynn.com  |E|