Live edge, otherwise known as natural or freeform edge, is a style design where skilled furniture craftsmen meticulously incorporate the natural, raw edge of wood slabs and transform them into one-of-a-kind pieces. Foregoing straight, manmade cuts, live edge brings the authentic artistry of nature into a custom piece of functional furniture that speaks to you.
My first introduction to the process of creating live edge furniture came from a photography assignment for Blue Mountain Resorts. The Pottery Restaurant was having a live edge harvest table made locally, and wanted a few photographs of the initial milling of the of the wood. I was excited to see how these giant slabs of wood were cut since I had plans to mill a large maple of my own that needed to come down. Plus the thought of having my work displayed at the restaurant was an added bonus.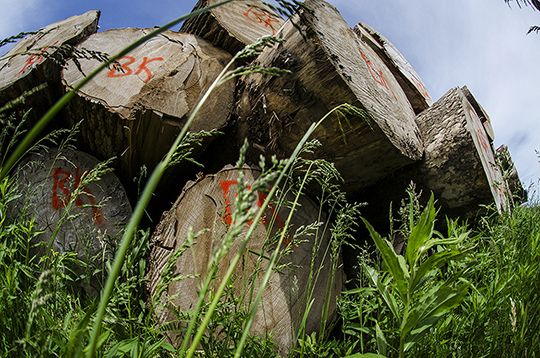 I met Edwin (Eddie) Patino, the lead craftsmen and owner of Tree Green Team at his storage yard near Nottawa. It was full of giant logs of various species of trees which had been salvaged locally. Most originated from arborists who had removed old and decrepit trees from client's properties. The huge trunks of maple, ash, black walnut and oak were stacked over 10 feet high and left to air dry.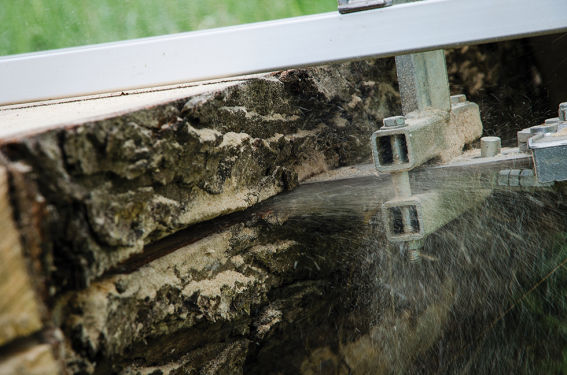 Eddie and his partner were hard at work cutting into one of the massive trunks. They were using what's known as an "Alaskan Mill", which is basically an oversized chainsaw with a five foot bar and a cutting guide attached to it. The saw is used to rip down the length of the log, with the guide keeping the thickness of the cut perfectly symmetrical. With this tool, craftsmen are able to create slabs of wood up to five feet wide and just about any thickness. It's a labour intensive process and leaves a rough finish on the wood, but the portability of the device and the ability to tackle the widest of logs makes it ideal for creating oversized live edge products.
For my old maple however, I had a different milling technique in mind. My friend Ted Burrows from Norwood Sawmills offered to help, and since the diameter of the trunk was just under 3 feet we would be able to use a portable Norwood Sawmill. I had taken the giant down in early March—cutting trees in the winter ensures that no sap flows into the wood, making the drying process much quicker. But, there was no way I could move the immense trunk without some type of machinery. And, since it landed on my lawn, I didn't want to do unnecessary damage to my grass. So there the log sat for three months.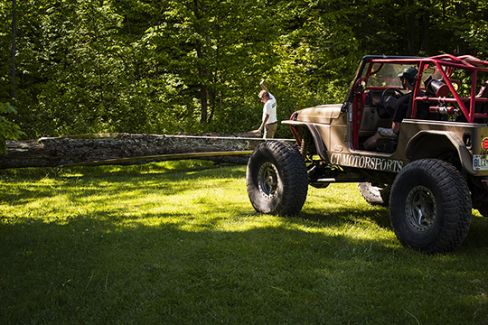 In June, Ted trailered over a HD36 Norwood Sawmill. This thing had all the bells and whistles, including hydraulic lifters to hoist the wood onto the mill. The only hard part was going to be maneuvering the log into position beside the mill so the lifters could do their work. My friend Andrew Scott had a solution—his 'souped-up', mega four-wheeling Jeep with a 10,000-pound winch. Andrew skillfully used the winch and tow-straps to roll the trunk into position. I was surprised how easily the task was accomplished.
With the log lying beside the mill, it was an easy process to roll it onto the lifters. Once in place, Ted used the mill's hydraulic system to maneuver the log into the perfect cutting position. From there it was just a matter of letting the mill do its work, while we removed the slabs as they were cut. The whole process from manoeuvering the tree trunk to stacking the slabs took only three hours.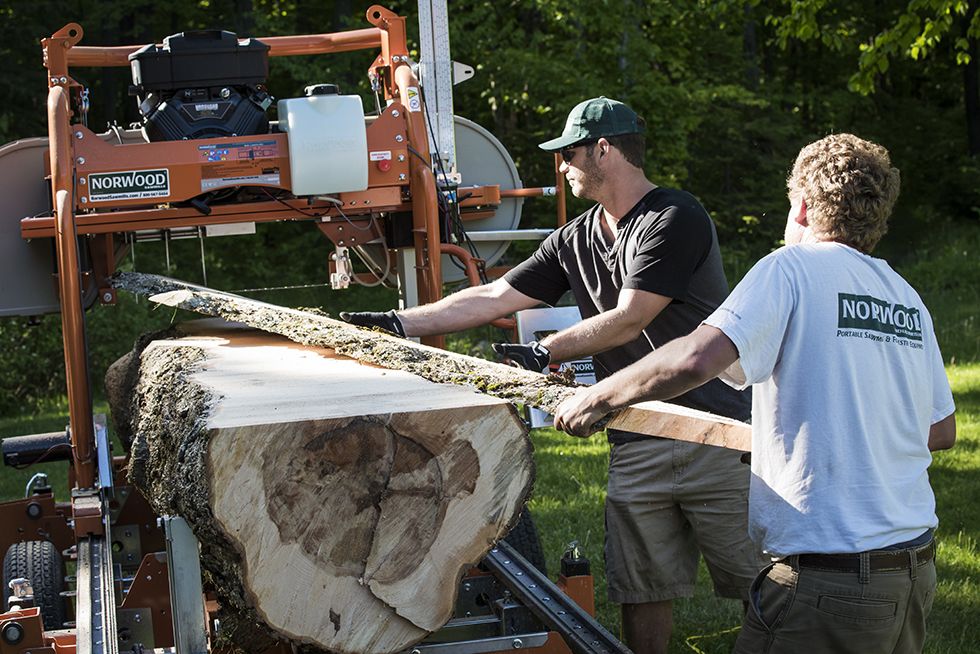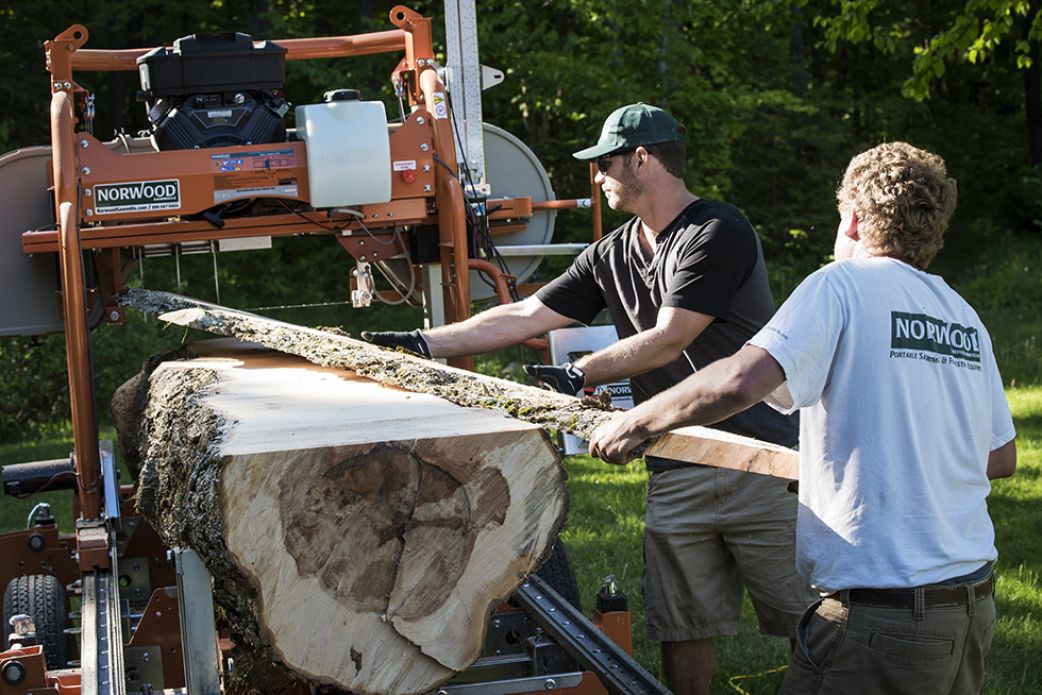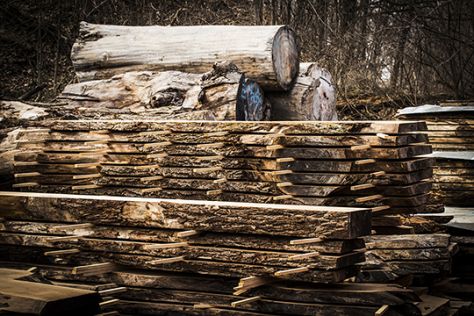 Once milled, the wood needs to be dried. Eddie from Tree Green Team lets his slabs air-dry outdoors for up to one year before placing them in a kiln. Once in the kiln, the wood is dried down to a six percent moisture content. With the slabs dry the next step is to smooth out the surface
With their fine blades, Norwood Sawmills cut so smoothly that it really only takes a bit of sanding to get a polished finish. An Alaskan Mill on the other hand leaves a rougher surface which needs to be planed before sanding which can be time consuming and labour intensive, since oversized pieces have to be done by hand.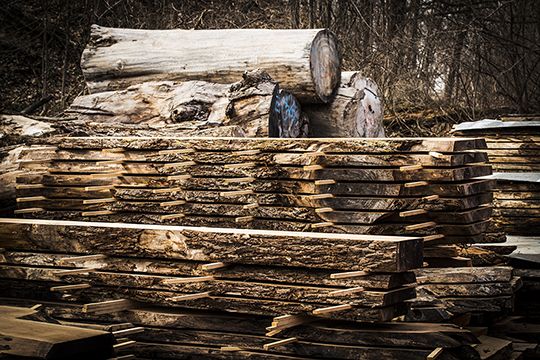 Wayne Datema, owner of Country Charm Mennonite Furniture employs a different technique for his creations. Using a local Mennonite mill, Wayne's pieces are cut with a band saw and then run through a large "Thickness Sander"— basically a giant version of a belt sander.
Employing large drums and different grit sandpaper belts, this machine is able to take even the roughest wood down to a perfectly smooth surface. And, with the ability to tackle pieces up to 54 inches wide, Wayne is able to create stunning, single-slab tables.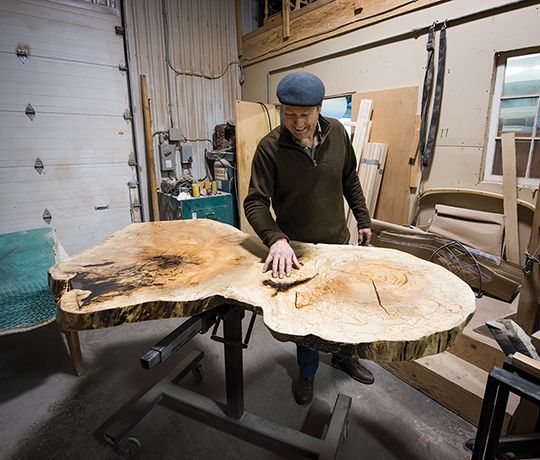 Another step that Wayne takes before applying a finish to his pieces, is to make "relief cuts" on the bottom of the tables. These ingenious cuts prevent the wood from warping and splitting as it expands and contracts with seasonal humidity levels in a home. Often, ends that are already split are filled with resin and held together with "bow ties"— small pieces of wood cut into the shape of a bow tie, which are then inserted into the table to prevent any further splitting. The bow ties can be hidden in the underside of the table, or placed on top to create a decorative accent.
Live edge craftsmen can get quite creative with their works—different stains and finishes, filling knots or holes with resin, or book-matching two pieces together to create the appearance of one oversized slab. Their choice for legs also adds a whole new dimension to the furniture. Custom metal supports can be created with simple, clean lines or intricate complex designs—or perhaps solid wood legs, fashioned in a traditional style—maybe even live edge legs that mimic the table top, creating a homogenous appearance.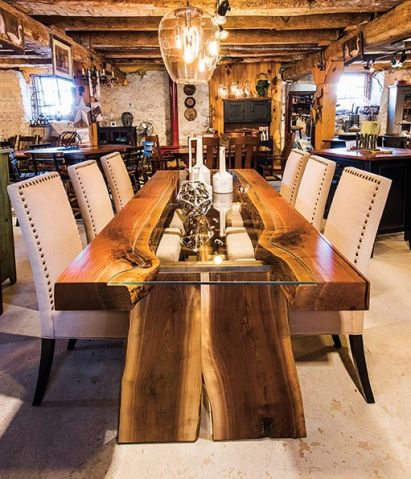 Wayne has taken his creativity one step further with his "Spanish River Tables". With those tables Wayne cuts a slab in half and reverses the wood so the live edges are in the middle of the table with the straight cuts on the outer edges. The gap in the middle is then filled with glass that has been water jet cut to exactly match the live edge profile of the wood. A "Computer Numerically Controlled" router is used to cut along the live edge of the wood so the glass will fit perfectly flush. The end result is a striking table that resembles a meandering river running down the middle – hence the name Spanish River Table.
The process of taking a standing tree and turning it into a live edge piece of furniture is time consuming and labour intensive. With so many different steps, one table could take over a year from start to finish.  Adding a natural look to your home, live edge furniture can help us bring a sense of wilderness into our spaces. Whether it is a bathroom vanity, a stylish coffee table, or a ten-foot-long harvest dining table, the live edge with its one of a kind profile, reminds us of nature's perfect imperfections.
As for my project, it is still a work in progress with many steps yet to take. Currently my slabs are drying in storage, and will be heading off to a kiln this summer. With inspiration from talented craftsmen like Eddie and Wayne, I already have some lofty ideas. |E|