Tying the Knot at Blue Mountain
words & photos | corynn fowler
corynnfowlerphotography.com
Whether you and your love prefer casual, low-key nuptials on the beach or an all-out extravaganza—your wedding day can become a full wedding weekend when it's celebrated at Blue Mountain Resort. Options abound when deciding on a wedding venue. From grandiose church affairs with ballroom receptions, to intimate backyard ceremonies, the overall feel and theme of a wedding is often dictated when first choosing a locale.
Traditions have changed and evolved with the trends of our modernized world and gone are the days of overly extravagant 'I dos'. Couples today have the freedom to express themselves in uniquely personal and meaningful ways. When planning their nuptials  they often choose 'experience' over 'elaborate'. The Niagara Escarpment makes a stunning backdrop, and couples need not look further than Blue Mountain Resort as their ideal spot to tie the knot. The resort's many attractions have made it a four seasons destination and with world-class accommodations, numerous nuptial locations to choose from, in-house planning coordinators, catering, spas, restaurants and of course the ever important bachelor/bachelorette nightlife, Blue literally has it all.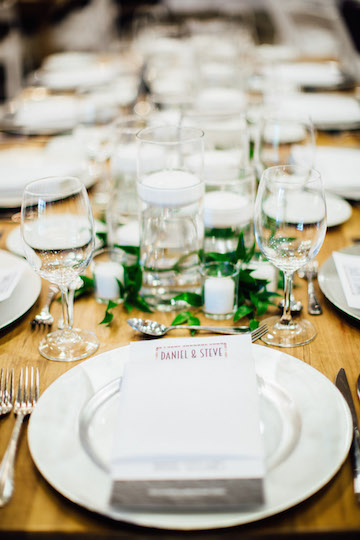 As a photographer, I love the variety of ceremony locations and stunning event spaces. Many of my clients appreciate the ease of ready made wedding packages which take the guesswork (and legwork) out of planning, while more detail oriented couples like the option to pick and choose from a range of different themes, décor and menus. Daniel and Steve's wedding was like a party—personal touches were everywhere and the abundant, bright space allowed an easy flow for guests to gather, mingle, meander and enjoy.
– Taylor Roades Photography
Choices for the ceremony include; a mountaintop vista accessible by open air gondola; a waterfront beach perfect for the barefoot bride; and elegant indoor banquet halls with beam and trestle architecture and floor to ceiling windows which embrace the rugged beauty of the Niagara Escarpment and Georgian Bay. Tents are available in varying sizes, as are tables, chairs, linens, and everything else necessary to pull together a beautiful outdoor reception. The amenities offered by Blue Mountain make planning a wedding easy and stress-free.
Guest experience is a top priority, and the resort's world-class Chefs pride themselves on satisfying their guests with tasty hors d'oeuvres, signature drinks and delicious main courses while everyone and the Bride's third uncle makes a speech. Incredible farm to table menu options are sourced from our local growers, artisanal cheese shops, bakeries, and local vineyards. Complimentary tasting menus are always offered pre-wedding, to help couples make the truly tough decisions.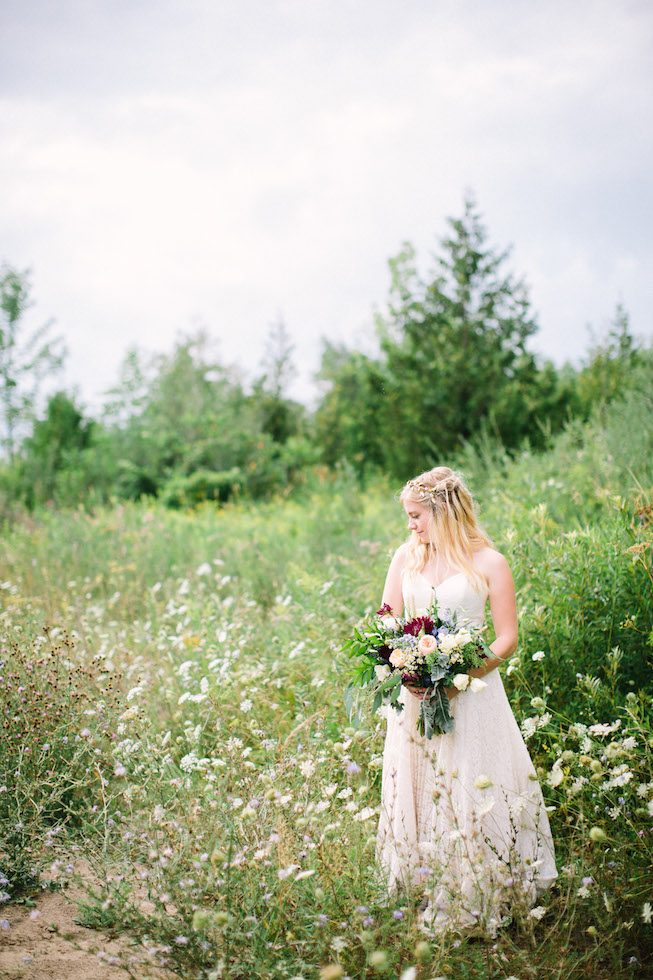 "Blue Mountain's unique environment brings all kinds of couples to our door and by using the resort as our playground I have the ability to take their wedding and guest experience to a whole other level. The most enjoyable part of my job is guiding the couples through using our facilities in unique and fun ways."
~Emma Towers
Emma Towers, Wedding & Social Events Manager at Blue Mountain, loves working with couples to plan their special day. "My role allows me to bring a unique experience to all the families I have the joy of working with,"  says Emma. "Commonly the type of Brides and Grooms I get to work with can be anywhere from outgoing, recreational enthusiasts to stylin' foodies who love to eat and drink—all of which are my type of people! "
Whether your event is held on a Friday, Saturday, or even a Tuesday, a Blue Mountain destination wedding brings friends and family together before, after and during the ceremony. And, a special added draw of getting hitched in such a gorgeous and happening location is that guests have the option to book accommodation right in the heart of the Village or at one of several locations close by. Wedding goers may even want to stay longer, in order to enjoy the outstanding amenities, myriad of sights and countless activities that Blue Mountain Resort has to offer—entertainment, shopping, superb dining, a spa getaway or perhaps some quiet, relaxing 'down time'.
DO IT ALL AT THE RESORT | bluemountain.ca
Britt and Mike Hartel were married at Blue Mountain. "We were drawn to the fact that everything could happen on site; the rehearsal, the ceremony, the reception and the beautiful accommodations for our guests.  Blue's experienced and knowledgeable Event Coordinators helped us through the planning process and were absolutely amazing on the day of the wedding. Our Event Coordinator, Emma, truly contributed to making our day seamless. Being married at the Lookout was definitely our dream and we were so fortunate to have beautiful weather.  We have returned every year since to celebrate our anniversary.
Blue has always been a very special place for us; we love to ski and have spent a lot of time at Blue together. My husband arranged for us to spend the night at the Westin after we got engaged, as we had always talked about getting married at Blue.
 ~Britt Hartel
WEDDING PLANNING 

CHECKLIST… by Michelle Green | Black & White Events
10 – 12 MONTHS
√  Wedding Budget – Discuss with all who will be contributing
√   Planning Team – Consider hiring a Planner – they have relationships with and insights into vendors
√   Wedding Date – Choose a few options in case venue is already booked
√   Initial Guest List & Bridal Party
√   Wedding Design – What's the style, colour palette, feeling?
√   Bridal Party Attire – Including Bride's dress & Groom's tuxedo
√   Venue Tours & Booking – are permits needed for tents, capacity, etc.
√   Wedding website – Great place to keep guests updated
8 – 10 MONTHS
√   Save-The-Date Cards – Include Wedding Website
√   Vendor Research & Booking – Photographer, videographer, DJ, band, rentals, caterer, florist, servers & bartenders
√   Book Officiant
√   Accommodations – Consider all out-of-town guests, bridal party, parents and yourselves
√   Order bridal party attire
√   Cake consultation & Booking
√   Start Planning honeymoon
2 – 4 MONTHS
√   Marriage license
√   Guest seating and table assignments
1 MONTH
√   Purchase Wedding Party Gifts
√   Outline wedding day timeline
√   Confirm final numbers for all vendors
√   Confirm final vendor payments
DAY BEFORE
√   Final wedding payments and organize gratuities to be given out on wedding day
DAY OF
√   Enjoy!
bride's 
checklist … hair  by kasey erskine | marion's hair studio
DO book a trial! Usually  4-8 weeks prior to the wedding date. Trials or even a simple consultation before the big day are a great opportunity for you to meet with your stylist, especially helpful if you're using a new salon.
DO bring pictures to your trial of inspired styles, your dress, and any accessories you're thinking of wearing (veil, fascinator, pins, headband). Be open to suggestions from your stylist about what is realistic for your hair… and remember you're going for a "look". It will never be exactly like the picture, all that matters is that you feel amazing.
DON'T bring friends or family to the trial… this is a chance for you to bond with your stylist, and sometimes too many opinions during a trial can clutter your mind and put added pressure on you and your stylist. Instead take lots of pictures to report back to your squad for opinions.
DO come with your hair dry for the wedding day appointment, or consider having a wash and style done the day before (you'll look fabulous and your stylist can use setting lotions for volume and hold).
DO have your any hair colour services done 2-3weeks prior to the wedding day, DON'T be afraid to cut your hair at that time… (maybe not a complete style change) but extremely long hair is not always easy to work with. Healthy hair is more important…
DO consult your stylist on length.  
DON'T cheap out and do your own colour and cut 1 week before the wedding day (just incase it goes south).
bride's 
checklist – makeup
DO bring pictures for inspiration to your trial run.
DON'T be afraid to wear a little be more makeup than your usual. You'll be able to see the difference in the pictures. That being said… 
DO speak up about your comfort level about more or less makeup. Take pictures at the trial so you can see for yourself how it looks in pictures. Ultimately you want to feel comfortable and like yourself. 
DO mention any allergies you may have at the trial, and bring your own makeup if you have product that you know and love.
DO consider having regular facials starting 1 year to 6 months before the wedding day… consult your esthetician.
DO have a lipstick or gloss with you throughout the day for touch ups. (A good job for your Maid of Honour)
DON'T forget to wear sunscreen or an spf in your makeup during the summer months. Stay hydrated and EAT! These simple tasks can get lost in the day and make or break your mood!
DO have fun ! Make it a party on the day of…. bring some food to nibble and champagne and OJ—have fun with it! Hair and makeup are important… but more importantly is how you feel, it's all about attitude! Treasure every minute and soak up all the good vibes—you won't believe how fast the day will go so really enjoy it!
the bouquet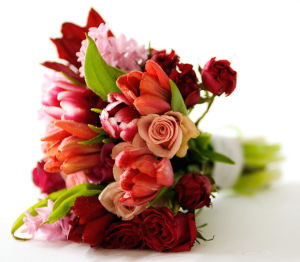 Whether you're planning a grand celebration in the heart of the city, or a rustic affair out in the country, the flowers you choose will transform your venue and give your wedding the wow factor. There is a definite trend for romantic bouquets for 2017. Blousy scented roses not only smell divine, but look absolutely sensational.
Also think the bigger, the better. This year's Brides are looking for bouquets that create as much of a visual impact as their wedding dress. Think flowers in full bloom, trailing—large scale natural arrangements that resemble Dutch Master paintings.
Overflowing bouquets give the look of "just picked" wild flowers. Opt for a lush gathering of leaves and foliage interspersed with oversize blooms with a free-flowing shape that feels unfussy, totally fresh and completely natural. This "just gathered from the garden look" is the perfect way to add romance and whimsy to your bouquet adding a somewhat Boho ambience of shades and colours. Play with scale and opt for an oversize greenery bouquet if you want to really turn heads.
As awareness and interest in local, seasonal flowers continues to grow, eco-conscious couples are prefering fresh from the garden blooms in muted, muddy & moody hues. Subdued and monochromatic bouquets are more popular now than bright, multicoloured ones. Shades such as dusty rose, milky coffee, champagne, buttercream, apricot and moonstone will challenge floral designers and flower farmers to source blooms in these complex colours, but the result will be worth it.