Luminous Landscape Encounters
Words by Deena Dolan
Inspired by the beauty of the natural world, Shannon Craig Morphew creates impressionistic Canadian landscapes utilizing a strong colour sense, free form movement of oil washes and signature bold brushwork, all interpreted in a highly energetic and linear style.
With encouragement from her parents, both artists in their own right, Shannon Craig Morphew's creative skills began developing early. Philip and Diane Craig relocated their young family from Ottawa to St. John's, Newfoundland in 1976 where the isolation and stark beauty of that remotely rugged island provided the inspiration for Philip to begin painting full-time, while Diane designed jewellery. For Shannon, whose childhood was engulfed in this stimulating setting, continuously surrounded by pencils, paper and paint, the creation of art was a natural progression and has been her lifelong endeavour. "I've been painting and honing my craft for 25 years." She recalls that with encouragement from her family, she was always creating something, either from a dream or real life. "Since the beginning, playing among the ocean eddies and windswept rocks of Newfoundland, I've held a deep respect for the natural world. I sometimes painted on my dad's paintings, when he would let me. I painted a house on a hill for my first painting on a canvas."
After moving back to Ottawa, Shannon auditioned for Arts Canterbury, a specialized Program of the Arts in the Ottawa-Carleton District School Board, but there was a misunderstanding with her portfolio. "They thought my work was from a graduating student." Extremely humble about her ability and talent, one can only imagine how advanced her skill level must have been in those early days for such an error to have been made. She was ultimately accepted and the program provided a challenging but supportive environment. "I learned a lot about different ways to create art. I have so many interests it was difficult deciding what to focus on. The teachers were outstanding. To this day I still communicate with prominent artist, art teacher and arts advocate in Ottawa, Tim DesClouds."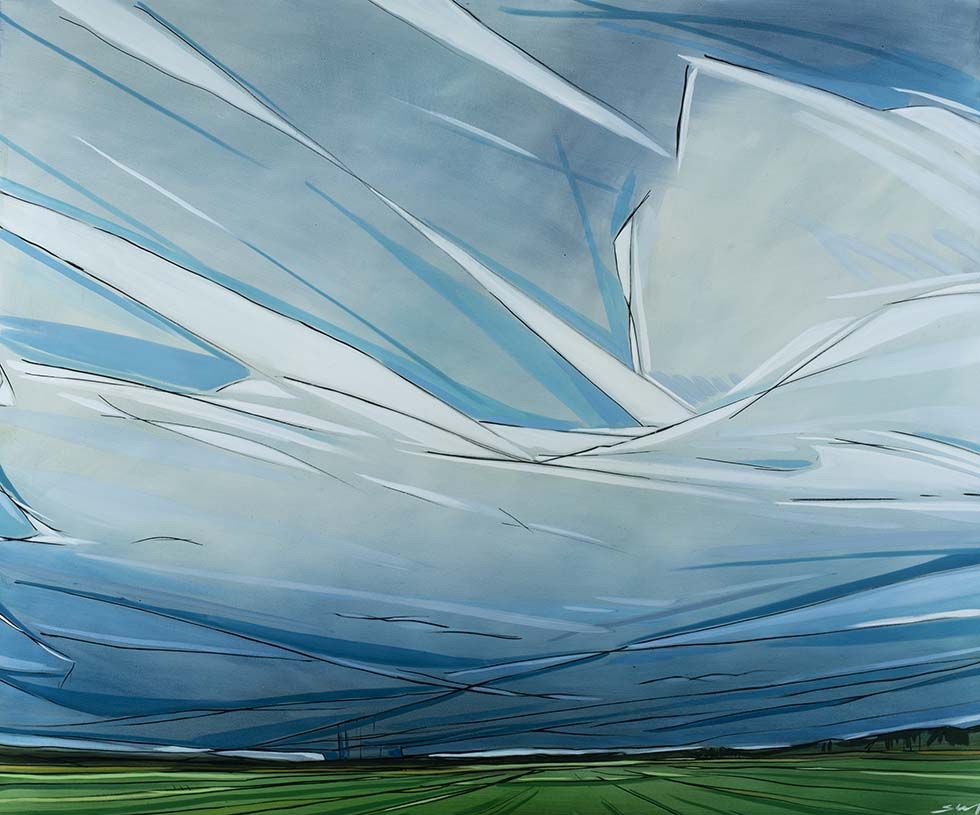 Post high school, Shannon continued her fine arts education at Sheraton College where she gained real-world experience in ceramics and woodworking through professional events, workshops, competitions and exhibitions in galleries and museums. "I loved the teachers. They were top quality and really cared about what they were teaching." She realized however that she preferred to follow a different path, one where she had more control over the creative process, and so from there she turned to the Ontario College of Art and Design (OCAD). "OCAD had some great hands-on teachers for drawing and sculpting. The life drawing teacher was my favourite because he had fantastic stories from his own career and really left me with a respect for the craft." Success was immediate. "I ended up selling all of my work that I had made for my thesis at OCAD. I enjoyed selling work and seeing it on display. It meant a lot to me to know that my work was bringing happiness to people's lives. "
Following graduation, Shannon worked for a time at a postproduction facility doing creature designs and illustration. She also touched up World War I photographs for television shows—handling priceless artefacts from the war while she scanned and touched them up. "I was probably one of the first people doing it." Her paintings, in the meantime, were immediately sought by collectors and her designation as "full-time artist" was almost instantly established—extremely rare for a young creative to achieve such recognition so early. Her father, who Shannon says is her biggest influence and supporter, maintains there was never any question about the direction of his daughter's career. He describes her artistic launch as being like a rocket taking off; "She suddenly was there, doing solo exhibitions. She was in demand." When asked about her success, Shannon quietly replies, "I don't think about it. I'm a process person. It's the creating of the work that matters most to me. I'm also pretty shy and don't like putting myself out there that much."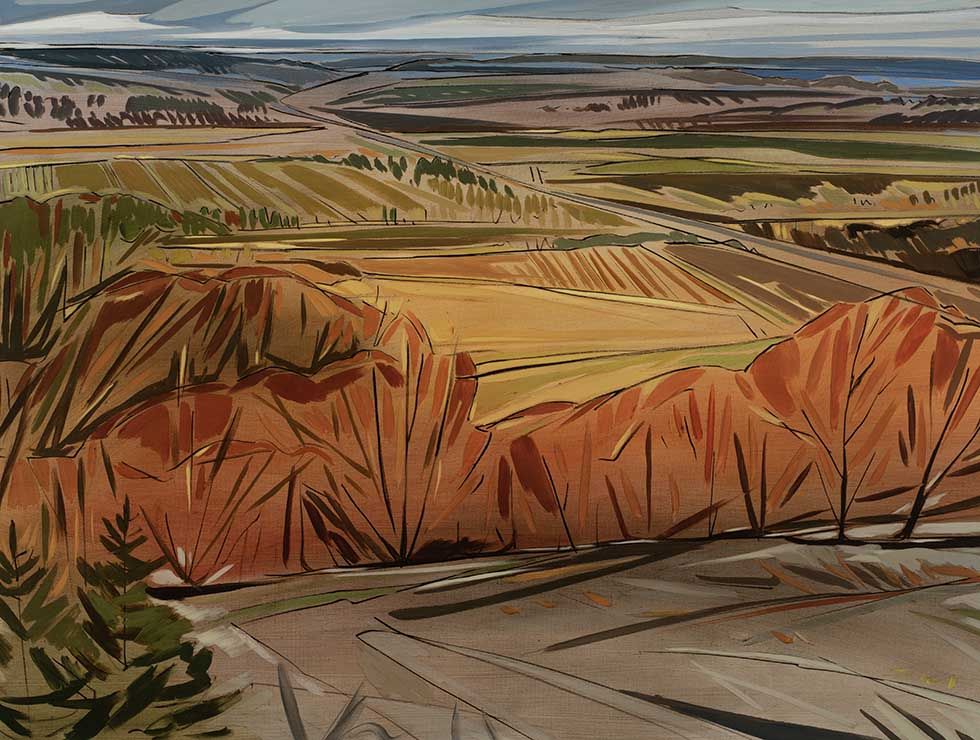 Shannon holds deep respect and reverence for the natural world. "In my paintings, I'm able to distil the emotions I've felt at these times—to give the viewer a feeling of an open sky and the powerful immensity of the landscapes that I've experienced first-hand. Through abstraction I emphasise the wide expanses of cool sky against a still, sunbathed field or a mountain stream where the craggy rocks guide powerful water currents down below."
Preparing for a show takes an average of three months and she generally works on several canvasses at the same time. She will often begin a piece, then put it aside for a few weeks before returning and completing it. She describes herself as a proud, expressionist painter. "I created my style from my love of life drawing and its free form movement and the beauty of the natural world that grounds me." She looks for subject matter throughout the year and will put together a show with what inspires her most at the time. Her digital camera and iPhone are constant companions; "I work from photos." Always intrigued with light, Shannon often finds herself entranced by the simple of things—even a single leaf can inspire. "In my painting technique, as in nature, I maintain a fresh spontaneity in my brushstrokes while layering neutral-coloured washes of oils and exposing my under-painted lines." Of note, her paintings are never over-worked.
Maryrose Coleman, Director of Prime Gallery in Ottawa says much has developed in Craig's painting style. The gallery has hosted several solo exhibitions since the beginning of her career as an artist. "Her work has become more subtle and refined," says Maryrose. "A paring down to the finite elements of painting which creates a fresh take on Canadian landscapes. The new sophistication in her paintings derives from a range of successful colour contrasts that rely on the complexities within a minimal palette, yet maintaining her signature bold brushwork to create a more impactful encounter with landscapes."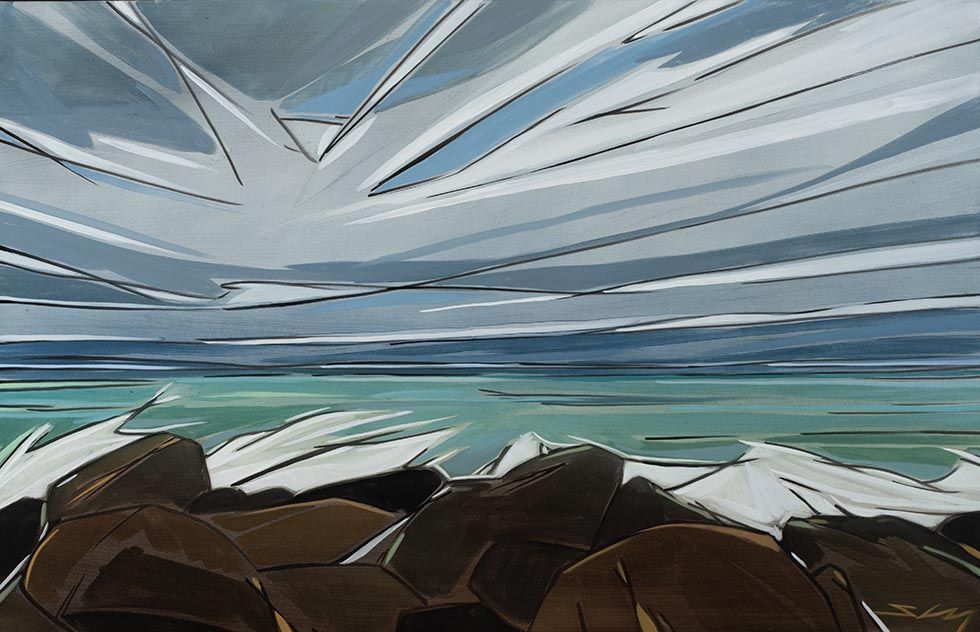 Travelling extensively throughout Canada and Great Britain has enriched this artist's experience and has helped her create a truly personal and vibrant vision. "I love traveling to the north of England and Scotland. It has beautiful hills and vast open spaces where you can see for miles. I enjoy the Pennines, a range of uplands in Northern England." These days however, travel is somewhat limited due to responsibilities and needs of her husband and two young boys. "I love being a wife and mother but it's challenging—especially as a woman—to balance the needs of the family and my work responsibilities. One gallery owner told me that most of his female artists have stopped working after having kids. I never took time off of my career but have made countless sacrifices for my family."
Shannon maintains a studio at a non-profit organization in Ottawa, which offers affordable space. "It's a wonderful group of supportive artists—a wonderful environment in which to paint." Locally, her work is showcased at Craig Gallery in Meaford. Owned and operated by her brother Jonathan Craig and Bridget Light, this "family gallery" also displays works by Philip Craig, Diane Craig and another brother, Jordan Craig.
When she is not in front of a canvas, Shannon practices Zen Buddhism at a Zen centre and often practices what she's learned while she paints. One of the four Zen principles is the focus on interconnectedness in the universe. One gets a strong sense of that within Shannon's work—constant motion yet serenity at the same time—never overworked. At home with family, she enjoys tending to the gardens, cooking and setting precious moments aside for out of doors adventures; roaming nature trails; kayaking; and cross country skiing.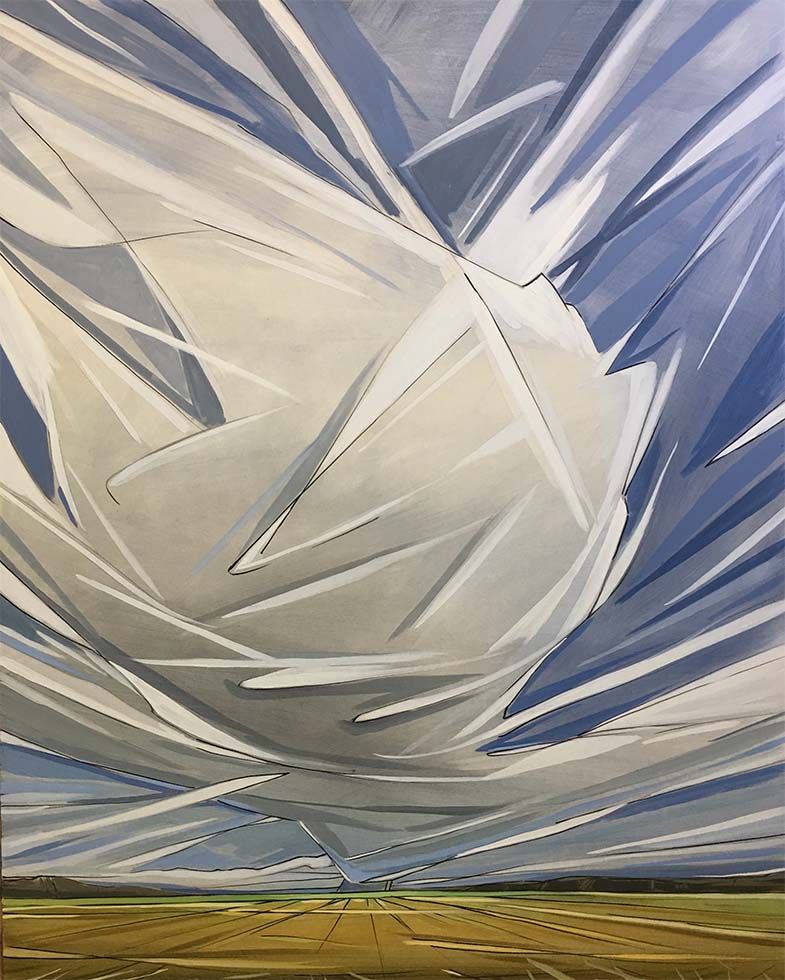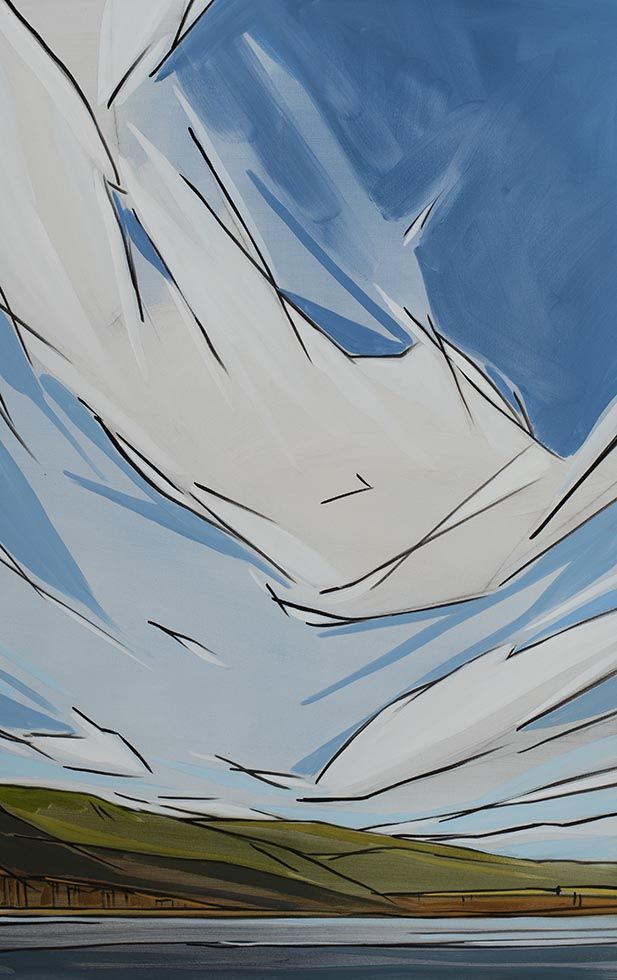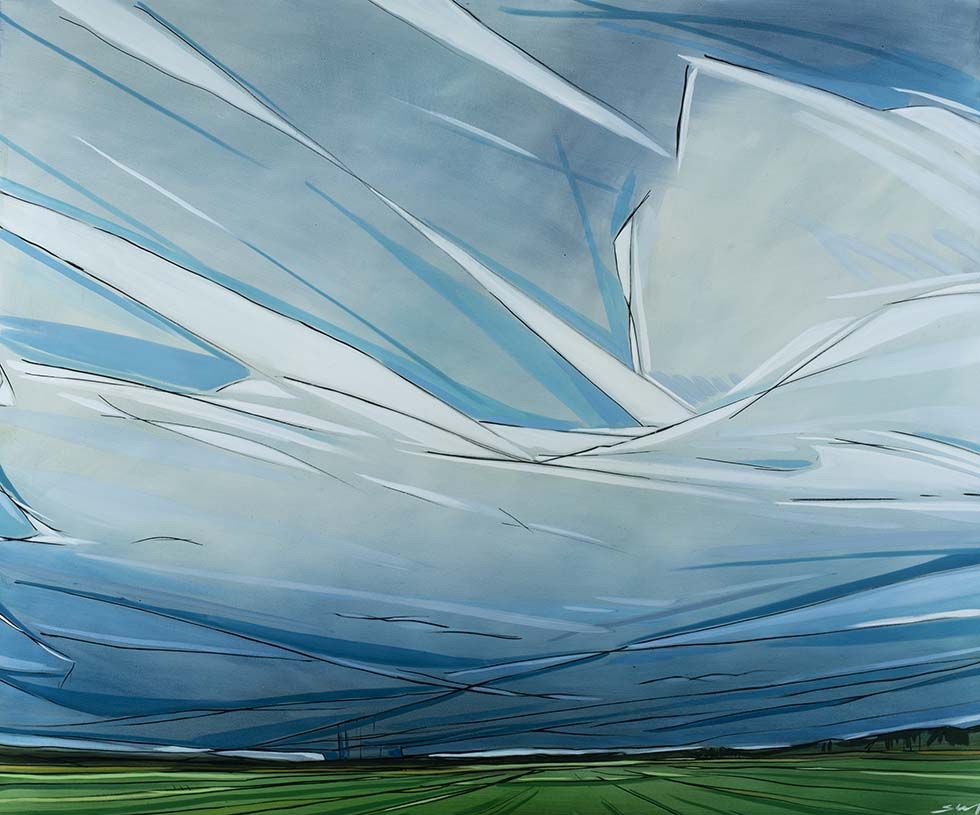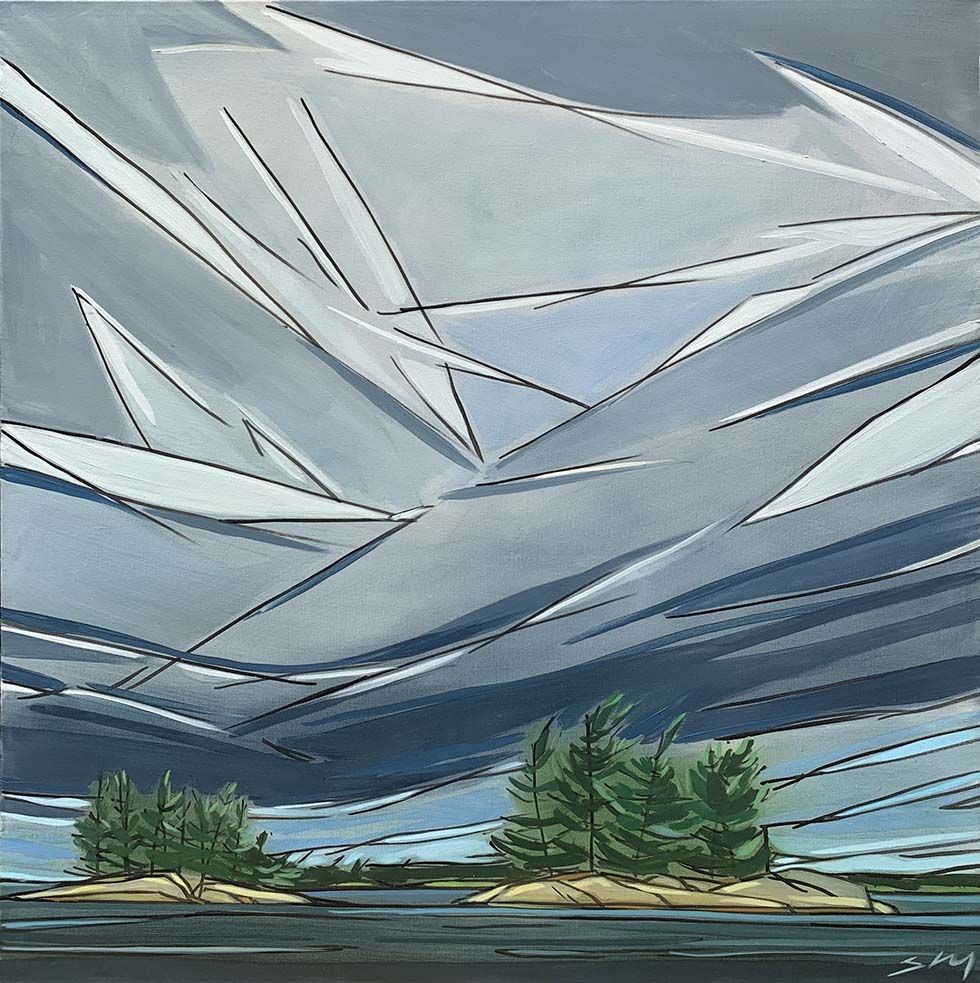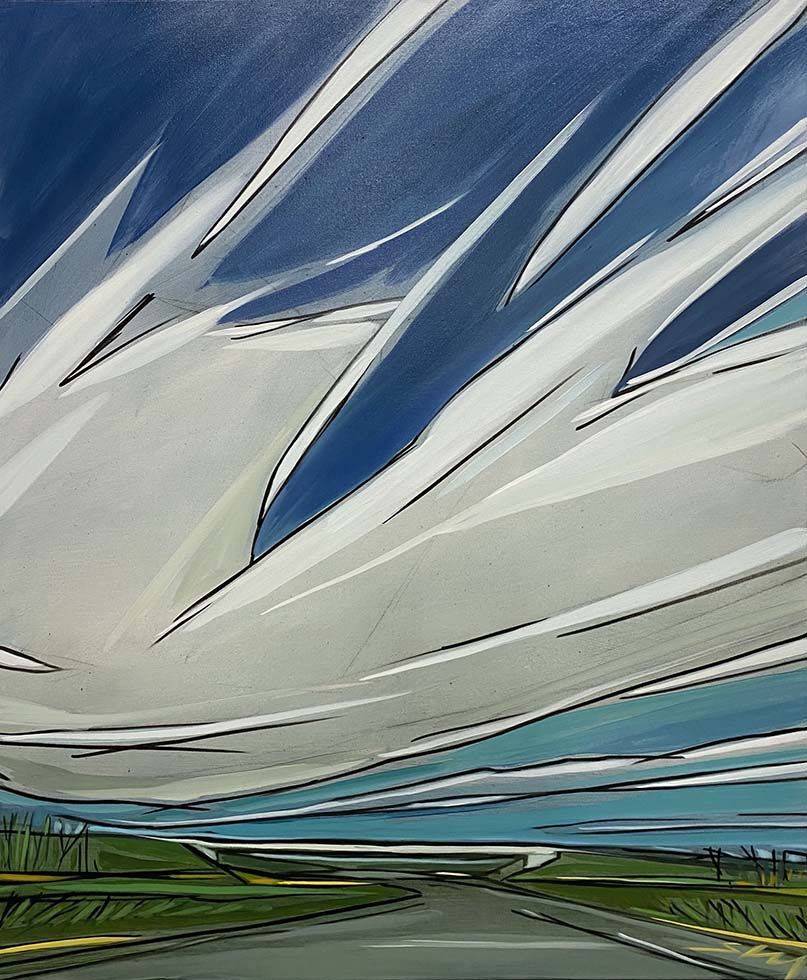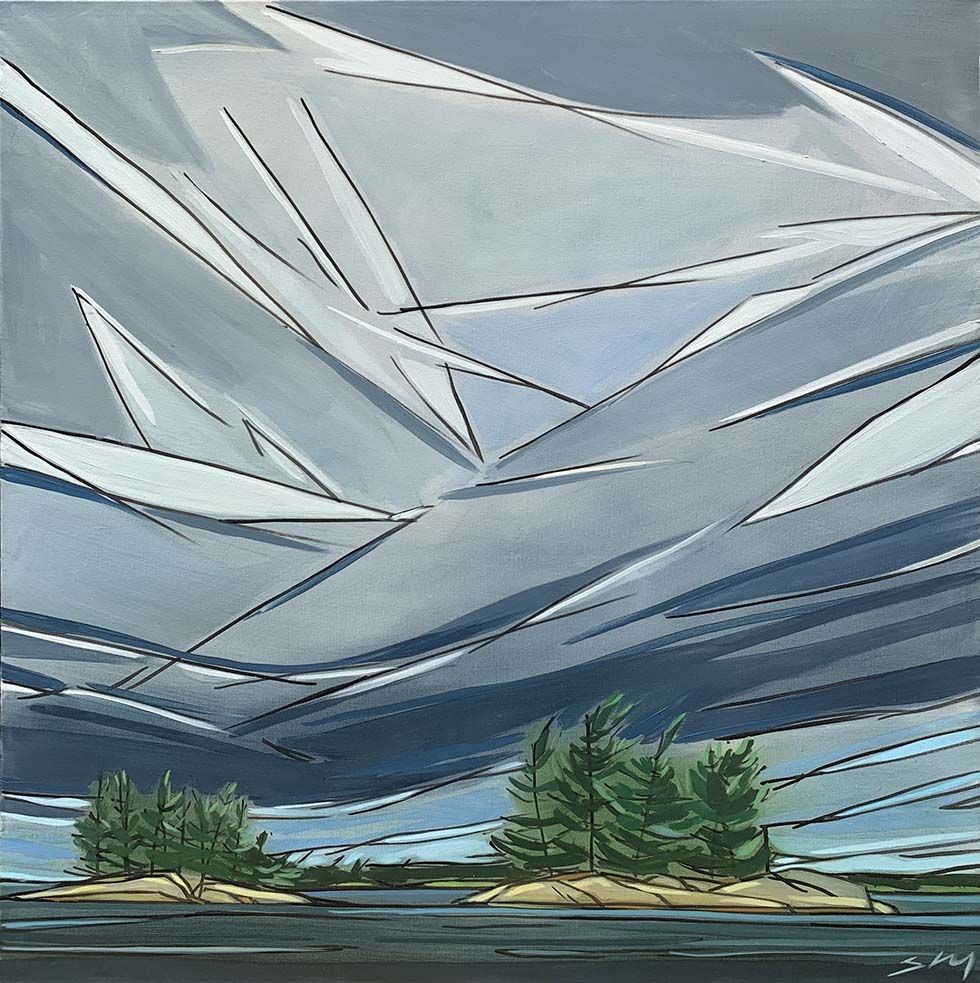 Looking ahead at what might be next on her horizon Shannon plans simply, to continue to create work. "It's a very personal experience not connected to selling or other influences. It's me in the moment applying paint like marking time. Sometimes I'll be listening to music while I paint and the song and the painting are in the same part in my brain connecting by memory."
Shannon's work is represented in private, corporate and public collections throughout Canada, the U.S., the U.K., and Ireland.
Find her work:
Craig Gallery, Meaford 
Loch Gallery, Toronto 
Koyman Gallery, Ottawa
Christina Parker Gallery, St. John's, NL