At the age of 18 identical twins Anastasia and Svetlana Koretskaya moved to Canada from Murmansk, Russia. The pair longed to make a better life for themselves and ultimately, their parents, who hoped to one day emigrate to Canada and join their daughters. In 2014 the Koretskaya sisters purchased a wooded lot in the Town of the Blue Mountains and embarked on a lifelong dream to build a family home for their parents' retirement. The design and build process proved challenging and was marred with disputes and conflicts with the builder. Amid the turmoil with the house, the family met with a heartbreaking turn when Svetlana was tragically killed in a motorcycle accident. Anastasia was faced with an incomprehensible dilemma—see the project through on her own or cut and run.
Anastasia and Svetlana chose to settle in the Blue Mountains due to its proximity to the beaches, Georgian trail and Blue Mountain. Because their father is an avid angler they knew he would relish on the rivers and lakes nearby. Once they found the ideal building lot (complete with its very own rambling stream, mature trees and serene privacy) the sisters wasted no time in hiring a builder/architect they met through a friend. "We had very high hopes because his original drawings revealed a beautiful dwelling," remembers Anastasia. But as the build progressed they noticed clumsy errors and inconsistencies which called into question the quality of workmanship. Eventually the project's complications led serious clashes with the builder. "For this and many other reasons, I am reticent to mention the original builder's name—our relationship is still highly contentious," says Anastasia.
"In the midst of this very difficult adversarial situation, my family and I suffered the worst tragedy when my twin sister was killed in a motorcycle accident. It goes without saying that this event derailed everything and sent me and my family into a spiral of profound grief the likes of which cannot be put into words."
In the horrific months after her sister's death, Anastasia still held hope that the builder would come correct, address her concerns with the craftsmanship and make it right. "It became clear that he would have neither the capacity nor the expertise to fix what needed fixing," remembers Anastasia. "All the while the house was sitting empty, with too many problems to list, and no occupancy permit."
With limited resources and a looming legal battle, grief-stricken Anastasia vowed that despite the challenges, she would see the project through; "I would complete the house in my sister's honour, just like we originally planned."
Thanks to a building warranty payout from Tarion Warranty Corporation, Anastasia was afforded the opportunity to fix the mistakes of the previous builder and complete her family home. "The process to obtain the warranty payout was arduous but, in the end, we did receive a payout," says Anastasia. Her husband Gus introduced her to Wayne Robbins, an award-winning builder out of Toronto. "Wayne heard my plight and generously offered his help and experience to get me the right contractors to finish the job.
Without Wayne we would not have been able to find the excellent contractors who eventually corrected the deficiencies and saved the house."
A focal point for entertaining, the generous kitchen island with its icy quartz countertop is flooded with light from two overhead skylights and dual copper pendant lights from Swell by Pablo Designs. "We wanted the house to be ideal for entertaining and also very comfortable," notes Anastasia. "Thoughts of weekends with friends siting around an outdoor fire pit, enjoying hot cocoa by the fireplace in the 'womb chair' and a cozy breakfast with everyone gathered around the kitchen island."
"In the beginning the house was cold and dark with a lot of grey accented walls. I decided to paint everything white and lighten up the floors." With the walls now adorned in the neutral Benjamin Moore shade "Chantilly Lace" Anastasia limited the accent walls to a slate backsplash in the kitchen. The result is sophisticated elegance and understated luxury.
The live edge Freeform Suar wood dining room table is anchored by modern Saarinen tulip chairs—their smooth modernism lines and deep red cushions compliment the "womb chair". A unique spiralling aluminum pendant lamp from Pirce by Artemide and designed by Giuseppe Maurizio Scutellà, hovers above the harvest table. "It took a while to find the right light for the dining room," says Anastasia. "When I saw this one, I immediately loved it. It reminds me of floating clouds."
Two Fountainhead-esque paintings float above Colton occasional chairs from Van Allan Design in Collingwood, while at the foot of the harvest table hangs a painting by Toronto Sara Petrcich, aptly entitled "Strength".
The master bedroom, which is inhabited by Anastasia's parents, features automated black-out shades from Ashton's Blinds, which ensure a good night's rest. Pops of yellow enliven the space while a linear painting entitled "Verve" by Southampton artist, Darlene Watson, floats above the king-sized bed. The adjoining en-suite features a spa like shower and soaking tub with granite tiling and glass encasement. Anastasia explains that after the first round of construction the house was still settling and the original tile cracked so she replaced the dark and gloomy flooring with engineered luxury vinyl in "Mykonos" which is resistant to moisture. In-floor radiant heating throughout the home adds warmth with every step.
Off the main living room, a cozy, compact office/ den invites inspiration and reflection with more unobstructed views of the densely forested lot. "Yes, it's small," says Anastasia. "But it's a lovely workspace."
Although she is not a trained decorator, Anastasia's design vision was clear. "I got most of my inspiration from magazines and Pinterest. I very much like Scandinavian style; minimalist with clean lines but also, comfortable." The design concept all started from one chair—a crimson mid-century "womb chair" by Knoll, which supports countless positions and offers a comforting oasis of calm— hence the name. "I wanted to find something for this corner of the living room," says Anastasia. "The womb chair fits perfectly and I love the little bit of red. I chose everything else based on this chair. My husband has a deep love of mid-century furniture design and that coloured my sensibilities as well and I opted for a mix of modern and classic postmodern."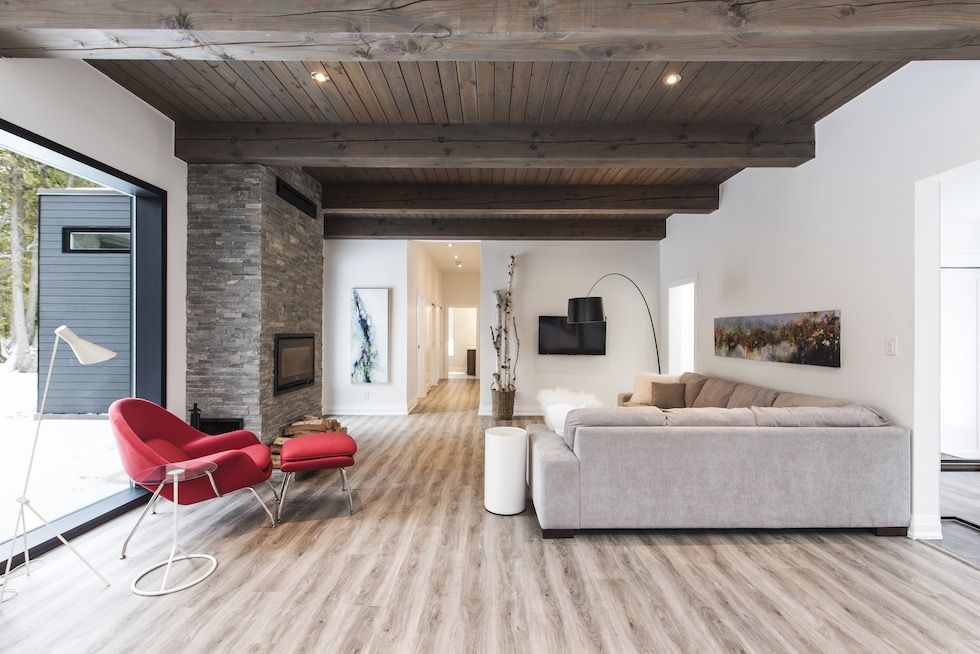 "It was all bush when we bought the land, so it was really hard to envision a home here," remembers Anastasia. The relatively compact footprint of the dwelling means the surrounding lush forest takes centre stage in every room of the house, due to the incredible floor to ceiling windows by Cedarport Window and Door Centre in Thornbury. No doubt Howard Roark (another Fountainhead reference) would approve of the architectural flat roof and modernist stone and panel siding exterior. "My sister never got to see this, but our vision was to build a dream home for our parents and we wanted them to fall in love. Every time I come here, I fall in love."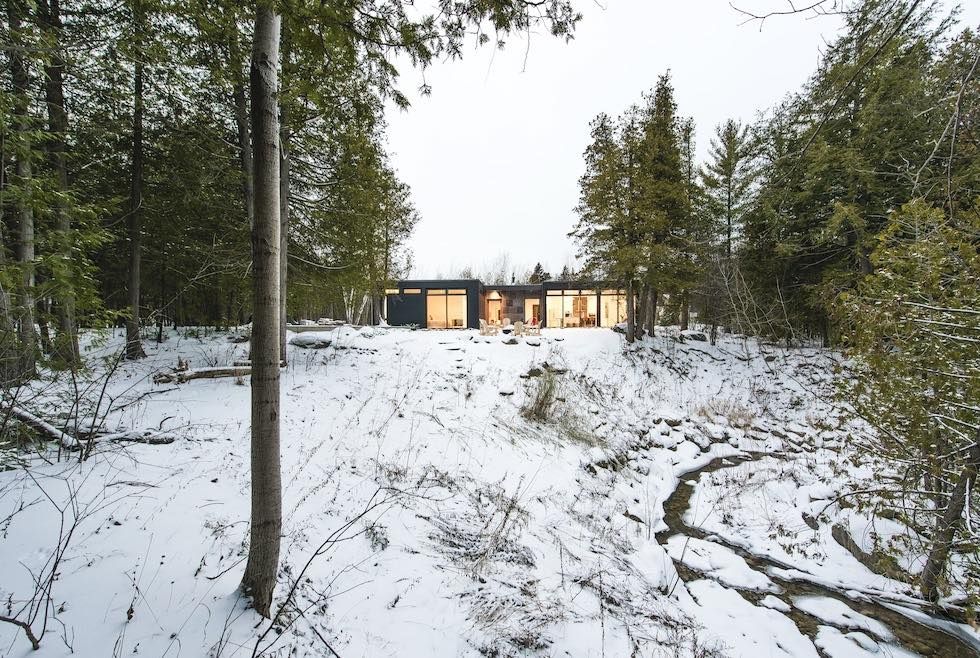 "After the house was finally completed, I was able to do the landscaping," says Anastasia. "The Landmark Group helped to design a beautiful solution for our property, one that continued the integration of the house into the surrounding environment." 
Although she is still grieving the loss of her sister, Anastasia is beyond proud of the finished result. This 2,100 square foot home, which sits on a 1.5-acre wooded lot, is a haven of healing, a stunning tribute to Svetlana and the fulfilment of a dream for her parents.
"Although I can call our Blue Mountains home a success now, the years that led to the design and build of the house were steeped in challenges and even tragedy." Like a phoenix rising from the ashes, Anastasia's Blue Mountains home, which was once tarnished by conflict and heartbreak, is now a haven of healing, reflection and relaxation. "I'm really pleased that I get to tell our story and show off our home after so many difficulties we endured with this build," says Anastasia. "This house was a source of conflict and stress for much of its creation but also it holds so many of the beautiful memories we had in it with my sister. I think of my twin sister always but especially when I see this house. She would have loved how it ultimately came out." |E|
Source Guide…
Builder who saved the project – Great Gulf, Toronto
Interior Décor – Anastasia Koretskaya (homeowner)
Stone Masonry – Beaver Valley Stone, Maple
Windows – Cedarport Window and Door Centre, Thornbury
Roof & Skylights – Dominion Roofing Inc., North York
Window Coverings — Ashton's Blinds, Draperies, Shutters, Thornbury
Appliances — Bosch
Tile — Weston Flooring, Woodbridge
Light Fixtures — Dining Room fixture: Pierce ceiling light by Artemide
Kitchen Island pendants — Swell by Pablo Designs
Furniture & Accessories — dining table: Freeform Table in Suar wood
Saarinen Tulip chairs, Lounge chair by the fireplace: 'Womb chair' by Knoll
Artwork — 'Vertical Horizon' on birch canvas Darlene Watson (by fireplace)
'The Ridge' by Darlene Watson (above couch)
'Verve' by Darlene Watson (master bedroom)
Fireplace — FP 12 Mundo Wood Fireplace by Valcourt Inc.
Landscaping — the Landmark Group Inc., The Blue Mountains
Building Warranty — Tarion Warranty Corporation, North York
Property Maintenance — Tim Reid, Thornbury