Salmon, Beets & so Much S'More!
by Sous Chef Jhi Somying, 
The Pottery & Jozo's Original Après,
photography by Clay Dolan
Thai by birth, Jhi Somying moved to Canada at the age of 12. Living in the small beach community of Harrison Hot Springs, British Columbia, Jhi developed a deep appreciation for cuisine. "I came from a family that loves food and bonded over the creation of our dinners—sitting together to discuss our day." By the age of 17 Jhi enrolled in culinary school, earning her Red Seal.
After graduating she trained in kitchens across British Columbia and Alberta. "I love learning new things," says Jhi. "To this day whenever given the opportunity, I want to learn new techniques, skills, and ideas to expand my knowledge in this industry. That is what excited me so much about coming to Blue Mountain—I didn't think twice about accepting the job."
Jhi started as a banquet sous chef at Blue Mountain—a position she excelled at. During the pandemic she was given the task of creating a menu for the new Summitview Pavilion restaurant. "I was proud of what I had created. I am now the Sous Chef of The Pottery and Jozo's Original Après and have enjoyed being back in the restaurant environment, it is very different from banquets and allows me a little more creativity daily."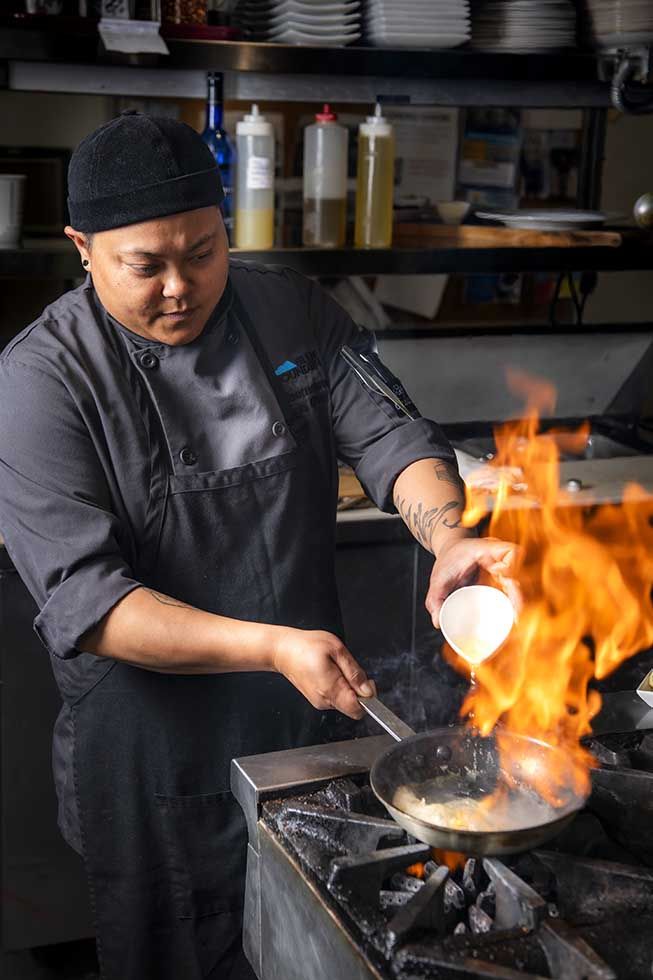 BEET CARPACCIO
"This dish is one of my favorites to create. It is inspired by my vegan friends, who taught me that not all dishes have to have butter, milk or meat—a meal can be as simple as slow roasted beets with salt and olives oil. Beet carpaccio is delicious, sweet, has amazing colour, and a tender texture." Serves one.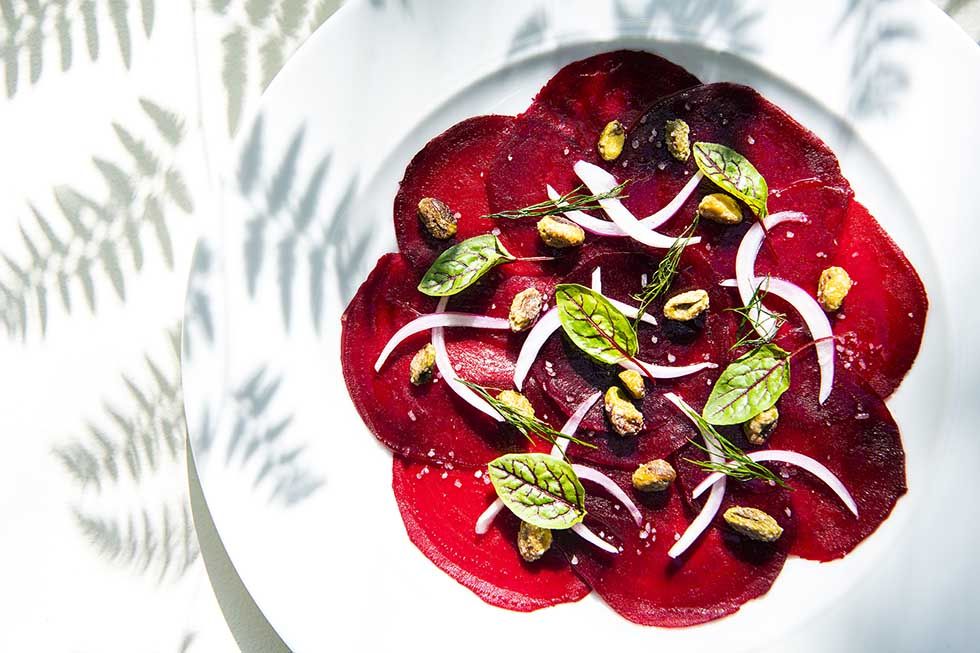 INGREDIENTS
1-2 red beets
20g candied pistachios
2g fresh dill
5g pickled red onion
pinch of sea salt
2g micro greens
2g arugula
1-1/2 Tbsp olive oil salt and pepper to taste
DIRECTIONS
Preheat the oven to 420°F. Remove beet stems and greens, then gently rinse and wrap beets in tinfoil. Place on baking tray and cook for 1 hour. Let cool inside foil. Once cool, peel skin and cut the beets into slices as thin as possible (or use a mandolin). To serve, place beets flat on a plate, add sea salt, olive oil, candied pistachios, pickled onion, fresh dill, arugula, and top off with micro greens.

PAN SEARED SALMON
Crispy on the outside, while soft, tender and flakey on the inside, this pan seared salmon is a favourite among guests at Blue Mountain's Pottery Restaurant. Finished with a silky, flavourful citrus beurre blanc sauce,Chef Jhi's dish is best enjoyed alfresco with friends and family. Serves one.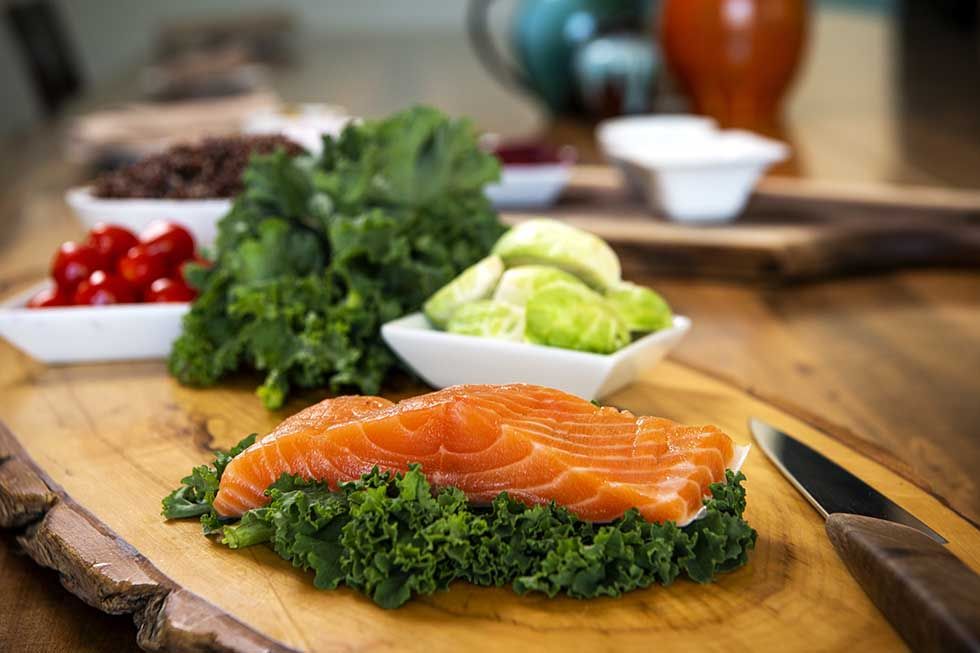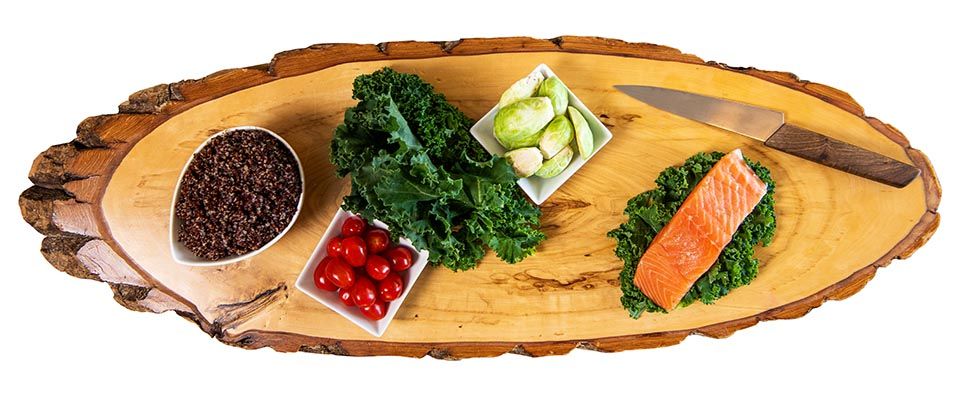 INGREDIENTS
59 ml dry white wine 
2g small shallots (peeled and minced)
168g unsalted butter 1 lemon 
6 oz Atlantic salmon
3 oz cooked red quinoa
28g brussel sprouts
2 fl. oz butternut squash puree
1/2 lemon
20g cherry tomatoes
salt and pepper to taste
1 fl. oz olive oil
5g unsalted butter 1g micro greens
DIRECTIONS
CITRUS BEURRE BLANC – In a small saucepan, add shallots, white wine, lemon juice, and black pepper. Bring to a boil and reduce heat to medium. Cook for five minutes until the liquid is reduced to approximately two tablespoons. Slowly whisk in butter. Season with salt and pepper to taste.
PAN SEARED SALMON – On medium heat, add olive oil in mid-sized frying pan. Season salmon on both sides with salt and pepper. Place salmon skin side down in the pan and sear for three to four minutes. In a separate pan heat olive oil and sear Brussel sprouts until golden brown and caramelized. Add quinoa and cherry tomatoes. Flip salmon and sear for an additional three to four minutes. Add butter and cook for an additional five minutes. To plate, spread warm squash puree then layer with brussel sprouts, quinoa, and cherry tomatoes, then top with salmon, citrus beurre blanc and garnish with micro greens and grilled lemon.
S'MORES
"Who doesn't love s'mores? This recipe reminds me of childhood camping trips with family. My brothers and I got very excited when my parents produced a packet of graham crackers and a bag of marshmallows. I created this recipe for Summitview Pavilion—I want everyone to feel like a kid again." Serves one.
MARSHMALLOW CREAM
3/4 cup granulated sugar
1/2 cup corn syrup
1/4 cup water
1/8 tsp salt
2 large eggs
1/4 tsp cream of tartar
1- 1/2 tsp vanilla extract 
DIRECTIONS – Combine sugar, corn syrup, water and salt in small saucepan over high heat. Bring to a boil, stirring occasionally, until the mixture reaches 240°C (using a candy/fat thermometer). Combine egg whites and cream of tartar in mixing bowl and whisk on medium speed until soft peaks form. Slowly add syrup to mixer and whip for one to two minutes. Refrigerate until needed (can be stored up to two weeks).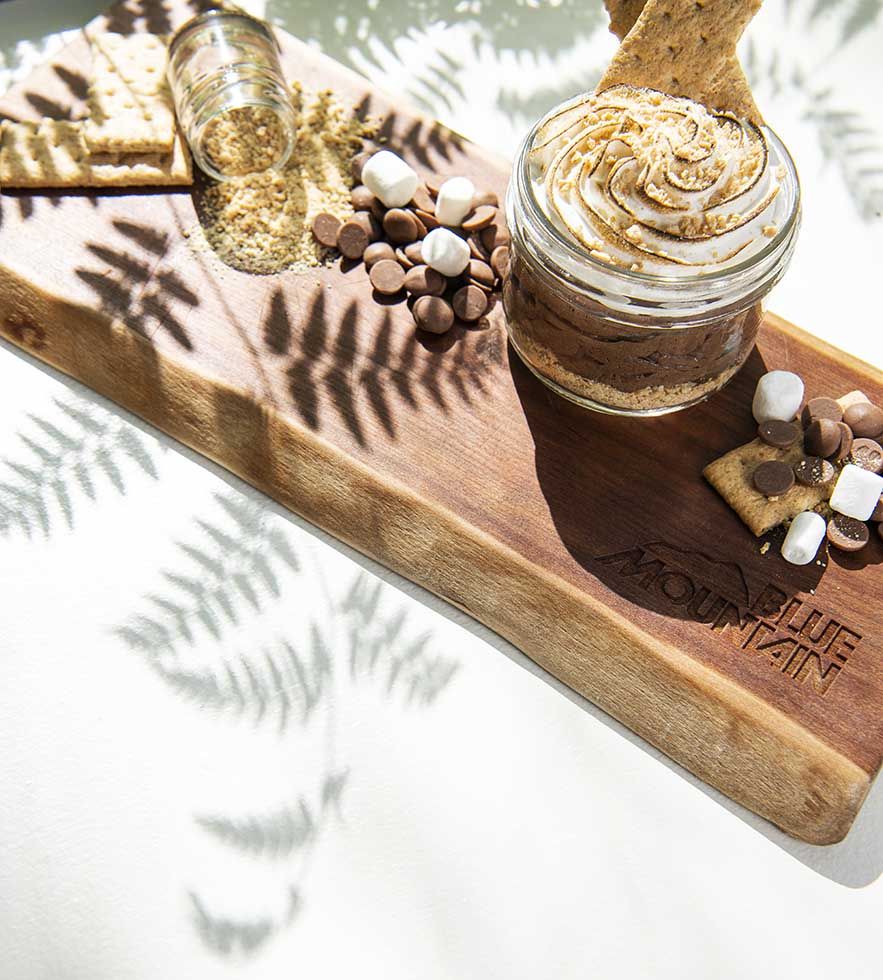 CHOCOLATE MOUSSE
4 large egg yolks
1/4 cup sugar
2-1/2 cup heavy whipping cream
8oz semi-sweet chocolate
DIRECTIONS – Beat egg yolks with electric mixer on high speed for three minutes until they thicken. Gradually add sugar. Heat 1 cup whipping cream in 2-quart saucepan over medium heat until hot. Gradually stir in egg yolk mixture. Cook over low heat for five minutes, stirring constantly until mixture thickens. Beat 1-1/2 cups whipping cream in chilled bowl on high speed until stiff. Fold whipped cream into chocolate mixture. Refrigerate until serving. To serve, layer marshmallow cream over chocolate mousse. Garnish with graham crackers.