Words by Cara Williams, Photos by Fraser Penny
Thousands of vessels, along with countless souls, have met their demise sailing the unpredictable, quick-tempered waters of the
Great Lakes. A veritable marine graveyard, the shipwrecks of Lake Huron and Georgian Bay have deemed it a world-class diving destination.
When Samuel de Champlain arrived at the mouth of Lake Huron in 1615, he was entranced with the beauty, as well as the enormity, of this freshwater lake. The second largest Great Lake by area and the third largest by volume, he named it, "La Mer Douce" which translates to, "The Sweetwater Sea." As the connector between the two upper and two lower lakes, Lake Huron has seen more marine traffic than any of the other four, but its ocean-like qualities (rolling waves, strong currents and immense depths) make for difficult sailing conditions. Add rugged islands and treacherous shoals and we can understand why the Sweetwater Sea has also been called something a little more ominous: a magnet for shipwrecks.
Gordon Lightfoot's ballad "The Wreck of the Edmund Fitzgerald" recalls the tale of how one ill-fated vessel succumbed to the Great Lakes in 1975. All 29 souls on board perished and it remains one of the worst nautical disasters on Lake Superior. Lake Huron's seafaring history is no different. Here, the splendour of our waters are in stark contrast to the dangers that await unsuspecting mariners who let down their guard, if only for a moment. In Northern Bruce Peninsula alone, there are over 20 schooners, steamers and barges buried beneath the waves; some dating back to 1852. With the establishment of Fathom Five National Marine Park in 1987, these shipwrecks are now protected. Whether diving with a snorkel or with tanks, Great Lake divers have a rare opportunity to gaze upon history—the cold, fresh water is an excellent preservative and the backdrop of the very rock formations that sunk these doomed vessels makes for an eerie experience.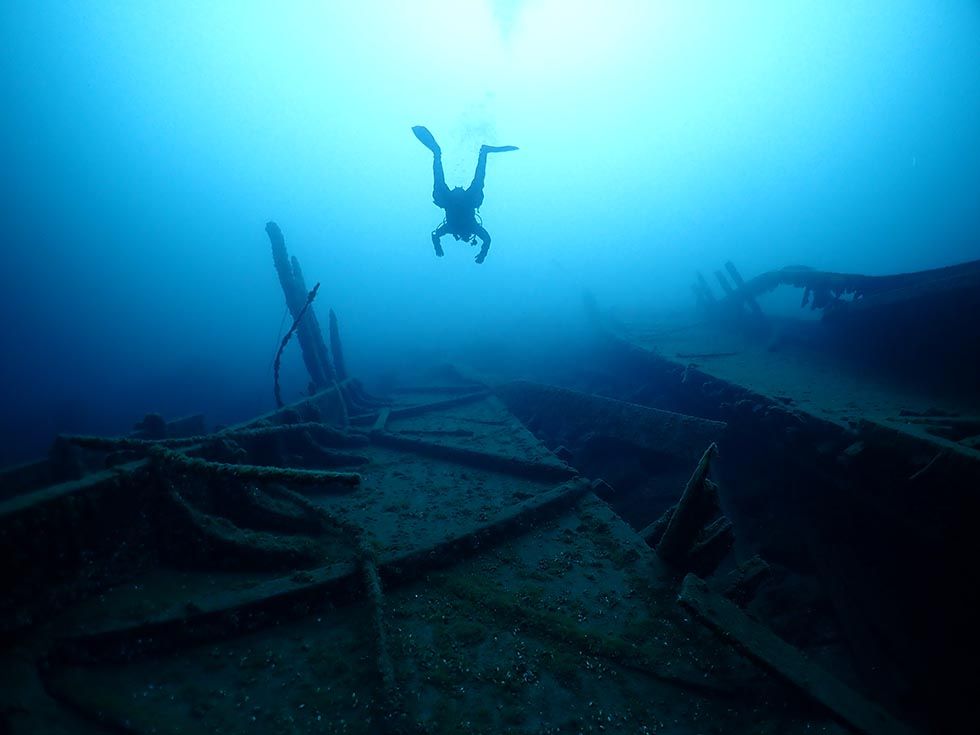 Fraser Penny grew up along the St. Lawrence seaway. He joined the Canadian Armed Forces at the age of 19 and after his third tour of duty in Afghanistan, he and a fellow veteran enrolled in a scuba diving course. He was posted to the Meaford base in 2015 and, upon hearing about the dozens of shipwrecks in the area, created a Facebook page to connect with local divers. He gained followers and attention with his incredible underwater images, and before long was diving with an experienced group. "The water clarity in Georgian Bay is excellent," says Fraser. "I'm not a trained photographer—I haven't taken any special photography courses, but my photos have turned out well because of the condition of the water."
Many of Fraser's images are captured within a depth of 20-50ft, with the exception of the dives off Northern Bruce Peninsula, which are between 60-120ft deep. Now residing in Owen Sound, Fraser often makes day trips to Fathom Five National Marine Park. "Tobermory is known as the shipwreck capital of Canada," he says. "There are 22 shipwrecks within a close proximity to each other. So, if you're looking for variety, that is one of the best spots. The clarity of the water is very good but the temperature isn't—it's always cold up there."
Shipwrecks are a major tourist attraction for towns like Tobermory. The meeting point of Georgian Bay and Lake Huron, almost all of the doomed vessels that sank here had something in common—desperation under harsh conditions, and the desire to seek safe harbour amid the many shoals and rugged islands that lurk here.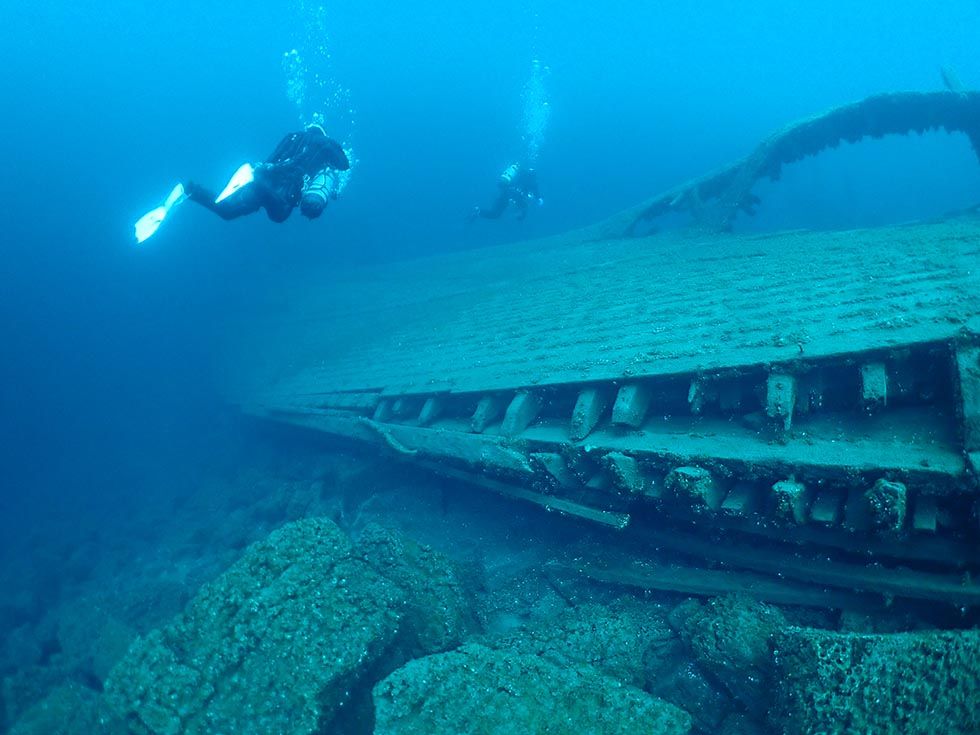 Fraser credits Great Lakes maritime historian and author Cris Kohl with piquing his interest in the stories behind the wrecks. Having written over a dozen books on the subject, Kohl was one of the shipwreck hunters who discovered the steamship Manasoo in the fall of 2018. There's a deep-rooted superstition among mariners that changing the name of a ship is the kiss of death—and the Manasoo's fate certainly adds to the folklore. Built in Scotland in 1888, the ship spent 39 years on Lake Ontario as the Macassa, carrying tourists and cargo between Toronto and Hamilton. In 1928, it was purchased by the Owen Sound Transportation Company and began ferrying passengers and cargo between Manitoulin Island and Sault Ste. Marie. The ship's name was subsequently changed to reflect the two communities it served; "Mana" for Manitoulin; and "soo" for Sault Ste. Marie. The vessel was on its last voyage of the 1928 season, sailing from Manitowaning to Owen Sound when she met her demise. At approximately two in the morning the Manasoo slipped beneath the icy surface of Lake Huron near Griffith Island, killing 16 of the 21 onboard, along with 116 head of cattle. The strong southeast wind and waves, combined with the shifting of the cattle cargo is believed to have played a role in her sinking.
At rest nearly 210ft under the surface of the water, the bow and wheelhouse of the Manasoo are still very much intact. The vessel is embedded up to its railings in the muddy bottom of the bay, with its bow pointing proudly towards the surface. Perhaps more impressive is the 1927 Chevrolet Coupe that remains eerily intact in the ship's cargo hold. Ownership was later verified by Ontario DMV's database as registered to Donald Wallace, a butcher who also owned the cattle on board. Wallace was one of only five people who survived the tragedy.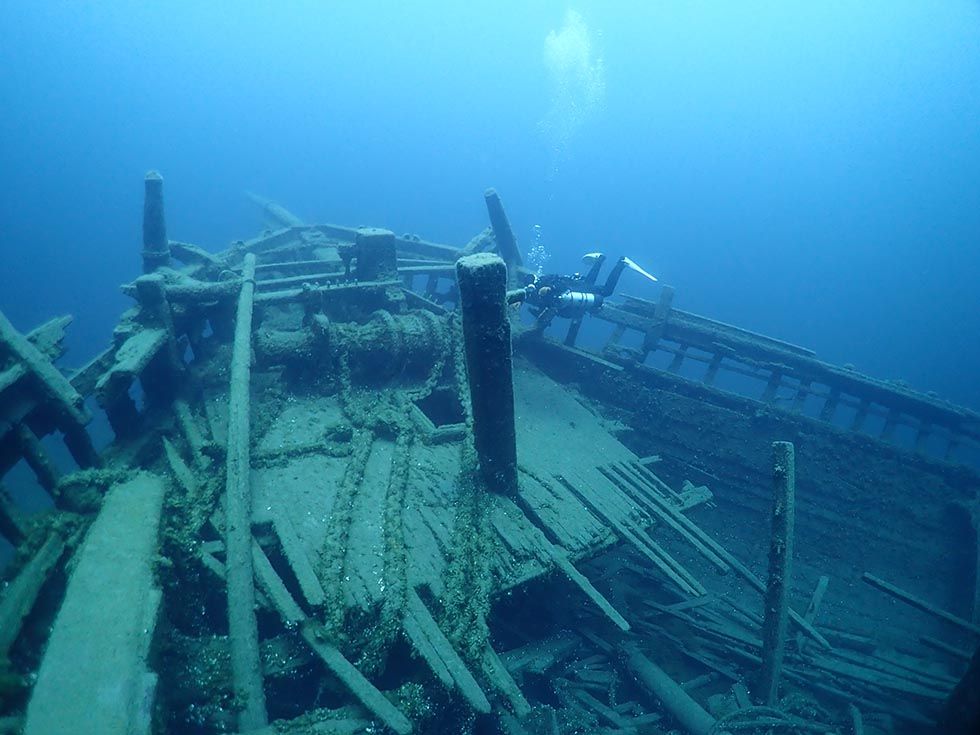 One of Fraser's preferred wrecks to dive is the 216ft, three-masted wooden steamer, Forest City. Forest Citysank in June 1904 after running full-steam into the eastern tip of Bears Rump Island in a dense fog. She rests on a steep slope and the wreckage lies between 60-150ft deep. This wreck commands respect as it is responsible for several fatalities in Fathom Five National Marine Park.
Scuba diving is a niche sport, but within scuba diving, technical diving is effectively a niche within a niche. Depth and cold are the contributing factors to the majority of diving related deaths. Diving to wrecks as deep as the Manasoo and Forest City are considered 'technical'. "A recreational diver can only dive to 130 feet," explains Fraser. "Beyond that you're dealing with different gas mixtures. When you're going down to deeper wrecks on technical dives a lot of things can happen. A lot can go wrong. You need to have experience in cold water and know who you're diving with. It's important to have good dive partners who are on the same level as you. Taking pictures is always secondary to the dive—you have to keep your head about you and be aware."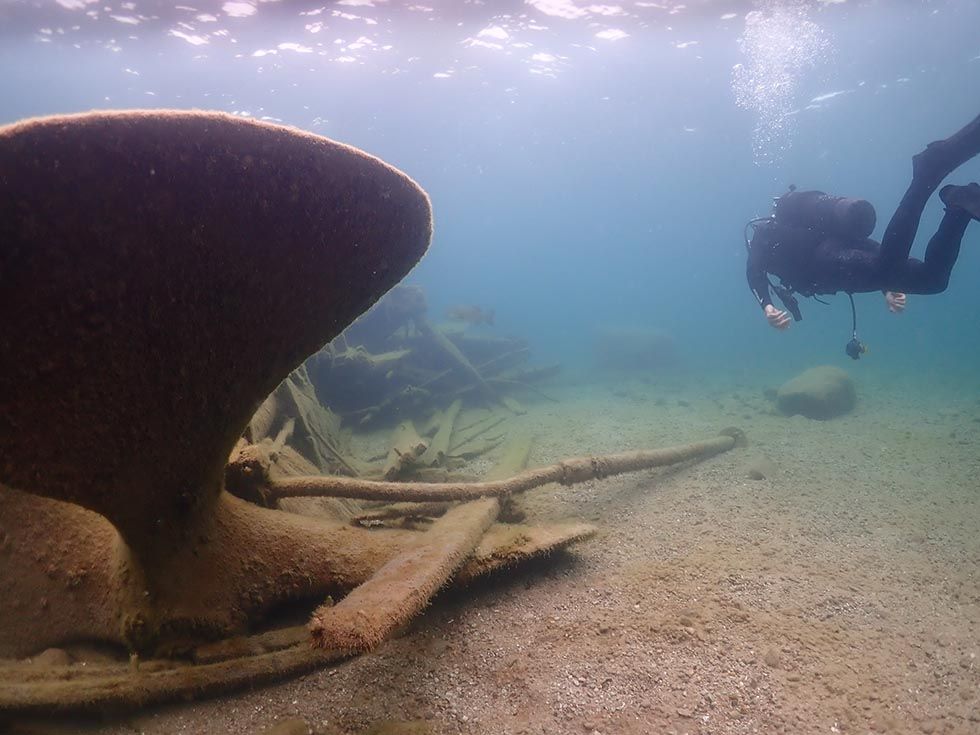 Another of Tobermory's more challenging dives is to the Arabia. This three-masted barque was built in Kingston and sank off Echo Island in October 1884. The 132ft wreckage is considered to be in good condition, especially the bow section with bowsprit, windlass and anchors. It lays very deep at a maximum depth of 120ft and because of the strong underwater current it is only recommended for advanced divers.
Not all shipwrecks are as difficult to reach. The 129ft wooden steamer Mary Ward is a shallow wreck that can be viewed from the safety of your boat or paddleboard. The vessel is said to have veered off course and became irreversibly marooned on the smooth rock ledge of Milligan's Reef (now called the Mary Ward Ledges), just two kilometres off shore from Craigleith. Some suggest that the Captain didn't know the waters, while others suggest he may have been under the influence of alcohol. No official statement can be found to confirm or deny either scenario, but the final sailing of the Mary Ward was reportedly joyful—the voyage filled with singing and merriment from both passengers and crew. Regrettably the ship was well off course, heading east at full speed when she hit the shoal near the Nottawasaga Island Lighthouse (which could be seen for 40 kilometres in clear weather). Today only the boilers, heavy planking, engine parts and a few metal fragments remain. They sit 10-15ft below the surface of the water and are easily accessed by snorkelers.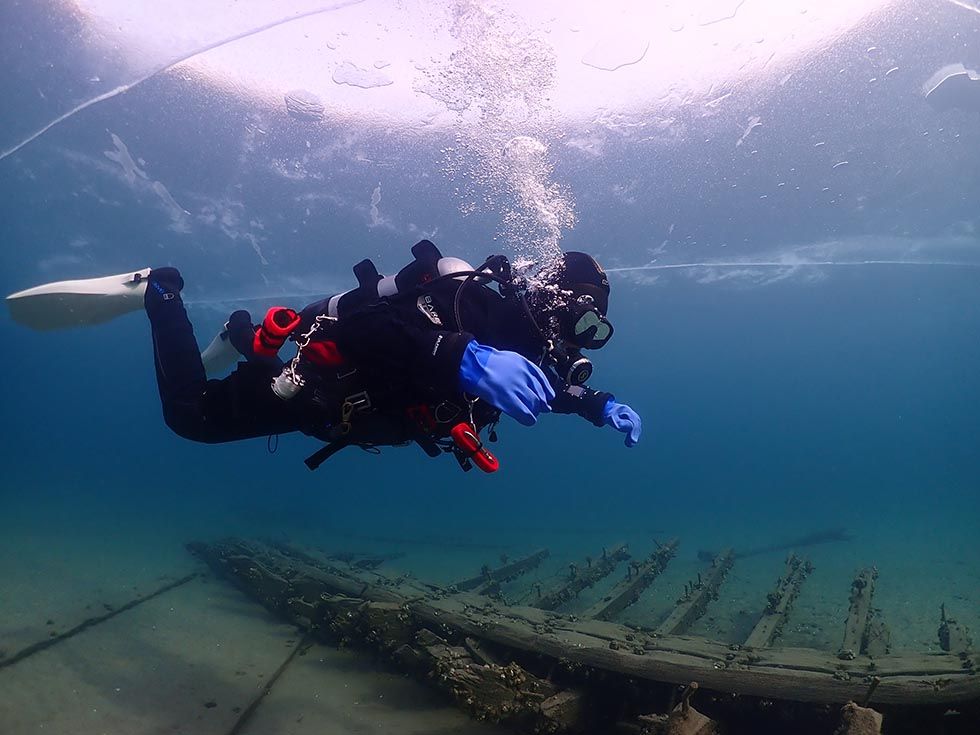 Although the demise of many ships is attributed to poor weather and even worse luck, in some cases vessels live out their last days in boneyards where they are humbly moored in backwaters until they sink. Sweepstakesschooner was damaged off Cove Island, Northern Bruce Peninsula, then towed to Big Tub Harbour in Tobermory, where it eventually sank in September 1885. Only a few hundred metres to the south of the Parry Sound town docks is "Boneyard Bay". Here, several boats including the Sailor Queen were towed out of harbour and burnt as a method of disposal. What is unique about this watery graveyard is that most, if not all of the vessels here were scuttled—meaning they were salvaged then towed to their final resting place. The boneyard is visible from the end of the Parry Sound docks.
Like many amateur photographers Fraser says he began snapping shipwrecks to share his adventures with family and friends. "So many people have lived in this area their whole lives and don't really know what's in the water. There's so much marine history it's unbelievable." He shoots with an Olympus TG-5 with a Kraken wet wide angle lens and doesn't use lights or strobes. "I don't do anything special, I just enjoy the dive." He credits water clarity and sunlight with successful images, but evidently, he has an eye for interesting subjects—and the diving skills to match.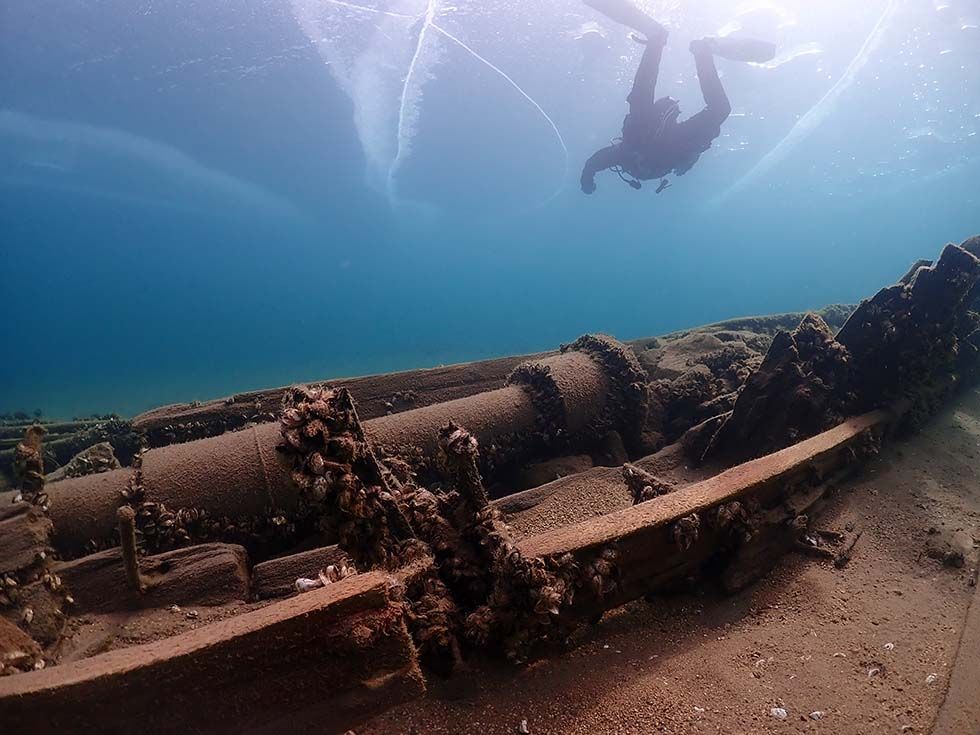 Regardless of your experience as a diver or snorkeler, Lake Huron and Georgian Bay are a premiere destination for marine history enthusiasts tempted by the curiosity factor of where, why, and how these vessels met their demise. With tanks or without, shipwreck hunters are reluctant to surface with so much to see. Violent storms may have left masts and hulls broken and scattered, but massive antique timbers, boilers and props remain intact, providing a glimpse into the nautical history of the Great Lakes. There are few places in the world where one can experience so many well-preserved wrecks in such a small geographical footprint. "There's probably a lot more down there that we haven't found yet," says Fraser. "It's just a matter of time."