Family Fare
By Tyler Hickling & Tierney Hill, Photography by Clay Dolan
The origin story of Sterlings Restaurant in Thornbury is inspired by family—at first glance the historic building at 15 Harbour Street (formerly a CCM skate factory) reminded Tyler Hickling of his grandfather's printing press, Sterlings Lithographers. "As soon as we saw the old red brick and the industrial character of the building it felt like home," says Tyler, General Manager. "Some of my fondest memories of growing up was visiting Sterlings. Later we would sit around the dinner table and share stories from the day. My parents and grandparents instilled the value and importance of family gatherings. Paying homage to the past and celebrating kin is at the core of everything we do here."
Situated in the heart of the Blue Mountains, with indoor/outdoor waterfront dining, Sterlings Restaurant has a casual Mediterranean dining vibe and features a boutique marketplace with curated goods and locally sourced products. Menu items are inspired by friends, employees and those who have helped pave the way for Sterlings, including Co-Manager, Tierney Hill. Serving home-cooked meals made with only the freshest ingredients, Sterlings is delighted to share three spring inspired recipes with Escarpment.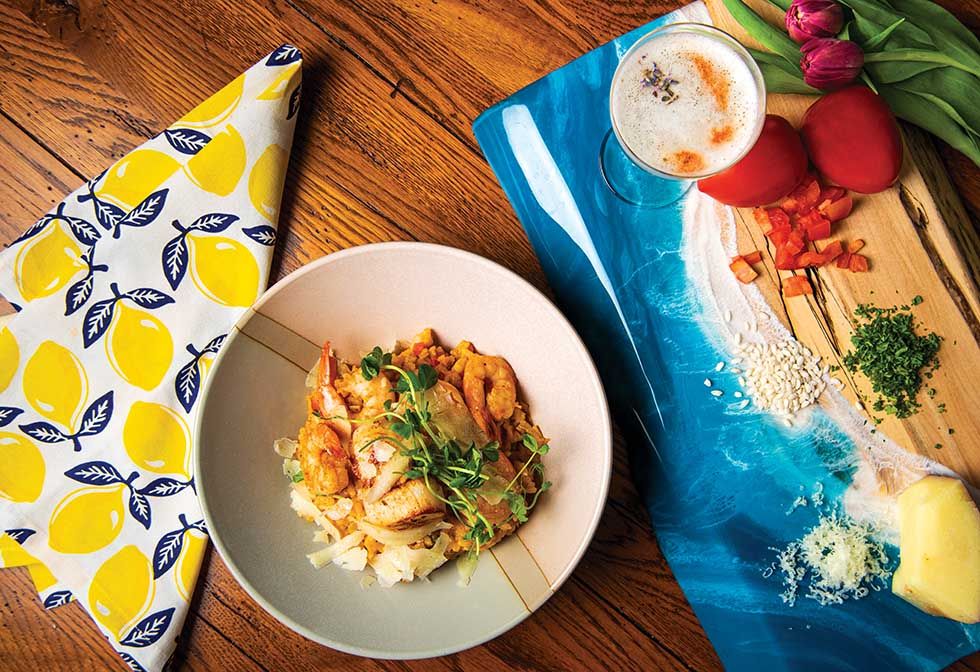 Spanish Seafood Risotto serves 4-6
"Risotto is one of my favourite dishes to cook for my family," says Tierney. "I love opening a bottle of wine and immersing myself in the food I'm preparing. After a visit to the Spanish island of LA Palma, we fell in love with Spanish variations of the traditional meals."
INGREDIENTS
4 cups seafood broth
1 tbsp olive oil
2 tbsp butter
1 Spanish onion, diced
3 cloves of garlic, minced
2 cup Arborio rice
1/2 cup dry white wine (suggested: Macabeo)
1 roma tomato, diced
1 tsp salt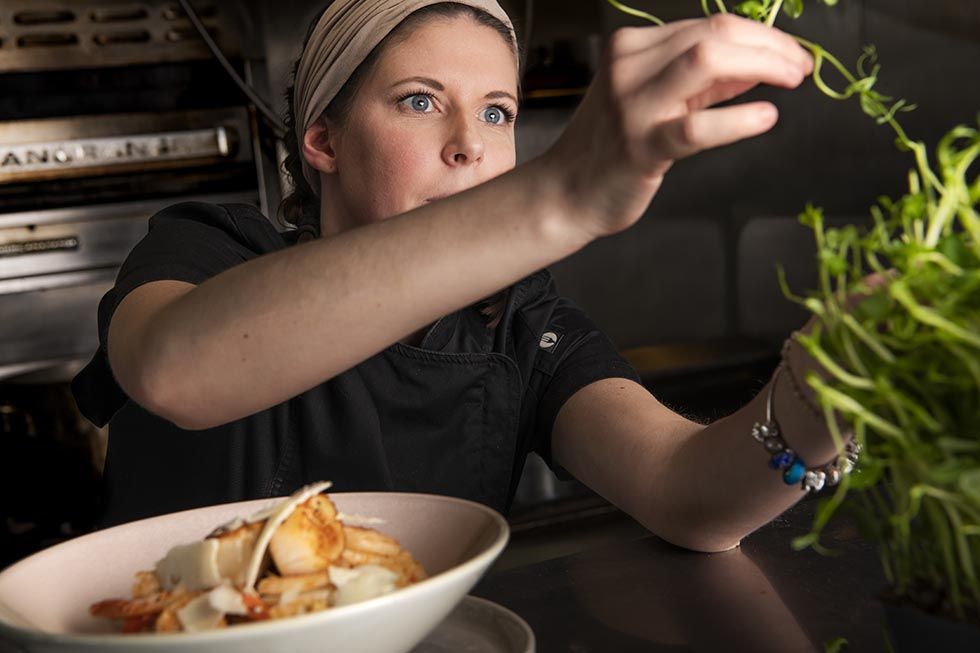 1/2 tsp pepper
1/4 tsp cayenne
1/4 cup parsley, finely chopped
1/4 cup Manchego cheese, grated
1/4 cup scallops
8 jumbo shrimp *or substitute mussels, lobster, clams
2 tbsp butter
1/2 tsp salt
1/2 tsp pepper
2 tsp paprika
METHOD
Bring Seafood Broth to a boil, and then simmer. In a separate pan, heat olive oil and butter. Add diced Spanish onion and cook until browned and translucent. Add minced garlic. Add Arborio rice and cook until toasted. Once toasted, add your favourite Spanish dry wine and simmer until absorbed. Once absorbed, add diced roma tomatoes. Cook for 3-4 minutes. Season with salt, pepper and cayenne; stir to incorporate. Add seafood broth, ½ cup at a time, allowing broth to absorb before adding more. Once all liquid is absorbed and rice is cooked, add parsley and Manchego. Heat butter in a pan. Season seafood with salt, pepper, and paprika. Add shrimp to butter and cook until bright pink. Add scallops and cook until tender. Stir butter and seafood mixture into Risotto pan.
MILLO'S DUCK CROQUETTE Serves 2-4
"From the age of two my daughter Millo has loved duck," says Tierney. "She loves to weigh in on menu ideas and inspiration—usually accompanied by a thumbs up, thumbs down, or a "so-so" gesture. This dish officially received a thumbs up!"
4 duck confit legs, pulled
1 tbsp green peppercorns, crushed
1/2 shallot, diced
1 tbsp grainy mustard
1 tbsp hoisin sauce
1/2 cup panko
4 egg yolks, whisked
Salt and pepper to taste
1/4 cup Manchego, shaved
6 tbsp mayonnaise
2 tbsp hoisin
2 tbsp lemon juice
Croquette: Mix duck confit, green peppercorns, shallots, grainy mustard, and hoisin in a bowl until fully incorporated. Season with salt and pepper. Form into balls about 2″ in diameter. Should make 12 croquettes. Place in freezer. Whisk 4 eggs in a bowl. Once the croquettes are frozen, coat each in egg wash and then fully coat in panko. Heat a pan with enough oil to half cover the croquettes in the oven until it reaches 350°F (or use an air fryer). Fry coated duck, rotating to cook each side, for 10 minutes or until an internal temperature of 125°F.
Aioli: Mix mayo, hoisin, and lemon juice. Put three spoonsful of aioli on an appetizer plate, place croquette (recommended 3/person) on top, and garnish with Manchego.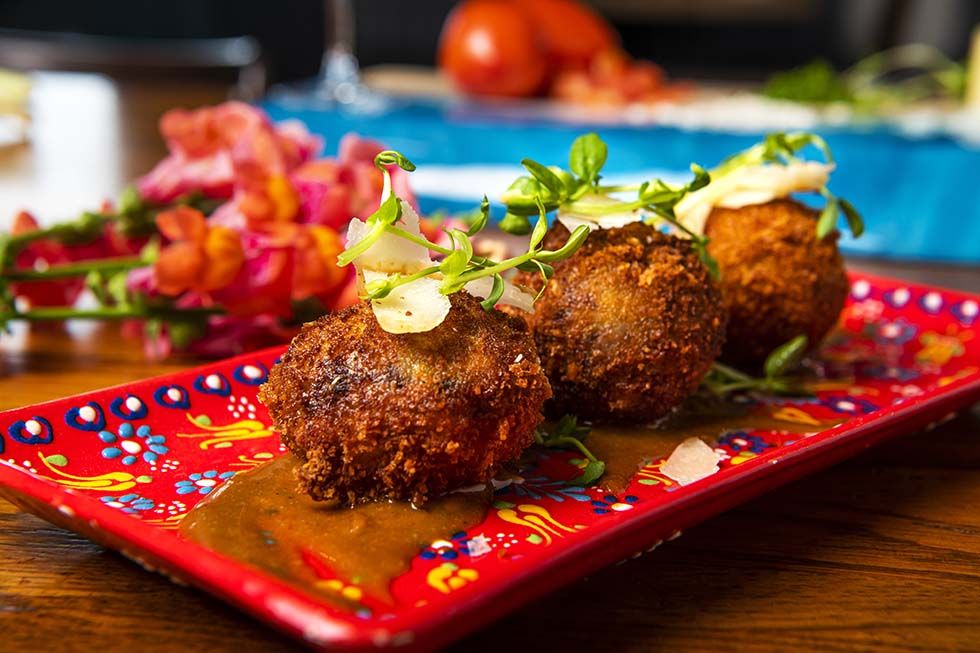 Chef's Ahi Tuna Ensalada serves 2
"Each day we offer a Chef's Salad feature at Sterlings," says Tyler. "In Spring our focus is on fresh and seasonal produce—plant based, raw foods, gluten free, pescatarian and vegan options. It is a priority for our culinary team to offer all those in our community an incredible dining experience without fuss."
INGREDIENTS 
4 cups of arugula (we prefer Sideroad Farms when available)
20 cherry tomatoes, halved
1 cucumber, diced
1 pomegranate, seeded
4 ahi tuna steaks (available in Sterlings Boutique Marketplace)
4 cups of cooked quinoa (recommend cooking in a seafood broth to add flavour)
1/2 cup rice wine vinegar
2 cloves garlic, minced
1/3 cup honey
2 tbsp soy sauce
2 tbsp wasabi paste
1 tbsp sesame oil
1 tbsp fresh lime juice
DRESSING METHOD
Whisk rice wine vinegar, garlic, honey, soy sauce, wasabi paste, sesame oil and lime juice until combined. Season with salt as desired, although not too much as the soy sauce adds a salty element.
PLATING METHOD
1 cup of arugula/plate as a base. Top with 1 cup of quinoa/plate. Pour one ounce of dressing over quinoa and arugula. Divide cherry tomatoes and cucumbers amongst the plate. Cut the ahi tuna steak into small cubes and place across the ingredients on the plate. Sprinkle pomegranate seeds. Pour another ounce of wasabi dressing across the tuna. Sprinkle with salt—our particular favourite is a rose hibiscus infused salt found in the Sterlings Boutique Marketplace.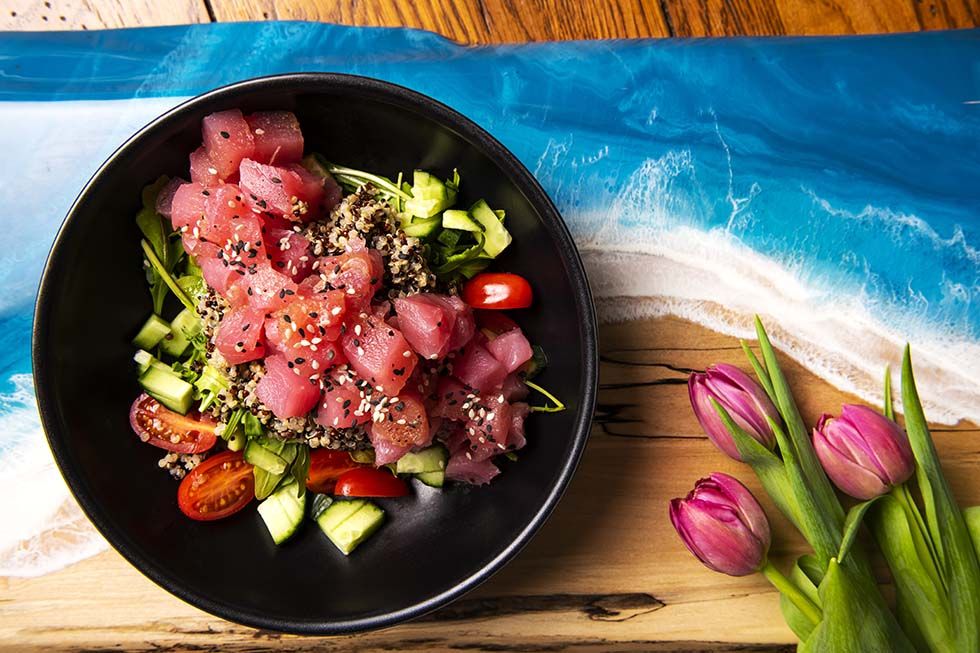 DECONSTRUCTED BANANA SPLIT Serves 4
"I am a big fan of food that is inspired by fond memories," says Tyler. "As a child I loved going to the local ice cream parlour and ordering a banana split. Traditionally this dessert is simple yet fun and with a twist it can be transformed into an elegant treat."
Chocolate delice
453g dark chocolate, melted
6 egg whites
80g unsalted butter
13g flour
13g sugar
8g sea salt
METHOD
Melt Dark Chocolate in a metal bowl, over boiling water. Mix egg whites, butter, and sugar in a stand mixer until light in consistency. Add melted chocolate to egg white mixture until combined. Add flour and salt. Pulse until fully incorporated. Line a small dish with baking paper (I like to use different shaped Muffin tins, fill ¼ to half way for circular shape). Bake at 110°F for 16 minutes. Cool in fridge for up to 24 hours. When ready to plate cut to the size of your liking or use a cookie cutter of choosing.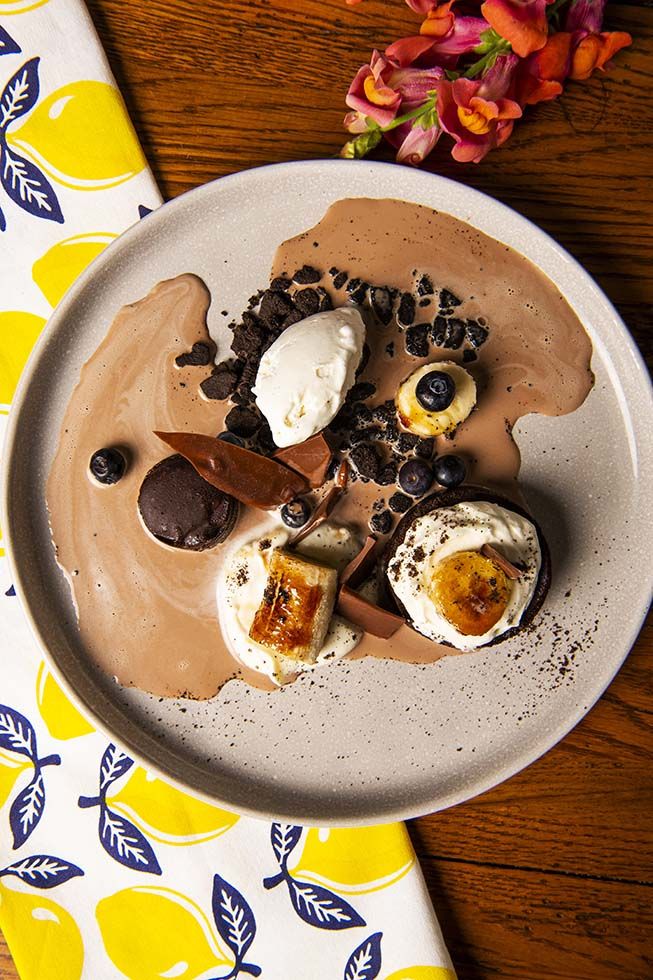 White Chocolate Mousse
267 ml cream
2 egg whites
200g white chocolate
METHOD
Melt White Chocolate in a metal bowl, over boiling water. Mix 2 egg whites in stand mixer and whisk until fluffy. Pour in melted white chocolate to the egg whites and mix to a smooth cream, or until light peaks form.
Milk Chocolate Sauce 
100g milk chocolate
200 ml cream
1/2 teaspoon cocoa powder
METHOD
Melt Milk Chocolate in a metal bowl, over boiling water. Bring 200 ml of cream to a boil and add 1/2 teaspoon of cocoa powder. Whisk in melted milk chocolate. Put into a container to pour over your dish once plated, serve warm.
Bananas Brûlée
4 Bananas
3 Tablespoons Sugar
Cut each banana into smaller pieces, recommended size like a marshmallow. Roll or sprinkle each piece of banana in sugar. For added flare, pour drops of brandy and watch the blue flame dance along the banana instead. Lay down or stand up bananas covered in sugar and use a torch to crystalize the sugar. Keep moving the torch back and forth or up and down. If it starts to blacken pull the torch away. If you don't have a torch, use a clean non-stick pan and medium heat and move bananas around to caramelize evenly.
PLATING METHOD
Begin with 1-2 pieces of Chocolate Delice. Place 1-2 dollops of white chocolate mousse on the plate, on top of the chocolate delice. Place bananas brûlée on top of the chocolate mousse, or on the chocolate delice. Place a tablespoon of crushed oreo crumb on the plate, creating a bed for the vanilla ice cream. Place vanilla ice cream on top of cookie crumb. Add personality to the dish; crushed peanuts, crushed cashew, chocolate bark pieces, fresh berries. Pour warm chocolate sauce on the plate to finish.