Lakeside Masterpiece
by Marc Huminilowycz / photography by Clay Dolan
Family is everything for a retired Toronto couple who've been coming up the Escarpment for nearly four decades.
It all began in 1987 when the couple bought a weekend retreat in Cranberry Village. Ten years later, looking for a larger home in which to spend more time throughout the year, they purchased a condo in Dockside, then later a chalet at Alpine Springs—the development at the base of Alpine Ski Club.
"Our children were getting older, having their own kids, and moving away, and we thought it would be nice to have a place where they could all come back," says the couple. "Alpine Springs was not big enough for what we desired, so we started looking for another place that would meet our needs."
As luck would have it, a vacant property with 166 ft. of Georgian Bay shoreline near Thornbury became available in 2019. The couple jumped at the opportunity to build a family retreat large enough to accommodate their growing family, which then included their three children, their spouses, and six grandchildren.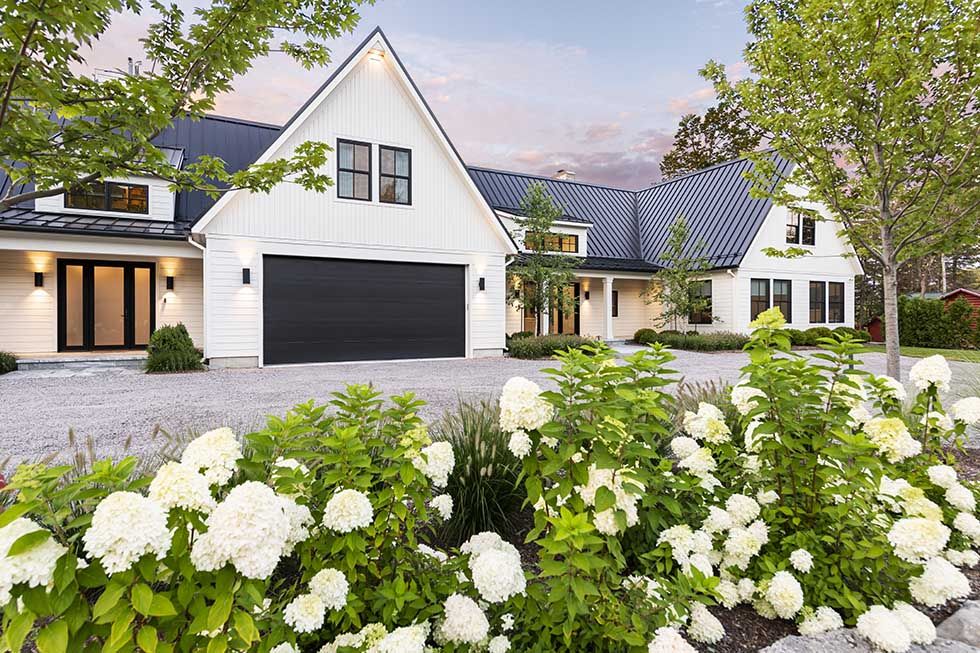 "We were looking for waterfront to make it a year-round retreat and the site matched all of our criteria; close to Alpine Ski Club, Thornbury, Collingwood, friends, hiking and biking. And, it was on a small, private street that we had not even heard about!", say the homeowners, who chose architectural designer Bradley (Brad) Abbott to help them realize their dream.
The couple showed Abbott pictures of what they had in mind, including high ceilings, lake views and lots of indoor/outdoor living space. Their must-have list also included a master bedroom on the main floor, numerous bedrooms with ensuite bathrooms and a separate family room where the grandkids could play, watch television and hang out with friends. Construction of the couple's 6,500 sq. ft. dream home began in December of 2019.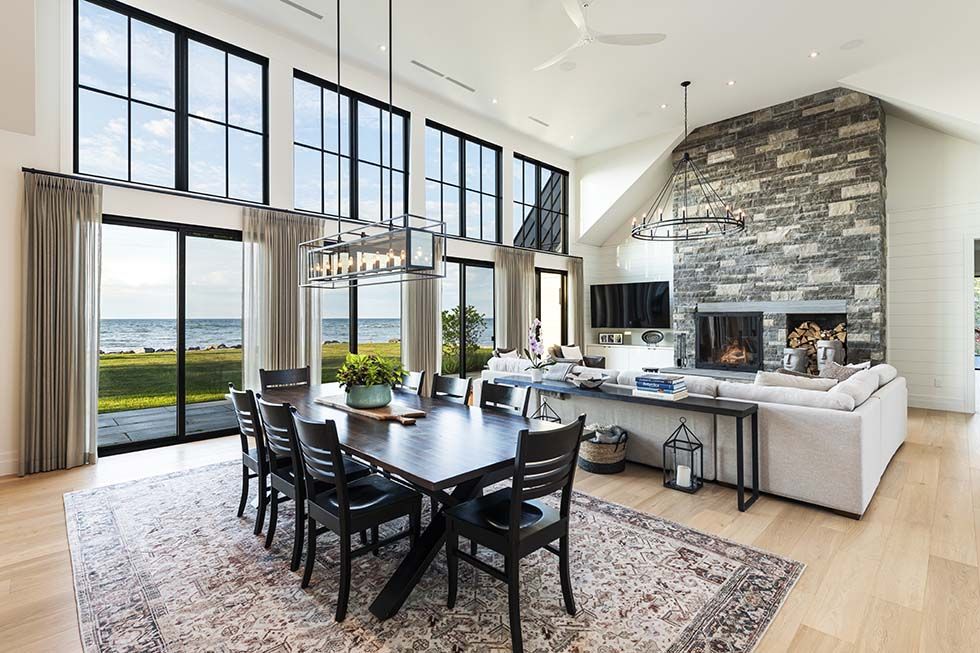 Stepping into the main entrance of the modern beach house, guests immediately enter a spectacular great room/gathering place with a panoramic, unobstructed view of Georgian Bay. A long hallway with expansive windows that flood the space with natural light, spans the full width of the home. The master bedroom suite and office are at one end, and the family quarters are at the other. "The 126 ft. hallway is the spine of the house that separates the water side from the front yard side, and all functional rooms are arranged along it," observes Brad Abbott. "Because it's so long, we felt that we should provide matching full-height and full-width windows at each end, so the hallway never seems to end. Instead of a blank wall, one looks outside to the trees. The homeowners love art, and the side walls of the hall serve as a gallery for their many interesting pieces."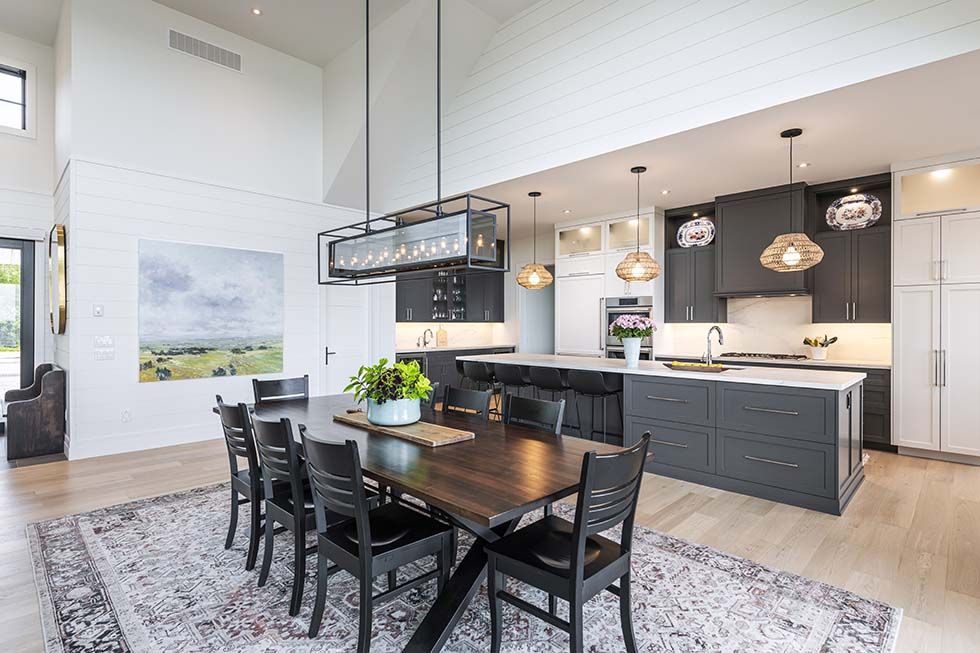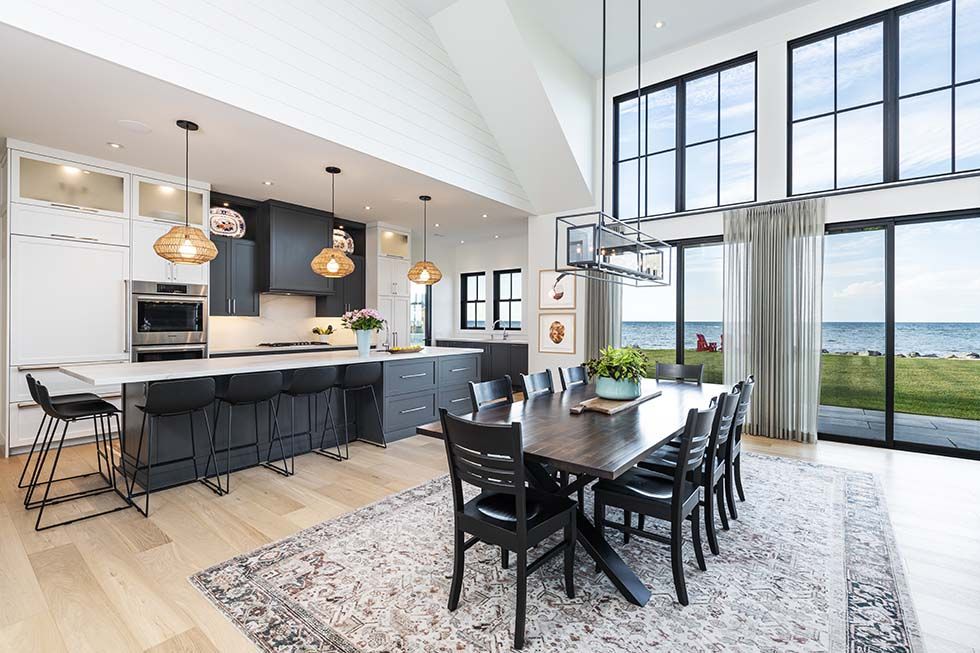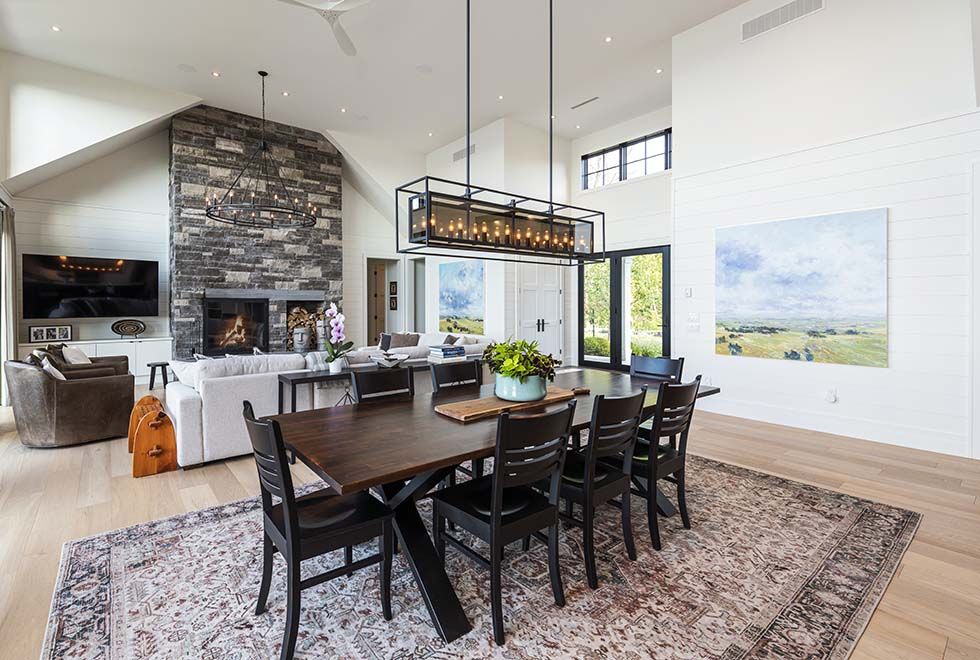 True to the home's beach house vibe, the interior has a breezy and airy feel, with white shiplap walls, light-coloured engineered hardwood floors, ceiling accents, and strategically curated artwork. "We worked with our interior designer Susan Wayne of Wayne Godfrey Designs, and Butter Gallery in Collingwood to choose pieces that are soft and understated," says the homeowner. Two diptych paintings on either side of the main entrance face the great room—painted by Gabriella Collier, one of the many talented artists represented at Butter Gallery.
The couple added their own personal touches to the décor throughout the home. In a corner of the office stands a massive wooden furniture piece originally from their parents' cottage. An unusual two-frame painting by Toronto artist Erin Rothstein, depicting red wine and bread hangs on a wall off the kitchen, beside a sliding exterior glass door. In the stairway leading to the grandchildren's bedrooms is a playful metal sculpture of runners by Israeli artist David Gerstein (several members of the family are recreational runners).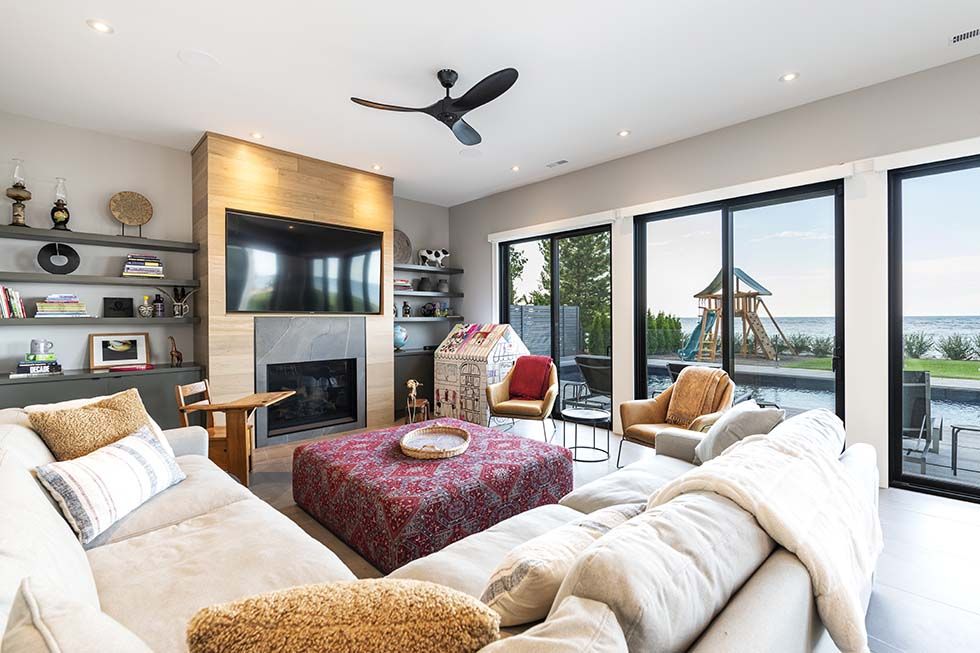 The spectacular great room is the heart of the home—with living area, kitchen, dining room, and a massive, wood burning stone hearth—it's perfect for warming up on chilly spring days. A cozy Muskoka room features automatic retractable screens on the lake side, complete with a heated floor, functional furniture, a fireplace, and even a television. Beyond this is an outdoor kitchen, hot tub, firepit, a pool with granite slab deck and, of course, the sandy beach – all "catalysts for family gatherings" according to Brad Abbott. With the understanding that the Georgian Bay shoreline is known to fluctuate (and the water is shallow and often cold), the homeowners incorporated a pool into their landscaping plan. This well-loved feature extends their swimming season, which often begins in late spring.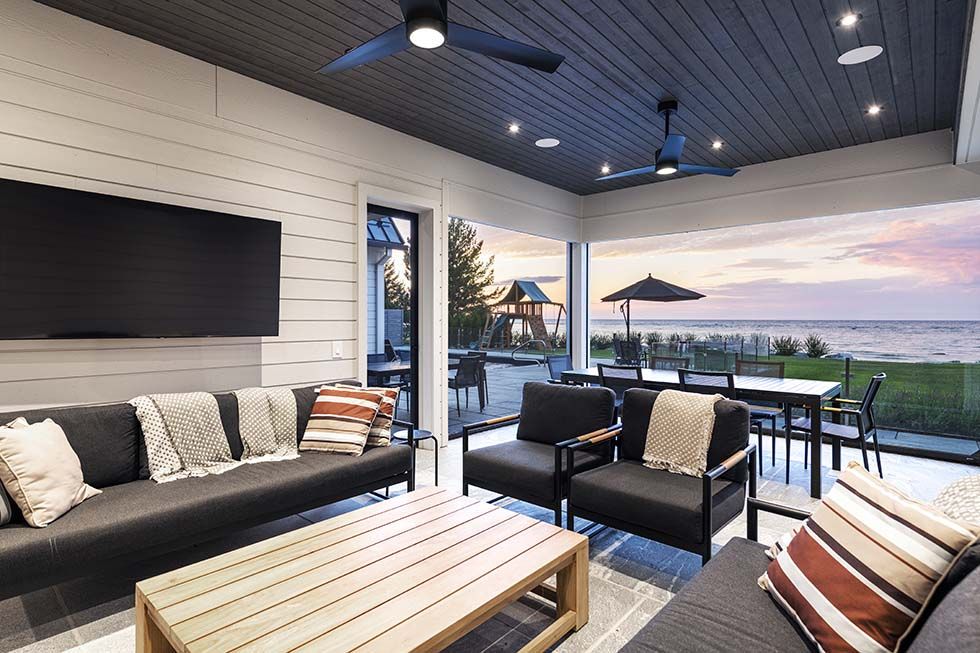 Just inside is a mudroom, bathroom and family room dedicated to the grandchildren and upstairs, they have their own bedrooms. "The girls are on the lake side, the boys across the hall on the mountain view side," say the homeowners, who helped design the rooms to sleep six in each through a clever combination of two queen-size beds on the floor and ladders up to two twin beds.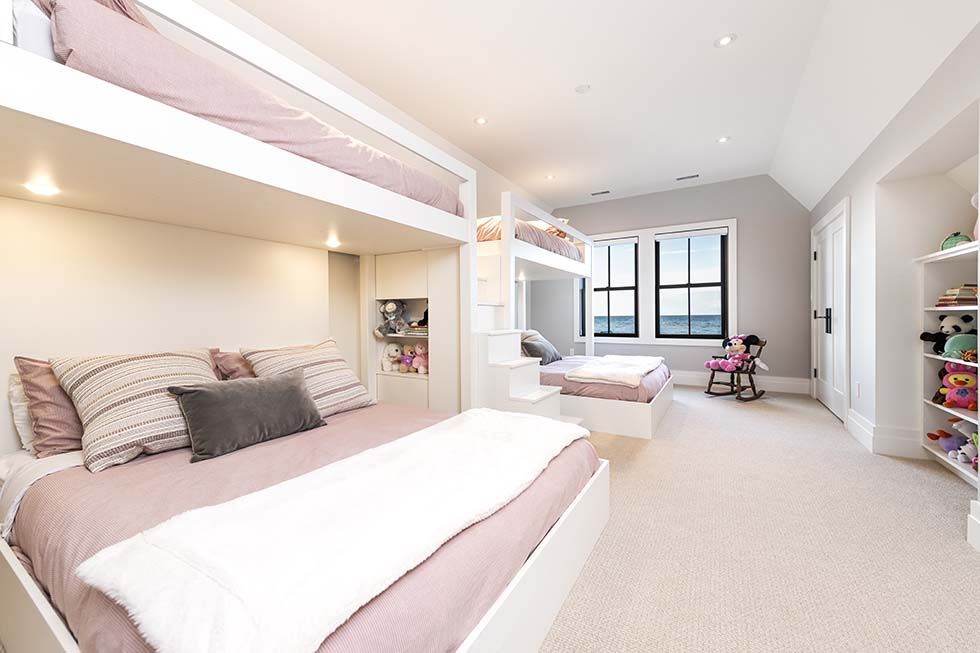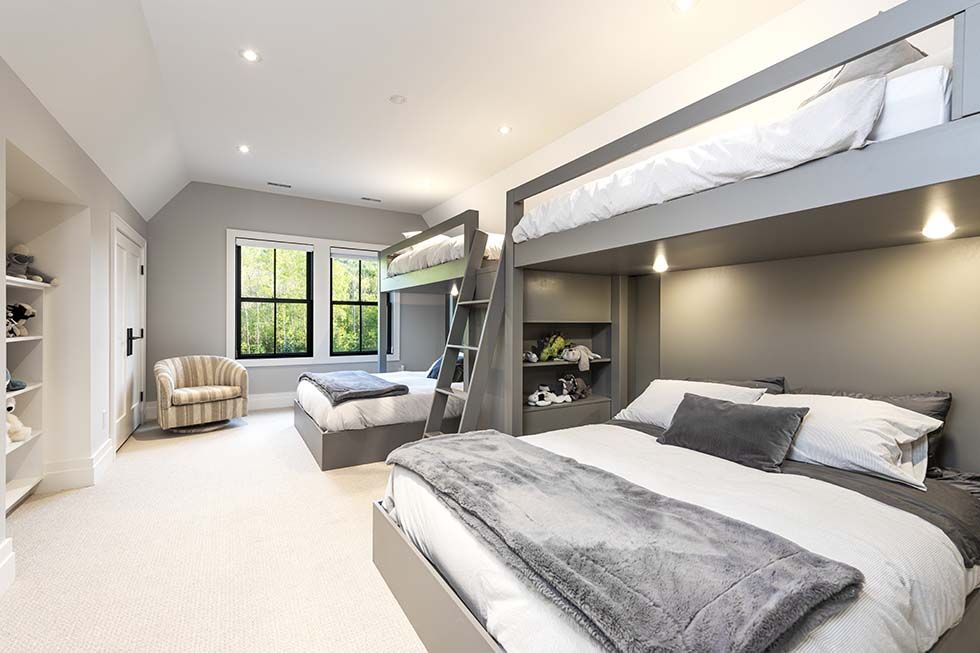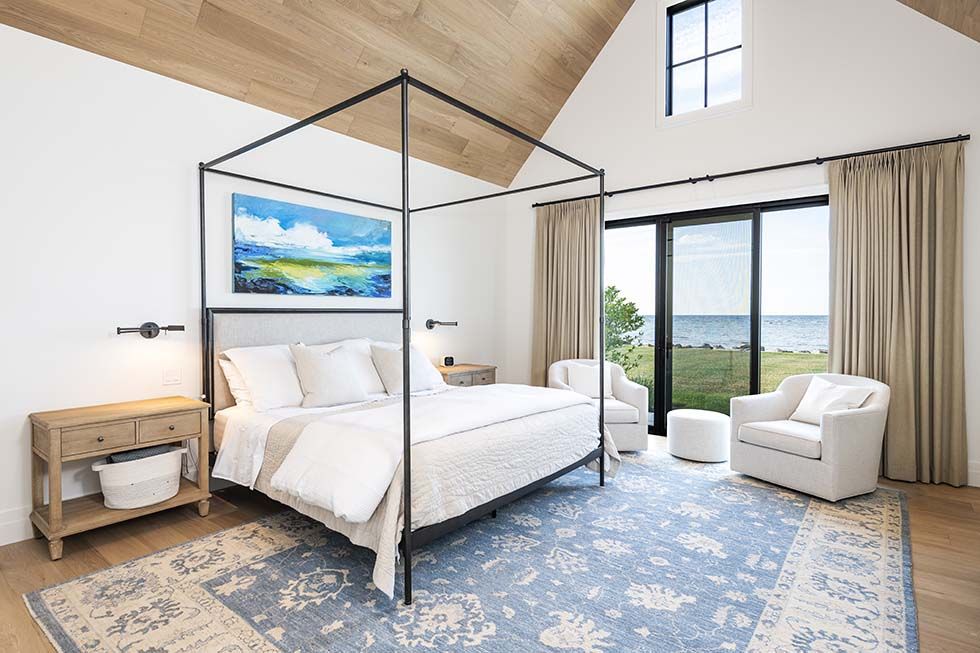 According to Brad Abbott, the couple's home can best be described as "a modern beach house categorized by simple gable forms, steep roofs, white wood siding, minimal eaves and over-sized windows and doors." With this in mind, local builder Dave McCombe of DMC Homes in Collingwood was tasked with bringing the project to life.
"The first challenge was protecting the home from the water," says McCombe. "The property is on what has been classified as a 'dynamic beach', meaning that the levels are always changing because of storms continually bringing sand in and out." This necessitated two preliminary strategies; building up the site and reinforcing with large rocks; and foregoing a basement in favour of a five-inch concrete slab-on-grade.
The concrete slab allowed for heated floors, which keeps feet toasty indoors and melts snow on the entrance porches and patio during the colder months. A hydronic heating system, including an array of pipes embedded in the concrete (both inside and out), carries hot water to heat the floors. In the absence of a basement, two mechanical rooms are strategically tucked away.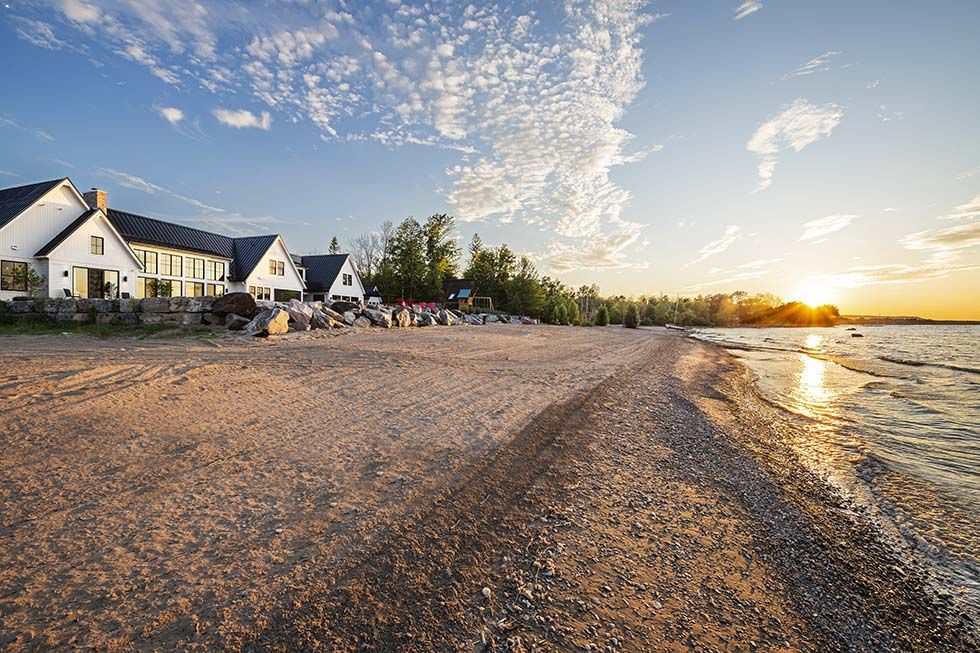 "To protect the home from extreme weather, we installed a 'standing seam', 26 gage steel roof that's more durable than the standard steel roof," says Dave McCombe. "And the outside of the house is clad in long-lasting pre-finished bevel and channel Cape Cod wood siding. Inside the home, building materials such as MDF shiplap, solid core doors, and limestone fireplace were chosen not only for their visual appeal, but also for their durability, and with the client's budget in mind."
An abundance of glass was required to maximize the spectacular waterfront views—the builder and the homeowners looked for a window and door product that would offer superior protection and insulation from extreme weather, as well as strong visual appeal. Marvin Canada, a company with origins as a family business in Minnesota in 1912 and a 36-year history in Canada, was chosen for the project. "For this home, we used four main types of window and door products; double-hung windows, operating and fixed casement windows; sliding patio doors; and swinging full glass doors," says Jim Thring, Ontario Regional Sales Manager at Marvin Canada. "Up to 90 percent of the installation was our 'Elevate' product line, which is 100 percent fibreglass on the outside and factory-finished Ponderosa pine on the inside. This combination offers the homeowner superior insulation and zero movement, which means that it doesn't react to hot, cold or moisture."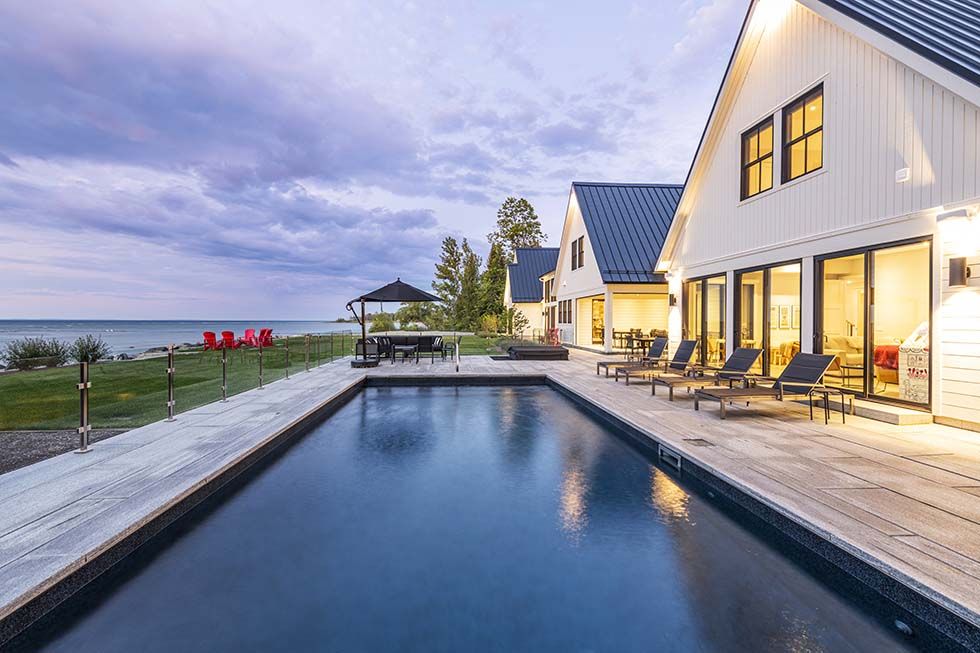 Thring explains that the glass in the windows and doors is double-pane "Low E" (emissivity), which helps with cooling and heat gain. The outside fibreglass frames are virtually maintenance-free because the material is extruded with a colour acrylic resin 'cap' on the surface. On the inside, factory painting of the wood offers a long-lasting smooth finish that blends nicely with interior design elements. If desired, it can easily be refinished in a different colour.
Thanks to a positive collaboration between the homeowners, the designer, and the builder, construction was completed just one year. "We know that, with any project, the best-laid plans inevitably change," says builder Dave McCombe. "I really enjoyed my experience working with Brad Abbott and the homeowners on this home. It has a very well-balanced design." The couple were equally pleased with their choice of architectural designer, builder, and interior designer. "Brad, Dave, and Susan had good chemistry together, and they were responsive throughout the project to our ideas, needs and concerns," they said.
Brad Abbott summarized the project as follows; "My clients were grandparents with a growing family. For the extended family to enjoy the property when together, they needed space where they could all gather, and space where they could have privacy. Because the property had so much lake frontage, we were able to stretch the house across its full width. This allowed us to place the grandparents in their own quarters at one end of the house and their children and grandchildren at the other."  Comfort, space, conviviality—a home sweet home for the whole family.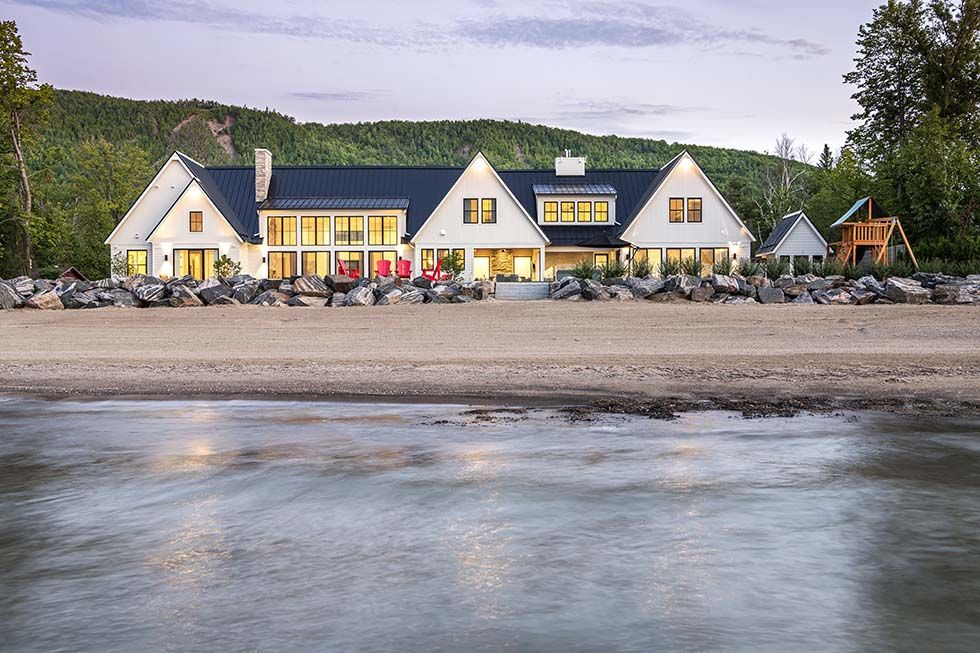 Source Guide:
Architectural Designer – Brad Abbott, Abbott Design
Builder – Dave McCombe, DMC Homes
Interior Design – Susan Wayne, Wayne Godfrey Design Inc.
Select Artwork – Butter Gallery, Collingwood
Windows – Marvin Canada
Kitchen and Bathroom Cabinetry – Norcab Kitchen & Millwork Co. Inc.
Window Coverings – Ashtons Blinds, Thornbury
Appliances – MacDonald's Furniture & Appliances, Meaford
Entertainment & Alarm System – Thornbury Computers, Thornbury
Tile – Stone Tile Canada
Bunk beds, closets and mudroom built-ins – Georgian Granite Works, Wasaga Beach