RECIPE & PHOTOS . CORYNN FOWLER
THIS DECADENT SUMMER CAKE IS BEST ENJOYED IN CUPCAKE FORM, SERVED INDIVIDUALLY WITH A DOLLOP OF CREAM AND A PILE OF FRESH JUICY SUMMER BERRIES. FOR A SWEETER FINISH, TRY MACERATING YOUR BERRIES IN A FEW TEASPOONS OF GRANULATED SUGAR FOR AN HOUR BEFORE SERVING
what you need…
– 1 Cup rye flour
– 1 Cup spelt flour
– 6 Tbsp cacao powder
– 1 Tsp baking soda
– 2 Tsp baking powder
– 1 Cup dark chocolate chips – 3 Eggs
– 1 Cup coconut milk
– 2/3 Cup maple syrup
– 2/3 Cup olive oil
– 1 Cup whipping cream
– 1 Cup fresh summer berries – A pinch of flaked sea salt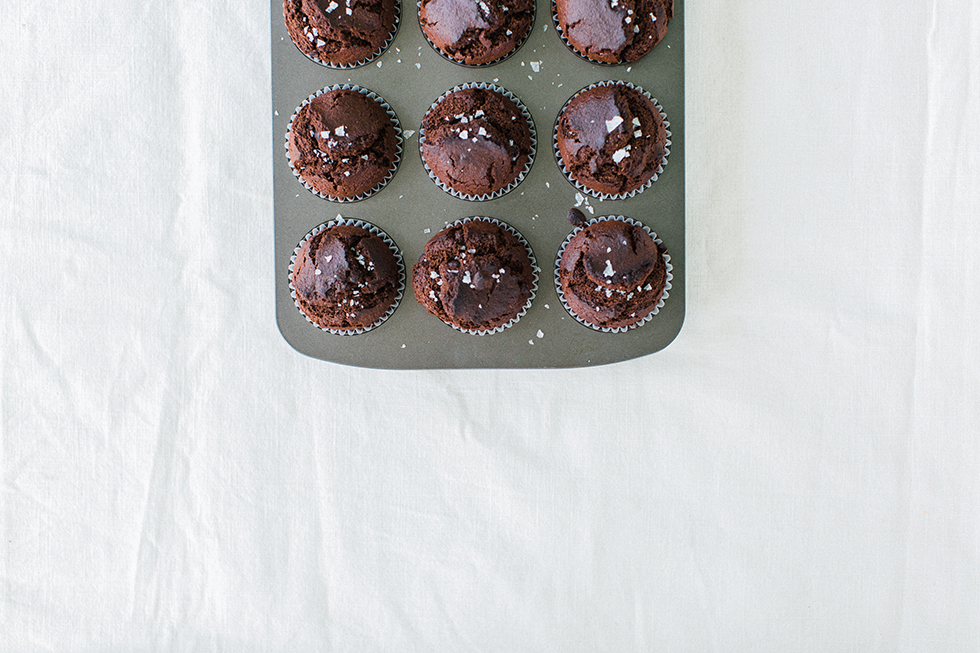 what you do…
Heat the oven to 400°F. Mix the rye flour, spelt flour, cacao powder, baking soda, baking powder.
In a separate bowl, beat the eggs for about a minute. Slowly add the coconut milk, maple syrup,and olive oil, mixing the eggs the whole time.
Stir the dry ingredients into the wet, making sure there are no chunks of cacao powder left in thebatter. Fold in the chocolate chips.
Spoon the batter into twelve cupcake tins lined with paper and bake for 18-20 minutes.
Garnish with flaked sea salt as soon as they come out of the oven.
Beat the whipping cream until it forms stiff peaks.
Serve the cupcakes at room temperature, topped with whipped cream and an assortment of the freshest summer berries.
Corynn Fowler writes a food blog called Nourished by Corynn. Please visit her at nourishedbycorynn.com