The word "magical" gets thrown around a lot, but for the hundreds of adults, teens and children (and the people who care for them) that visit Hope Haven Therapeutic Riding Centre each year, the results of equine therapy is nothing short of magical. This spring I had the fortune of touring the facility with Executive Director Thérèse Defoy. A growing rehabilitation field, animal-assisted therapy has proven psychological health benefits. I was intrigued by the idea that interacting with animals can heal broken minds and bodies. I discovered that while some riders benefit from the emotional connection with the horses, others benefit physically from the movements; building core strength, body awareness and muscle memory. Since 2011 Hope Haven Therapeutic Riding Centre has been providing a transformative experience for children and adults with special needs, and their families. The results are simply astounding, and for many participants, life changing.
Hope Haven, which sits on 142 acres of beautiful farmland near Markdale in the Beaver Valley, is comprised of two barns, an indoor riding arena and an outdoor ring. The nature trails that meander through the fields and wooded bush areas are perfect for riding, hiking and snowshoeing, offering yet another source of therapy for the soul. Hope Haven operates year round with the help of a Board of Directors and the dedication of invaluable volunteers. This initiative is made possible with the generosity and help from community donors. Even the eight beautiful horses that reside at Hope Haven were donated to the program.
"We offer a variety of programs at Hope Haven with therapeutic riding being the mainstay, it's our primary focus as a charitable organization," Thérèse explained. "We are an accredited centre through CanTRA, which is the Canadian Therapeutic Riding Association."
Equestrian therapy is especially beneficial for individuals with anxiety, autism, dementia, and delay in mental development, asperger syndrome, downs syndrome, cerebral palsy, ADHD, depression, trauma and brain injuries, behavior and abuse issues and other mental health issues. The highly skilled certified CanTRA instructors at Hope Haven quickly assess the individual needs of each participant and tailor a riding or horsemanship program to complement the unique challenges the participants are faced with. Here, individuals with varying disabilities can explore their potential in an environment that encourages them to try new experiences while enjoying the learning process. Fundamental to the success of this program is the importance of helping the rider build a trusting relationship with the horse, instructor and Hope Haven's amazing volunteers. To begin, participants are assisted by the instructor who guides the horse while one or two assistants walk alongside to physically support the rider, if needed.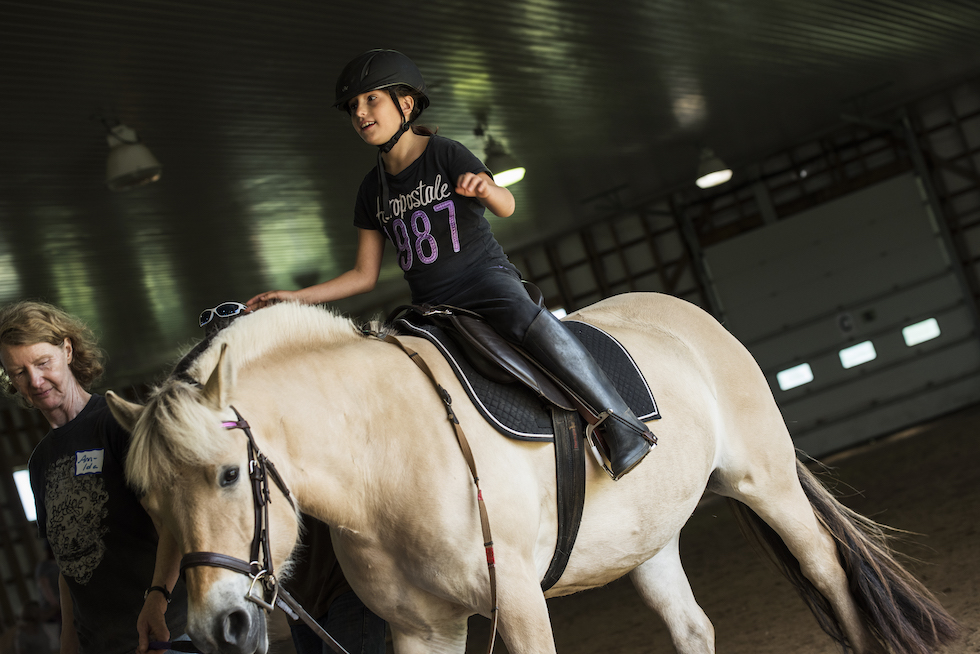 With experience, some riders eventually don't need any assistance and work only with the therapist. In partnership with a therapeutic horse and using equine-oriented activities, riders are able to achieve a variety of personal goals including speech therapy, mobility, coordination, muscle tone, strength and balance. Over time equine therapy contributes to increased concentration, sensory processing and improved learning skills. A disability does not have to limit a person from riding horses. In fact, horseback riding rhythmically moves the rider's body in a manner similar to a human gait, therefore riders with physical disabilities often show improvement in flexibility, balance and muscle strength.
In a parent testimonial on Hope Haven's facebook page, Heather Galvin explains that her 5 year-old son Oscar was diagnosed with cancer at the age of two. Over three years Oscar was given chemotherapy that has done damage to his legs and back. Physiotherapy proved difficult as Oscar found it uncomfortable, boring and he simply didn't want to go. Heather and her husband were looking for alternatives and heard about Hope Haven. After a few sessions, Oscar was motivated, happy and enjoying his therapy. Heather explains, "Our physiotherapist could not believe the difference in his mobility; he could go up stairs; his flexibility when she started doing stretches he couldn't do before. And then a couple of months into it, he one day stood up in the stirrups, which, he didn't have the strength to even go up stairs last year! He stood up in the stirrups and he can now completely bend over against the horse's mane. So it has done wonders for his skeletal structure. We were recently at Sick Kids doing his evaluation and they could not believe the difference. They were asking how this was possible with physiotherapy and we explained. They asked about the place and looked it up."
Hope Haven has recently introduced PALS (Physical Activities for Lifelong Skills) therapeutic programs, which include physical activities such as yoga, snowshoeing, kids activities and more. All Hope Haven programs are diverse enough to accommodate individuals with disabilities and/or limited motion.
Hope Haven embraces inclusion. For those who prefer not to ride, or who are unable, they offer horsemanship techniques such as catching and haltering the horse; properly leading the horse through stop, go and turns while maintaining control of the horse. Participants will ask the horse to walk-on, trot, back up, pivot and to work with them through various obstacle courses in the arena.
"The Horses are very primary in the program, and it takes a special horse," explains Executive Director Thérèse Defoy. "We have horses that are very patient and quiet for new riders. Then we have horses for those who have gotten to the level of walk, trot, and canter. They have to be able to deal with all kinds of exterior environmental factors. We play games with our riders like throwing items into a bucket, and the horses need to be spook-free with loud, sudden noises."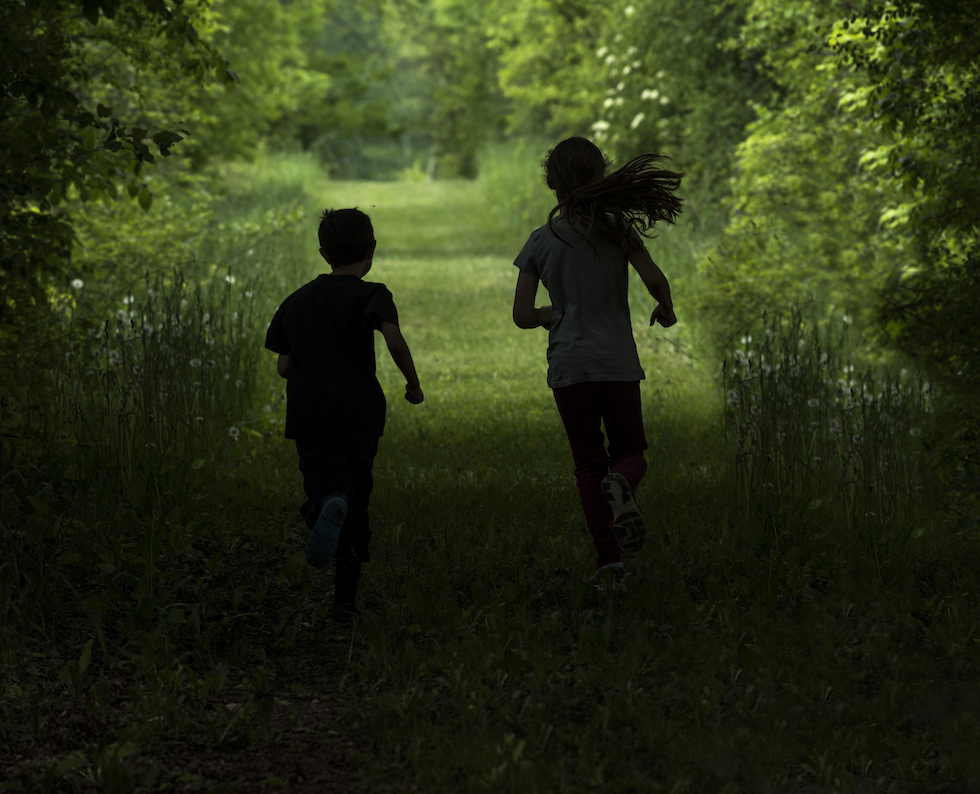 All existing and future ambitions are made possible by the dedication and generosity of volunteers and donors. Volunteer opportunities range from working with participants and horses, to being part of the Board of Directors, to barn hands and other necessary positions. As a Hope Haven volunteer you will have the satisfaction of knowing you are making a profound and life altering difference for children and adults with special needs. It is not necessary to have equine experience—the professionals at Hope Haven will train you.
For more information on Hope Haven programs and to inquire about volunteering and to donate, please visit HopeHavenCentre.org
Article by Cara Williams. Photography by Clay Dolan