Words by Dorris Heffron 
It was a lingering winter day in 2001, when a glamourous woman in a long black fur coat trailing in the snow, came to our door, slightly late because of bad directions to our property. It was Deena Dolan Findlay, publisher and editor of Escarpment Magazine. It was the most enjoyed magazine in all the area around Georgian Bay. I had recently met Deena and warmed to her immediately. This woman had flare and magnetism galore. She was gorgeous and talented in more ways than I could know, even after several encounters. She had come for a photo shoot of our home for a feature in her magazine.
I guessed she had chosen this place we call Little Creek Wolf Range because it was newly built and a bit unusual in that it didn't look new. I didn't realize it had acquired some notoriety. Deena was unphased by our two big malamutes leaping up at her, vying for her attention and friendship. She showed no annoyance at the trouble in locating us. She greeted us with her overwhelming smile and enthused remarks about the bold colours on the outside and inside of our house.
She carried a small digital camera and expertly photographed various rooms in our house as we talked and laughed about the whys of my design and décor. "A captain's house, is it?" she said. "Set on a highpoint in Beaver Valley." She got everything, instantly. "Hence the wrap around verandah and cheerful Maritime colours. And all these heritage fixtures which make it look Victorian. And the clawfoot two seater tub. Must have a shot of that!" She turned to my husband Don and me. "With you two in it." We got into the tub in our clothes and I picked up the central shower hose, holding the nozzle to my ear like a phone. "Perfect!" said Deena. She is fun. She took all the telling shots. The open plan living space. Private offices, mine with books and novel in progress, different theme in every guest bedroom, big malamutes up on our tree branch bed, grinning.
It was masterful. She produced from this one brief photo shoot a feature article that was artistic, lively, good humoured and colourful, a character revealing portrait of the good life on southern Georgian Bay. Those are also the long standing characteristics of her magazine. Though one should also add, smart and informative. Over the years, Deena established informative columns and articles on sports, Nancy Greene's column on skiing, Dr. John Bowman's column on sport medical practice, long time friend Phyllis Meiklejohn's favourite recipes, plus articles on real estate, gardening, farming, small business development, food, fashion, arts and culture. Beginning with her own paintings on the front cover, Deena's magazine has always been a pleasure just to look at as well as to read. It's the right size to hold comfortably in your hands.
Discovering Deena's many talents came slowly to me. Once, when I was doing a reading at the library, she introduced me. Introductions can devastate an author. They range from "Talullah needs no introduction" to putting the audience to sleep with irrelevancies: "and Talullah eats a pomegranate for breakfast." Deena does her homework and she knows how to entertain. She gave me the perfect concise, relevant, interesting, enticing introduction possible. Then, when I did a book launch for City Wolves in Kimberly Hall, Deena was invited, of course. I gave the party a theme and dress code. The Klondike Gold Rush. Most everyone came in costume. But I couldn't see Deena anywhere. I had a contest for the best rendition of Danny Boy. I called contestants to come up on the balcony at the back of the hall. There were two good renditions. I was about to give the prize when some dance hall babe, with black ringlets, an hour glass body, black net stockings, waved her hand in the air and swaggered up the stairs. She threw her leg over the balcony rail and sang the sexiest version of Danny Boy anyone has ever heard. She was a beautiful singer. It was Deena. From then on, I said to myself and everyone, "There ain't nothin' Deena can't do."
So true! In studying her biography and interviewing people who have known her well and long, there is unanimity about her amazing competence, focus and perseverance. She has a positive, go for it, entrepreneurial spirit and a quick sense of who is good for the job.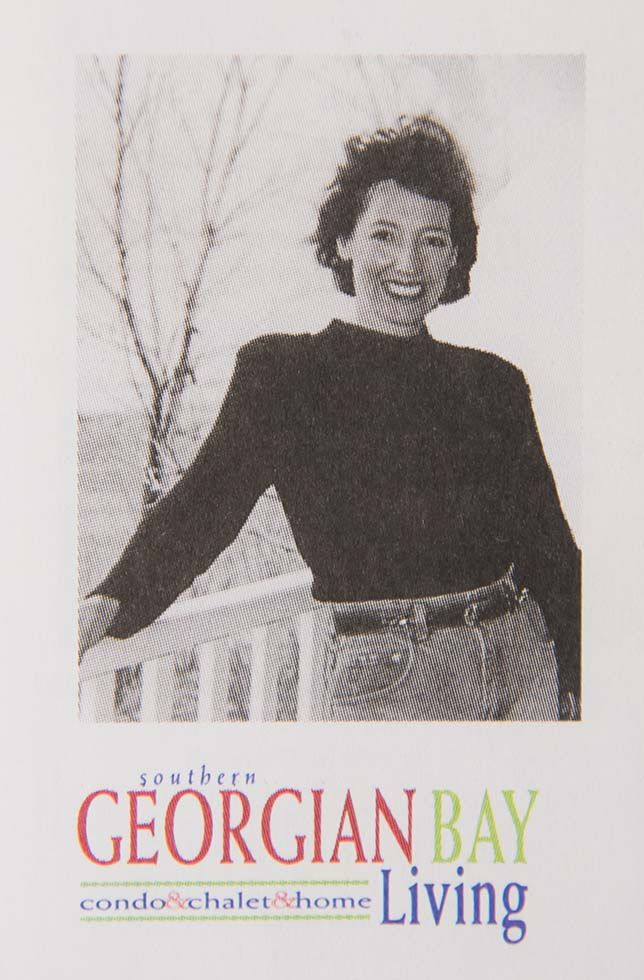 With the kids grown up and middle age upon them, Harry sold the shoe business and they spent a year at Whistler. Then they sold their house and moved full time into their home on the Bay at Craigleith. They had become highly active members of Georgian Peaks ski club. Next came the question: what to do with the rest of their lives? At age 50, Deena seized upon an opportunity to own her own business as a magazine publisher/editor/ writer/designer and sales rep. She bought a little black and white periodical which was distributed to private ski clubs. It was called Collingwood Condo & Chalet. Deena had a vision of where she wanted the publication to grow and immediately changed the masthead to Southern Georgian Bay Living. At the time she had no computer skills, zero, and no staff, apart from help from her youngest son Rory. That was in 1998. You see what the magazine has become.
Her early childhood had not been easy. From infancy until the age of 4, she was put in and out of foster homes because of her parents' divorcing and her mother's subsequent emotional issues. Then her maternal grandmother and great grandmother took Deena into their home and care. Deena feels that this is when her real life began. They loved her well and encouraged her talents. Her drawing and singing abilities were outstanding. She won almost all the awards in the Kiwanis singing contests. She graduated from London's Teacher's College at Western University, majoring in music and became a school music teacher. As a student in the sixties she had formed a four girls ensemble, performing in folk music venues in and around London. The name of the band was "The Uncalled Four". Yes! Deena's sense of humour never wanes.
At age twenty, she married handsome Harry Dolan, who eventually built a shoe store business with 19 stores throughout southwestern Ontario. Deena spent her young married years giving birth and raising 4 sons, Rory, Josh, Clay, Luke and a daughter Cara. She also worked part time, first teaching and then in the shoe business. She became a proficient salesperson. She was, from start to finish, Supermom and happiest in that job. She and Harry hauled five kids up to ski at Blue Mountain every weekend. Soon they spent their summers there as well. All are expert skiers and athletes.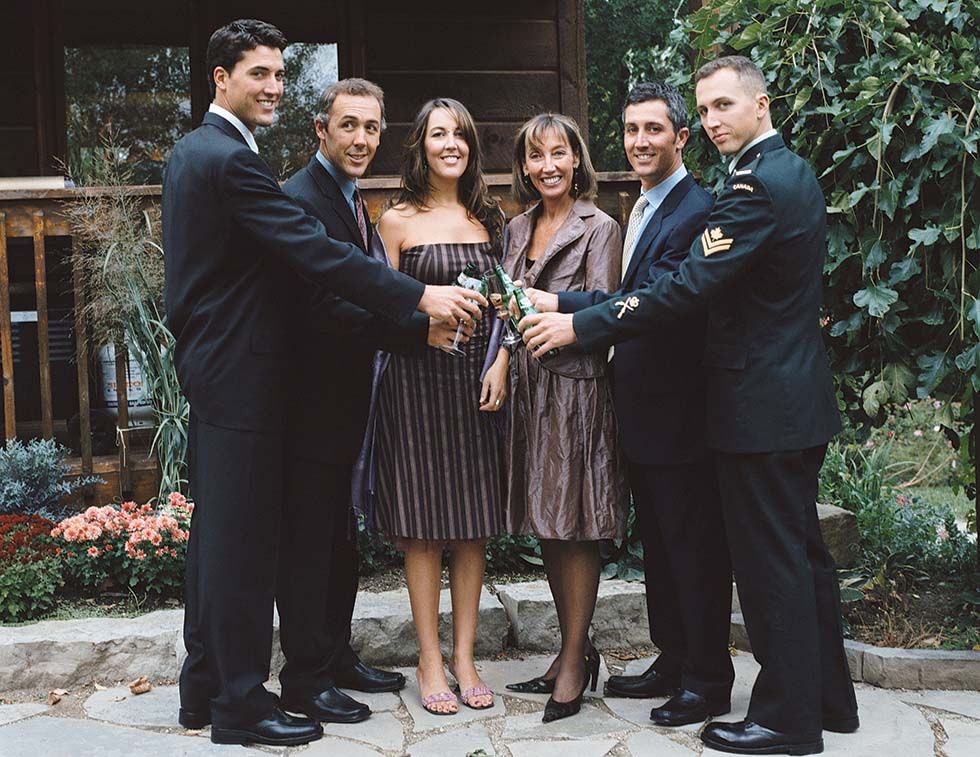 Within a couple of years, Deena had hired Carol Blasdale as Director of Sales. With Carol's disarming warmth, friendliness and savvy, local business advertisers were lured in and benefitted so much that many, such as Furbelows and Marion's Hair Salon are still with the magazine. Marion, an enduring friend, regards Deena also as a mentor. She has followed Deena's success in surviving and triumphing over the boom in competition that has come with the tremendous growth in population and development of Southern Georgian Bay. Business is not without some nasty manoeuvres and sharp elbows. Deena knows how to defend what she values and, as her son Clay says, "double down" and make smart changes like moving to full colour, high quality gloss paper and expanded distribution. In 2006, she rebranded and trademarked the magazine to Escarpment to ensure its distinction.
Confident but without egomania, Deena can let go and move on. She put her succession plan in place, selling the publisher rights to Clay who learned all about the publication after he was taken on as the talented photographer in 2006 at age 25. Deena appointed her daughter Cara, Editor-in-Chief after grooming her from the very first issue, using articles Cara wrote while living at Whistler.
Confident in the abilities of Clay and Cara to take the magazine to new heights, off she goes into the next phase of her life— perfecting her art of painting, staying active, spending time with friends, family and grandchildren and making the most of life with her second husband Doug Findlay. 
Dorris Heffron is a former Chair of The Writers' Union of Canada. A full time Escarpment resident, Dorris has written several novels including the popular adult novel, A Shark in the House. Her recent novel is City Wolves.
Mentor, Teacher, Mother
Imagine trying to fill the shoes of the most talented person you know. Four years ago, I took over the role as Editor-In-Chief of Escarpment Magazine from from my mother Deena, who had held the position since purchasing a small eight-page black and white real estate publication in 1998. This force majeure of a woman had no formal training, no experience in publishing and zero computer knowledge. There were no other magazines of this kind when Deena created Escarpment. Yet here we are—22 years later—Escarpment Magazine has established itself as a community favourite, featuring stunning photography, interesting well-written articles and boasts a visually impressive showcase of our advertising partners. 
In 2016 Deena initiated a four-year "phasing out" retirement plan— easier said than done considering she built the business from the ground up. After stepping back her responsibilities, she stayed on as Art Director and skilfully managed to to mentor myself and new Publisher/Owner, Clay Dolan. Also, not an easy task. We are, after all, her offspring. 
During this transitional time, we shared laughter, frustration, joy, tears and even lobbed a few colourful insults back and forth. Through it all, Deena maintained that the only way to stay on top is with hard work and creativity. She encouraged us to treat each other with respect and manage our business ethically. She reminded us that our first responsibility is to our respected readers and valued advertisers—and she pushed us to be resourceful, productive and inventive while staying true to our Escarpment roots. Only when she felt we were ready did she truly step away. 
Escarpment Magazine wouldn't be what it is today if Deena hadn't had the drive, artistic vision, and the fearlessness to push the envelope. In this, our first "post Deena" issue, Susan Meingast has joined our team as Creative Director and, akin to Deena, she has an impeccable work ethic, an artist's eye and amusing dry wit. It was a bittersweet process, putting together an issue of Escarpment without my best friend and mentor at the next desk. But if my mother has taught me one thing, it's the belief in myself and my ability to tell a story. Escarpment is in good hands. Thank you, Mom, for entrusting us. —Cara Williams, Editor-In-Chief
In a regular work environment I've gotten used to calling her "Deena". After sharing an office for 14 years it feels more natural to do so. More than just a publisher, Deena's keen sense of style, eloquence with words, and sharpened eye were evident on every page. In business, Deena has an innate ability to forge relationships, an unflinching moral compass and loyalty to her advertising partners. These character traits not only led to the magazine's success, but also gave her an impeccable reputation within the community. Working with family can be trying at times. Yes, we butted heads—and on more than one occasion either of us would dramatically storm out of the office after such a disagreement. But in the end we always came together, as family does. Now that Deena has fully retired, I am happy to call her Mom. —Clay Dolan, Publisher/Owner