A great ski day isn't just about the snow and the weather—it's also about how you celebrate post-shred, once your skis are put away for the night. Some folks map out their oh-hill activities while others plot the most direct path from chairlift to bar. No judgement—these days, the two strategies are hardly mutually exclusive. Originating in Europe, the concept of après ski is appealing not only because it involves drinking on a mountainside, eating comfort food and releasing your inner dancer (in ski boots of course) but because it doesn't depend on the (increasingly unpredictable) weather. A favourite among locals and visitors alike, Jozo's Bar at the base of the Century Express in the Blue Mountain Inn is a true après ski experience. Its namesake Jozo Weider, who joined a pre-war dance troupe tour of Austria and Germany, was known not only for his hard work and vision, but for his robust glüwein and legendary après parties. The tradition continues today with daily entertainment and frivolity. Snow or not, the party goes on.
All winter long Jozo's has a plethora of live performances including open mic nights, industry parties and a lineup of talented bands that will get you grooving into the wee hours of tomorrow. Local songster Craig Smith hosts Open Mic night every Monday while DJ Justin takes the stage every Wednesday night at 10pm for industry staff night. Don't miss the best drink prices of the week and a guaranteed packed house. Thursdays are for local talent and this winter's features are Drew Wright, Jake Robertson and a few other brilliant vocalists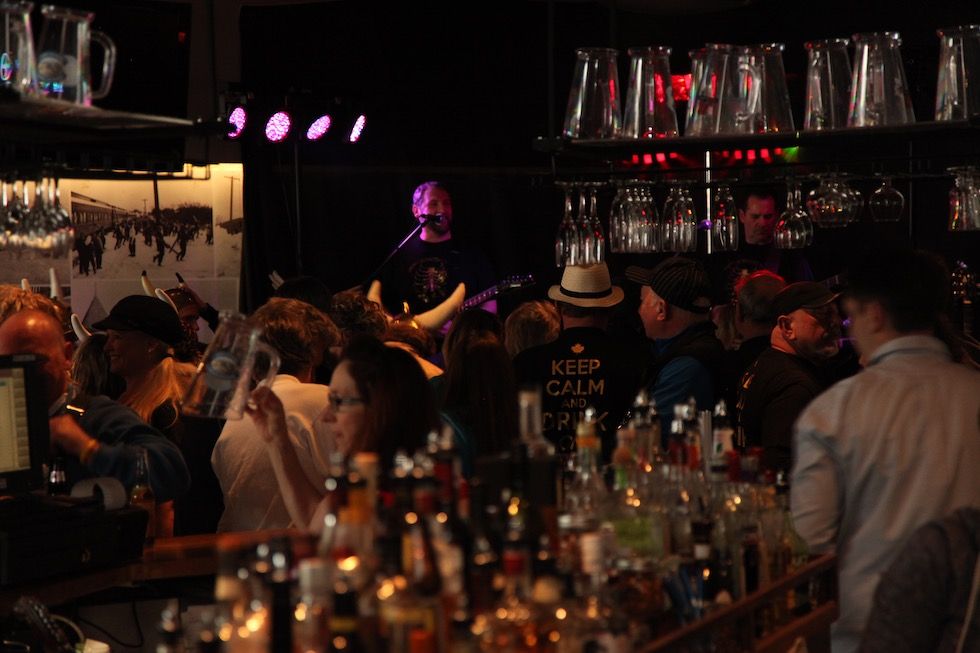 Looking for something a little louder? Amazing bands like The Cronics, Red Velvet, The Spinz, By Design, The Ol' 96ers, Toast & Jam and Shawn Steinhart take the main stage Friday and Saturday nights. The Doubts hit Jozo's stage February 28 & 29 for a Leap Year party you won't soon forget (well… maybe you will).
From hard-driving 70s classic rock favourites likes Aerosmith and ZZ Top, to Top 40 hits by Adele, Rihanna and Bruno Mars, The Doubts are an experience not to be missed. Every Monday until March 16 is 'Open Mic Night' with Craig Smith and every Wednesday until March 11 it's with Justin Marchello.
Whether you shredded Elevator Shaft, skidded down Happy Valley, or spent the afternoon working on your corked 1080 in the Badlands Terrain Park, any and all daytime activities warrant lifting a glass and kicking up your heels. For a full list of Jozo's entertainment, specials and events go to bluemountain.ca |E|

Jan 9 – Rob Elder
Jan 10/11 – Red Velvet
Jan 16 – Adam Webster
Jan 17/18 – The Spinz
Jan 23 – Drew Wright
Jan 24/25 – By Design
Jan 30 – Andrew Parkhouse
Jan 31/Feb 1 – Toast & Jam
Feb 6 – Jake Robertson
Feb 7/8 – Shawn Steinhart
Feb 13 – Adam Webster
Feb 14/15 – Red Velvet
Feb 16 – Shawn Steinhart
Feb 20 – Drew Wright
Feb 21/22 – The Ol 96er's
Feb 27 – Jake Robertson
Feb 28 – 29 – The Doubts
Mar 5 – Andrew Parkhouse
Mar 6/7 – The Cronics
Mar 12 – Adam Webster
Mar 13/14 – Shawn Steinhart