Good Noise
Words and photography by John Fearnall
Each summer, outstanding local, regional and national performers converge to deliver transformative experiences at music festivals—this year, Summerfolk, Hillside and Mariposa will no doubt have a lasting impact on festivalgoers.
It may seem far too obvious to begin a piece about festivals by stating I would not be writing this piece if it wasn't for a festival. But, for me, that's where it starts. My first Summerfolk was a transformative experience—it pointed me in a new direction that over the next 30 years led to this piece. In between these two moments, I had many chances to witness other transformations of people and communities. All thanks to music festivals.
Growing up in Owen Sound, I knew Summerfolk existed, but I didn't think it was for me. You see, I was a bit of a headbanger in my high school years. My only concert was Van Halen at Exhibition Stadium in Toronto. Years ago, Summerfolk had a hippie-ish reputation (some Owen Sounders still refer to it as "SummerToke"). But during my last summer of high school, this changed. A friend had two complimentary weekend passes and asked me to go. Although I didn't know what to expect (other than the aforementioned hippies), I said yes. So, I was shocked when I arrived at Kelso Beach Park on the third weekend in August to see it transformed; craft and information tents; food booths; and stages filled up what was usually a quiet park.
As Summerfolk is a family-friendly event, the site features a large children's area with lots of programming for kids. For the adults, there is a beer stage and wine bar, as well as two additional stages for music and dancing. Its craft village is always top-notch and there are more than enough food options to satisfy many different tastes. And if it gets too hot, wading into the shallow bay is a great way to cool off.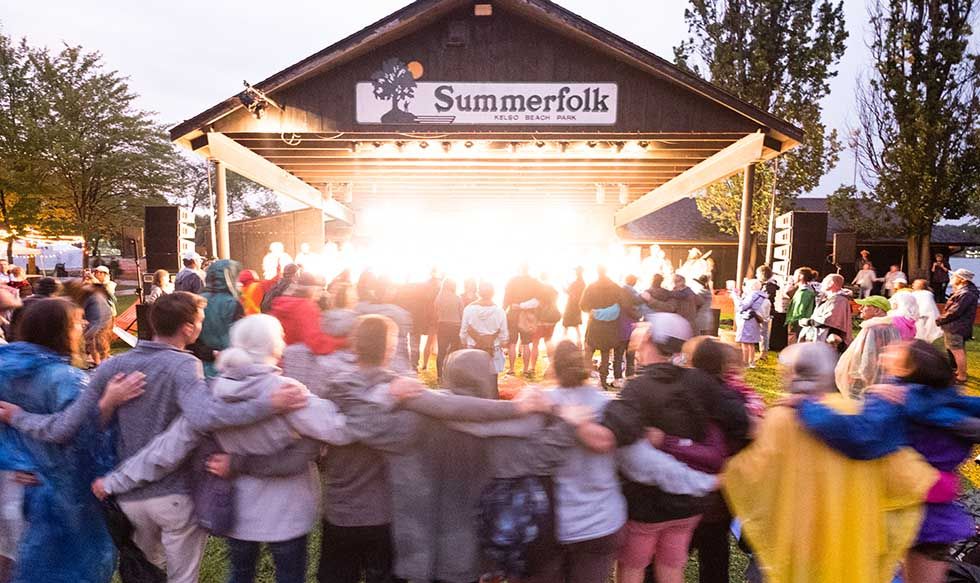 After exploring the site, we found ourselves parked at the top of the amphitheater overlooking the bay. And that's where it happened—the music began and I was blown away by the immense talent of all involved. And it just kept getting better as the weekend went on—by the time we were singing "Good Night Irene" on Sunday night, I was hooked.
The next summer I had the chance to add a second festival to my list; Hillside Festival in Guelph. Hillside is similar to Summerfolk, except that it takes place on an island on Guelph Lake that is surrounded by a campground, which means many of the attendees and volunteers are on-site all weekend. Hillside is also a family friendly festival with a bit more focus on local and green initiatives. Hillside's programming is more eclectic than folk. I was introduced to some great Canadian bands, including the Rheostatics, at that first Hillside. It was also the first time I picked up my camera to try and capture some of the spirit of what I was experiencing.
After that first visit, Hillside, along with Summerfolk, became our go to festivals for the next two decades. And while we attended, my photography became more inspired. Eventually, James Keelaghan, Summerfolk's Artistic Director, invited me to be the festival photographer. I jumped at the chance. I've been capturing the festival for the last 10 years.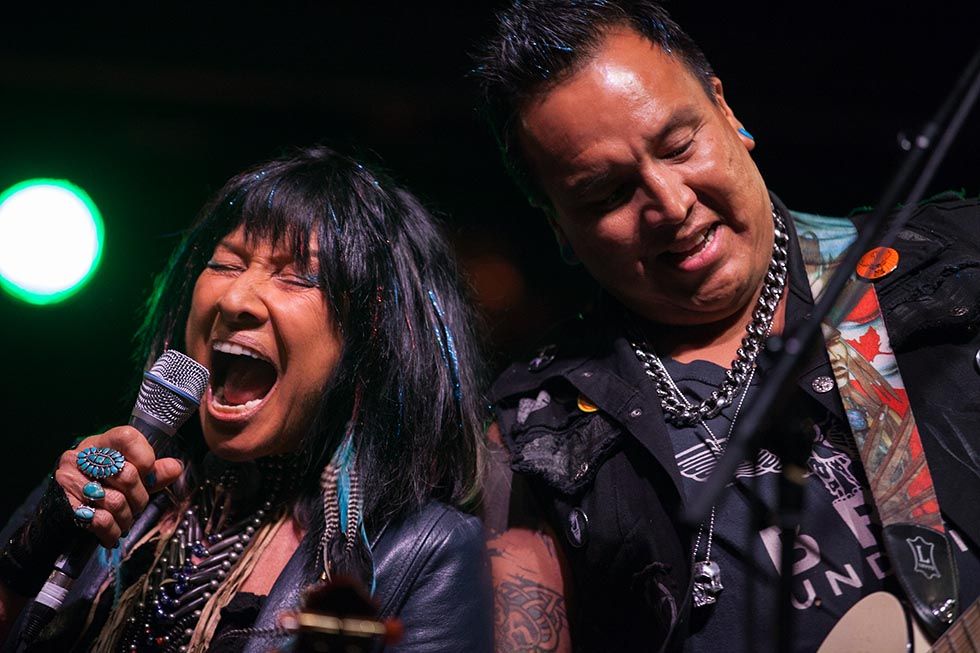 At this point I've attended so many festivals that I sometimes encounter acts I've already seen play. Steve Poltz, who I saw at Summerfolk, was playing an afternoon set on Hillside's main stage a few summers ago. As he was introduced to a lukewarm round of applause, I could sense that most in the audience had no idea what they were in for. Over the next 45 minutes, I watched Steve win over the audience with his quirky sense of humour and brilliant songs. By the end of the show he had everyone standing and cheering. The transformation was complete when he surrendered himself to the audience and crowd-surfed his way to the finale.
Mariposa is my newest festival experience. Thanks to my involvement in Summerfolk, I was invited to photograph the festival in 2019. Mariposa is widely considered the granddaddy of Ontario's music festivals and it's also the unofficial opening of festival season. It's had many different locations, but its current home is Tudhope Park in Orillia—a similar waterfront site to Summerfolk. It is the current hot ticket as it regularly sells out and has hosted many of Canada's greatest musicians over the last few years, including Blue Rodeo, Serena Ryder and Murray McLaughlin to name a few. And, of course, up until his passing, Gordon Lightfoot would regularly show up to perform and enjoy the festival.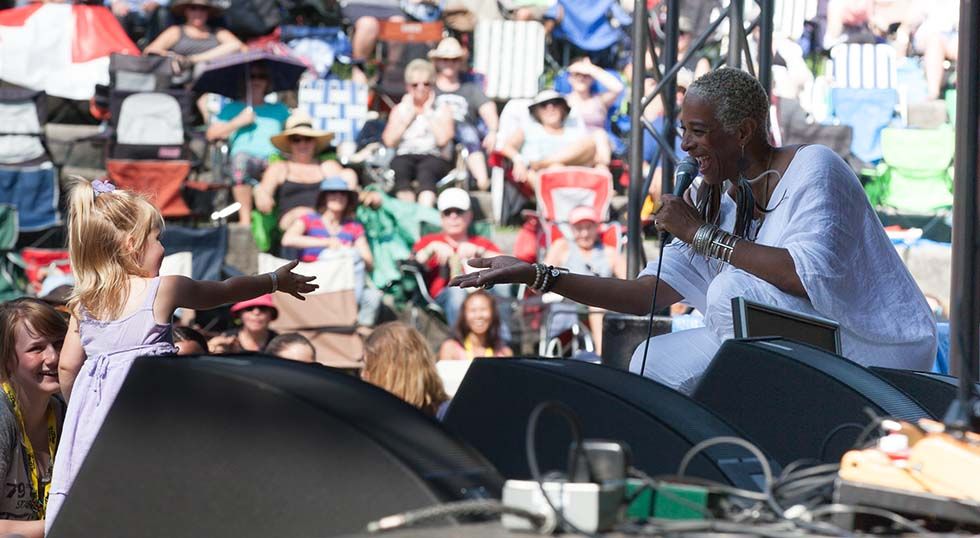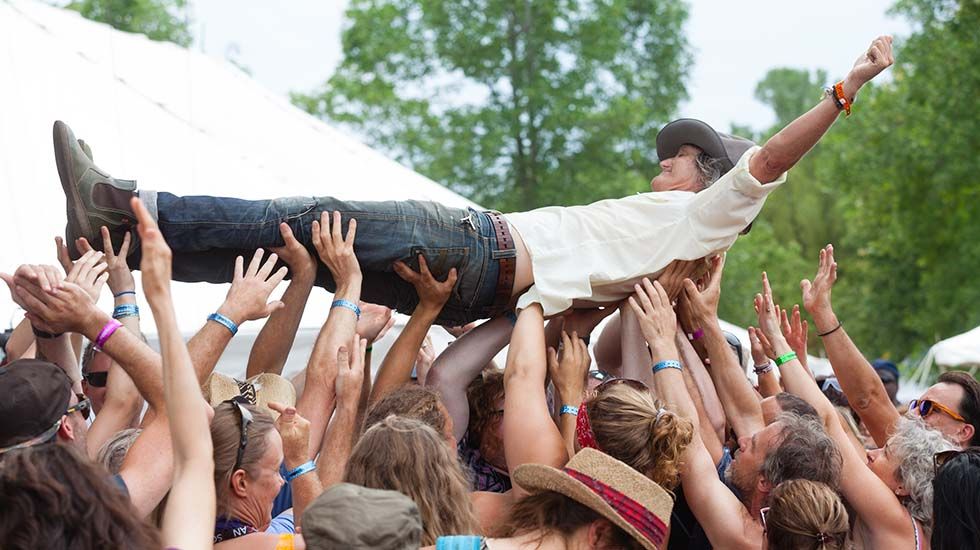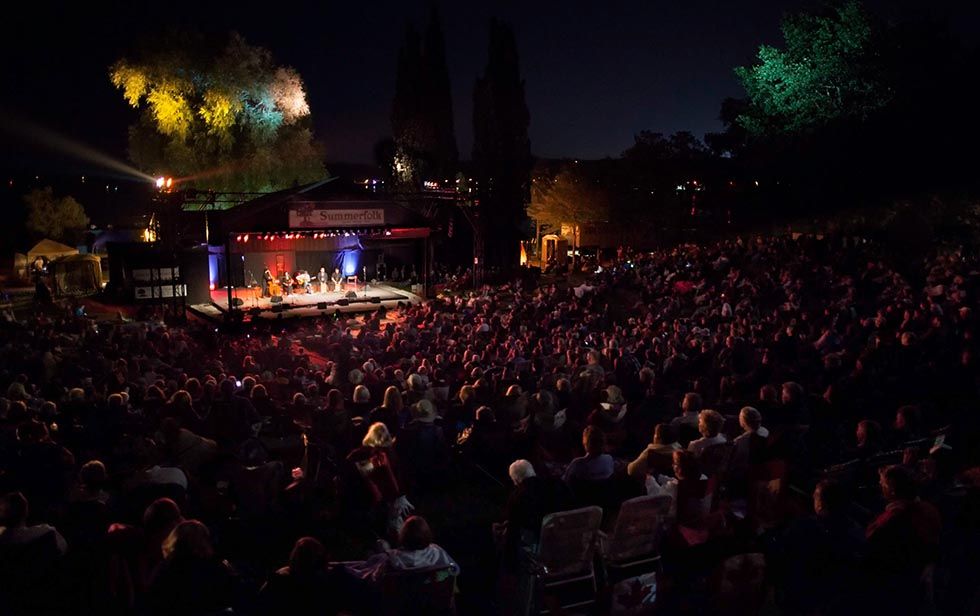 Mariposa also brings in world-class performers—one of my most memorable experiences is watching Mavis Staples. Ms. Staples transformed a hot, sunny afternoon stage into a musical history class, all while blowing the roof off the festival. I knew it was a special performance when I saw many of the other musicians standing stage side listening to her stories and songs. I felt sorry for the act who had to follow her.
But, no doubt another successful transformation took place. Because, in many ways, that's what it's all about. For one weekend every year, volunteers and staff transform parks into villages. Strangers transform into a community.  Neighbours transform into dancers. Crowds into choirs. Musicians into bands. And the people who witness this are transformed—by the music, by the art, by the community. Our everyday looks are transformed into smiles, tears, hugs and laughs.
And, for some, the transformation extends well beyond the festival.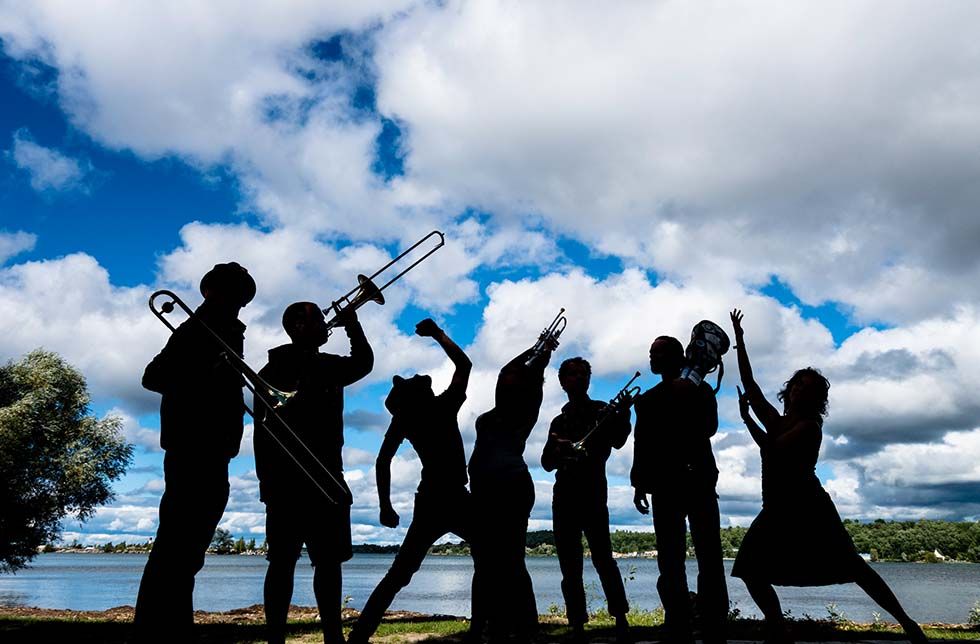 At my second Summerfolk, I heard John Gorka perform a song called "Good Noise". In it he sings, "Tell me the truth what are you living for/Tell me why, why are you near/'Cause if you cannot make yourself a good noise/Tell me what you're doing here." A few years later, as I struggled with finding a name for my art, this lyric came back to me. I chose the name "Good Noise" as it encapsulates so much of what I am trying to do. And this idea is a guiding force in my life. All thanks to my first festival experience.
Hope you get to experience it for yourself this summer.
John Fearnall is an artist, photographer, writer and music lover—learn more at goodnoise.ca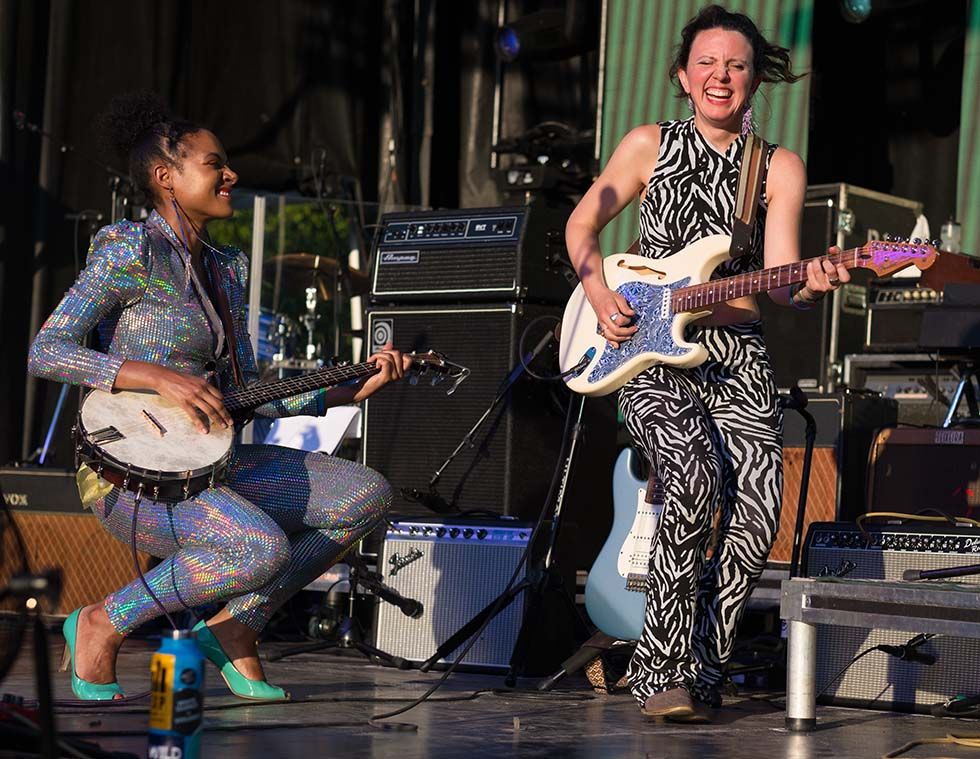 Summerfolk Music & Crafts Festival
AUGUST 18-20 KELSO BEACH PARK, OWEN SOUND
HEADLINERS:
Loreena McKennitt
Serena Ryder
Matt Andersen
The Lee Boys
Sweetwater Music Festival
Celebrating 20 years!
SEPTEMBER 12-17 OWEN SOUND, MEAFORD, LEITH
HEADLINERS:
Elinor Frey
Roberto Occhipinti Jazz Trio
Mark Fewer
Edwin Huizinga
SHH! Ensemble
Mari Alice Conrad
Monica Pearce
Isaac Chalk
Keith Hamm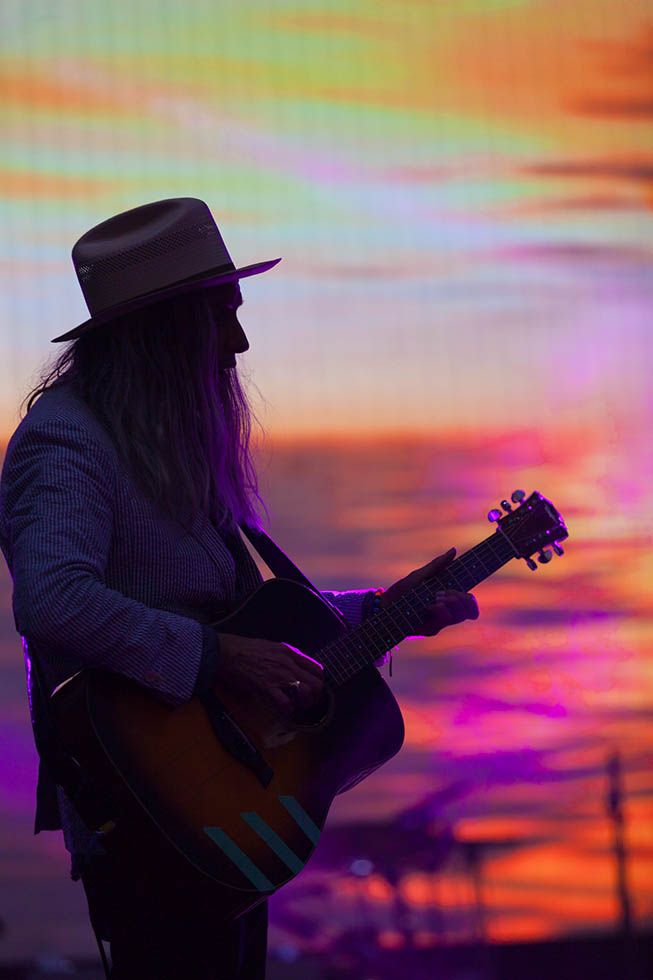 Mariposa Folk Festival 
JULY 7-9 
TUDHOPE PARK, ORILLIA 
HEADLINERS: 
Tegan and Sara 
Feist 
Rufus Wainwright 
KT Tunstall 
Matt Andersen & The Big Bottle of Joy 
Hillside Festival 
JULY 28-30 GUELPH LAKE ISLAND, GUELPH 
HEADLINERS: 
Bedouin Soundclash 
Hayden 
Martha Wainwright