Inspired by fresh, modern Italian cuisine, Ristorante Rosina's menu is reimagined seasonally utilizing local produce inspired by the bold flavours and rustic charm of southern Italy. Located on the pristine shores of Lake Huron, in the bustling town of Port Elgin, Executive Chef Kean Sagloski and his team at Ristorante Rosina are known for their fresh handmade pasta, dry aged beef and of course their incredible signature duck wings. Chef Kean shares a few of his summer favourites to try at home or the cottage this summer. Buon appetito! 
Recipes by Chef Kean Sagloski  Photography by Clay Dolan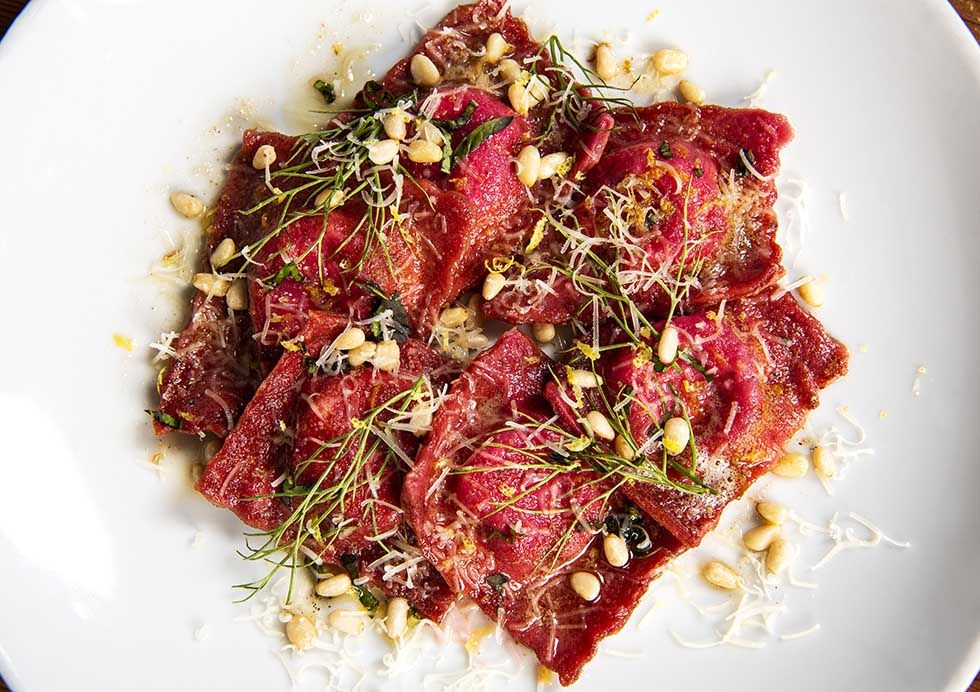 BEET RAVIOLI STUFFED WITH RICOTTA, GOAT CHEESE AND BASIL WITH BROWNED BUTTER & LEMON 
"This dish was inspired by my childhood. Growing up in a Polish/Ukrainian family, beets were always on the table at family gatherings. Taking that thought and incorporating a quintessentially Italian staple; pasta filled with savoury herbs and cheese, this dish began to take life. To me, the finished product is a taste of home." —Chef Kean Sagloski 
INGREDIENTS
6 large eggs
800 g all purpose flour/semolina (60/40 ratio )
1 large red beet
4 oz goat cheese
4 oz ricotta
4 oz chopped basil
salt and pepper
2 oz unsalted butter
1 lemon zested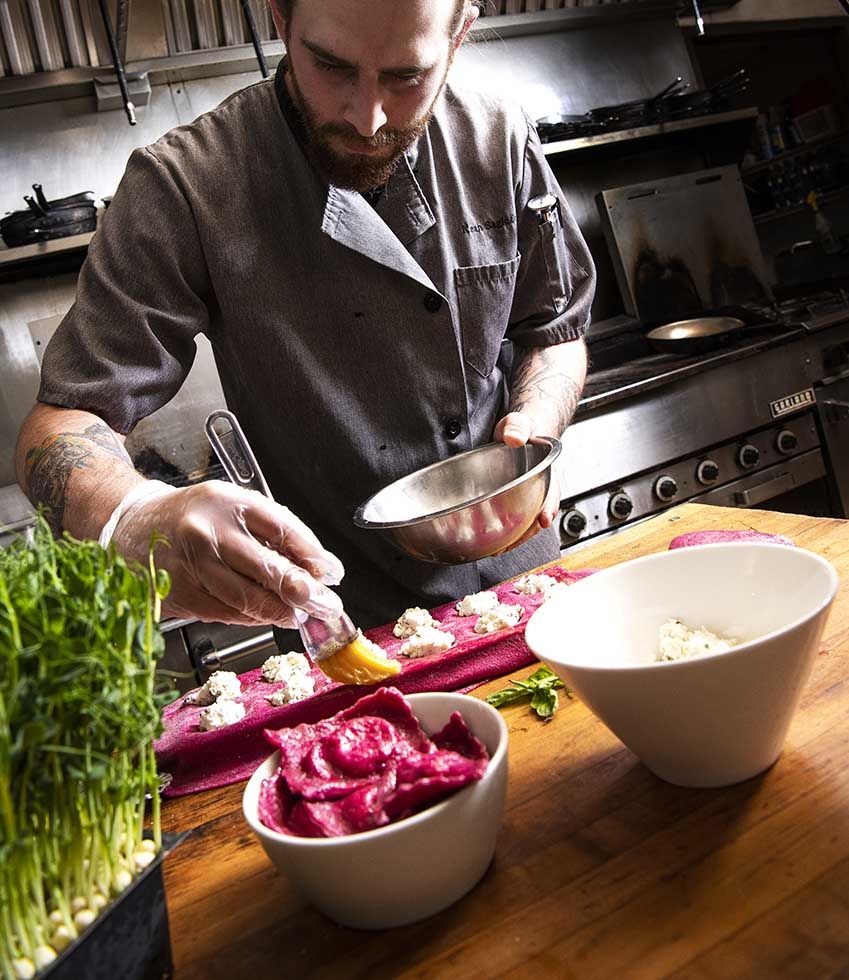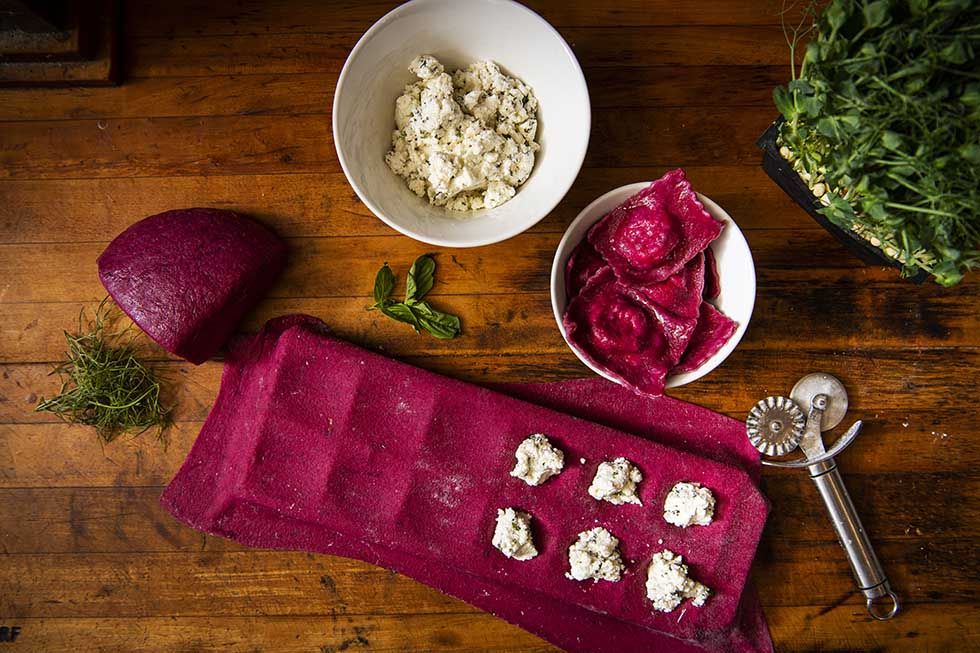 METHOD
Cover beets with foil and roast in oven set at 450°F until soft. Let cool, then blend in a food processor with eggs until smooth. Transfer to mixing bowl fitted with dough hook attachment. Add salt and flour, then mix until well combined. If dough is still sticking to the hook add additional flour, 1/4 cup at a time until firm. Wrap and refrigerate dough for 20 minutes until firm. Next make your filling by mixing goat cheese, ricotta, basil, salt and pepper. In a large pot boil water with a generous amount of salt. Cut chilled dough into two equal pieces, flatten and flour. Roll out dough pieces to make two large sheets of pasta. Place one pasta sheet on your ravioli mold and gently press each section where the filling will go. Scoop a teaspoon of filling into each hole then brush with egg wash around the sides and middles of each hole. Place second sheet over top and press along the edges. Cut ravioli using a pasta cutter to give you 12 equal ravioli. Boil until the ravioli floats then remove with a slotted spoon and place on a plate. On medium heat, place butter into sauce pan and allow to foam and then brown. Add lemon zest, salt and pepper and cooked ravioli. Baste with browned butter then arrange ravioli on plate. Spoon butter over top and finish with a little fresh chopped basil and parmesan if desired.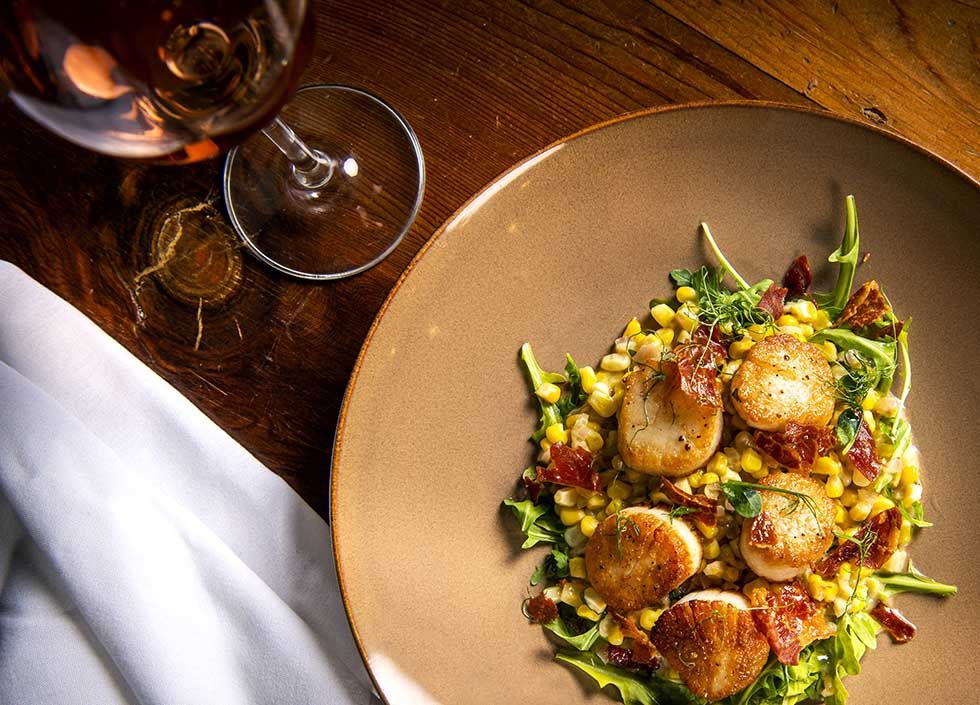 SEARED SCALLOPS WITH SWEET CREAMED CORN, FRESH ARUGULA & CRISPY PROSCIUTTO 
"A family favourite, scallops were always a treat for my mother, aunt, grandmother and myself. Having fallen in love with fresh corn and locally raised pork I began playing around with these ingredients and came up with the fresh pop of flavours put together in this dish." —Chef Kean Sagloski 
INGREDIENTS 
6 large eggs 
800 g all purpose flour/semolina (60/40 ratio ) 
1 large red beet 
4 oz goat cheese 
4 oz ricotta 
4 oz chopped basil 
salt and pepper 
2 oz unsalted butter 
1 lemon zested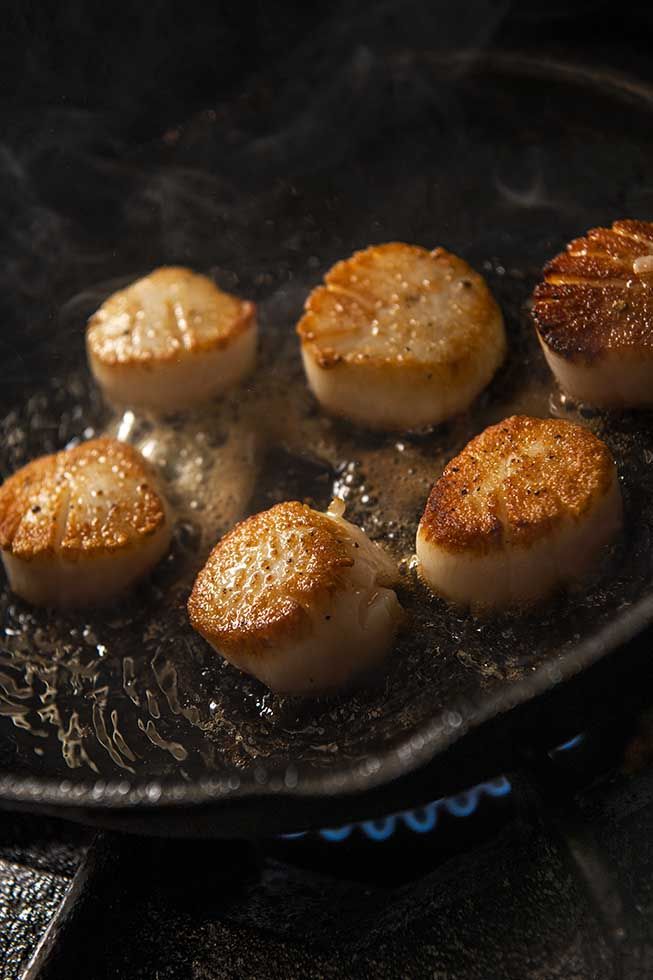 METHOD 
Take connector muscles off of the side of the scallops, place on paper towel and pat until both sides are dry. Roast prosciutto on tray over parchment paper in oven at 450°F for approximately five minutes until crisp. Put to the side to cool. Melt butter over medium heat, add shallots and sauté until fragrant. Add corn kernels and cook for two minutes. Add heavy cream, sugar, salt and pepper. Cook for another two minutes until cream thickens and begins to stick to kernels. Remove from heat and place a new pan on medium/high heat. Once hot, add olive oil and season scallops with salt and pepper. Place each scallop into oil and sear until a golden brown crust has formed. Flip and repeat process. (This step should take roughly three minutes per side). Place fresh arugula in a line down the middle of a plate, spoon creamed corn over arugula. Place scallops on top of creamed corn then garnish with crispy prosciutto pieces.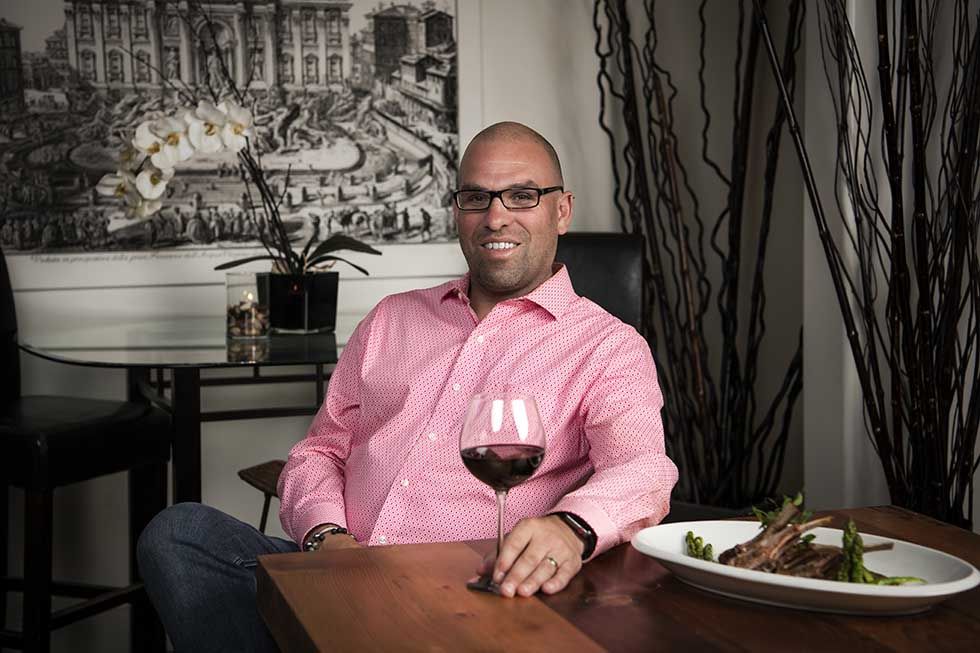 STEVEN HARRIS, OWNER OF ROSINA RISTORANTE, PORT ELGIN.
ROASTED RACK OF LAMB WITH DUCK FAT FINGERLINGS, LOCAL GRILLED ASPARAGUS & GRAINY MUSTARD SAUCE. 
"In pairing local Hi-Berry asparagus (which is a favourite of mine) and decadent duck fat roasted fingerlings, all the flavours combine to create an incredibly flavourful dish, perfect for sharing with family and friends." —Chef Kean Sagloski 
INGREDIENTS 
rack of lamb frenched 
cut in half ( 4 bones) 
olive oil 
salt and pepper 
6 fingerling potatoes 
2 oz rendered or store bought duck fat 
fresh chopped thyme 
6 pieces Hi-Berry asparagus bottom inch cut off 
half lemon juiced 
pinch salt and pepper 
4 oz unsalted butter 
pinch dried oregano 
1 tsp grainy mustard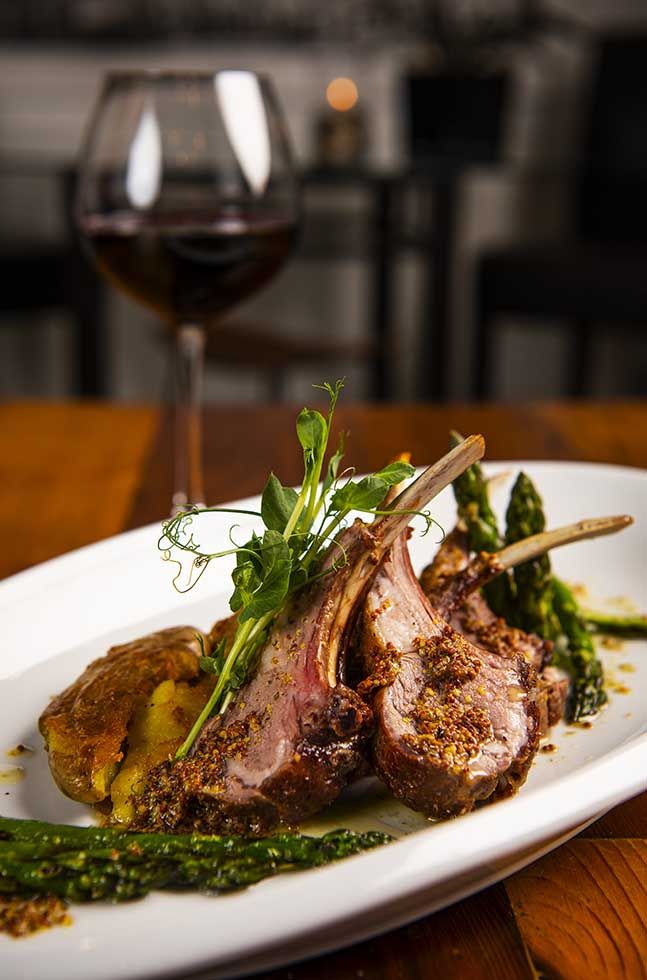 METHOD 
Allow rack of lamb to come to room temperature and season with salt and pepper, then let rest for 10 minutes. Boil water and cook potatoes until they are fork tender but not overly soft. Cook asparagus in the same boiling water for one minute, then place them in a bowl of ice water to stop cooking and retain vibrant colour. In a cast iron pan add olive oil and place lamb flesh side down into pan heat over medium/high heat. Cook for two-three minutes until lamb begins to brown but not burn, flip and hold lamb on bottom side and both ends until browned. Place on baking tray and cook at 450°F for 18 minutes until medium rare. Remove lamb from oven and rest for 10 minutes. Add duck fat to a pan on medium heat. Press fingerling potatoes with your palm to slightly crush them, then add to pan with duck fat. Season with salt and pepper and cook until golden brown, flipping once. Melt remaining butter in a pan over medium heat, and add mustard and oregano. Set aside. Place asparagus onto heated grill and cook briefly until slightly charred. Remove from grill, drizzle with lemon and season with salt and pepper. Cut lamb chops between each bone. To plate, overlap fingerling potatoes in the centre of the plate. Place asparagus to the side and arrange chops around potato, leaving the asparagus visible. Drizzle with mustard.