Originally from Orillia, Robert and Oricia Smith were first introduced to life on the Escarpment by Robert's parents, who owned a second home at the base of Blue Mountain. "We were familiar with the area," explains Robert. "We would come up to visit and take the kids skiing. More and more of our close friends were spending time up here so we decided to rent at Rupert's Landing. We loved the lifestyle and before long we were looking at real estate." 
Along with their son and two daughters, Robert and Oricia happened upon a piece of property in the Blue Mountains, close to the shores of Georgian Bay. "It had been for sale but we missed it," says Oricia. "About a year and a half later it came back on the market. Our agent explained that it was owned by a builder, who turned out to be Scott Gerard of Kühlhaus Custom Homes." Having never experienced a custom build the Smiths were hesitant at first. "Scott lives around the corner and our neighbours spoke very highly of him. We knew he wasn't just going to build it and walk away. He was amazing right from the start," adds Robert. "We had no idea what we wanted to build but Scott had already gone ahead with drawings for a home he planned to build. 'This is it!' We exclaimed!"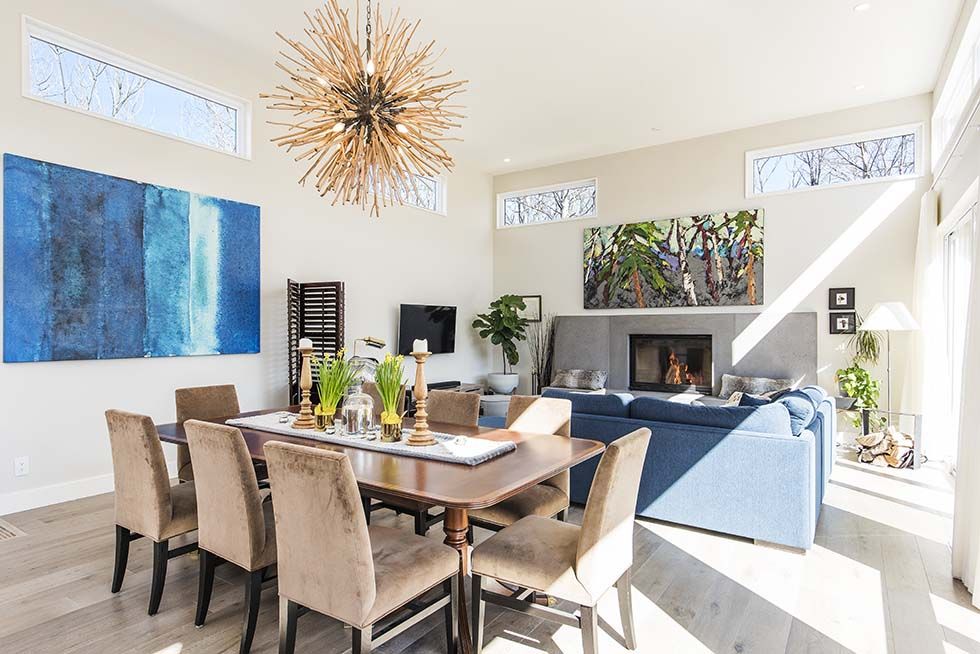 The result is both timeless and vibrant, with 4,400 square feet of finished space that features five bedrooms, including two master suites on the main floor and a secondary family room on the lower level. Each room displays an unexpected yet effortless combination of classic, modern, and inherited furnishings, complemented by sculptural light fixtures and vibrant paintings. 
The open concept kitchen, dining room and great room floor-plan is clean, welcoming and bright, warmed by natural light that pours through the expansive windows and doors from Cedarport Window & Door Centre. "We spend the majority of our time in here," says Oricia. The custom cobalt sofa, upholstered in anti-fade Sunbrella fabric, is bathed in sunlight for several hours a day and is the perfect place to curl up with a good book or catch up with friends over a glass of wine. Floating above the fireplace and custom Dekko Concrete hearth is a birch and evergreen Sue Tupy painting from Matilda Swanson Gallery. "The fire is always going," adds Orica. "This fireplace is amazing—it throws a lot of heat and isn't messy." Featuring a guillotine door and fire screen that disappear, this Valcourt fireplace invites the family to relax with the crackle of the open fireplace.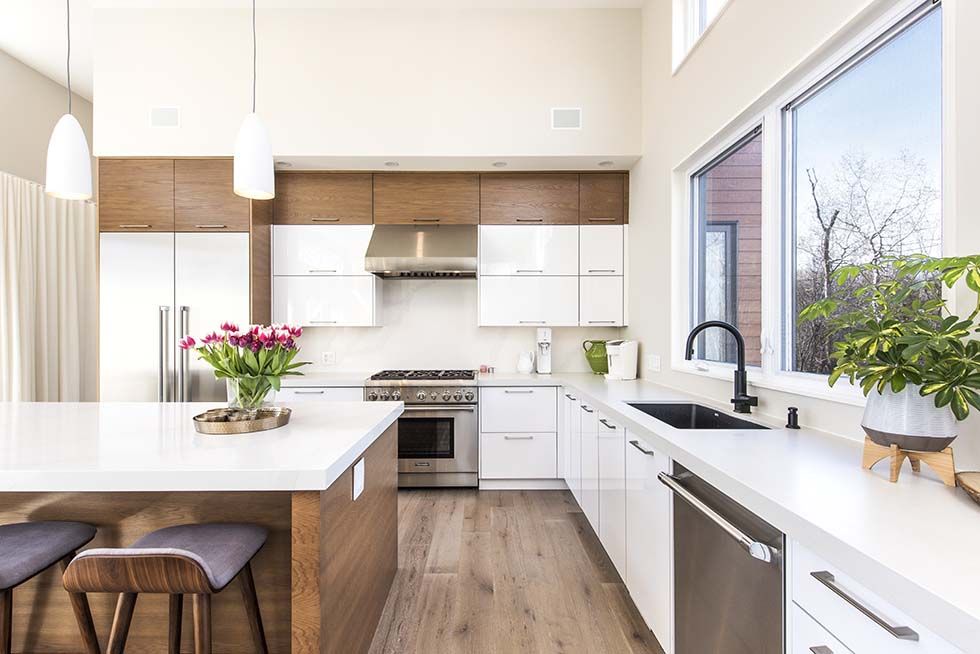 The soaring 13-ft ceilings on the main level and extensive use of glass in the back of the home allow for an abundance of light and privacy, and a constant view of the natural wooded area along the back of the property. 
Simple, uncluttered and workable was the objective in the kitchen. The well-appointed space features quartz Caesarstone countertops, professional-grade Thermador appliances and a fusion of natural wood and white cabinets. "We were cautious of adding warmth," says Robert. "Oricia liked white but when we saw the wood option we immediately were drawn to it. We wanted something organic and warm," adds Oricia. "This room could have turned out very cold if we hadn't been careful." 
A trio of pendant lights hang over the oversized island, a favourite gathering spot for this growing family. "We wanted a big island because we're always entertaining and the kids often have friends over." The result is inviting, intimate and bright. 
"We made some minor adjustments to the original plans," adds Robert. "Added a room downstairs and made some of the bedrooms smaller, but we just loved the design and layout. It works for us." Stunning solid oak stairs connect the upper and lower floor, featuring a custom glass partition from The Glass Place in Collingwood. Radiant in-floor heating runs throughout the entirety of the lower level, garage, front walkway and porch ensuring a comfortable space year-round. Small details like a ski tuning room and glass garage door complete this stunning getaway. 
The couple loves the low maintenance Mountain Modern design of the home, with its steel and wood siding. The lush and peaceful landscape surrounding the property brims with easy to maintain grasses and shrubs. Conveniently located off the main floor great room, is a 400 square foot deck for entertaining. The dwelling is magnificent all year round, but it especially comes alive in the springtime. "If we miss a weekend or two this time of year, we come up and can't believe how green it is!" 
Each room in the home displays an unexpected, yet seemingly effortless combination of classic, modern, and heirloom furnishings, complemented by eccentric light fixtures and lively artwork. When it came to designing the master bedroom, Robert and Oricia let the dramatic views of the wooded lot take centre stage. "As you can see, we don't need a lot of stuff in here," laughs Robert. Also pleasing to the eye is the symmetry of the floor to ceiling drapes which hang behind the upholstered bed, from Leon's in Collingwood. "We wanted this room to be dark for sleeping. The long drapes conceal two linear windows—an ingenious fix, thought up by Eryn Treanor of Bouj Design Studio." 
The elegant master bathroom is reminiscent of a luxurious Scandinavian hotel suite. The oversized custom glass shower from The Glass Place in Collingwood, features uninhibited views of the woods outside the window. The uncluttered design is enlivened with carefully chosen contemporary elements: the stark white walls are classic and traditional while the sculptural bathtub and floating vanity are sharply modern. 
Tucked around the house are nostalgic personal effects, including an heirloom headboard in the guest suite, Robert's parents dining room table, and Oricia's parents dining room chairs. "Our style is a little bit of everything," says Oricia. "We were on a budget with the physical build, as well as our furnishings. We both work so it wasn't as if we could be here all the time in case we were needed. Scott Gerrard was here every day and he was so transparent." 
"He would send us pictures and update us on everything. If there were any issues Scott would let us know what they were and give us an idea of how he planned on dealing with it." "Scott and his son Tyler built this home as if it were their own," adds Robert. "We can't say enough about them. Our city home is more of our 'work space'. 
We come up here to be social. This house is very accommodating to our friends and family. We're not far from the Georgian trail and we love biking to Thornbury for lunch. We do a lot of hiking, mountain biking, playing tennis and golfing. The building process was so easy." 
SOURCE GUIDE 
Builder KÜHLHAUS CUSTOM HOMES 
Architect SMPL DESIGN STUDIO 
Interior Decor BOUJ DESIGN STUDIO 
Stone Masonry MR CONTRACTING 
Concrete Forming BAYSIDE CONSTRUCTION 
Windows CEDARPORT WINDOW & DOOR CENTRE 
Kitchen SOUTH GATE CABINETS INC. 
Window Coverings BOUJ DESIGN STUDIO 
Entertainment & Alarm System THORNBURY COMPUTERS 
Bathroom SOUTH GATE CABINETS INC. AND BATHWORKS 
Glass THE GLASS PLACE, COLLINGWOOD 
Flooring THE FLOORING PLACE, COLLINGWOOD 
Light Fixtures BEAR ELECTRIC 
Landscaping FOREGROUND ELEMENTS 
Heating & Radiant Floors BUMSTEAD BROTHERS PLUMBING & HEATING LTD. 
Metal Siding METAL PLUS ROOFING 
Fireplace CHANTICO FIREPLACE GALLERY E