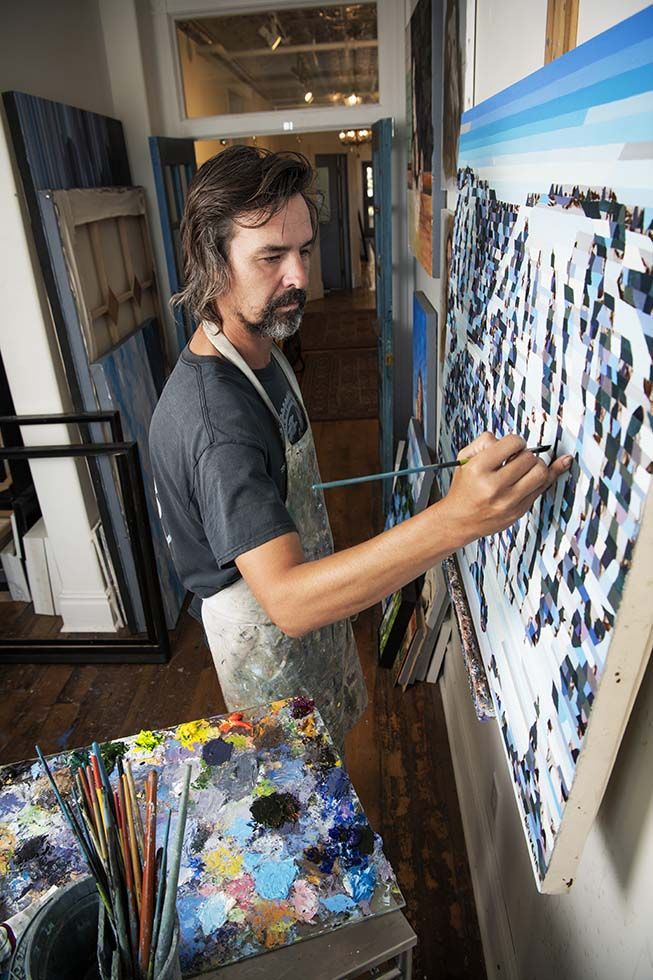 Words by Deena Dolan  Photography by Clay Dolan
When I met with Andrew Peycha at his home in Collingwood, the first to greet me were two dogs, full of personality and warmth; then Andrew, offering an apology for their rambunctiousness. It felt like a chance meeting, not a scheduled event and it was delightful.
Trained as an illustrator at Sheridan College in the 90s, Andrew began his career in Toronto's competitive, editorial marketing world. When the financial impact on paper publications inflicted by the internet began to be felt, Andrew decided to exit that scene and in 2000, he redirected his focus and became a full-time artist—a life-altering decision but a necessary one. "It is important to be versatile," stresses Andrew. "Being an artist is about evolving and changing. Being put in uncomfortable spots. Doing challenging things."
To that end, Andrew's painting style has evolved dramatically and deliberately over the past 20 years. His work was being recognized and he had a following. Collectors were circling and his name as an artist-to-be-watched was definitely gaining a foothold. However, Andrew knew he had to 'change it up' in order for his work to become instantly recognizable, so he intentionally set about to stamp a style, specifically identifiable as his own.
It was an interesting evolution that began in a storefront studio in 2005, during the early days of Blue Mountain Village. "I referred to it as The Fishbowl Studio because passersby would pause and often tapped on the window while I worked but rarely came inside." It was entertainment and popular and the Village wanted to expand it from a few days a week to every day so the space grew and other artists, with varying degrees of skill joined in. There was also a big difference in pricing and Andrew realized he needed to separate himself from the crowd. It took several years. At first the 'new' style was blocky and as Andrew says, "More lego-ish". Gradually he began adding curves and angles, always with the desire of adding interest. "The exploration of capturing the moment has led my style to a more linear and more abstract modern approach described as 'post-impressionism meets the digital age'."
Impressively intricate with geometric flair, colour and movement, Andrew's works represent an entire section of landscape, rather than an individual element or focal point—the broad swath of a forest, rather than a single tree. One's eye wants to linger, to roams—to explore while captured in his complexity of shapes, bold palette, imprints of light and textured brush strokes. There is an impression as if the original image has been taken apart then put together again in random pieces. Not like a jigsaw puzzle but far more intriguing than the actual original—somewhat like viewing through a kaleidoscope. The effect is mesmerizing and holds infinitely more depth, drama and mystery. Recognizable but at the same time not, Andrew's paintings captivate.
Commissions comprise a large portion of Andrew's work. "One such recent painting was a piece I did for a client who has a cottage on Manitoulin Island. The colours I used exaggerated the blues and greens to enhance the beauty of the area. It is a bit more abstract as the dimensions are smaller and the brush strokes are similar to what I use on larger works."
Always looking to improve, grow and learn, Andrew has also embraced the digital art movement and has fun incorporating the intuitive interface offered in Procreate—a program designed for artists of every genre that comes with an entire library of brushes and colour dynamics with everything from pencils, inks, charcoals, to artistic brushes that lay beautiful painterly textures on an iPad. The creative options are endless. Andrew's Beaver Valley painting, done for a member of the Ski Club, was taken from one such iPad sketch. "The image was then stretched and manipulated to suit the canvas. The colours I chose were from the idea of a great, blue-bird day which we all love to ski."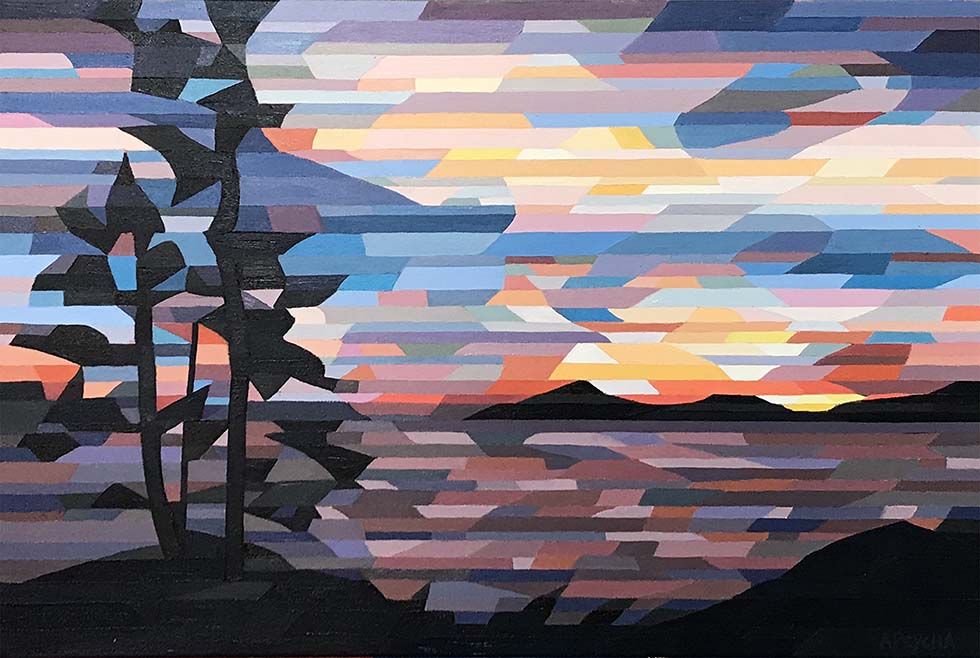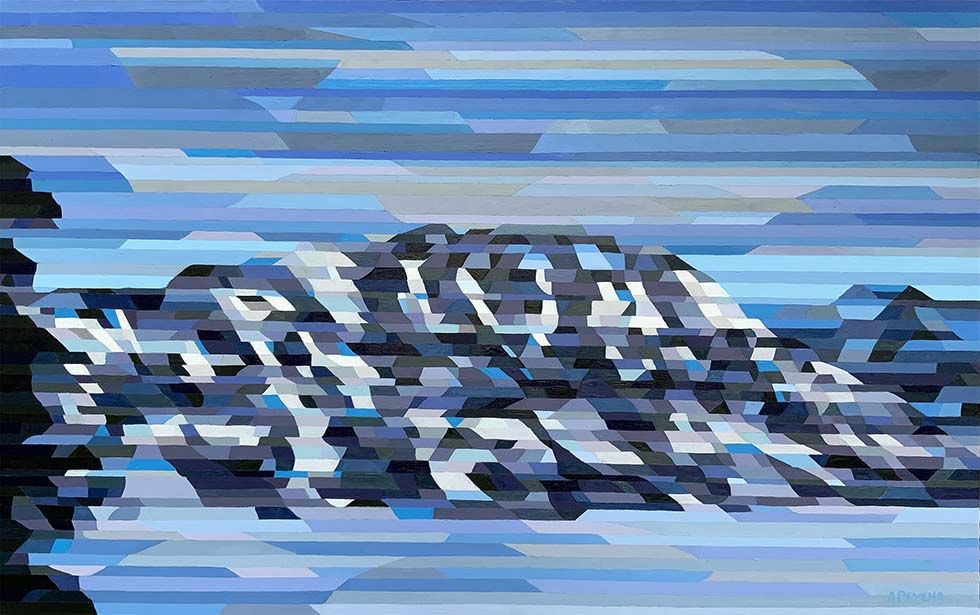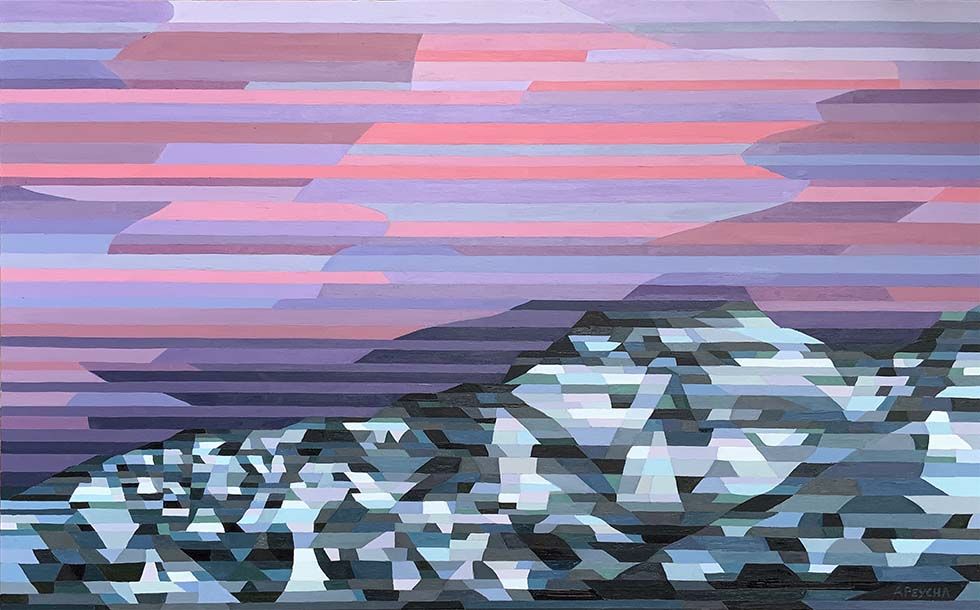 Inspiration abounds for Andrew—he has an energetic zest for life. Travelling to remote settings to paint plein air is a definite love—even the process and challenge of simply getting there is exhilarating for him. "I love that I can make a living as a painter here and still be able to do all the other things I enjoy." Those 'things' include kite-boarding, canoeing, alpine and Nordic skiing—and not as a mere weekend warrior—Andrew coached ski racing at a high level for many years. Hitting the slopes with his wife Abby Westlake and son, Rory continues to be a joy. And, Andrew has now embraced Telemark skiing into his quiver of favourite pastimes.
Comfortably laid-back in demeanour, Andrew Peycha is quietly humble about his accomplishments as a successful, well-known fixture within the Canadian art scene. But make no mistake, his vibrant work can be found in private and corporate collections throughout the world. Continuing to grow and explore new directions is high on his list— Andrew has visions of expanding his future endeavours—portraiture, high realism, pure abstract—there is no limit. Stay tuned.