Recipes by Chef Katy Stroud, Photography by Clay Dolan
Chef Katy Stroud began her career training in the culinary program at Georgian College in Owen Sound. After graduating she went on to complete her Red Seal certification. Now after several years of working in the industry she has established two successful businesses; The Denim Chef and Crust & Crackle. Katy teamed up with Lamblicious in Wiarton, to bring us two delicious autumn recipes. Supporting local farmers and artisans, Lamblicious carries everything from farm fresh meat, eggs and preserves, to boutique wool products.
HARISSA BRAISED GOAT SHANK WITH CREAM CHEESE POTATO GNOCCHI
Hello fall! This dish has comfort written all over it—like a cozy sweater on a crisp day, harissa braised goat and hearty cream cheese potato gnocchi is like a big warm hug. Goat is a very lean red meat, high in protein and low in cholesterol. One may assume that goat and lamb taste the same, but this couldn't be further from the truth—goat has a very mild taste, while lamb tends to be sweeter and heartier. Serves 2.
You will need: 2 goat shanks (Lamblicious), 1/4 cup harissa paste (Lamblicious) &  salt and pepper to taste
BRAISING LIQUID
2 large leeks diced
2 large onions diced
4 cloves garlic minced
2 cans crushed tomatoes
3 cups red wine (Cab Sav/Merlot)
1 cup harissa paste
3 bay leaves
SAUCE
reduced braising liquid
1 large onion diced
1 large leek diced
2 cloves garlic minced
2 red chiles (optional)
salt and pepper to taste
CREAM CHEESE POTATO GNOCCI
2 medium sized Russet potatoes
1/2 cup goat cream cheese (Lamblicious)
1 egg
1/2 cup all-purpose flour
salt and pepper to taste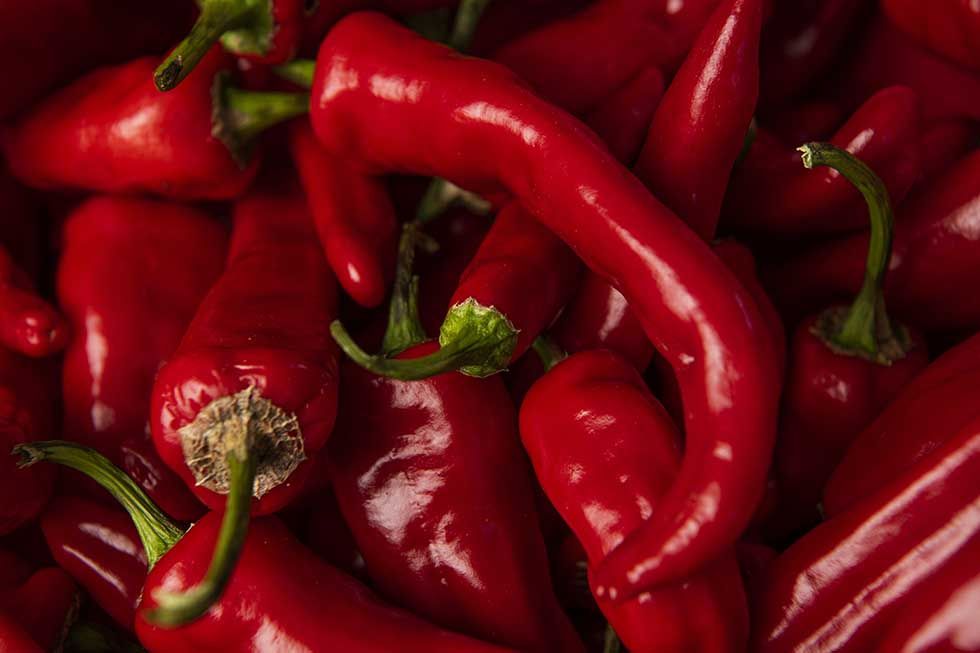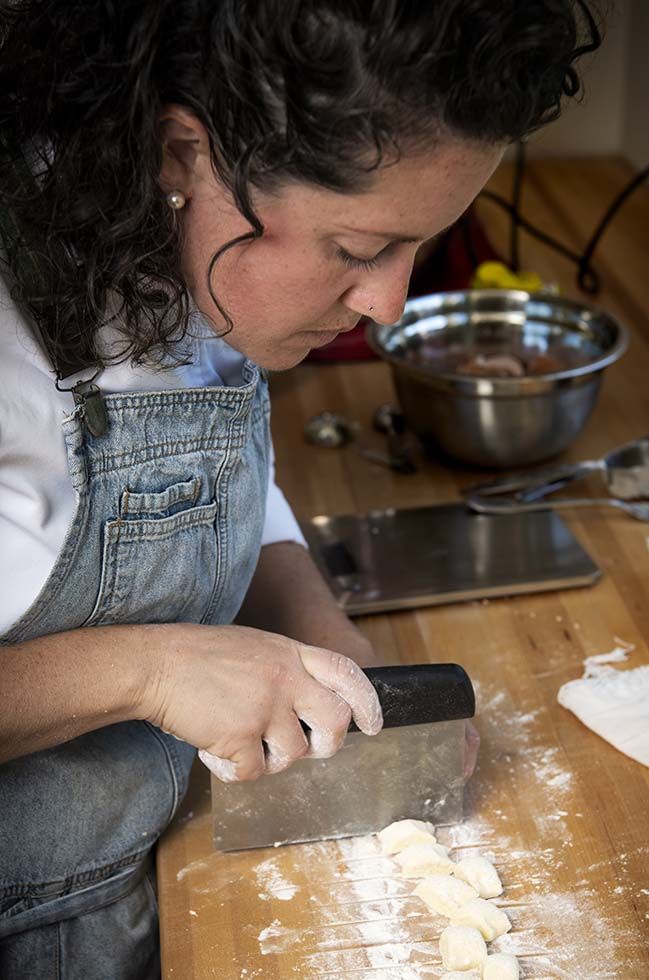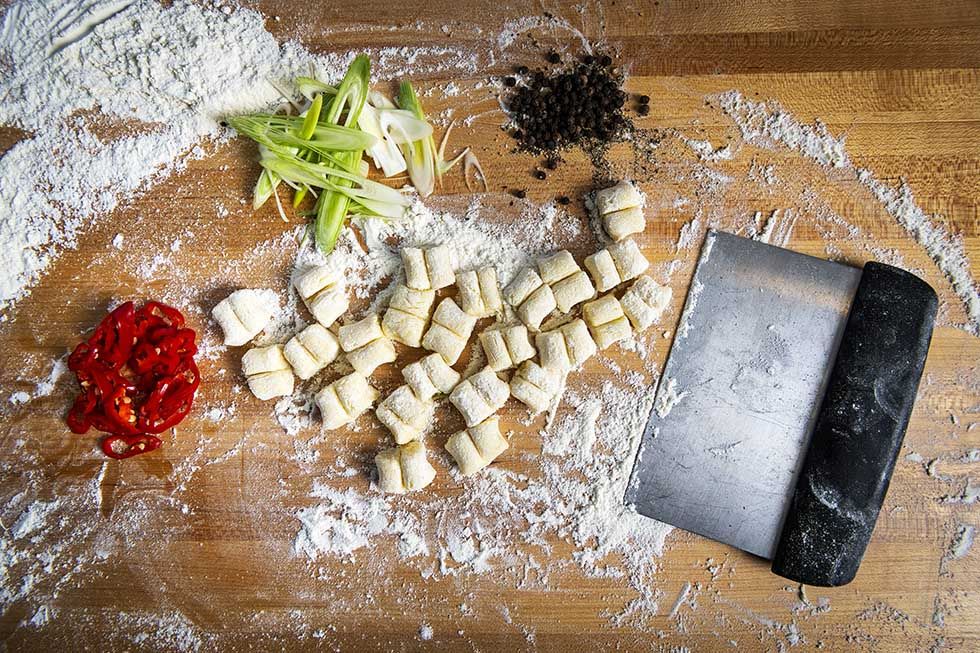 METHOD
Marinate goat with 1/4 cup harissa paste, salt and pepper. Place in a Ziploc bag and leave overnight in the fridge.
Remove 2 inches of the meat from the tip of the bone with a sharp knife so that the bone is exposed. Wrap exposed bone in foil and then parchment paper. Tie with butcher twine. The acid from the tomatoes will deteriorate the foil if not wrapped.
Preheat oven to 300°F.
Braise goat shanks in a Dutch oven with olive oil (liberal amount). Sear until golden on each side. Remove shanks and set aside.
Dice onions, leeks, and garlic then sauté in the same Dutch oven. Cooking until translucent.
Deglaze with red wine, and place goat shanks back in the pot.
Add in the tomatoes, and the remainder of the harissa paste, with the bay leaves.
Put the lid on the Dutch oven and place in a preheated oven. Braise for 4 hours. (Do not season the braising liquid)
Remove shanks from sauce and reduce by half.
To make the sauce, dice onion, leek, garlic and chiles, add into a skillet with olive oil and sauté quickly.
Add in remainder of the braising liquid and season to taste.
Unwrap the bones and sear the shanks on a hot pan with oil.
GNOCCHI
Boil the potatoes with the skin on.
Let cool slightly and rub skin off with a dry towel.
Grate the potato into a bowl.
Add in cream cheese, egg, and seasoning. Stir together with a fork.
Add in the flour and mix by hand forming a rough shaggy dough.
Fold out on a floured work surface and knead lightly until the dough forms a slightly sticky ball.
Roll the ball out into a 1 inch thick log.
Flour the dough and cut with a knife or bench scraper to desired size.
Cook gnocchi in boiling salted water for 2-3 mins (until gnocchi floats).
Remove gnocchi from the water with a slotted spoon and let rest in a bowl of olive oil.
Preheat a skillet and brown the gnocchi.
FINAL ASSEMBLY
Toss gnocchi and sauce together, place on a warm plate.
Lay braised goat shank on top.
Garnish with hot chiles, leeks and pine nuts.
Enjoy!